Don't ask Marshall McLuhan what he believes. "I never make value judgments," the scholarly Canadian process-prober told several hundred evangelical radio-TV communicators last month.
He ventured some tentative observations, however, about the propagation of Christianity in the modern world. "As Gospel salesmen," McLuhan said, "remember that you are selling something that most people are terrified of … The Gospel has long been sold by the aid of very bad news, namely hell fire. And I think we're going to find that an indispensable dimension of it … Christ never failed to harp on that note. And I think you'll find that you're not going to sell very much Gospel without a lot of bad news."
McLuhan's point was that people prefer bad news to good news because bad news provides them with a "survival emotion" while good news threatens them with change, "and most people don't want to be different at all."
The 58-year-old McLuhan's comments on the communication of the Gospel came across with rare (for him) clarity. Much of the rest of his talk appeared to baffle the audience in the Congressional Ballroom of Washington's Statler Hilton Hotel. The occasion was the twenty-seventh annual convention of National Religious Broadcasters, and tall, distinguished-looking McLuhan, one of the most enigmatic but nevertheless charismatic figures of our time, seemed to be relishing the moment. Though a media theoretician, he has rarely spoken out on religious communication.
"The most violent form of violence is prayer," he declared. "The Kingdom of God suffereth violence, and that is the only way anyone ever got in. Prayer as violence is as important a notion as the medium is the message. Prayer is petition which consists of banging and slamming on gates until they open."
At one point, the usually gentlemanly McLuhan interrupted a question to assert that "in the case of Jesus Christ, we are dealing with the Word made flesh, which suggests the medium and the message as one."
Radical theology, he suggested, is in keeping with the current age's shift from concept to precept: "When they say God is dead they mean the old clockmaker put up there by Newton. He's certainly concept … That God certainly died 150 years ago. These are purely conceptual gods. They have nothing to do with the thing, the being."
McLuhan is sometimes considered an empiricist who doesn't bother to try to verify his observations. He has won considerable attention because a number of his insights, though unproved, nevertheless arouse the reaction, "That's right. Why hasn't anyone else thought of that?"
McLuhan argued that "as Christianity swells out to become a kind of world-wide thing it dies." He added that when Christianity "becomes environmental it loses that inner face necessary for the transforming power, that resonance that occurs between the little minority and the great big dark ground. When that bigger ground relationship loses its proportion, then the Church by becoming ground becomes a monster. When the bigger ground emerges you have a monster." McLuhan himself is a Roman Catholic.
Dial 686-3061 For Help
Marble Collegiate Church in New York launched a twenty-four-hour telephone counseling service this month.
"What's your problem?" asked Dr. Norman Vincent Peale, the noted minister of the church. "Name it and when you dial 686-3061, a staff of volunteers and professional experts will try to help you in your search for an answer."
The counselors are equipped with a wide assortment of reference resources—from Bibles to law books. The staff for the new service includes 150 volunteers who have gone through a fifteen-week training program and a full-time professional staff of seven. They will seek to help callers on every conceivable subject from religion to rhetoric—or tell the callers where assistance can be found.
On another note, he said, "One of the peculiarities of instant speed [in the new electric technology] is the drop-out. I suggest that Christians are all drop-outs. That's what it means to be unworthy. All Christians have to be drop-outs. A drop-out is a person who sets up a gap between him and something else."
According to McLuhan, one of the dynamics of our time is that the West is going east and the East is going west. "The East," he said, "is the inner trip, and the West has always been the goal-oriented outer dynamic trip. The Western world is going inner. The Eastern world is going outer …"
Seemingly contradicting his view of the demise of Christianity, McLuhan said that "we are moving into a very religious age": "the visual life has yielded to a resonating, auditory life. ESP is back. The occult is back. The hidden forms of feeling are now become obsessional."
McLuhan, who can put a $1,500 price tag on a speech, reportedly came to the Washington convention without so much as the promise of travel reimbursement so that he could have the benefit of exchange with religious communicators.
Mormons Stand Pat
Shortly after his church reaffirmed its ban on blacks in the priesthood (see "Mormons and Blacks," January 30 issue), a Mormon college professor disclosed that the church president once told him that practice would change. But prophet, seer, and revelator David O. McKay died on January 18 without altering the priestly policy. And his successor, 93-year-old Joseph Fielding Smith, a church apostle for sixty years, is less likely to make the change.
Because McKay was the most liberal president the Church of Jesus Christ of Latter-day Saints has had, many Mormons wonder that he failed to admit Negroes to the lowest rung of the hierarchical ladder. Yet Dr. Sterling M. McMurrin, a Mormon who heads the University of Utah graduate school, quotes McKay as telling him in 1954, "We believe that we have scriptural precedent for withholding the priesthood from the Negro. It is a practice, not a doctrine, and the practice will some day be changed. And that's all there is to it." When McMurrin revealed the interview just before McKay's death, the president's son said that his father had seen the statement in 1968 and affirmed then that it was "essentially correct."
Long a critic of that practice, McMurrin at one time faced excommunication, but McKay quashed the move. McMurrin called McKay's liberalism a "heartfelt feeling" that went "against the grain" of many of his conservative counselors who during the closing years of his administration were increasingly influential.
The day after McKay's funeral, one of those counselors was named tenth Mormon president. Joseph Fielding Smith, whose great-uncle founded the church 140 years ago and whose father and cousin served as presidents, has long considered black skin God's punishment for Cain's murder of Abel. "Not only was Cain called upon to suffer," Smith has stated, "but because of his wickedness he became the father of an inferior race."
In 1963 Look magazine quoted Smith as saying, "Darkies are wonderful people, and they have their place in the church." In fact, the church counts about 200 blacks among its 2.8 million members. Two—perhaps three—dark faces are now visible in the Mormon Tabernacle Choir.
One of the new president's first official acts was to choose his counselors. The new group does not include Hugh B. Brown, a liberal voice among McKay's aides. Smith's first counselor is Harold B. Lee, who as senior apostle will no doubt succeed him in a few years as president.
David Oman McKay had led the Mormon church for almost nineteen years when he died in Salt Lake City. He was born in Utah in 1873 (four years before Brigham Young died), the oldest child of a second-generation-Mormon couple. He learned leadership and responsibility early. When he was eight, his father went to Britain as a missionary, leaving David in charge at home. As a youth he read Shakespeare, Robert Burns, and other classics of English literature while doing farm chores. Even in his old age he could recall long passages of literature memorized on the farm. In later years he frequently retired there to meditate.
Mormons And Ecumenism
The Reorganized Church of Jesus Christ of Latter-Day Saints won recognition last month of its eligibility for membership in the National Council of Churches. The NCC General Board extended the recognition by voice vote with no audible dissent.
The Reorganized Church is the second largest Mormon body, but its 1,000-church total is far eclipsed by the Salt Lake City group, which claims about 4,500 churches in the United States. Leaders of the Reorganized group, which has headquarters in Independence, Missouri, assured NCC officials that they did not bar blacks from the priesthood.
The effect of the recognition means that the denomination can participate in the work of NCC agencies. It had expressed particular interest in the NCC Broadcasting and Film Commission. There was no indication that actual council membership was being considered. To be able to join, denominations merely need to certify that they agree with the preamble to the NCC constitution, which notes that the council is composed of "communions which confess Jesus Christ as Divine Lord and Savior."
When he was 20, McKay began teaching school, and later went to the University of Utah, where he graduated at the top of his class in 1897. After two years as a missionary in Scotland, he returned to Utah and began teaching English. By then, the federal prosecution of Mormons for polygamy and theocracy that had reduced the church to a low point of 200,000 members had ended, and Mormonism came out of hiding. One of its most promising young men was David O. McKay, and at 32 he became the youngest member of the Council of Twelve Apostles, the church's governing body.
During his first fifteen years on the council, McKay concentrated on education. Then he began traveling. In thirteen months he visited all the church missions (except in South Africa), covering 62,500 miles, the most extensive trip of any Mormon leader to that time. His travels led to the global outlook of his presidency, reflected in his response to a question about the most important moment in his life. "The feeling of such peace and satisfaction and love for all God's children, which comes late in life after more than eighty years of work in the church and travels among people of all lands," was the moment he singled out.
After seventeen years as a counselor in the First Presidency, the church's highest executive body, McKay succeeded George Albert Smith as president. Under his leadership as ninth Mormon president, membership grew to nearly three million, mostly outside the United States, requiring five new temples (for major rites, not weekly worship) and enlarged educational facilities.
McKay was always willing to talk with church members, who called him "the loving father of his people." His genial personality helped overcome some long-standing frictions with Roman Catholics and Protestants. At his death, Richard Nixon declared, "The Mormon Church has been deprived of a distinguished and great leader. And America has lost a foremost citizen and human being."
JANET ROHLER
Have something to add about this? See something we missed? Share your feedback here.
Our digital archives are a work in progress. Let us know if corrections need to be made.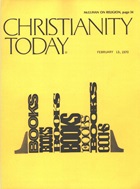 This article is from the February 13 1970 issue.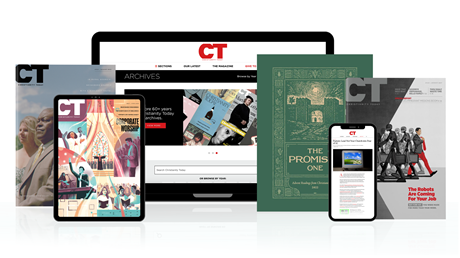 Subscribe to Christianity Today and get access to this article plus 65+ years of archives.
Home delivery of CT magazine
Complete access to articles on ChristianityToday.com
Over 120 years of magazine archives plus full access to all of CT's online archives
Subscribe Now
McLuhan on Religion
McLuhan on Religion