Reviewing national television coverage of General Eisenhower's funeral, James Reston wrote:
It demonstrated how national television can bring before the people the things that touch their noblest instincts, and in the process reminded us of how seldom we use their remarkable power for this purpose.
Eisenhower, the church and television were unifying forces of tremendous power for good in America in these last few tragic days. They touched some old and worthy echo in the American spirit which politics, religion and television usually repel.
… And through this remarkable instrument of television, the people responded to it with a solemnity and sincerity no cynic could deny.
Reston's analysis in his New York Times column challenges both the Church and the television industry. It says that if the Church and television can come to terms, television can emerge from its cultural wasteland and the Church can escape its Sunday-morning ghetto. The Eisenhower funeral showed that television has the potential to reach the spirit of man, and that the Church can merit prime-time attention.
As a seasoned Washington correspondent and national observer (and now vice-president of the Times), Reston has suggested a formula: Take an open network attitude toward religious programming, combine it with a church willing to plumb creatively the depths of visual communication, and blend well. The result can be imaginative prime-time telecasting that projects the spiritual, not the animal, nature of man.
This isn't being done consistently today. Television has the principle that programs should follow Sunday-service and material fare. The Church has not made a strong effort to gain representative video exposure. And the Christian public has not demanded a reasonable share of television time for spiritual programming.
For the most part, churches are not inclined to give up the principle that programs should follow Sunday-service formats. They have produced few contemporary programs able to entertain and to tempt the viewer's spiritual appetite at the same time. The churches are still trying to reach people within the confines of formal worship, and not on the level where they live.
Here is an obvious impasse. Television is not going to make any time concessions until religious programming shows that it can compete. And religious programming is not going to compete until talented people are convinced that what they create is not going to be buried in the Sunday-morning ghetto.
The answers to the quandary are not simple. They will not be found within the framework of such insipid programs as "The Flying Nun," nor in reruns of The Robe. And they will not be provided by lengthy discussions of the latest theological fads.
The answers will come if the Church takes the initiative and begins to seek impact on the same creative level as the independent producer who puts together series after series of pilot films in an effort to convince the networks to buy. But the motive from the Church's perspective has to be a desire to reach people. If this desire is as great as the secular producer's desire for fame and money, and if there is enough willingness to research the points of relevance, the Church should be able to create programs that compete successfully.
Above all, the Church has to realize that just as evangelism must assume many different postures (as shown at the recent U. S. Congress on Evangelism), so spiritual television programming must find expression in a variety of situation contexts.
Here is the meat of what the Church can portray: examples of believers on the firing line of contemporary events and needs; enactments of Christian heritage, perhaps in a spiritually oriented "Saga of Western Man" series; modern-parable presentations of the Christian message in ways able to speak to all age groups; and exposure of the great music, art, and literature of the Church with an emphasis on the Church's ability to continue to inspire the arts today. Always the approaches must be artistic and imaginative.
If the Church is going to be persuaded to invest its time, talent, energy, and resources in visually communicative projects, they must have some assurances from the networks. Each network must be as open, from a prime-time perspective, to what the Church may produce competitively as it is to the offerings screened each year by secular producers. Network executives will have to be willing to look at and listen to what the Church has to say. And the dusty arguments about audience ratings and lack of sponsor interest will have to be discarded. The gates that guard prime time from so-called special-interest and minority programming will have to be opened. Network officials will have to agree to guidance and to agree also that the criteria for evaluating church productions will be at least the same as those applied to secular programming.
A merger of interest and responsibility between the television industry and organized religion can take place. For it to happen, however, the networks must be willing to provide the incentive. Just as there is a combining of purpose in providing total coverage of such events as the funeral of a president, so there must be a combining of purpose by the networks to allow creative programming with a spiritual emphasis. By opening the same hour of prime time one night each week—at the start—and filling that hour with a variety of spiritually oriented programs, the networks can take a major step toward encouraging the production of such programs.
Scheduling spiritual programming during the same time period will diminish the possibility of channel-changing by viewers, and as the Church responds creatively to the opportunity, the increasing excellence of this programming will make it able to compete with secular efforts.
Each network will schedule its own programs during this hour. Local independent stations may be persuaded to cooperate by using separate, syndicated material.
This idea opens prime time to spiritual programming, but it also requires competition. Producers (and viewers) will decide which programs or series will survive and which will be cancelled.
Time will not be provided on a free, public-service basis. Sponsorship will have to be sought, and programs and series will be purchased by the networks on the same financial scale as that applied to secular programming. Such an arrangement will allow various church and church-related organizations to recoup production expenses and at the same time provide a possible new source of funds for other evangelistic activities.
The economic possibilities of this idea should be tantalizing to businessmen and advertising executives, especially to those whose products or budgets have not previously seemed conducive to TV sales. Sponsorship of religious-bloc programs can, for example, come from major church-related business and industries. There are large insurance companies that direct sales programs primarily at church members and ministers, and there are book publishers and record manufacturers who do the same.
Time will not be divided up between "Methodist Minutes" and the "Catholic Hour." Networks can get around such compartmentalization by establishing a counseling committee representing the broadest cross section of spiritual life in America. But denominations will have to compete on the same basis as independent producers.
Initial dialogue aiming at an interdenominational, inter-network agreement should take place in an informal meeting, perhaps as a spinoff of the Religious Communications Congress. Church and network executives must be on hand. Guidelines should be established and a channel for church-network consultation developed. At this point it may be possible to establish a committee to keep communications open between churches and networks. But organization must be kept to a minimum, to allow for the freest, most competitive situation in the development of programming.
A target date for initial submissions could be the spring of 1972, with scheduling beginning the fall of that year or in 1973.
The idea of church and network working together is fraught with dangers, and criticism and complaints are inevitable. Some will see a sinister conspiracy to deprive atheists of their civil rights. Some church groups and individuals will not participate because they will fear the possibility of liberal or conservative theological control of programming.
But the potential for spiritual renewal is too great to permit the project to be inhibited by the fainthearted and the suspicious who put personal philosophies ahead of Christian commitment. The history of the Christian religion is seasoned by the boldness of its saints. Paul, in helping to forge a spiritual force in the world, was shipwrecked three times, publicly flogged eight times, stoned once, imprisoned, starved, and finally killed. He kept confronting the doubters and unbelievers, however, and was an instrument used by God to change the course of history.
For Paul, the results were worth the risks. They should also be for us.
Have something to add about this? See something we missed? Share your feedback here.
Our digital archives are a work in progress. Let us know if corrections need to be made.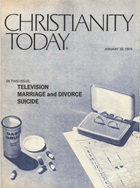 This article is from the January 16 1970 issue.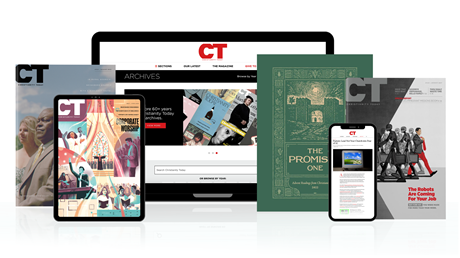 Subscribe to Christianity Today and get access to this article plus 65+ years of archives.
Home delivery of CT magazine
Complete access to articles on ChristianityToday.com
Over 120 years of magazine archives plus full access to all of CT's online archives
Subscribe Now
Can Churches Break the Prime-Time Barrier?
Can Churches Break the Prime-Time Barrier?