Making Religion Rollicking
With mixed feelings I have been perusing a communique from the Society for the Promotion of a Sense of Humor in Religion. Among its aims and activities: "finding salvation through laughter … the Gospels and the humerous [sic] attitude … establishing a new office—that of 'Church Jester' … humor nights for fun and purpose." The massive solemnity and objectivity of it all frightened me. Can you really in cold blood promote humor? Moreover the founder and president of the society describes himself as a "humorist." He offered no taste of his wares, but promised "help in dealing with life problems [more sic]."
I know of someone who would have been aghast at the whole business. "It would be a gain to the country," declared John Henry Newman, "were it vastly more superstitious, more bigoted, more gloomy, more fierce in its religion that at present it shows itself to be." That was, of course, before he became a cardinal.
Since a decadent society has done away with the stocks, a salutary corrective for religious humorists would be a sojourn in a certain European country where visiting American church folk are given a duplicated sheet containing twelve recommendations. What follows is not Eutychusian fantasy—I have the sheet in front of me as I write.
"Do not put your hands in your pocket in the pulpit," it urges, "especially when you pray." Do not "jump up and down in the pulpit when you arc preaching" (a ban sure to cramp the style of any aspiring jester). No legs, male or female, to be crossed "in the pulpit or in church." Lipstick, short/sleeveless/low-cut dresses, jewelry, painted eyes/nails/hair—all these are taboo. So are fancy clothes, in or out of church. No pulpit jokes, no political cracks, no fraternizing with local boys or girls unless marriage is a definite prospect. No hugging your own spouse in front of others, no talking about "your sweet wife, your intelligent children or your amazing husband, etc."
And if that is not indicative of how well they know Americans, hearken to this counsel that has a section all to itself: "Avoid wearing bow ties anywhere." Having taken my measure on the spot, though my hair was manifestly unpainted and my tie staunchly unbowed, they still wouldn't let me get into the pulpit when I addressed the congregation.
I wish our American humorists no harm, but I would like to see them fly there for their vacation (details available for a small commission). On an exchange basis, naturally. Those Europeans could do First Baptist a power of good.
EUTYCHUS IV
Blooming Wealth
I had come to the conclusion that pastors with deVries's convictions (Jan. 2) were sanctified, galvanized, and petrified. Kittel and Nestle were simply doorstops—but there was his article for real: "Ignorant Preachers."
I concur enthusiastically with his statement to the effect that many seminarians, after the opportunity of studying the Hebrew and Greek, have found that the Word began to "glow with vitality.… How shallow and superficial their previous understanding and knowledge then appears." This was my experience. A college Greek prof put it this way: when you read the English Bible it is like a drive at freeway speeds; the countryside is a blur. But when you pursue the originals, it is like a walk through the countryside; the details blossom and bloom, and the wealth of God's Word opens up in refreshingly new ways.…
I thank God now for the sweat shed as a Hebrew major with Greek minor. It was rigorous … but the dividends personally are unmeasurable.
GEORGE MEISINGER
Maranatha Bible Church
Minneapolis, Minn.
I unapologetically believe that the study of Greek and Hebrew is only of secondary importance in the training of the minister, though I passed the requirements in both for my theological degree.…
I agree with the author that preaching cannot be biblical unless it is based upon exposition of the authoritative Word of God, but I protest his insinuation that such study can be made only in the original languages. Neither do I make man the center of my study because I do not prepare my expositions from the original languages. DeVries's God is too small if God is able to give man a Word only in Greek and Hebrew.…
No one is more delighted than I in the riches that are to be found in the Scripture's original languages, but in urging that the study of these languages be made optional I am only asking that theological faculties be as realistic as possible in assessing the gifts of those men God has called into the ministry. I take courage in deVries's admission that there have been competent preachers unlearned in Greek and Hebrew. It just may be that in this day of a shortage of ministers, if seminaries will liberalize their requirements in this respect, more vacant pulpits can be filled.
GERALD C. STUDER
Scottdale Mennonite Church
Scottdale, Pa.
Soar From Stooping
Your "Personalia" paragraph concerning the theological student robbing a Chicago bank (News, Jan. 2) caused my righteous indignation to soar. I am not condoning his act, but he now needs the compassion and help of all who are Christian. I am at a total loss to understand such actions of a Christian journal. What have you accomplished by stooping to the sensationalism of secular journalism? "When I was in prison you visited me."
CHESTER C. PARKER
Muncie, Ind.
Hearty Good
I was tremendously excited and blessed by "Religion at Sixes and Sevens in the Sixties and Seventies" (Jan. 2). I have always been interested in unique titles, and I feel that your journalism reached a splendid degree of excellency in the preparation of this article, as well as its title. I just wanted you to know my appreciation for the depth and scope of the material, and the unique presentation of it. It did my heart much good.
GEORGE E. VANDEMAN
Director, General Conference
Seventh-day Adventist Church
Washington, D. C.
Stepping With Pride
As an "evangelical," a graduate of Wheaton College, and a regular reader of CHRISTIANITY TODAY who has not always been proud of the social awareness exhibited by these elements of American Protestantism, I would like to express my great pride in your article "Read, Baby, Read: A First Step to Action" (Dec. 19).
God grant that this immensely practical first step not be our last and that subsequent steps be taken with utmost haste.
WILLIAM HOYT
Big Springs Baptist Church
Alcester, S. D.
Holey Theology
While J. Edgar Hoover had some interesting points (Dec. 19), I do not understand how an "evangelical" magazine could give such prominent billing to an article laden with unevangelical ideas. While such things as patriotism, morality, law and order, good behavior, and respect for elders are desirable in a "good" society, they will not, in themselves, make us good. I am only a layman, but I can see the many perforations in Mr. Hoover's theology. Only faith in Jesus Christ can make us good and worthy in the sight of God.
LEO L. RIDDLE
Spruce Pine, N. C.
A Football War?
Billy Graham's article "Three American Illusions" (Dec. 19), coupled with his close association with President Nixon, illuminates the present trend in Viet Nam policy. Dr. Graham's address has for its first "illusion" the concept that war is natural to man and that only God's intervention can change that condition.… If even the "redeemed" can do nothing but wait for God to act, then the game of war seems as normal as football. My Lai is simply a bad play resulting in a long penalty.…
If Dr. Graham is correct that man can do nothing, then Mr. Nixon's efforts need our praise. Let us Vietnamize this inevitable game of war, keep the fighting at nearly the most distant point from our shores, insist on thorough and friendly TV coverage and trade or generously give the "team franchise" to South Vietnam. Many a reader will see little relevance between Dr. Graham's thesis and the God who was incarnate in the Prince of Peace, but striking relevance between this thesis and Vietnamizing rather than stopping the tragedy in Southeast Asia.
RICHARD A. HOWARD
Defiance, Ohio
Silent Prelude
Thank you for the needed, poignant reminder ("Has God Forsaken the World?" Dec. 19) that what might appear to be silence on the part of God is a likely prelude to our Lord's second coming. Today's generation is so concerned with the "now" issues that, in my judgment, there is a tendency to relegate the hope of future glory to a less than appropriate emphasis.
RICHARD E. GERIG
Director of Public Relations
Wheaton College
Wheaton, Ill.
Transcendent Teaching
Mary Le Bar's "Seedtime in the Church: The Nursery" (The Minister's Workshop, Dec. 19) is an excellent article. From my years of teaching Sunday School I, too, learned that even two-year-olds can develop a concept of God and a love for Jesus that can comfort and guide them, young as they are.
I agree that if there are conscientious, trained teachers for each grade level it is well to separate the twos and fives, etc. However, in the absence of teachers I grouped children from two to six together.… I was able to present the material simply enough for the youngest and yet with interest for the older ones.… It is a comforting sort of atmosphere in which the younger learn from the older and the older ones, especially the overprivileged, learn to help the younger ones.…
The love and sincerity of the teacher, combined with the congeniality of the group, sometimes transcends the physical structure of the room or adherence to the grouping and curriculum.
NORMA S. ASHBROOK
Flourtown, Pa.
Counting The Days
"The Lord of the Manger" (Dec. 5) was well written and gives glory to the Christ child, which he deserves.
Though the article is well written and worth reading, I cannot agree with the following quote: "When the infant of the manger was taken to the temple a week after his birth." A careful reading of Luke 2:21, 22 shows that he was not taken to the temple for circumcision, which was on the eighth day, but for the purification of Mary, which according to the law was on the fortieth day.
I don't suppose that anybody will ever be led astray by this slight slip, but it bears correction nevertheless.
HERBERT F. PEIMAN
St. John Lutheran Church
Lariat, Tex.
Dr. Edmund P. Clowney says, "The Age of Aquarius begins to look like a bad trip," and, "the Star of Bethlehem led astrologers from the bondage of the zodiac to the worship of the infant Saviour".…
The Wise Men saw the conjunction of two planets in the sign of Pisces, and thus concluded that the Saviour was born, and that the Piscean Age had begun. The symbol for Pisces is the fish (two fishes). The earliest symbol for Christianity was also the fish; in fact, the Christian movement was first called "The Order of the Fish."
On February 4, 1962, five planets, the sun, and moon, were in conjunction in the sign of Aquarius. To astrologers this signified the beginning of the "Age of Aquarius." The symbol for Aquarius is the man pouring water from a vessel. Could this be symbolic of the pouring out of the Holy Spirit on all flesh at last? Is the universal Kingdom of Peace soon to become a reality?
The Christian world has ignored all the implications that were abundant in the ancient symbolism, just as Judaism chose to ignore the obscurita of the beginning of the Church Age. As the people of God, let us have the wisdom to look up, study the heavens (for they do declare the glory of God), and see if they might possibly contain a truth.
FRED A. POTTER
Oklahoma City, Okla.
Fattening Files
I trust that I shall never cease in my gratitude for the excellent material in each issue of CHRISTIANITY TODAY. My files grow steadily on the diet they are fed by your writers.
Being a part of the university atmosphere today frequently finds one groping for help beyond the confines of his own study. CHRISTIANITY TODAY helps meet this need in excellent fashion.
HOLLIS C. MILLER
University Church of Christ
Murray, Ky.
Have something to add about this? See something we missed? Share your feedback here.
Our digital archives are a work in progress. Let us know if corrections need to be made.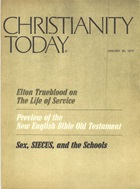 This article is from the January 30 1970 issue.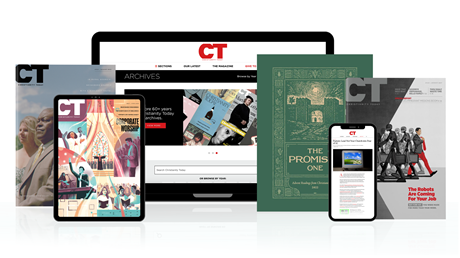 Subscribe to Christianity Today and get access to this article plus 65+ years of archives.
Home delivery of CT magazine
Complete access to articles on ChristianityToday.com
Over 120 years of magazine archives plus full access to all of CT's online archives
Subscribe Now
Eutychus and His Kin: January 30, 1970
Eutychus and His Kin: January 30, 1970