I know what you are doing; I know that you have the reputation of being alive, even though you are dead! So wake up, and strengthen what you still have, before it dies completely.
—Revelation 3:1–2, TEV
John's divine message to the church at Sardis was appropriated by Ralph Abernathy last month as a relevant word for the American religious establishment. Abernathy told the General Board of the National Council of Churches that failure to press more vigorously for social justice is a fatal symptom.
The board members gave Abernathy a warm welcome to their two-day meeting in Washington and expressed their gratitude for his prodding address. Actually, however, they didn't need to be reminded of the moribund condition of American conciliarism, for the main item on the agenda was an attempt to rescue the perishing.
A fifteen-member task force had been named in January to come up with alternatives to the present NCC. The group, "after two intensive two-day meetings," came up with a thirty-five page report giving four options. The Reverend Arie R. Brouwer, an executive of the Reformed Church in America who serves as chairman of the task force, said the report "was generated almost entirely in the meetings of the group. Through it all we kept scrawling ideas and observations on pieces of newsprint which were then taped around the walls.… The material thus generated was put into the hands of Dr. David Hunter.… From it he compiled the report."
Hunter is deputy general secretary of the NCC and is considered by some to be heir apparent to the American conciliar throne.
Perhaps more important than the options suggested (the final plan will doubtless be an adaptation with features from two or more of the proposals) were these recommendations from the task force: that the General Board establish "a probable trend" at its September meeting in Phoenix, and that a "National Ecumenical Consultation" be called during November or early December of this year "to be attended by accredited representatives of member churches and their boards and agencies, non-member churches eligible for membership and all interested church-related agencies and recognized special-interest groups."
The recommendations were endorsed by the board along with a proposal that the board commit itself to a particular plan for a new conciliar structure by next January.
The options developed by the task force were simply labeled A, B, C, and D. Option A seeks the widest possible membership potential at the expense of continuing programs, with "para-ecclesiastical bodies" eligible along with churches. Option B is also a decentralized approach, but only churches would be eligible for membership, and programs would be operated more along present lines. Option C is the most radical, inasmuch as it ties the ecumenical concept entirely to social action. Option D is described as the most flexible plan, with the General Board given more power and member communions expected to increase their undesignated giving substantially.
The only action or reaction the board took on the options was an informal straw vote that showed that denominational staffers tended to favor Option A, pastors went for Option B, while laymen seemed to prefer Option D.
The board meeting was held on the weekend of Father's Day, which also was the longest day of the year. That fact provided a coincidental contrast to the day on which the task force first met, because on that day, Brouwer noted, the sun went into eclipse.
DAVID KUCHARSKY
Board Actions
The new shape of American conciliarism could conceivably preclude pronouncements on social issues. But until that is decided, the National Council of Churches is continuing to crank them out. The NCC's General Board, at its June meeting in Washington, urged the U. S. government not to sell military planes to Israel and criticized labor unions that bar minorities.
The board, noting that some California grape-growers have signed union contracts, lifted its boycott on table grapes but recommended that church agencies and "men of good will" buy only those table grapes that come in boxes with union labels.
A first reading was given to a new policy statement entitled "Responsible Family Planning." The document asserts that "voluntary sterilization and abortion have been made safe through new medical techniques. Every decision for an abortion is a heavy responsibility, because potentially human life is present. It is always better to prevent unwanted conceptions. However, when unwanted conception occurs and the woman strongly feels she cannot or will not accept responsibility for a child and is unwilling to bear a child to be placed for adoption, she must be free to decide in consultation with her physician."
The Board approved a number of personnel separations necessitated by declining revenues and dissolved the NCC Division of Christian Unity for the same reason.
Lamenting The Tie That Binds
The "frightful irrelevance" of the Church of England was mourned by one of its own bishops in a television interview seen by millions last month. The Right Reverend Trevor Huddleston, bishop of Stepney in London's East End, advocated severing the link with the state that gives his church "a bogus security and a position in society and opportunities which it has not earned." Disestablishment would not create a spiritual revival, he said, but it was a necessary first step.
"Basically," went on the 57-year-old Anglo-Catholic, "the Church of England has never thought it necessary to give. It is a very unsacrificial church to live in." All the paraphernalia of the institutionalized church and "the clutter of legality" sap much of its energy, he said.
Huddleston, a former bishop in Tanzania, had earlier been declared persona non grata in South Africa for his vocal opposition to apartheid, expressed also in his best-seller Naught for Your Comfort.
J. D. DOUGLAS
Religion In Transit
Two noted evangelical leaders, Harold J. Ockenga and W. A. Criswell, have issued a call for a Conference on Biblical Prophecy to meet in Jerusalem June 15–18, 1971. Carl F. H. Henry is chairman of the program committee.
New York voters, in a primary election last month, defeated both the senate sponsor of the state's liberal new abortion law and the assemblyman who cast the deciding vote for the bill.
Richmond College, Canada's first independent Christian liberal-arts college, graduated its first class. One of the ten students awarded bachelor of arts degrees was Antonio Pulla of Ottawa, who scored in the upper 2 per cent among 30,000 Canadian college seniors who took comprehensive examinations.
Washington City Presbytery is closing its experimental Market Place Ministries in suburban Virginia. The experiment was a highly-touted effort aimed at showing the church's relevance for apartment dwellers. It included a theater and child care programs. The closing was reported as having left the presbytery with debts of $845,000.
Decision, the monthly periodical published by the Billy Graham Evangelistic Association, has passed the 4,000,000 mark in circulation in the United States and Canada. The total, largest of any religious publication in the world, does not include additional circulation for British, Australian, French, German, Spanish, and Japanese editions.
Evangelical Christians in Turkey are enduring continued persecution for their faith. A German, a Turkish, and three Finnish Christians recently were held and beaten by the police for distributing Christian literature near Izmir. The foreigners had come to Turkey as tourists, confident that Turkish law would guarantee freedom of religion.
The U. S. Supreme Court announced it had agreed to rule on the constitutionality of federal construction grants to church-related colleges.
Coburn Hall Chapel of Virginia Union University, Richmond, was badly damaged by fire. Although the cause of the fire was not immediately determined, officials expressed confidence that it was not the result of student unrest.
Ninety-three arrests were made at the Pentagon last month as the Episcopal Peace Fellowship attempted to hold a series of five daily masses there. Among those taken into custody was the Rev. Malcolm Boyd. The fellowship may seek a court test.
The National Labor Relations Board reversed a longstanding policy last month and asserted jurisdiction over labor relations in private colleges.
The four-year-old Reformed Theological Seminary in Jackson, Mississippi, was notified last month that it has been accepted into associate membership of the American Association of Theological Schools. The move is the first step toward accreditation.
Deaths
ROBERT W. ROOT, 55, noted professor of religious journalism at Syracuse University and more recently at Eisenhower College, and onetime public relations director of the World Council of Churches; in Seneca Falls, New York, of a heart attack.
A. A. ALLEN, 59, controversial head of a noted faith-healing ministry; in San Francisco, as a result of "acute alcoholism and fatty infiltration of the liver," according to a coroner's report.
Personalia
Dr. Allix B. James, president of Virginia Union University, was elected president of the American Association of Theological Schools. He becomes the first black ever to be elevated to the post.
Dr. S. T. Jacobson of Saskatoon was elected president of the Evangelical Lutheran Church of Canada. He was chosen on the fourth ballot to succeed the retiring Dr. Karl Holfeld.
Dr. Orley R. Herron, Jr., was named president of Greenville (Illinois) College, operated by Free Methodists. He is a 1955 graduate of Wheaton College and has been serving as assistant to the president of Indiana State University.
The Reverend David J. Draewell will become president of North American Baptist Seminary on September 1. He will replace Dr. Frank Veninga, who has resigned to become executive vice president of Eastern Baptist Theological Seminary.
A 43-year-old Jesuit priest, the Reverend John McLaughlin, won the Republican nomination for the U. S. Senate from Rhode Island. The Democratic candidate will be incumbent Senator John Pastore, also a Catholic.
Have something to add about this? See something we missed? Share your feedback here.
Our digital archives are a work in progress. Let us know if corrections need to be made.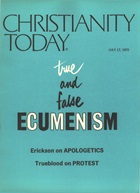 This article is from the July 17 1970 issue.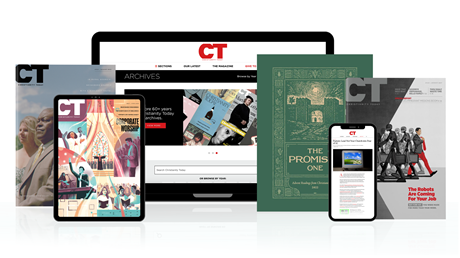 Subscribe to Christianity Today and get access to this article plus 65+ years of archives.
Home delivery of CT magazine
Complete access to articles on ChristianityToday.com
Over 120 years of magazine archives plus full access to all of CT's online archives
Subscribe Now
The Conciliar Rescue Operation
The Conciliar Rescue Operation