The United States Supreme Court ruled on June 15 that conscientious objectors do not have to be religious in the traditional sense of that term. The court also said that draft boards must reconsider a man's status if he decides to be a conscientious objector after being classified. Later in the month the court was expected to decide whether men opposed to particular wars, but not to war in general, are entitled to draft exemption.
Originally, the federal law under which Americans are inducted into the armed forces stated:
"Nothing contained in this title shall be construed to require any person to be subject to combatant training and service in the armed forces of the United States, who, by reason of religious training and belief, is conscientiously opposed to participating in war in any form. Religious training and belief in this connection means an individual's belief in a relation to a Supreme Being involving duties superior to those arising from any human relation, but does not include essentially political, sociological, or philosophic views or a merely personal moral code."
The court ruled in 1965 in the so-called Seeger case that non-religious men could qualify as conscientious objectors if their beliefs were as important in their lives as a religious person's belief in God. Congress amended the draft law in 1967, deleting the reference to a "Supreme Being" but continuing to provide that "religious training and belief" does not include "essentially political, sociological, or philosophical views, or a merely personal code."
The principal in the 1965 case signed the Selective Service form after striking the words training and and putting quotation marks around the word religious. One of the appellants in the cases decided last month, Elliott A. Welsh II, signed after striking the words religious training and. The court said in the Welsh case it did not think that exclusion of those persons with "essentially political, sociological, or philosophical views or a merely personal moral code" should be read to exclude those who hold strong beliefs about our domestic and foreign affairs or even those whose conscientious objection to participation in all wars is founded to a substantial extent upon considerations of public policy. The court decision read: "The two groups of registrants which obviously do fall within these exclusions from the exemption are those whose beliefs are not deeply held and those whose objection to war does not rest at all upon moral, ethical, or religious principle but instead rests solely upon considerations of policy, pragmatism, or expediency."
The court decision for Welsh was five to three.
The dissenting justices wrote that "even if Welsh is quite right in asserting that exempting religious believers is an establishment of religion forbidden by the First Amendment, he nevertheless remains one of those persons whom Congress took pains not to relieve from military duty." The opinion stated that the court's "obligation in statutory construction cases is to enforce the will of Congress, not our own" and added that whether or not the religious exemption from the draft is constitutional, "Welsh had no First Amendment excuse for refusing to report for induction. If it is contrary to the express will of Congress to exempt Welsh, as I [Justice Byron White] think it is, then there is no warrant for saving the religious exemption and the statute by redrafting it in this Court to include Welsh and all others like him."
Defending The Unborn
In the past six weeks, debate over whether to relax abortion laws had its ups and downs. Shortly after Maryland's governor Marvin Mandel vetoed a liberal abortion repeal bill, militant Catholics stormed a hospital in Washington, D. C., to protest the current spate of such proposals. Less than a month later, the nation's most liberal abortion law went into effect in New York.
Opponents (mostly Roman Catholics) and proponents (a statewide poll showed them to be a five-to-four majority) of Maryland's proposed law (see April 24 issue, page 35) had mustered a variety of medical and moral reasons for their views. But Mandel vetoed the proposal because of "legal uncertainties," notably the lack of a time-in-pregnancy restriction, of a residency requirement, and of necessity for parental consent for minors.
Despite that victory, a group of abortion opponents gathered in the capital for a "rally in defense of the unborn." After a Mass that drew about 100 Catholics, including some militant young people called the "Sons of Thunder," L. Brent Bozell, conservative editor of Triumph magazine, spoke against the "murder" of unborn children in Washington hospitals.
A scuffle broke out with police when some of the group used their wooden crosses as clubs to break into a clinic near the George Washington University Hospital. Several were arrested, including Bozell, who is William F. Buckley's brother-in-law. Bozell said the group was attempting to deliver a letter to hospital administrator Victor F. Dudewig, demanding that abortions be discontinued.
Meanwhile, New Yorkers were speculating about their state's becoming "the abortion capital of the nation" when the bill passed last April went into effect on July 1. The law's only restriction prohibits abortions after the twenty-fourth week of pregnancy.
Last year fewer than 1,000 abortions were performed in New York City hospitals; some doctors predict as many as 100,000 in the year following July l—creating the potential for "total chaos" in busy hospitals, according to one obstetrician. The city has ordered that abortions be performed only in licensed hospitals.
A "conscience clause" in state regulations allows physicians, other medical personnel, and perhaps even hospitals to refuse to participate in abortion procedures. New York medical personnel will be faced with other "startling contradictions," the state Catholic Committee warned when the state health department said that birth, death, and "fetal death" certificates may be required in some cases. If the termination of a pregnancy results in a live birth, a birth certificate is necessary; "the subsequent death of the infant necessitates the filing of the usual death certificate."
JANET ROHLER GREISCH
Fairness Doctrine: A Stricter Proposal
In a move that will affect religious broadcasters and their critics, the Federal Communications Commission is proposing a new requirement in behalf of its so-called fairness doctrine.
The FCC proposes that a broadcast licensee, in addition to notifying an individual or a group that an attack has been made that they have the privilege of answering, must show that he sought such a response by contacting a number of persons, if need be.
"The licensee may not rely solely on general broadcast announcements that offer an opportunity to present contrasting views," the FCC said in announcing its proposed rule. "If no appropriate spokesman comes forward as a result of any general announcements, the commission would require the licensee to contact specific persons to present the contrasting viewpoint; informing them, at the least, of the essence of what has been broadcast; and offer them a clear and unambiguous opportunity to respond."
The licensee will not be restricted to just his area in selecting spokesmen, the FCC emphasized, but would be allowed wide discretion.
The FCC pointed out that it does not propose to require that the licensee himself present the contrasting viewpoint, if no one responds to his offer. "If several spokesmen decline to present the contrasting viewpoint and no one responds to general over-the-air invitations, the licensee has conscientiously and in good faith sought to afford the opportunity for discussion of conflicting viewpoints," said the FCC.
The FCC said that its view of the 1969 Supreme Court decision upholding the "fairness doctrine" in the case of the Red Lion Broadcasting Company is that a "licensee who can be and should be as outspoken and hard-hitting as he wishes in presenting his view of an issue should be equally vigorous in getting the other side before the public."
The Red Lion, Pennsylvania, station, owned by the Reverend John G. Norris, had been charged by the FCC with violating the doctrine by carrying the broadcasts of the Reverend Carl McIntire, the Reverend Billy James Hargis, and other politically conservative clergymen without presenting other views.
The FCC has asked for comments on its new rule. They must be filed in writing by July 6, 1970, and a public hearing may follow. The FCC, headed by its new chairman, Dean Burch, voted 6 to 1 to propose the new rule, with newly appointed commissioner Robert Wells casting the only negative vote.
GLENN EVERETT
Rendering Unto Cesar
Grape-strike crusader Cesar Chavez challenged two hundred churchmen last month to intensify their support of the United Farm Workers Organizing Committee's five-year-old strike and table-grape boycott.
His confidence buoyed by recent contracts signed with six grape-growers in the San Joaquin and Coachella valleys, (the following day Chavez also signed a contract with a melon-grower in the Imperial Valley), Chavez said that his prime objective now was to establish a strong farm workers' union rather than to concentrate on wage increases. He met the group in a Delano, California, union hall where a statue of the Virgin Mary enshrined by plastic flowers was flanked by the thunderbird La Huelga ("the strike") emblem, an artistic wooden crucifix, colorful banners ("Poor Men, They Do Penance … for Rich Men's Sins") and trademarks of union-approved grapes.
Chavez expressed gratitude for church support: "Without the help of the church and students we would not have been able to build the union." He combined appeals to humanitarian and religious motives to further his quest for union power, stating that "the real saints today" are his union-organizers, who work for five dollars a week and provisions: "They are doing what Christ said—caring for their brothers."
Moved by the charismatic humility of the Saul Alinsky-trained Mexican-American leader, the audience of Franciscan and Dominican priests, Catholic sisters, Migrant Ministry workers, and representatives from Episcopal, Congregational, Presbyterian, Methodist, Lutheran, and other Christian groups expressed desire to render unto Cesar the support he requested.
UFWOC assistant director Larry Itliong called upon churchmen to help recruit and support a thousand volunteers to police the grape boycott in 250 secondary-sized American cities this summer. Fifty major cities already have UFWOC workers seeking to prevent the sale of "scab" grapes, he said. He spoke highly of Los Angeles archbishop Timothy Manning's support of the strike and claimed that if grape-growers continue to refuse to negotiate, he had been assured that America's Roman Catholic bishops would soon back the boycott as a body.
A spokesman for the California Council of Churches Migrant Ministry, the Reverend Wayne C. Hartmire, asked church leaders to pressure store-owners to sell only union grapes and to instruct their followers not to buy grapes unless there is a union label on the box. He charged that stores have frequently lied and cheated by misrepresenting "scab" grapes as union grapes. He further asked church leaders to assign religious workers to work for the strike and to influence all unions to honor the boycott.
The Catholic Bishops Ad Hoc Committee on Farm Labor and a Palm Springs Methodist minister, the Reverend Lloyd Saatjian, have served as informal negotiators in recent uniongrower contracts. The agreement signed last month with the Bianco Fruit Corporation provided for $1.75 per hour, ten cents a box bonus, ten cents an hour for the Robert F. Kennedy Fund, and two cents a box for a union welfare program. Growers are obligated to hire only UFWOC members unless the union has failed to provide requested help for a seven-day period.
Many clergymen in the Delano area do not support the Chavez crusade for union power. They point out that the grape-pickers in their area are not poverty-stricken people being exploited by growers, and they cite statistics that show that Delano grape-pickers earned an average of $2.40 an hour including the piece rate. Ninety per cent of the Delano farm workers are not migrant but live in homes in the $15,000–$20,000 range and commute to vineyards and other harvest fields on a year-round basis.
The Reverend Robert Moore, Delano Negro Baptist minister, states that Chavez has used "the badge of poverty to unionize; instead of working for the poor people he has been working on the poor people." He claims that the strike failed so the boycott was begun. "If the folks here had been in poverty, I would have been the first to lead out. But strikers were not those who lived here." He recognizes the necessity for a clause in any union agreement to prohibit a strike during harvest that could result in destruction of perishables. Chavez's contracts do not have such a clause. As a result of Moore's vocal opposition to the UFWOC, his home has been picketed by members of the Student National (formerly Nonviolent) Coordinating Committee.
The Reverend C. Edgar Manherz, pastor of the First Methodist Church and past president of the Delano ministerial association, considers UFWOC practices for farm workers "undemocratic, un-American, and unchristian." He voices strong objections to instances where strikers have vilified and thrown dirt at non-union workers who chose to remain in the fields.
In nearby Bakersfield, Dr. Glenn D. Puder of the First Presbyterian Church considers the secondary boycott "out of order." He expresses concern that the small grower is the forgotten man in the grape controversy. In the case of a long strike or inability to sell his grapes at a profit, "the big grower can stick it out, but there's no road back for the small grower."
Churchmen supporting Chavez contend that a moral issue is at stake: the Church must stand with the poor. Opponents believe the controversy is a struggle for power by militant unionists and that poverty is not the real issue. Others, such as the Reverend George Woodgates, an Episcopal minister in Bakersfield, resist taking sides in an attempt to help reconcile the opposing factions. In the meantime grapes of wrath continue to ripen in the vineyards of California. ROBERT L. CLEATH
Putting One Over On The Laity
A noted newspaper columnist jolted the ecclesiastical establishment last month by showing how leading churchmen are promoting sexual permissiveness in the guise of "study reports."
Louis Cassels, senior editor of United Press International, in a column released June 12, said the device has been employed in recent weeks by three of America's largest Protestant bodies: the United Presbyterian Church, the United Church of Christ, and the Lutheran Church in America.
All three, Cassels wrote, have come out with statements asserting that extramarital sexual relations are not always wrong. The documents are printed, distributed, and publicized by the denominations. They are paid for out of denominational funds. "But there always is some fine print," he notes, that says the statements were issued "to stimulate thought and discussion" and are not to be construed as an official statement of the teaching of the denomination.
Cassels, a devout Episcopalian, is one of the most respected reporters in Washington. In addition to covering politics, education, and special events, he has for the past 15 years written a weekly religion column that is now distributed to some 2,000 newspapers. He also has written several books and is recognized as an expert on organized religion.
Cassels' candid appraisal of the churches' new declarations on sex notes that Christians may sincerely differ on whether the views are consistent with biblical teaching. But he adds that "there seems little room for debate about the essential hypocrisy of the device by which they are put forward with a great fanfare of publicity by denominational officials who deny any responsibility for the stands taken."
Jane Fonda In Church
Movie star Jane Fonda was the featured speaker at the Sunday-morning "Celebration of Liberation" in San Francisco's Glide Memorial Methodist Church on June 7. "I never thought I'd ever be back in church," said Miss Fonda, "but then I didn't know they had churches like this!"
Glide Memorial in the downtown Tenderloin district is packed each Sunday with wall-to-wall hair as a thousand hippie radicals meet to share humanistic concern, vent revolutionary rhetoric, and spread joy. The spirited hippies welcomed Miss Fonda's description of American society as a monster with lusty cries of "Right on!" Quoting abolitionists William Lloyd Garrison and Wendell Phillips and Chief Sitting Bull, she pleaded for support of the Black Panther party and the freeing of "political prisoner" Bobby Seale.
A ball-of-fire black minister, the Reverend A. Cecil Williams, ignites his congregation of white, black, and yellow youths with hip-jargon-loaded revolutionary messages, "Quotations from Chairman Jesus," and cool, swinging music. Cabaret singer Jean Hoffman and the Meridian West folk-jazz group provide an innovative backdrop for sing-a-long and gyrating dancers as a phantasmagorical light show is projected overhead during services.
"Sometimes I'm asked about bein' saved," said Williams in his message entitled, "Yeh, I've Connected." "Well, I don't believe in bein' saved. I was saved once and nothin' happened to me." Now he claims he is "connected with people" and is a liberated man.
The happenings in Glide Methodist these days would set John Wesley aghast, but they apparently cause few ripples in the upper echelons of United Methodism. As for Wesley and his doctrine, the hippies couldn't care less. Swaying to the benediction of "We Shall Overcome," hands held high in a two-fingered peace sign or black-power fist, they are having a ball.
Honor America Day
Between ringing bells and sky-rocketing fireworks in the nation's capital this Fourth of July will be Honor America Day, a red-white-and-blue celebration headed by Billy Graham and Bob Hope.
After the 11 A.M. bell-ringing, which sponsors hope will reverberate across the nationLast month telegrams went to U. S. mayors and governors asking them to set up local and state observances to "honor the flag, encourage unity, and express appreciation for blessings this nation has received.", evangelist Graham will conduct a service at the Lincoln Memorial. In Denver last month, he told the Southern Baptist Convention that he would use the opportunity to "preach Christ as the way to heal America."
Later in the day, Walt Disney Productions will stage a gala studded with stars like Johnny Cash and Glen Campbell. At the nearby Smithsonian Institution, the annual Festival of American Folklife will offer glimpses of rural and mountain life. Hope estimated that as many as 500,000 might gather at the Washington Monument grounds for the occasion.
Both Graham and Hope stressed that the event will not be a pro-war demonstration: "We're not trying to answer a demonstration with a demonstration." Although they expressed hope that President Nixon would make a "guest star" appearance, the day was not planned, they said, to rally support for his administration. "We want the world to see that Americans can put aside their honest differences and rally around the flag to show national unity," Hope said.
Honorary chairmen for the day include Mrs. Dwight D. Eisenhower and former Presidents Harry Truman and Lyndon Johnson. Support was also promised from a bipartisan group of congressmen and the Roman Catholic Archdiocese of Washington.
Have something to add about this? See something we missed? Share your feedback here.
Our digital archives are a work in progress. Let us know if corrections need to be made.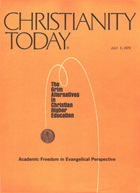 This article is from the July 3 1970 issue.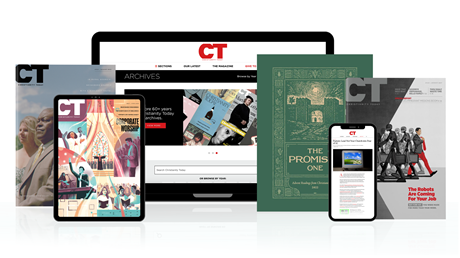 Subscribe to Christianity Today and get access to this article plus 65+ years of archives.
Home delivery of CT magazine
Complete access to articles on ChristianityToday.com
Over 120 years of magazine archives plus full access to all of CT's online archives
Subscribe Now
Reinterpreting the Draft Law
Reinterpreting the Draft Law