The more we think of god in terms of his attributes and, as a result, magnify him in our own thinking and attitudes, the easier it is to confront life. But if we ignore the truth about God and glory in our own wisdom, we set the stage for the major heresy of every generation—worshiping and serving the creature rather than the Creator (Rom. 1:25).
God has not left himself without a witness, nor has man any excuse for ignoring that witness. The Apostle Paul writes, "What can be known about God is plain to them, because God has shown it to them. Ever since the creation of the world his invisible nature, namely, his eternal power and deity, has been clearly perceived in the things that have been made" (Rom. 1:19, 20).
We live in a time of mind-expanding discoveries, and every new discovery bears testimony, whether recognized or not, to the wisdom and power of the Creator. Were it not for the fixedness of natural laws, man could never have walked on the moon. It is because God has established in the universe these fixed principles that man could make use of them with knowledge and certainty. We stand amazed at man's achievements, but we should bow and worship in the presence of the One who created all things and saw that they were good.
Pause to ponder three of God's attributes and you will see that man must magnify him. The God with whom we have to do is omnipotent, omnipresent, and omniscient.
Omnipotent—all powerful! The One who created the world and the universe is not limited in any way. Man, bound by time, space, and circumstances, often finds his knowledge, understanding, and movements under the control of factors beyond his power to change. But for God, none of these limitations exists. For him time does not exist and space has no ending. He is the determiner of circumstances, not their prisoner. This is the God in whom we trust, the One we can call "Father."
Omnipresent—present everywhere! There is no place to which we can go in this life to escape his presence. After death, yes, for hell must certainly be separation from God. David expresses this thought perfectly. "Whither shall I go from thy Spirit? Or whither shall I flee from thy presence? If I ascend to heaven [like the astronauts], thou art there! If I make my bed in Sheol [like the aquanauts], thou art there! If I take the wings of morning [on board a 747 jet] and dwell in the uttermost parts of the sea, even there thy hand shall lead me, and thy right hand shall hold me. If I say, 'Let only darkness cover me, and the light about me be night,' even the darkness is not dark to thee, the night is as bright as the day; for darkness is as light with thee" (Ps. 139:7–12).
Omniscient—all-knowing! Although man's knowledge is rapidly expanding, he knows only a tiny fraction of all truth. But God knows all about every person who has ever lived, or will live, on the earth—all his thoughts, motives, problems, all about his relationships with all other people whom he ever encountered. The human mind staggers before such knowledge—but what comfort there is in this truth for the Christian!
Man's rejection of God's revelation of himself leads to untold folly and to death itself. We see the power and wisdom of God in creation: "The heavens are telling the glory of God; and the firmament proclaims his handiwork. Day to day pours forth speech, and night to night delivers knowledge" (Ps. 19:1, 2). If we ignore the source of the power and wisdom so revealed for us to see every day of our lives, we are ignoring Life itself.
But we have more than the evidences of creation to turn our minds and hearts to God. In the person and work of his Son we have the revelation of his compassion, his power and redemptive purpose. Christ is not a different God but the physical revelation of the Father. "In him the whole fulness of deity dwells bodily" (Col. 2:9), so that the intangible and unseen God has actually come into this world in the person of Jesus Christ and we can read of his birth, life, death, resurrection, and coming again in the Scriptures, and through them come to believe in him for salvation.
However, the story does not end there. God has supplied the Teacher to make these things plain—his Holy Spirit—so man has no excuse other than his own unbending will. "Even if our gospel is veiled, it is veiled only to those who are perishing. In their case the god of this world has blinded the minds of unbelievers, to keep them from seeing the light of the gospel of the glory of Christ, who is the likeness of God" (2 Cor. 4:3, 4).
One of the marvels of God's revelation is that it is so wonderfully logical and fits into one perfect whole. Once, for instance, we realize that the Christ who came into the world to redeem man from sin is the same Christ who created the world in the first place, those truths having to do with his virgin birth, sinless life, miraculous power, atoning death, resurrection from the dead, and coming again, make sense. And when we realize that he sent his Spirit into the world to activate and make effective the preaching of his Gospel, we have to admit that "he has done all things well," that the one thing left is for us to believe.
And with faith comes a personal experience with the living Christ.
Nevertheless, we are confronted by another truth with its solemn implications. God created us the highest form of being, in his likeness. He has given us the right of choice, of making our own decisions, and he never violates that right. With all the evidence of his creative power and redemptive love, we are still free to choose or reject him, to believe or disbelieve.
For all those who believe, there is far more than salvation for eternity. There is the reality of God's presence with them every day of their lives, and they can appropriate by faith those blessings that the One who is omnipotent, omnipresent, and omniscient is so anxious and willing to give, because he is also absolutely loving and kind.
I am convinced that once we accept the fact that he is all of these things, and more, and the fact that through faith we can live day by day in close personal contact with him, not only will our concept of God broaden out into the infinity of time, space, and circumstance, but he will also dwell in our hearts and bring with him peace, joy, hope, and love that will completely change the pattern of our lives.
The Apostle Paul had this experience and wrote, "I have been crucified with Christ; it is no longer I who live, but Christ who lives in me; and the life I now live in the flesh I live by faith in the Son of God, who loved me and gave himself for me" (Gal. 2:20).
Such a life was not for Paul alone but is for all who will see the evidence, hear God's call, and believe!
L. NELSON BELL
Have something to add about this? See something we missed? Share your feedback here.
Our digital archives are a work in progress. Let us know if corrections need to be made.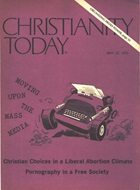 This article is from the May 22 1970 issue.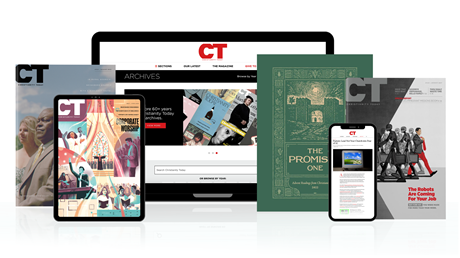 Subscribe to Christianity Today and get access to this article plus 65+ years of archives.
Home delivery of CT magazine
Complete access to articles on ChristianityToday.com
Over 120 years of magazine archives plus full access to all of CT's online archives
Subscribe Now
Believe and Appropriate!
Believe and Appropriate!