Not since the Second Vatican Council has there been such a consensus among leading Roman Catholic theologians, Professor Hans Küng concluded after the world congress of theologians in Brussels last month. The assembly was organized by the respected Roman Catholic theological journal Concilium and led by the four (Küng, Karl Rahner, Yves Congar, and Eduard Schillebeeckx) who have been warned by Rome because of their progressive views.
The agreement was especially striking among Switzerland's Küng, Germany's Rahner, and Raymond Brown, New Testament scholar at New York's Union Seminary. Together they formulated the basic requirements of a Christian: he must accept the Christological confessions of the past, see Christ as the foundation of his faith, believe that God revealed himself in Christ, and believe that without a relationship to Christ man is lost.
More than 200 Roman Catholic (and a few Protestant) theologians from thirty-two countries, 200 journalists, and some 700 observers and guests attended the congress on "The Future of the Church" September 12–18. They concurred that the Christian message is Christ himself—without faith in him Christianity has no basis. They did not agree, however, about such practical matters as a protest against the "oppression of the faithful [priests who want to marry] by ecclesiastical authorities." This resolution did not reach the required two-thirds majority that chairman Schillebeeckx had hoped for.
Not everyone was as convinced as Küng about consensus at the congress. Some observers missed Eastern Orthodoxy, the Third World, and women (only nine women were among the 220 voting delegates). Others claimed the theologians didn't know enough about modern life, or complained that the triumphalism of the Church had been replaced by the triumphalism of theologians.
The congress ended with a series of resolutions. The church was asked to find a new and democratic way to elect popes and appoint bishops, to leave theologians free to work without fear of persecution, to consider ordaining women to the ministry, and to fight discrimination against women within the church.
Observers felt the unanimity of the congress was made possible by its being held far from the chair of the Pope. Belgium's Leo-Jozef Cardinal Suenens, prestigious progressive and ranking prelate present, became the sole confessor. While theologians talked, the Pope and his cardinals kept strangely silent.
Priest Tells Of Torture
Religious News Service published last month a letter from a Brazilian Catholic priest who said he had been jailed and tortured for alleged "Communistic" activities. The letter was said to have been smuggled out of the prison in the shoe of a nun. RNS said it had gained access to the letter through "a reliable Catholic source" in Washington, D. C.
Father José Antonio Monteiro, one of two priests arrested and imprisoned during the most recent wave of Brazilian governmental actions against priests, describes his ordeal in the letter, written August 15 (in Portuguese) in a military prison at São Luis, Marannão, Brazil.
After a month's incarceration, Father Monteiro and Father Xavier De Maupeau were released by a military court of justice, RNS later reported. A ground swell of public opinion and complaints to government authorities about similar maltreatment reportedly brought the case to trial.
The letter from the priest says he was slapped, kicked, and hung on a torture pole over a pan of burning alcohol until he signed a confession "without knowing the contents." Prior to publication of the letter, fifteen Brazilian bishops signed a statement protesting treatment of Father Monteiro on the basis of sworn statements from two physicians that he had been tortured. The bishops said his arrest and that of his colleague had come only because landowners and police described their work among the poor as "subversive."
After his ordination in 1967, Father Monteiro was asked by his archbishop to work with the French priest, Father De Maupeau, in a parish in the interior of Marannão, among the "humble and marginalized poor," he wrote.
"We put a Bible in the hands of many of these simple people and encouraged them to meet in order to read and discuss the Bible, and thus unite together, so as to better themselves and their village through cooperative efforts. We motivated them to begin local schools where they could resolve some of their health problems.
"This aggravated some people since it meant that the poor would no longer be easily manipulated for votes at election time."
But voting and elections were not discussed with the people, the priest said.
"Hate grew among those who preferred that the status quo enslave the poor, and it became so intense that they finally denounced us to the police, saying we were Communists. A local congressman took this as his 'duty,' denouncing us publicly."
Having been informed while attending an annual meeting of clergy, sisters, and laymen that police had broken into their house in Urbano Santos and taken out a great deal of "Communistic material," Father Monteiro returned home, where he was taken into custody by six armed federal police, transported to São Luis, and jailed.
At midnight, he awoke suddenly to discover Father De Maupeau "quietly calling to me and whispering in my cell. At that moment my anguish was profound. Neither of us knew why we were prisoners."
The next morning (August 5), his priest co-worker was transferred to another prison, although the soldiers told Father Monteiro that he had been set free.
Later that morning Father Monterio was subjected to his first interrogation. "What do you think of Communism?" was the first question they asked him, the priest said.
"I answered that the little knowledge I had was of Christian doctrine. They showed me some papers on Communism and said they had found them in my desk drawers. I denied that.
"I was standing before two soldiers as they interrogated me. Suddenly, one of them gave me a violent slap on the face. The interrogation continued. At one point, when I denied that I had encouraged the peasant farmers to revolt, one of the soldiers kicked me in the kidneys, then he picked me up off the ground by the hair on my head and punched me in the stomach until I fell to the ground again. I continued to deny the unjust accusations they made.
"My interrogators seemed to get more and more angry because I remained calm. They called me the most vile and base names imaginable. What hurt most was they claimed that they did this because they were good Christians.…
"Thus it was that they extorted my confession. In my statement they had written: 'The declarant freely expressed the following …' I could not even react. I signed the document without knowing the contents. At this second session of torture they extorted my confession after I hung for three hours.…
Ten days after their imprisonment, the priests were turned over by the federal police to local police. It was then possible for them to have visitors, and nuns slipped paper and pen to Father Monteiro.
Religious News Service was informed that many priests in the region were greatly concerned about this imprisonment and met to draft a strong statement of protest to the authorities against what they believe was an unjust act.
The government's unofficial policy, an informant told RNS, is to "demoralize and incite fear in the people so they won't respond to the church in its efforts to make the people aware of their dignity and rights."
Personalia
Billy Graham will be grand marshal of the 1971 Rose Parade in Pasadena. Previous marshals have included Richard Nixon, Bob Hope, and Dwight D. Eisenhower … Graham has made five television spot announcements urging people to "obey the law" on school integration. A Charlotte, North Carolina, station will distribute them to others in the South.
Following exoneration for relaying an order for the execution of seventeen Italian civilian hostages during World War II, Matthias Defregger resigned his post as auxiliary bishop of Munich.
John E. Procter, 51, who has been a vice-president of the Methodist Publishing House in Nashville since 1964, will succeed Lovick Pierce as president and publisher November 1. Pierce, who is retiring, was criticized for his large salary ($5,000 annually), and his opposition to Project Equality.
Dr. Robert Morris of Dallas, president of the University of Plano, has been named editor-publisher of Twin Circle—The National Catholic Press, succeeding the Reverend Daniel Lyons after the latter's forced resignation (see September 11 issue, page 47). Lyons will become editor at large for Twin Circle.
United Presbyterian stated clerk William P. Thompson has been named president of the newly formed World Alliance of Reformed Churches (Presbyterian and Congregational).
A federal court suit filed in Memphis, Tennessee, by six laymen last month charges that the Reverend H. Ralph Jackson, director of the minimum-salary department of the African Methodist Episcopal Church, diverted more than $700,000 from the department to paper holding companies and other organizations, and for the purchase of his present home.
Mrs. Diane Pike, widow of the late Episcopal bishop James Pike, is studying Hebrew and biblical history at the Hebrew University in Jerusalem during the current academic year.
West Point senior Cary E. Donham, who lost a court battle to make the Army release him as a conscientious objector (see September 11 issue, page 54), will resign from the military academy, his lawyer said last month.
Sister Nancy Eagan, acting head nurse of a Kirkwood, Missouri, hospital, is a flying nun. As a member of the Air Force reserve, she is assigned as a flight nurse with the Military Airlift Command. First Lieutenant Eagan is the first nun to hold a U. S military commission.
William Hamilton, a founding father of the death-of-God movement, left his latest job as professor of religion at the New College, Sarasota, Florida, to become dean of arts and letters at Portland (Oregon) State. Said the nonplussed administrator about his students: "They are the most appallingly religious generation I've run into" [but] "I have become a reactionary in the eyes of many.…"
Religion In Transit
"The Lutheran Hour" began its thirty-eighth broadcast season last month after the largest year of growth in thirty years. The addition of 145 new outlets brings to 900 the number of stations carrying the program in North America; 600 others in various countries air it.… The Lutheran Church-Missouri Synod's television series "This Is the Life" meanwhile began its nineteenth season with a record 419 stations in the United States and Canada, and a growing number of foreign countries.
The Church of the Nazarene began an evangelism program this month designed to win half a million new members.
Radio Station KJNP, North Pole, Alaska, which was preparing to boost its power to 50,000 watts this month (see July 3 issue, page 39), had its new 425-foot tower destroyed by vandals within days of its erection. State troopers said support cables were cut; the loss (uninsured) was $20,000. A restoration fund, Box O, North Pole, 99705, has been started.
To counter the creeping drug culture, Ted Randal Enterprises, a firm supplying pop-music programming to fifty-five stations, has begun rating each new record to be distributed: Drugs (D), Sex (S), Language (L), and General (G), with additional notations of Acceptable (A), Marginal (M), and Unacceptable (X). Meanwhile, many stations have started inserting antidrug messages into daily programming.
Some dissident Mexican-Americans burned at least a dozen baptismal certificates on the steps of St. Basil's Roman Catholic Church in Los Angeles last month to call attention to what they said was frustration with church authorities over Mexican-American problems.
The Universal Fellowship of Metropolitan Community Churches, the nation's first religious denomination for homosexuals, was formally incorporated last month. The "mother church" is in Los Angeles.
The Evangelical Communications Research Foundation has been incorporated in Dallas, Texas, for "research in the field of communications, as it relates to evangelical mission endeavors, Christian education and church expansion."
Youth Films of Muskegon, Michigan, is making a color documentary film from the best-selling new book on drug abuse, "High on the Campus," written by two Youth for Christ workers.
A farm near Odell, Oregon, once owned by famed evangelist of yesteryear Billy Sunday, will be carved up by a new road if the Oregon Highway Commission completes present plans. Sunday lived in a tent on the property until his home was built, had a dairy herd on the site, and reportedly liked to irrigate by sprinkling with a fire hose.
World Scene
More than 100 missionaries representing the Andes Evangelical Mission and the Evangelical Union of South America have voted to support the group of German theologians who issued the Frankfurt Declaration last March (see June 19 issue, page 3). The Association of Evangelical Professors of Missions also approved the document at a recent meeting at Wheaton (Illinois) College.
Not every Roman Catholic in Holland appreciates the progressive stance of the majority of church members and their cardinal, Bernard Jan Alfrink. Conservatives, failing to swing local congregations to their viewpoint, have now requested the right to form their own "emergency congregations" and even an "emergency diocese" within Alfrink's archdiocese.
The fastest-growing Dutch denomination last year was the Reformed Congregations in the Netherlands, a breakaway from the Dutch counterpart of the Christian Reformed Church in the United States. The church added 472 members, making a total of 15,946. Remarkably, the fifty-one congregations are served by only three pastors. Most worship services consist of the reading of a seventeenth-or eighteenth-century sermon.
The Roman Catholic Church has approved a new rite in which young women who are not nuns may consecrate their virginity "to Christ and their brethren," then continue to live a lay life outside a convent. The Vatican called the revival of an early practice in the Church "a reaffirmation of the significance of chastity in a world obsessed by sex."
Pope Paul will fly to the Philippines and Australia late next month on his ninth and longest trip.
The ban on Roman Catholic students' attending Protestant Trinity College in Dublin, Ireland, has been lifted. Irish Cardinal Conway said the Holy See had approved repeal of the longtime statute.
The Southern Sudan Association reported in London last month that a Christian congregation of twenty-seven was "massacred" by Muslim troops while assembled for prayer in the Southern Sudan last July 23.
A group known in English as the Fellowship of Evangelical Baptist Churches in Europe, in early stages of development, is seeking to provide fellowship and inspiration. English, Irish, and French-speaking churchmen are the basic components of the new fellowship.
Have something to add about this? See something we missed? Share your feedback here.
Our digital archives are a work in progress. Let us know if corrections need to be made.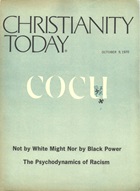 This article is from the October 9 1970 issue.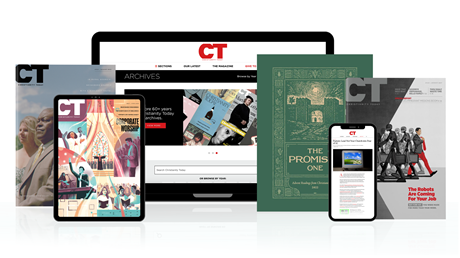 Subscribe to Christianity Today and get access to this article plus 65+ years of archives.
Home delivery of CT magazine
Complete access to articles on ChristianityToday.com
Over 120 years of magazine archives plus full access to all of CT's online archives
Subscribe Now
Brussels Conference: 'While Theologians Talked'
Brussels Conference: 'While Theologians Talked'