HOLY TERROR?
During the WCC's Uppsala meetings two years ago there was a remarkable exchange between a priest and a journalist, both from Catholic Ireland.
Journalist: "How are things going over in the assembly hall, Father?"
Priest: "Lousy, thanks be to God."
Given that viewpoint, the same cleric doubtless hailed with gratitude the news that the WCC had spent $20,000 of non-Catholic Christian money on sponsoring last spring's Beirut dialogue with Hindus, Muslims, and Buddhists.
I wish he were available for comment on the council's latest attempt to prove itself meaningful in a changing world. The executive committee has allocated ten times the Beirut sum to anti-apartheid groups, including guerrilla organizations in Africa. The grants, says a spokesman ingenuously, are intended to "strengthen the organizational capacity of racially oppressed people." Whatever these woolly words mean, it seems clear that the council will have no control over the way its money is spent.
Apartheid is one of many evils that disfigure this fallen world, but such a method of countering white African oppression not only implies a tidy degree of allrightness in the major part of the continent where black rules black, but conveniently diverts attention from other areas of man's inhumanity to man. When, for example, did the Geneva-based champions of human rights venture an outraged squeak against the inexorable persecution of Russia's Protestants?
With such a capacity for selective indignation, it is not surprising that the WCC has been losing both momentum and credibility, and not surprising that it should wish to create a diversion. Its straits must nevertheless have been more desperate than we thought for it to identify with partisans whose political antecedents will be greeted with dismay by some member churches whose money the WCC is so liberally disbursing.
An unfortunate by-product of all this is that it helps to make defensible the indefensible policies of the Republic of South Africa. Already a Durban archbishop has suggested that the WCC's action may be a throwback to the "cold steel and holy water" mentality of the Middle Ages. The WCC will dislike that utterance as much for its charge of naked militarism as for its imputation of an overtly religious motive. Perhaps neither allegation will sting so severely as the attempted defacement of the council's painstakingly drawn image of itself as a swinging child of the seventies.
LETTER TO LINDA
Thank you so much for printing that open letter to Linda Kasabian (Sept. 11).…
I had thought so much about her when she was giving her testimony and wishing I could think of the right things to say to her to help rescue her from the morass in which she found herself entangled. But I know I never could have written just such a wonderful letter.
I pray that she receives it, thinks about it, and commits herself to the Living Lord.
El Monte, Calif.
It was nicely put, without overstating. It is pretty easy for us to decry the brutality of extremists of both the left and the right in this day without giving them the benefit of the doubt that our Lord would.
Director, Office of Communication
Christian Church (Disciples)
Indianapolis, Ind.
THE SPOTLIGHT'S GLARE
I want to express my appreciation for the quality and the care with which Russell Chandler prepared "The Mennonites: Pioneer Nonconformists" (Sept. 11). On the other hand, I do express my concern that this features the Augsburgers in a way which does not honor so many of my brethren who are most outstanding in their contribution.
President
Eastern Mennonite College
Harrisonburg, Va.
Your article reveals extensive and accurate research from responsible persons interviewed as well as other sources. It is gratifying to realize that a magazine of this stature has recognized the position and commitment of one of the smaller denominations.
Martinsburg Mennonite Church
Martinsburg, Pa.
POINTED WORDS
I was disconcerted with the editorial, "Evangelical Without Adjectives" (Aug. 21). It seems that you are being too "uptight" with words. The use of the adjective "conservative" is meant to clarify aspects of an individual's evangelical belief. For example, Carl McIntire, Billy Graham, Carl Henry, C. S. Lewis, J. B. Phillips, and Karl Barth may all accurately be called "evangelicals" in every sense of Webster's definition. But one would be blind not to perceive differences in their theologies.…
To many of my fellow ministers I am very "conservative." But your magazine might regard me as "liberal." Yet I am still an evangelical Christian.
So what is your point?
San Juan Larger Parish Intern Pastor
United Presbyterian Church U. S. A.
Bayfield, Colo.
FLAGS OVER IRELAND
While I respect the integrity of your thinking and writing, I must point out that your editorial "Ulster: Who's a Christian?" (Aug. 21) is misinformed.
It is true that many Roman Catholics and Protestants are actively hostile to each other, and this has been so for generations in Ulster.… Fifty years ago the southern portion of Ireland broke away from the United Kingdom; this part of Ireland is 95 per cent Roman Catholic. Northern Ireland, which is two-thirds Protestant, and largely composed of Ulster-Scots, has strenuously retained the link with Britain. But Ulster's Roman Catholic minority has always been Republican and anxious to sever the link with Britain. The basic cause of the present unrest is political, and if you were here you would see Protestant crowds waving Union Jacks and singing loyal songs, and you would see Roman Catholic crowds waving Eire tricolours and singing rebel songs.… It must also be stated that those involved in disturbances are not Christians; the "Protestants" are mostly non-church-goers and the "Catholics" are not devout Catholics. I was pastor of a church in Belfast for thirteen years and I am quite familiar with the situation there.
Reformed Presbyterian Church of Ireland
County Antrim, Northern Ireland
FINDING TIME
Thanks for the exposé of the latest episode in the story of the "lost day in history" (Editorials, Sept. 11).
This is not new … I have in my library a book by a Sidney Collett titled All About the Bible.… My copy is from the twentieth edition of the book and was printed in the 1930s. Collett stated that a Professor Totten, of America, wrote a book, Our Race (no publication information is given), which purports to prove this same thing. Thus we are probably talking of a book which goes back half a century.
Professor Totten, says Collett, figured back from the present to Joshua's long day and found that it fell on a Wednesday. Then he figured forward from the prime date of creation (we aren't told how he arrived at that) to Joshua's long day, and this time it fell on a Tuesday. Thus a day is lost. Then he brought in the sundial episode of Hezekiah and by these two events accounted for the missing day.
I have heard this story repeated in some fundamentalistic circles before the recent revival with a NASA setting. It may well be that Mr. Hill got the information from Totten's book and fed it into the computer and came up with Totten's answer. But of course, a computer can only work on the material fed into it. It would be quite interesting to know just what the basic material of Hill or Totten was, especially when they dated the creation. Thanks for your sensible answer.
Livonia Baptist Church
Livonia, Mich.
FEAT OF CENTURIES
You imply that "heresy at Concordia" is a "matter of interpretation" (News, Aug. 21). In asserting that President Preus is to move against "liberal professors in the denomination's seminaries," you apparently have indicated which interpretation of the dispute you prefer. I'm at a loss to understand just how you are able to perform this feat and judge that the seminaries harbor "liberals," but I do not dispute your right to make your judgments, however uninformed.
Missouri Synod Lutherans, however, have to be grateful to CHRISTIANITY TODAY for the statement it carried from President Preus on the controversy in our midst. While it can hardly be called a full treatment of the problem, the quotation was the fullest we have seen on what the president is about. I imagine that Christians of all persuasions will rejoice that we in the Lutheran Church-Missouri Synod are about to settle problems which have bothered all the rest of Christendom for centuries.
Immanuel Lutheran Church
Amherst, Mass.
PLUS AND MINUS
I am sorry that you found it necessary to give such a negative report (News and Editorials, Aug. 21) of the Fifth Assembly of the Lutheran World Federation held this summer. There were, of course, many problems at this world assembly.… However, there were also very good things.… Among these was the pronounced interest of the assembly to establish closer and more cordial relationships with evangelicals around the world.…
Contrary to your editorial, which disparaged the assembly for its lack of emphasis on the Scripture, the very theme of the assembly, "Sent Into the World," is scriptural, is it not? Or did your reporter not know that!…
It is true that I removed some copies of the journal, Sola Scriptura, from the official Lutheran World Federation desk. The reporter involved had asked for permission to put this free literature on the table with the official Lutheran World Federation literature and had been denied that privilege. Anyone could distribute any literature he liked at the door, and we welcomed that opportunity for anyone at the assembly. But placing this magazine on the same table with official materials made it appear to many as though the Lutheran World Federation were sanctioning this publication. Knowing of this abuse by this guest, I put Sola Scriptura on the table behind the desk and went to inform the associate general secretary. When he learned of this infraction of the rules, he removed the magazine himself and then proceeded to give it back to those who wished to distribute it properly. I think your reporter owes an apology to Lutherans for his tasteless comments.
President
Wartburg Theological Seminary
Dubuque, Iowa
DOLLARS TO DEATH
"Changing Partnerships in Christian Higher Education" (Aug. 21) presents an accurate and cogent assessment of the dilemma facing the Christian liberal-arts college today. The tone of the writing, however, implies that this competent, concerned Christian administrator has viewed these changing partnerships … with mixed emotions.
I cannot agree with the conclusion that "the Christian college will have to accept a balance of partnerships in order to survive." Not when these so-called partnerships have been imposed by secular accreditation agencies, the business community, and the federal government. Once these influences make their presence felt, it is no longer a matter of survival but of how long it will be before the evangelical imperative is completely strangled—if it is not already dead.…
I am convinced that Christian higher education can be financed through God's leading in the Church, concerned alumni, further painful tuition increases, and a dynamic public-relations campaign spanning the broader evangelical community.
Director, Psychological Services
Office of Special Education
Adair, Cass, Montgomery, Shelby Counties
Atlantic, Iowa
Have something to add about this? See something we missed? Share your feedback here.
Our digital archives are a work in progress. Let us know if corrections need to be made.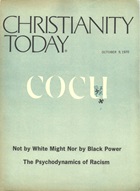 This article is from the October 9 1970 issue.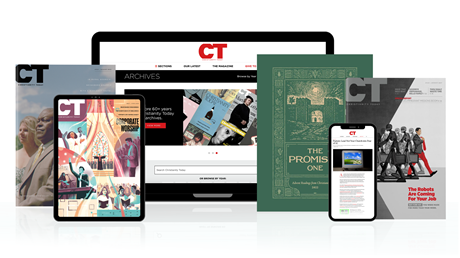 Subscribe to Christianity Today and get access to this article plus 65+ years of archives.
Home delivery of CT magazine
Complete access to articles on ChristianityToday.com
Over 120 years of magazine archives plus full access to all of CT's online archives
Subscribe Now
Eutychus and His Kin: October 9, 1970
Eutychus and His Kin: October 9, 1970