Sixty years ago when the National Baptist Convention, U. S. A., Incorporated, last held its annual meeting in New Orleans, accommodations were none too good. Hotels barred blacks, and delegates of the Negro denomination stayed in small rooming houses and homes of local parishioners. But the late Dr. E. C. Morris, then president of what is now the nation's largest black organization, pledged that the convention would someday again be held in the Crescent City.
That promise was fulfilled last month when about 15,000 delegates of the 6.3-million-member church met there for its ninetieth annual session. In the words of the National Baptist Convention's present president and American patriot, Dr. Joseph H. Jackson, New Orleans was "ready for us now. … Old barriers are broken down. You recognize us as American citizens dedicated to the nation and loyal to the flag. And living in obedience to the federal Constitution." Innkeepers were more accommodating in 1970—for a price. Delegates complained single-room rates of $29 to $35 a night were common.
Patriotism, the Constitution, and youth were focal points of the six-day gathering at the Rivergate Auditorium on the banks of the Mississippi.
The affable Jackson (who doesn't tell his age) and the other chief officers were returned to office by delegate acclaim. Jackson, beginning his eighteenth year as president, shows no signs of losing his firm grip on the denomination or of mollifying his outspoken stand for Christ and country.
In his annual address he lashed at those who lack faith in America, proposing that they be isolated: "If necessary, allow them to run their affairs in a walled city or a separate community. Our society should be protected from their malicious actions which are forms of insanity caused by mob rule and drugs."
While he noted that Americans must be free to dissent and criticize, Jackson distinguished between legitimate protesters and those bent on destruction: "We must support law and order, for there are no problems in American life that cannot be solved through commitment to the highest laws of our land and in obedience to the American philosophy and way of life."
Perhaps 4,000 youth, including many of high-school and college age, were visible for the Youth for America Day, a brainchild of Dr. Jackson to "combine sound patriotism and Christianity … to save the soul of America." Although the affair (unique for the denomination) was billed as an "open discussion," it was heavily attended by adults and chaired by Jackson, and the proffered time for the young people to "say what you believe" evaporated without any discussion from the floor. Some dialogue did take place among the youth and advisors prior to the public session, however.
Topics included drugs, crime, youth gangs, campus disorders, and patriotism. The role of Christ and the Church was stressed as integral to the solution to each problem.
During the youth day, five young contestants vied for college scholarship money in an oratorical contest on "The Federal Constitution as a Basis for National Unity." All agreed there has never been a greater need for national unity and that the Constitution is the best foundation available for that goal.
The $1,000 first-prize winner, Sharon Preston (a freshman at Wellesley College this fall), criticized Christians for not using the Constitution to move the nation while allowing Black Panthers, radicals, and atheists to do so. Second-place winner Denise Parker of Detroit charged that the Constitution reflects a legacy of prejudice held by the nation's founding fathers, who were "interested in property-owning voters and considered black people less than human." People's attitudes must change before the Constitution can be an effective instrument for national unity, she concluded.
Foreign Mission Board secretary William J. Harvey III reported that mission income in the past year was $252,788, up $108,000 from 1961–62. At a time when many churches are lagging in missions thrust, NBC missionaries have been paid three months in advance and all overseas obligations have been met, Harvey said.
Mission stations are maintained in Africa, Nicaragua, and the Bahama Islands. The work consists of more than 300 churches with 44,000 members, schools, and hospitals; there are 191 full-time workers. A new mission church is projected in Swaziland.
The denomination itself sprang from mission efforts. Dr. W. W. Colley, a veteran missionary to Africa under the Southern Baptist Convention, called leading Negro Baptists together in 1880 to organize a foreign-missions convention. In 1894 representatives of that convention met with others from two other newly formed Negro Baptist organizations, and the three groups were consolidated into one body in Atlanta, Georgia, in 1895.
Twenty years later, dispute over control of the publishing board led to division so that ever since there have been two National Baptist Conventions. The unincorporated one, which held its annual convention in Shreveport, Louisiana, last month, kept the original publishing board.
A musical highlight of the New Orleans convention featured a 2,000-voice choir in a moving Afro-American pageant telling the story of the Negro from slavery to present times.
Progressive Baptists
In a precedent-setting mood, white churches sought affiliation with the all-black Progressive National Baptist Convention (PNBC) during its national meeting in Kansas City last month.
Notable among these was the Riverside Church of New York City. The Reverend Eugene Laubach, executive minister, said of the church's intention to join the PNBC: "It is my feeling that Riverside's identification … would be one of the most relevant things we might do."
S. S. Hodges, executive secretary of the PNBC, said this would mark the first time a white congregation had sought admission. But, he added, there would be "absolutely no opposition" from those within the black organization. Before the convention ended, Hodges further announced that fifty white churches had been newly enrolled in the denomination on a "dual affiliation" in which ties with white denominations are also retained.
The Progressive National Baptist Convention resulted from a split within the largest black organization, the National Baptist Convention U. S. A., Incorporated, in 1961. The group now lists 600 churches in thirty-three states.
The new president of the PNBC is Earl L. Harrison, pastor of the 3,800-member Shiloh Baptist Church in Washington, D.C., for forty years.
JAMES S. TINNEY
Many Whites Attend Black Congress
It was to have been a Black Congress on Evangelism; however, it turned out to be little more than an ordinary preachers' convention, at which more than half the attendants were white.
Not that the meeting was without distinction. It was the first interdenominational congress on evangelism organized and led by Negro pastors anywhere in the world; the director was Dr. Edward V. Hill, pastor of Mount Zion Missionary Church in Los Angeles, a charter member of the Southern Christian Leadership Conference, and head of several black economic-development corporations in California. And it was held inside the ghetto rather than on grounds neutral to whites; the 2,000-member St. Stephen Baptist Church of Kansas City was the site.
Nearly 1,500 delegates, a high percentage of whom were from the local Missouri-Kansas area and Texas, registered for the convention. They heard important evangelicals such as Dr. Howard Jones, past president of the National Negro Evangelical Association; Dr. Kenneth Chafin, director of the Southern Baptist evangelism division; and Billy Graham, who warned: "If the moral decline of this nation continues, we are headed in one of three directions: a dictatorship within ten years, a world war, or a religious revival."
Graham's predictions, however, focused on national revival as the most probable coming event. And other speakers zeroed in on the same idea. Dr. Bill Bright, founder and president of Campus Crusade International, told of programs that would saturate the entire United States with the Gospel by 1973, and the entire world by 1980. That forecast seemed even more credible after Dr. James Kennedy, pastor of Coral Ridge Presbyterian Church in Fort Lauderdale, told how his church had grown from seventeen to 2,000 active members in one decade.
Other speakers, however, expressed stem warnings that the institutionalized church as such has lost its opportunity to reach the newer generation with the Gospel. "These kids are not going to come to your churches, at least not in great masses," said D. Jack Sparks, founder of the Christian World Liberation Front, a street ministry among radicals in Berkeley. He asked Christians to "turn over all their wealth to Christ for use in this program."
Similar views, though presented in more direct-fire street rhetoric, were propounded by converted Black Panther James Weston. "Revolution is fundamental. But I was using my own corner of mind to understand it. I was driven to this by the image that culturized Christianity, the Americanized church, had presented of Jesus Christ. Every time I heard of him, I thought of blond hair and blue eyes."
Weston decried the life style of most Christians and urged an authentic renunciation of all materialism and wealth in an effort to achieve a radical Christianity.
Despite its shortcomings, the black church was viewed as perpetuator of some elements lost from white churches—particularly fervency in worship, oratorical expertise, and musical appeal. "I believe the best preachers in the world are in the black churches," Graham commented, then asking whites "to get fire into their religion." Dr. Hill also said: "You who are white need to learn to sing like us and preach like us and shout like us. We who are black need your methods and your programs and your know-how. Let's get together and do something for God."
Indeed, the stated purpose of the congress was "to present know-how from practical experience in terms of the Christian answer to drugs, moral decline, and a growing spiritual apathy." How well that objective was achieved may be a matter of opinion. All the speakers except Kennedy were more inspirational than instructional, and most sidestepped the crucial issues facing evangelicalistic efforts in the black communities. "Evangelism and the addict," one especially relevant subject on the agenda, was entirely omitted.
Other criticisms: There were no workshops, forums, or position papers; these would have helped make the fellowship meeting a true congress. Half the speakers were white, which gave some the impression that few black speakers were available. All speakers except Kennedy and nearly all delegates were members of Baptist denominations. Black Methodists and Pentecostal and Holiness groups were not represented, and there were no blacks from any predominantly white denominations.
Delegates expressed hope that another congress, suggested for next year in Chicago, would be more definitely a Black Congress on Evangelism.
JAMES S. TINNEY
'Another Jim Forman'?
The Interreligious Foundation for Community Organization (IFCO) gained three new members last month, held an application for a fourth in abeyance, and announced a new strategy: funding minority power groups in the suburbs.
The three-year-old church-related foundation previously has zeroed in on urban and rural areas but will now "look at … the subtler forms of discrimination that exist in the suburbs," where jobs for blacks are often scarce.
Accepted in IFCO are the Southern Christian Leadership Conference, the Texas-based Mexican-American Youth Organization (MAYO), and the Michigan Community Organization Council, a statewide church group. Action on an application from the Young Women's Christian Association was deferred after a letter to IFCO urged its rejection in light of "institutional racism and lack of minority empowerment pervading the YWCA."
Meanwhile, IFCO president Earl E. Allen of Houston said the foundation's shaky finances might require "another Jim Forman" to jab churchmen about minority needs. IFCO sponsored the 1969 Detroit conference where Forman delivered his Black Manifesto demands for $500 million in reparations from white churches and synagogues. An IFCO financial report showed $289,166 in unpaid 1970 commitments, and $243,000 more due by the end of the year.
Indian Cloister-Filling
During the past seven years some 2,000 Indian girls, aged 15 to 25, have been "crimped" for European monasteries. They have to fill empty spaces that monastic orders in Germany, Italy, England, France, and Switzerland are not able to fill because of lack of interest among European young people. Parents of the girls are said to pay more than $300 to Indian priests, who also receive a similar amount from European cloisters.
Se Habla Espanol
Evangelicals from among the United States' 16 million Spanish-Americans will gather October 27 to November 1 this year for the first U. S. Latin American Congress on Evangelism (CLADE-USA). This will be the first such gathering in the nation and is an outgrowth of the All Latin America Congress on Evangelism held in Bogota, Colombia, a year ago.
CLADE-USA will be the first of six regional congresses to be held in the next six years throughout the Latin American world. Speakers, representing major denominations, include evangelical leaders Dr. Alfonso Rodriquez Hidalgo, the Reverend Ismael E. Amaya, Dr. Roberto Escamilla, Dr. Carlos Lastra, Dr. Rudy A. Hernandez, and the Reverend Sergio Franco.
The congress, to be held in San Antonio, Texas, will close with a statewide rally in the HemisFair Arena. Several thousand visitors and delegates are expected, according to national coordinator H. O. Espinoza of San Antonio.
Most of the girls come from the state of Kerala. Nuns there have a special status among the 3.5 million Roman Catholics in that state of 18 million inhabitants. The Roman Catholic Church in Kerala isn't able to train the girls.
When they first arrive in Europe, the girls send their parents enthusiastic letters about life in the monastery. Girls in Italy visit St. Peter's Church and are often received by the Pope. But they soon discover that they have to do menial work and are not really being trained.
Many girls can't adapt to the rigorous rules and have difficulties with the strange language and the foreign food. A high percentage of girls break under the severe discipline. Some have fled the cloisters, and some of these ex-nuns have been driven to prostitution.
According to the Dutch theological weekly De Bazuin, edited by Roman Catholic priests, the Congregation for the Oriental Churches (Eastern Rite) in Rome has appointed Father Joseph Vilangaden to study the situation. This priest has recently visited all European monasteries that have accepted Indian girls.
Indian students in Rome, however, said Vilangaden will not change the situation as he himself is connected with what they call "crimping of Indian girls." Indian bishop Sebastian Vayalil has protested this commerce, but the Italian orders negate him because as free papal institutions they claim not to be responsible to him. Meanwhile, the Vatican and voices of protest from England, Austria, Germany, and Sardinia denied there had been any trade in Indian girls by religious orders. But pending the investigation, the Vatican "definitely suspended" the recruitment system in India.
JAN J. VAN CAPELLEVEEN
Unrepentant Editor Returns
Three years ago, Father Herbert McCabe was dismissed as editor of the British Journal New Blackfriars for having said in an editorial that the Roman Catholic Church was "quite plainly corrupt." The outspoken Dominican was also suspended from priestly functions, but this decision was reversed after intercession in Rome by the apostolic delegate.
The offending editorial had been written after the defection from the church of Charles Davis, one of its leading theologians, who is now on the faculty of a Canadian university. McCabe had echoed Davis's allegation that the Roman Catholic Church was "racked by fear, insecurity and anxiety."
Now McCabe, 44, has been restored to the editorship, with "no conditions attached" and without being asked to "withdraw or retract anything I have said." His first new editorial begins: "As I was saying three years ago when I was so oddly interrupted.…"
J. D. DOUGLAS
More Or Less Married
A two-tier marriage plan is advocated by a canon of St. Alban's Cathedral, near London. As a first step, a couple would marry with the church's blessing, but would live apart, except at weekends, until they could afford to set up a home. A second blessing would come from the church when the couple had the economic means to live together.
Adds Canon Murdoch Dahl, 56, the father of three children: "My plan would mean getting married instead of getting engaged, and saving for a home rather than for a marriage." He feels that this would combine the desirable state of monogamy with "a more positive attitude to sex."
The canon's views received wide publicity in the British press, whose estimate of their significance was evidently not shared by the country's religious journals.
J. D. DOUGLAS
Viet Nam: Fear Of The Lord
Amid a multitude of other fears, the fear of the Lord may be on the rise in Viet Nam as a program of theological education by extension begins.
A Bible college will open in Saigon this fall under the sponsorship of the Evangelical Church of Viet Nam, which also operates a Bible institute in Nhatrang and will soon offer refresher courses for pastors throughout the country.
Representatives of the Committee to Assist Missionary Education Overseas (CAMEO) recently explained the growth of education by extension in Central and South America to Vietnamese leaders, who in turn decided to present the program of correspondence courses to their church for approval.
DAVID HARTZFELD
Christmas Stamp Issue: Toys And The Nativity
Christmas-card senders will have five stamps—instead of the usual one—to choose from this Yuletide, thanks to a compromise made by the U. S. Postal Service.
For those seeking a stamp with a religious motif for their holiday mail, there will be a six-cent stamp picturing "The Nativity" by Lorenzo Lotto, a sixteenth-century Renaissance Italian painter. The work hangs in the National Gallery of Art in Washington, D. C.
For those preferring a secular design, there will be a set of four stamps, printed on the same sheet, showing "Toys of Yesteryear" from the nineteenth century: a cast-iron model locomotive, a hobbyhorse, a mechanical tricycle, and a doll carriage.
The Lotto stamp shows Mary and Joseph kneeling over the Christ Child with the thatched roof of the manger in the background. By issuing a variety of Christmas stamps this year, the Postal Service hopes to avoid a repetition of past court suits charging the stamps are a violation of church-state separation and an "establishment of religion."
Since the medieval painters were predominantly Roman Catholic and their works originally painted mostly for Catholic cathedrals, Americans United for Separation of Church and State, among others, has contended the designs were not only religious but sectarian in character.
GLENN EVERETT
The WCTU's Changing Image: Hatchets To House Bills
With rising consternation over smoking, drunk driving, and "tripping out," the Woman's Christian Temperance Union is no longer a voice crying in the wilderness.
Today, ninety-six years after its birth, the WCTU is in the midst of a growing chorus protesting "three of the greatest pollutants in America today: liquor, other narcotics, and tobacco."
The 250,000-member organization reaffirmed alcohol as the number one enemy, and abstinence as the answer, at its annual meeting last month in Los Angeles. However, the tactics of war against demon rum have changed greatly since Carry Nation swung her hatchet. Today's lady teetotalers work for legislation such as the 0.10 per cent presumptive level of intoxication for drivers passed by many states, and local options outlawing liquor sales. Disturbed by alcohol consumption in the armed services, the WCTU has contributed $69,000 in the past two years to soft-drink companies so they can distribute soda pop through the USO.
"We are trying to provide alternatives instead of just talk," explained Mrs. Fred J. Tooze, president.
The WCTU image still tends to be negative, according to convention speaker Dr. Lindsay R. Curtis, a physician and author. To attract a greater following, he prescribed a positive outlook: "We should be for abstinence because we are for the dignity of man.… We are for happier homes … for safety in driving … for longer life.…"
Others who spoke to the 1,000 delegates ranged from California superintendent of schools Max Rafferty to schoolgirl Shirley Hasselquist, general secretary of the Loyal Temperance Legion, the WCTU affiliate for six-to twelve-year olds.
Much of the WCTU battle is fought through educational work in churches, clubs, and schools. Summer sessions for teachers on how alcohol affects the body are held annually.
The WCTU and young rebels are united on one stand: marijuana is no worse than alcohol. But the WCTU would ban both, as evidenced by a unanimous resolution against legalizing marijuana. Another statement urged passage of a House bill prohibiting alcohol-beverage advertising on television and radio; other resolutions condemned certain types of sex education and sensitivity training.
As the WCTU approaches its centennial, one point is clear: breaking out of that negative stereotype may take a hatchet stronger than any Carry carried.
Have something to add about this? See something we missed? Share your feedback here.
Our digital archives are a work in progress. Let us know if corrections need to be made.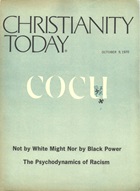 This article is from the October 9 1970 issue.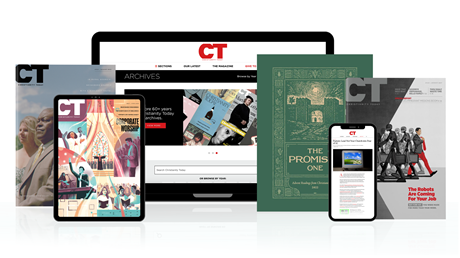 Subscribe to Christianity Today and get access to this article plus 65+ years of archives.
Home delivery of CT magazine
Complete access to articles on ChristianityToday.com
Over 120 years of magazine archives plus full access to all of CT's online archives
Subscribe Now
Negro Baptists Praise God and Country
Negro Baptists Praise God and Country