NEWS
The chief source of information about the religious world for many people today is the daily newspaper and the weekly news magazine. Every day the nation's secular-press religion writers and editors transmit and interpret news for millions of Americans. Most edit special weekend religion sections that give extended coverage to churches, synagogues, and religious events and thought.
Who are these professional religion journalists? What do they believe about God, Christ, and the Bible? Do they take an active part in a church? And do they consider their jobs a kind of ministry?
Results just compiled from a survey* indicate that the "average" religion editor in the secular media is a religious person. But he is greatly concerned about being fair and balanced in his presentation of all religions, and about giving conflicting views a hearing.
One hundred forty-six of 180 who responded to the survey claimed membership in some religious body (see chart), and 107 said they are active in a local church or synagogue. Twenty-two are active in a larger unit of their communion.
Eighty-three per cent (150) believe "in the reality of God" (some others undoubtedly do but decided not to respond to the question), and 133 said they believe that God "revealed himself in a unique way in Jesus Christ."
Thirty-seven said they regard the Bible as the "inerrant or verbally infallible" word of God, while 107 said they do not accept this view. But 111 affirmed the choice that the Bible is "a record of God's self-revelation to men which bears the imprint of both divine inspiration and human fallibility." Sixty-five either accepted neither formula, or wrote in added or qualifying remarks.
In an apparent contradiction, eighteen responded "yes" to both views: that the Bible is inerrant and bears the imprint of human fallibility. One, questioned later about this, gave an explanation that could reflect the thinking of others who checked both. Wesley Pippert of United Press International, who is a United Methodist clergyman, said he holds to inerrancy but interpreted the "imprint of … human fallibility" to mean "man's sin or the fall" described in the third chapter of Genesis.
Like reporters who cover politics, those whose beat is religion have quarrels with the establishment. They voiced pet peeves about how churches handle (or mishandle) publicity and news information.
The biggest sin committed by the people who supply the religion editors with news information, according to a write-in question, is missing deadlines and being super-slow in notifying reporters about news information (55 responses). Also high on the list (36) was the complaint that ministers and PR contact people in the churches don't know what the secular press considers news. Allied griefs included poorly put-together releases (18), self-serving "puffs" that are publicity—not news (31), and the playing down or suppression of controversial matters (14).
William R. Wineke of the Wisconsin State Journal (he is a United Church of Christ minister) put it baldly: "Many ministers are impudent liars when discussing any subject which reflects badly on their churches."
The next question asked the journalists for advice to bridge the church-media gap. The most frequent suggestion (31) was for religious groups to train someone with basic media understanding as a press contact or officer. Advice given almost as often (20) was for church people to sharpen their news judgment (learn what news is), be honest and open (20), avoid secrecy (11), and stick to the facts (13).
Learning the paper's policies, being accessible to newsmen, and building mutual confidence between the journalist and the church PR people were suggested often. And sixteen reporters implored: "Keep deadlines."
Seventy-eight of the respondents were men, ninety-eight were women (four didn't commit themselves). More are in the over-50 age bracket (57) than are between 30 and 40 or 40 and 50 (38 and 46). Thirty-two are under 30, however, where women (22) hold a better than two-to-one lead over men. Three under-30 religion editors write for circulations of more than 250,000. Four of the thirty-two believe in an inerrant Bible, and eleven believe in God's unique revelation in Jesus Christ.
Nearly half (44 per cent) of the responding religion editors devote less than one-third of their job time to religion. The next highest group (43) are full-time religion reporters (most are employed by papers of 100,000 circulation or more). Seven of the fifteen ordained clergy write for papers of at least 250,000 circulation. Forty-nine religion editors have held that job for more than ten years, while sixty-eight have been at it less than three.
Ninety-one per cent of the papers represented have special weekend religion or church pages; only twelve papers do not. Saturday is far and away the most popular day (119) for this, and these papers average seven and one-half columns of religion news each Saturday. Friday, Sunday, Monday, and Thursday editions were also listed, in that order, as giving special space to religion news.
What background do the nation's religion editors bring to their work? Only nineteen said they had a degree in religion or theology, but ninety-three indicated they had taken religion courses at the college level. Interestingly, 150 respondents said they felt such courses or degrees were either unimportant or only somewhat important in their present work. A significant majority (163) had read at least "one serious book on theology" in the last year; forty-one of these had read six or more.
Eighty-five per cent said they think membership and activity in a religious body need not be a conflict of interest for a religion writer of a secular publication. Only 5.5 per cent said such participation was a conflict. In fact, more than half (99) said a personal religious viewpoint is a help rather than a hindrance to a secular-press religion journalist. But thirty-six said "it depends," and sixteen said personal faith neither helps nor hinders such reporting.
Ron Durham of the Houston Post commented: "I think the personal religious viewpoint that grants that religious faith in general is authentic, legitimate, and needed in the world provides a more balanced reporting viewpoint than that of the skeptic. A sports-writer who is half-convinced that the activities he reports are illegitimate or unauthentic would be handicapped in communicating objectively."
The journalists split sharply over whether reporters covering religious events should be advocates or participate in the event itself. Seventy-six answered that both secular and religious-press reporters should "never" be advocates or participate in events they are covering. Twenty-four thought it was all right for religious press reporters, and thirty-five thought either secular or religious media people could take part "if they have expertise to contribute." Almost half those who answered the question added explanations to their multiple-choice answers. Most of these stressed the need for objectivity, absolute fairness, equal treatment to all faiths, and attention to all sides of controversial issues. Nine said advocacy was legitimate in a signed column or by-lined story but not in a straight news piece. "I am explicitly Christian in my column," said UPI religion writer Louis Cassels.
Los Angeles Times religion editor Dan Thrapp added this note: "In the news business it should never be 'we,' but always 'they.' You can't easily wear two hats in this field. This is not to say you shouldn't have 'religion,' or should abandon it when working, but to mix the two is highly dangerous."
The final question was: "Do you regard your job as religion newswriter in any way as a ministry?" Exactly half said they did. Twenty-eight per cent said they believe their job is a way to promote the Christian faith. But 114 editors explained or qualified their answers. Many said they were just as careful to promote other religions, and at least a dozen stated that the community press is no place to preach or evangelize. Another dozen or so expressed the idea imbedded in a comment by Dorothy Laskey of the Ann Arbor News; "Is writing a ministry? Perhaps as much as teaching is, or serving on the police force. Every person is himself first and whatever he does shows that."
Another significant group could identify with Eileen C. Spraker of the Wilmington, Delaware, News-Journal papers: "I consider it as a ministry of understanding and reconciliation … a means whereby covering all religious activity can somehow put or bring together people who care in our society, perhaps leading them across the boundaries of their particular religious dogmas, to common understanding and action in a society which badly needs guidance."
Dan Thrapp put it another way: "I regard the Christian faith, and the Bible, as truth. Any newsman worth his salt is interested in spreading the truth he sees. Besides, there is no hope for the world, or for society, aside from faith and, for me, the Christian faith. I would be less than human if I did not wish to see the world and society survive."
'Urbana' In Germany?
It may not have been as large as Inter-Varsity's Urbana conference, but Europe's only continent-wide missions conference had equal significance to those who attended: 300 students and 200 faculty members from twenty-one Bible institutes and seminaries in Europe. It was held last month in Seeheim, Germany, under the sponsorship of the 15-year-old European Student Mission Association (ESMA).
English evangelist Richard Bennett and "Circus Pastor" Eugen Stegmann were among the main speakers. Keynoter Werner Jahnke spoke on "How God Is Working Today."
The ESMA conference was first envisioned by Greater Europe Mission's veteran missionary Robert Munn, who outlined his plans to students at the European Bible Institute (EBI) in Paris. EBI students in 1956 invited two other schools in the Paris area to participate in a joint missions conference. Six non-EBI delegates attended. Interest mushroomed in succeeding years.
Seventeen schools now officially belong to ESMA. Rules state that the program in a member school must be run entirely by students and that at least one mission meeting per week must be scheduled. An all-student executive committee oversees ESMA affairs.
Although most member schools were founded to train nationals for Christian service in their own countries, many students, as a result of ESMA's impact, are now considering foreign work.
In countries such as Italy, where there are few evangelicals, the need for national workers is critical. Yet ESMA influence led two graduates of Rome's Italian Bible Institute to sign up for service in Africa under the Swiss branch of Sudan Interior Mission. "I attended Istituto Biblico Evangelico because I wanted to train to reach the sick in Italy's hospitals with the Gospel," says Italian SIM missionary Laura Emanuele, "but God had other plans for me. ESMA showed me the world's need, and I knew the Italian church must be represented abroad."
One missions specialist recently reported that 14,000 to 16,000 Protestant missionary workers from nations outside the United States and Canada are presently serving in countries other than their own. The primary sending nations are Great Britain, Sweden, West Germany, and Australia, which contribute over 80 per cent of the non-North American Protestant missionary force.
More than forty students who have served on the ESMA executive committee over the years are now mission leaders in Europe and elsewhere. Europe's booming economy is capable of supporting hundreds more. ESMA is out to get them.
ROYAL L. PECK
Have something to add about this? See something we missed? Share your feedback here.
Our digital archives are a work in progress. Let us know if corrections need to be made.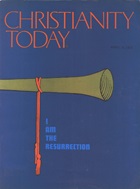 This article is from the April 9 1971 issue.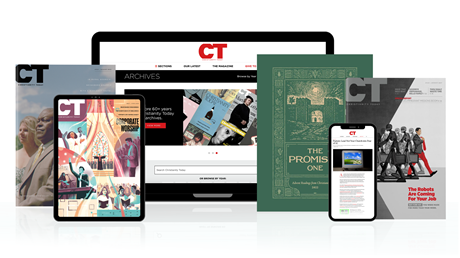 Subscribe to Christianity Today and get access to this article plus 65+ years of archives.
Home delivery of CT magazine
Complete access to articles on ChristianityToday.com
Over 120 years of magazine archives plus full access to all of CT's online archives
Subscribe Now
Survey Results: How Religious Are Religion Editors?
Survey Results: How Religious Are Religion Editors?