Much is being written in our time about the probable shape of the Christian Church in the decades ahead. It is currently fashionable to use such clichés as "the post-Christian era" and "man come of age" to describe the coming role of the Church. Conventional wisdom has it that if the Church is to survive, it must come to terms with technopolitan man "with all of his secularity and profaneness."
Judgments implied by the words "post-Christian era" have gained acceptance by repetition rather than by logic. One is astonished, upon reflection, at the naïveté of those who assume we have passed through a genuinely Christian epoch from which Modern Man has emerged.
One day, scholars may look back with amazement at how religious thinkers of the sixties and seventies have taken at face value the depressed view of a man who translated his own helplessness in a Nazi prison into terms of God's powerlessness. More astonishing still is the acceptance, by scholars who were not in prison for resisting a godless tyranny, of the view that persons young and old who shrieked mindlessly in Nuremberg for a triumph of Hitler's armies represented mankind come of age. We can respect the courage and dedication of Dietrich Bonhoeffer without being under obligation to accept his theological judgments.
Since Hegel, it has been fashionable for those who formulate philosophies of history to find culmination in the events of their own present. Few have been able to resist the temptation to paint their own generation, their own group, or even themselves into the picture in a self-congratulatory manner. We wonder whether the "secular theologians" have not fallen into the same intellectual trap.
D. Elton Trueblood has projected the "shape" of the Christian in the world just ahead of us in his book entitled The Future of the Christian (Harper & Row, 1971). He proposes several challenging theses. Beginning with a survey of the Church's history as a "miracle of survival," he confidently proclaims that in an affluent and technological age, man will increasingly demand a type of committed fellowship that the Christian Church is in a strategic position to provide. The vast need of the time appears, not as a signal to the Church to surrender to the forces of secularity, but as a challenge to the Church to proclaim its message aggressively. That is to say, the Church's task is to provide a new set of dimensions for man in his hunger.
That the Church will survive, Trueblood has no doubt. Yet no generation should take this survival for granted, he says. Trueblood summons the Church in our time to a new and deepened understanding of ministry, one that blends the servant role with participation in communities or groups marked by the committed fellowship of Christ's own.
He expresses deep concern over vast areas of human resource virtually untouched by today's Church: laymen, women, retired people, and youth. Failure to develop available resources is sinful, he says, and he proposes a vast forward thrust to bring persons in these four categories out of noninvolvement into unconditional commitment.
Trueblood is convincing in his assertion that these groups offer persons of strong intellectual perception, keen moral and spiritual sensitivity, and a relative freedom from religious professionalism. Many of them will also be less preoccupied with the grinding pressures of today's life than some currently in church leadership roles.
In attempting to use those who are now largely unused, the churches must have something more than "busy work" to offer them. Trueblood is persuaded that there must be a clear understanding of that to which commitment is made, and he calls for clearer articulation of the Christian faith and the production of "an entire generation of Christian intellectuals." It is intriguing that he sees women as a major potential source for such a development.
The strategy of the Church should involve the use of the resources of both the "mainline churches" and the "sects," says Trueblood. He keenly appreciates the genius of the "hitherto despised Christian groups" and the insights and usages they bring to the Christian enterprise. He is likewise very optimistic about the small groups that are arising within the churches as agencies for the revitalization of the Church as a whole.
It is also heartening, he thinks, to see how small groups "intent upon making a difference in the world" are calling up the submerged energies and gifts of persons hitherto uninvolved. These offer great promise, he thinks, of penetrating circles, such as the academic, that desperately need a new thrust of the Good News.
In a penetrating chapter entitled "The New Evangelicalism," Trueblood offers a highly sympathetic appraisal of Basic Christianity. He sees it as a "third force" between an ingrown obscurantism and a sterile liberalism. Men such as John Baillie, C. S. Lewis, and William Temple he credits with providing a great deal of the "background music" of today's evangelicalism. (Here he is not as explicit as he could have been in noting that its orchestration has been largely the work of those whose roots are in fundamentalism.)
Trueblood directs attention to the manner in which leading analysts of today's religious scene largely ignore the presence and influence of evangelicals. Certainly the thrust of this volume is toward a fairer appraisal of their place in the Christian movement. Perhaps its author might have said more about the growing sense of social responsibility that marks the more recent evangelicalism.
In envisioning the role of the individual Christian in the times just ahead, Trueblood says that the influence that Christians wield through the Church may well be exerted most vitally from within small groups of committed persons.
The Christian will also, thinks our author, welcome any support given to the cause by the usages of "Civil Religion," of which he speaks perceptively in the final chapter of the book. What matters is that the committed Christian shall not seek to fulfill his spiritual needs by a mere gesture toward "Christianity beyond the Church."
Trueblood maintains that the Christian can move into tomorrow with a calm confidence that he and his message will have a significant future. His commitment to Basic Christianity binds him to a Christ who is utterly dependable and perennially meaningful to man in his predicament. In Him men and women find resources to maintain idealism in a forbidding world, without cynicism or moral shock. More important still, the Christian's hope of "the Life Everlasting" gives wholeness to life and affords resources for godly and creative living, whatever the shape of his world.
Have something to add about this? See something we missed? Share your feedback here.
Our digital archives are a work in progress. Let us know if corrections need to be made.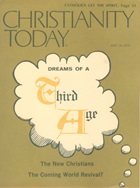 This article is from the July 16 1971 issue.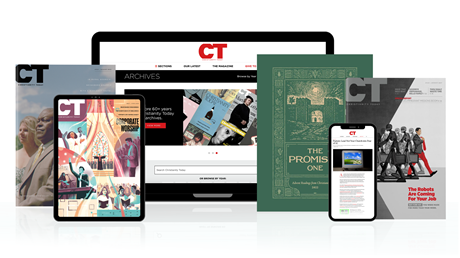 Subscribe to Christianity Today and get access to this article plus 65+ years of archives.
Home delivery of CT magazine
Complete access to articles on ChristianityToday.com
Over 120 years of magazine archives plus full access to all of CT's online archives
Subscribe Now
Christians and Tomorrow's World
Christians and Tomorrow's World