Coming out of a restaurant where I had had lunch I met a young couple I have known for a long time. They have been married six years, and I knew they were childless. But in his arms there was one of these "punkin' seats" and in it a precious baby, sleeping quietly with a cherubic smile on its face.
These young people told me about their search for a baby and how this one had come to them through an adoption agency when he was only twelve days old. He is now in a home where the warmth of love surrounds him, and he has brought to that home great joy.
As we talked they told of another couple, also known to me, living in one of our large Northern cities. They too have been searching for a child to adopt but have been frustrated again and again.
As I walked away there swept over me the feeling that here is the answer to the problem of unwanted babies, the alternative to the burgeoning abortion mills of our land! Tens of thousands of couples would gladly welcome these babies into their hearts and homes.
Not in years have I been as shaken as now, as I realize the widespread indifference to the implications of abortion on demand and the commercialization of this destruction of life.
Although I have retired from the practice of medicine, I am still on the active rolls of some medical societies, and as a result I receive solicitations from organizations that have sprung up like mushrooms in New York State, where abortion on demand is legal. So far I have received letters from six apparently unrelated groups that say they are prepared to handle the whole matter safely and conveniently for those who are referred to them.
That we have embarked on this new approach to the termination of pregnancies bodes ill for America as well as for those churches that have become active in this. It evidences a callous disregard for the realities of the unwarranted termination of life, which sears the souls of all concerned.
There are, obviously, two groups of women who ask for abortions, married and unmarried. The married woman may feel she already has as many children as she wants, or may cite poverty or any one of a number of other reasons, while the unmarried woman may ask for an abortion because she wishes to rid herself of her guilt.
In both cases, how much better to accept the consequences of pregnancy and then permit the babies to be welcomed into the hearts and homes of the childless! This may be "inconvenient," but I believe it is the "Christian" way out of a difficult situation.
I write from neither ignorance nor inexperience, for I have performed abortions in cases where, after full consultation, it was decided that termination of pregnancy was necessary. But I find the brazenness and coldness of approach among some ministers and politicians—and now the "abortion expediters"—unbelievable.
Some of the same people who are urging the abolition of capital punishment are taking the lead in advocating abortion on demand. Has the willful murderer more rights than the unwanted child?
The current movement toward abortion on demand can have disastrous results, for not infrequently abortion leads to a psychological trauma. The feeling of guilt can rise up again and again to plague those who have compounded one grave mistake with another.
Another effect of abortion on demand is to give added impetus to the growing trend toward sexual laxity. Young people—confused by the modern interpretations of "love," distracted by church and college leaders who have fallen for either the pagan philosophy of free love or situation ethics, hooked on the assurances of "the pill," and lacking biblically based moral and spiritual values—are highly susceptible to the abortionist's promise of temporary release from the problem of biological cause and effect. The fact that some official church departments have become agents of abortion on demand, and have assigned persons to carry out this program, adds greatly to the confusion.
What is the "Christian" solution to an unwanted pregnancy? I do not believe that it is abortion. Those who seek counsel should be pointed to a better way out. They should be told that the life of the unborn is at stake, that it too has "rights" that must be preserved. If the woman is unmarried, the second step should be to recommend a Christian home for unwed mothers, of which there are many, where she will find love, compassion, and sorely needed spiritual help. Finally, those involved in the decision should be led to face up to the rightness of releasing the child for adoption.
I admit that "trouble" and "waiting" are involved, but I insist that this course of action is infinitely better and, I believe, more in accordance with God's will than the wanton destruction of life, which is what abortion on demand really is.
As a physician I well know that there are times when an abortion is necessary, but the reasons then are basically medical, and it is physicians in consultation who alone are competent to determine this matter.
The Christian minister increasingly finds himself called upon for counsel by pregnant unmarried girls. It is a responsibility he cannot shirk. But it is disturbing to see that many ministers are meeting this situation by referring the girls to the various abortion services now available through church agencies.
As a physician and a Christian, one who can well understand the emotional agonies involved for parents and daughters, I urge all concerned not to accept what seems to be the easy way out but to face up to the fact that a human life is involved—a life that cannot defend itself and is in no way responsible for its plight.
Confronted with what is, sad to say, a growing problem in the life of America, where Christian convictions and moral standards are on the wane, Christian parents and ministers must look for the solution that most clearly conforms to God's will for us sinners.
The consequences of sin cannot be avoided, but they must not be compounded by a further step in the wrong direction. I urge that parents and ministers encourage the unmarried mother-to-be to let the pregnancy continue, while she spends the waiting period in one of the available homes for unwed mothers where an atmosphere of Christian love and care can bring healing to the spirit. Then do whatever possible to pave the way for the child's adoption into a loving home. That baby who is unwanted by some is yearned for by others.
This can be the "Christian" way out of a tragic predicament.
Have something to add about this? See something we missed? Share your feedback here.
Our digital archives are a work in progress. Let us know if corrections need to be made.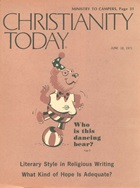 This article is from the June 18 1971 issue.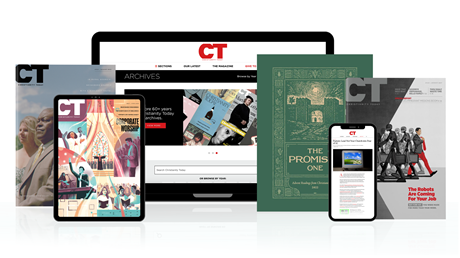 Subscribe to Christianity Today and get access to this article plus 65+ years of archives.
Home delivery of CT magazine
Complete access to articles on ChristianityToday.com
Over 120 years of magazine archives plus full access to all of CT's online archives
Subscribe Now
An Alternative to Abortion
An Alternative to Abortion