The Magazine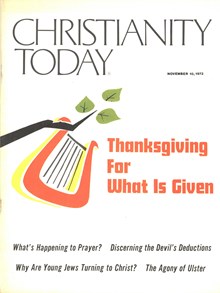 Read CT online anywhere you go.
Subscribers get full print and digital access, including:
10 award-winning print issues
PDFs of each issue
Full web access to ChristianityToday.com
60+ years of magazine archives
The CT Archives are a rich treasure of biblical wisdom and insight from our past. Some things we would say differently today, and some stances we've changed. But overall, we're amazed at how relevant so much of this content is. We trust that you'll find it a helpful resource. - Mark Galli, editor-in-chief
Also in this Issue:
'Good Samaritan' State: Federal Aid to Religion?
Editor's Note …
Excellent Primer
Imaginations
Introductory
Jackie Robinson
Liberation—Still the Agenda
Whither Episcopalians?
Why Are Young Jews Turning to Christ?
Thanksgiving for What Is Given
What's Happening to Prayer?
Discerning the Devil's Deductions
The Agony of Ulster
Palestine/Israel
Book Briefs: November 10, 1972
Why Does Your Memory Go Blank?
China: The Lonely Remnant
The Foundation for Thanksgiving
Eutychus and His Kin: November 10, 1972
Persecution in Ethiopia
100 Years of the Least, the Last, and the Lost
What Is a Gospel?