Later in the afternoon a noisy minor skirmish broke out between my wife and daughter over the eating of half a grapefruit. Think of what might have happened if it had been an avocado.
As I look at myself and the world around me I appreciate the restraint involved in the Old Testament law of retribution about an eye for an eye. It seems to me that our fallen human nature tends to require an eye, an arm, and half a leg for an injured eye.
We've managed with the help of the great deceiver to make considerable progress in turning what God meant to be a garden into a jungle. The task of Christians is to be a part of turning it back into a garden.
I can't recommend my own example or that of many Christians, but I can recommend you follow the one who when he was reviled did not revile in return.
EUTYCHUS V
TOWARD BETTER SHAPE
I am glad to see the beginning of "The Refiner's Fire" in CHRISTIANITY TODAY and especially like Miss Forbes's fine review of Time to Run (March 16). The magazine desperately needs the kind of savior-faire [demonstrated in this review]. The problem is epitomized in some ways by the editor's confession that Miss Forbes is the only person he knows who reads Milton for pleasure! If more people did, the church would be in better shape today. But this is not intended as a letter of complaint, but rather of congratulations and of hope.
ROLAND MUSHAT FRYE
Professor of English
University of Pennsylvania
Philadelphia, Pa.
I want to congratulate the magazine on its new feature, "The Refiner's Fire." I think it is a welcome addition to evangelical thinking. To be sure, I found some of the supercilious tone that I would anticipate in the film review, but quite frankly, I was pleased that it did not go overboard in this direction. I believe there is a solid place for this kind of coverage in an evangelical periodical, and the temptation would be to become haughty or supercilious to build up reader interest or to show a writer's disdain of the evangelical hoi polloi. To CHRISTIANITY TODAY's credit, this temptation was kept in harness by Cheryl Forbes and Bonnie Greene. It's a solid improvement in the magazine.
WILLIAM F. WILLOUGHBY
Religious News Editor
Washington Star-Daily News
Washington, D. C.
I am happy to see CHRISTIANITY TODAY including a regular feature devoted to the arts, and I wish you the best of luck as you handle what I have always found to be a most treacherous subject.… What has destroyed the Graham projects, at least in part, is that they have tried to be too explicit. There is such a concern to convey an unequivocal Christian witness that the all-absorbing truthfulness one finds in many films is destroyed or should I say not created. I do not believe that films or other art media do a very good job of convincing people in a positive way. For instance, The Graduate didn't support anything. But it very effectively attacked the establishment. They Shoot Horses, Don't They? didn't convince viewers to adopt a certain life style, but certainly discouraged them from adopting a "go-getter" attitude. The same with Blowup and many others. The greatest film-maker of them all, Ingmar Bergman, always leaves you guessing. All I'm saying is that Graham is trying something which other people aren't trying. Maybe someone will succeed someday in coupling explicit indoctrination with believable drama. I hope Christians will be the first to learn how if anyone does.
TIMOTHY BELZ
Assistant Editor
The Presbyterian Journal
Asheville, N. C.
Congratulations on your new department: "The Refiner's Fire." It had always bothered me that CHRISTIANITY TODAY paid what I considered insufficient attention to the world God put us in.
Falls City, Nebr.
STEPHEN B. MILES
I have thoroughly enjoyed Miss Forbes's movie and theater reviews which have appeared sporadically in the past.… I am especially pleased, therefore, to see that a section will henceforth be devoted to the creative arts.… I was, however, not satisfied with her review of Time to Run.… I agree that thematically the story is similar to other films produced by World Wide Pictures. World Wide Pictures seems to find its cinematic magnet in the family and the tensions existing between its members.… Time to Run exhibits more creative, effective editing than past World Wide films.… The editing is used to convey a mood, to set the stage, to convey a movement of time.… Time to Run, taken for what it is, is a highly successful, well done evangelistic film aimed at a non-Christian audience. But it is not a successful film in comparison with other movies directed at the secular audience which intend to convey some spiritual or moral point, such as … The Confessions of Tom Harris. Such movies intend to leave the audience thinking as it leaves the theater, to make sure they are not the same as when they came in, to affect their thoughts through visual and sound presentations.… That is where a refiner's fire is needed. That is where Christian film-makers and artists must expose themselves for criticism and ridicule and acceptance and interaction with the audience.… I wish Miss Forbes much success with "The Refiner's Fire"; I hope it can become an effective, incisive form of Christian criticism of the arts and the communications media.
Hatboro, Pa.
WILLIAM G. SHUSTER
"The Refiner's Fire" had an inauspicious beginning. Cheryl Forbes's review of Time to Run was insufferably superficial. She is guilty of the same stylized approach for which she indicts the film. Miss Forbes dwells on the trivial (mini-skirts, unbelievably clean-shaven). Her frame of reference for review is reminiscent of an era when these incidentals were favorite targets of hostile critics. Such a critical apparatus is passé. One big fat cliché.… She dismisses Fran Cole with a cynical "society mother" summation. Where in the film is this implied? (Even the maid is conspicuously lacking.) How can one review this film and fail to see the centrality of the "mother"—poignantly portrayed by Joan Winmill. She is the only prominent character who was vitally involved with all other prominent characters. Miss Forbes states that the parents didn't become Christians.… Watch Fran Cole—the moments at the meeting in the park—the crisis in the church. Compare her demeanor—voice inflection—facial features—before and after, as she sits before the television. The change! It is apparent that indeed she has become a Christian.… The line Miss Forbes chooses as the best and most dramatic reflects her limited and narrow critical framework. What about these lines: "He's the hound of heaven. He'll know when you've stopped running." "He won't back you into a corner with no way out cause that's not love." The final line is classic in its simplicity: "I love you, Dad".… Of course. Miss Forbes's greatest weakness was her lack of recognition that the Holy Spirit uses God's Word and if nothing else, indeed the message of the Gospel was unequivocally communicated.
Grantham, Pa.
EDWARD KUHLMAN
Kudos—as they say at Time—on the "Refiner's Fire" section. A little culture doesn't hurt anyone—even evangelicals. Keep stoking those flames.
JIM ADAMS
The Cincinnati Post and Times-Star
Cincinnati, Ohio
AUTHENTIC JUDGMENT?
Regarding your article "Demythologizing Indonesia's Revival" (March 2). Praise the Lord, seven years after an outpouring of the Holy Spirit man is able to pass judgment on its authenticity. I can't help wondering what those who have visited Indonesia would have found if they had visited Calvary seven years after Christ's death upon the cross. Is it possible to "demythologize the Holy Spirit" … or the manifestations of the Holy Spirit?
(MRS.) JACQUELYN R. WOOSLEY
Bountiful, Utah
I must question the implication attributed to me that "little activity is now taking place" in Indonesian evangelism. I have no basis for determining the present activity in Timor or elsewhere in Indonesia and don't recall intimating such during my conversation with Mr. Plowman. Although much of Western attention has turned from Indonesia in recent years—until the Englund report—from various sources I could conclude that a great deal of evangelistic activity persists. I do appreciate the delicate position Mr. Plowman placed himself in, in trying to comment on a controversial subject that demanded an airing, and commend him for his apparently broad research. I certainly agree with his concluding advice.
I feel strongly that readers of Mel Tari's Like a Mighty Wind should keep in mind that he is commenting from a background of spiritism—while my Miracles in Indonesia represents a Westerner's close-up look at the Indonesian revival.
Wheaton, Ill.
DON CRAWFORD
NO LONGER INADEQUATE
I applaud your lead editorial, "First at the Cradle, Last at the Cross" (March 16). That is the Christ Jesus I gave my life to—the one who loved me and promised me that he would enrich my life and by his grace make it count in his kingdom here on earth. The one I've seen in "structured Christianity" I could not believe in nor follow for I am considered innately inadequate. Bless you. I can hardly believe the beautiful things I am now reading and hearing from evangelical publications! Let us hear more.
ROBERTA GUNNER
Director of Education and Youth
House of Prayer Lutheran Church
Minneapolis, Minn.
"First at the Cradle, Last at the Cross," [is an] incredible anomaly. CHRISTIANITY TODAY … has now dispensed with the entire exegetical question in less than one paragraph! It does not deal with the Pauline teaching about women in the church in a responsible manner.
Chapel Hill, N. C.
G. WRIGHT DOYLE
Many thanks for your excellent editorial, "First at the Cradle, Last at the Cross." Our church has recently elected its first woman officer, and many of us have been learning that the Holy Spirit gives his gifts to women equally, and that it is our responsibility before God to see that each person's gift has maximum use. I fervently hope that evangelicals all over the world will become increasingly free from cultural hangups which work against the full use of the gifts of the Spirit given to women. In this day when the work of Christ is so crucial, dare we do less?
FRITZ MAHLA
Shearer Presbyterian Church
Mooresville, N. C.
Have something to add about this? See something we missed? Share your feedback here.
Our digital archives are a work in progress. Let us know if corrections need to be made.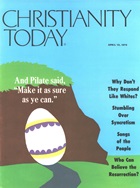 This article is from the April 13 1973 issue.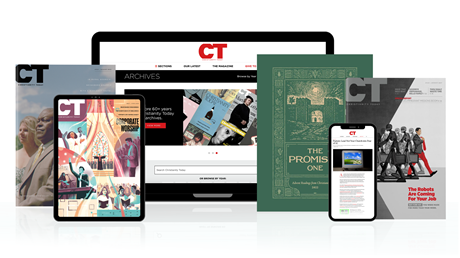 Subscribe to Christianity Today and get access to this article plus 65+ years of archives.
Home delivery of CT magazine
Complete access to articles on ChristianityToday.com
Over 120 years of magazine archives plus full access to all of CT's online archives
Subscribe Now
Eutychus and His Kin: April 13, 1973
Eutychus and His Kin: April 13, 1973