South African Congress: Breaking New Ground
South Africa and its churches may never be the same again. Many of the 650 delegates to the South African Congress on Mission and Evangelism left the coastal city of Durban with that conviction after ten precedent-shattering days. Organizers of the meeting believe that many of them also went home dedicated to more aggressive seeking of the lost through word and deed.
The last in the series of regional follow-up meetings of the 1966 World Congress on Evangelism broke new ground—and old racial barriers—for southern Africa. It was different from congresses conducted in other parts of the world in that it was co-sponsored by the South African Council of Churches, the first church council to back a regional congress. The other co-sponsor was Africa Enterprise, a ten-year-old independent evangelical missionary organization directed by Michael Cassidy, a Fuller Seminary graduate. The large and influential Dutch Reformed Church was unrepresented officially, but other denominations sent delegates as did some thirty missionary or service organizations, and observers were present from still other bodies. Altogether it was considered the most broadly representative group ever assembled under Christian auspices in the nation.
Even though the congress organizers had hoped that 60 per cent of the delegates would be non-white, they considered it an achievement of sorts when 45 per cent of those who attended were Bantu, Indian, or colored. Not as large a proportion of the speakers were non-white, but program leaders considered it an important breakthrough when some overseas blacks were allowed to enter the country to speak. Precedent was broken when a formerly all-white hotel was rented for the use of delegates from all racial backgrounds. Delegates ate their meals together there and at the congress headquarters, the modern downtown Central Methodist Church.
A feature of the program was an evangelistic rally in King's Park Rugby Stadium; evangelist Billy Graham preached to the largest multi-racial meeting ever held in Durban (see following story).
Unlike many other conferences conducted by Christian groups around the world, this one had a follow-up budget item (about one-eighth of the total). Some of that money will be used for literature and other educational materials, and some will be used to help delegates put their commitments into action. Planners believe the follow-up will be even more significant than the remarkable events of the congress itself. Foundations were laid in Durban for extensive work.
In some sessions, delegates from the country's various sections met together, the first time many had ever met one another. There were also gatherings of denominational families and special-interest groups. A high priority was urged for the task of drawing Dutch Reformed personnel into follow-up.
In an address on the last day, Cassidy appealed to all the delegates to go home and befriend their local clergymen and to work with them in the cause of Christ. Within a week of the meeting's adjournment, the plea was already bearing fruit in an unexpected way. Dutch Reformed ministers were approaching Cassidy to express appreciation for the congress and to invite him to speak in their churches. There were other indications that more will result from the meeting than was immediately evident. At their last national conference, the Methodists decided to wait until after the congress to adopt a missions program. A number of other groups reported that the congress was a prelude to action on their part.
Confrontation was avoided by the planning committee's early decision to clarify issues rather than to seek consensus. No legislation was considered and no votes were taken. Yet the issues were faced squarely. Speaker after speaker emphasized the need for a credible witness with a biblical message. One mentioned that in the Afrikaans language one word, predicant, means both "preacher" and "signpost." The challenge was clear. Delegates went home realizing that they must "go the way" as well as "show the way" if they are to evangelize South Africa in this generation.
Many are praying that the absent Afrikaaner Christians get the message too.
ARTHUR H. MATTHEWS
Graham In South Africa: Showing How It Can Work
More than twenty-five years after getting his first invitation to South Africa, evangelist Billy Graham finally preached to record crowds in Durban and Johannesburg stadiums. He voiced regrets at waiting so long, but told crowds estimated at 60,000 in Johannesburg (about 45,000 were at the Durban rally) that 1973 was "God's moment," now that it was finally possible to invite people of all races to the meeting. The decision to allow them to mingle at the public facilities (Wanderer's Stadium in Johannesburg and King's Park Stadium in Durban) was taken at the highest level of government.
Graham was also one of the foreign speakers allowed by the government to participate in the South African Congress on Mission and Evangelism. His Durban rally was a part of the congress program. He attended congress sessions and gave one address to the delegates.
His insistence on racial integration at his meetings had been his reason for turning down the earlier invitations, Graham reminded reporters.
The Daily Mail in Durban editorially lauded Graham and chided the government on the issue of race. Graham preached racial harmony, said the paper, "but it was the crowd who showed how it could work in practice.… For once there were no artificial racial barriers and 45,000 people demonstrated conclusively that they did not mind a bit. A truly Christian government might wish to learn something from that."
ARTHUR H. MATTHEWS
Have something to add about this? See something we missed? Share your feedback here.
Our digital archives are a work in progress. Let us know if corrections need to be made.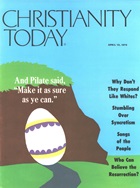 This article is from the April 13 1973 issue.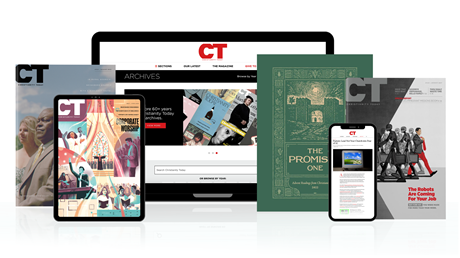 Subscribe to Christianity Today and get access to this article plus 65+ years of archives.
Home delivery of CT magazine
Complete access to articles on ChristianityToday.com
Over 120 years of magazine archives plus full access to all of CT's online archives
Subscribe Now
South African Congress: Breaking New Ground
South African Congress: Breaking New Ground