For the christian, belief in the Resurrection is an imperative, a doctrine, a component part of saving faith. The Apostle Paul states this with perfect clarity: "If thou shalt confess with thy mouth the Lord Jesus, and shalt believe in thine heart that God hath raised him from the dead, thou shalt be saved" (Rom. 10:9).
There is no sadder commentary on contemporary theological deviations than the contortions of those who try to evade, "spiritualize," or frankly deny the fact of the Resurrection. What some will not admit is that without the Resurrection there is no Christianity.
The "ifs" in Paul's affirmations of the Resurrection, as found in First Corinthians 15, are arresting (here we are using Phillips's translation): "Now if the rising of Christ from the dead is the very heart of our message …" (v. 12). Here Paul is asserting that the Resurrection of Christ was the very heart of his preaching, and of that of the other apostles.
This is confirmed in the Book of the Acts, where it is recorded that Peter, on the Day of Pentecost, said: "Christ is the man Jesus, whom God raised up—a fact of which all of us are eyewitnesses!" (Acts 2:32). It may be worth noting too that eyes do not see spirits. The early disciples were witnesses to One whom they had seen after his resurrection.
Peter noted also David's prophetic witness: "While he was alive he was a prophet.… He foresaw the resurrection of Christ, and it is thus of which he is speaking" (in Psalm 132:11).
Earlier, when choosing a successor to Judas, the apostles agreed: "This man must be an eyewitness with us to the resurrection of Jesus" (Acts 1:22).
In their first clash with the religious authorities following Pentecost, the temple guards and the Sadducees were "thoroughly incensed that they should be teaching the people and should assure them that the resurrection of the dead had been proved through the rising of Jesus" (Acts 4:2).
Later, threatened by the council, they refused to cease preaching Christ crucified, dead, and risen. Their answer to their tormentors was to pray for more boldness to proclaim the message. As a result there came a new infilling of the Holy Spirit, and we are told: "The apostles continued to give their witness to the resurrection of the Lord Jesus with great force" (Acts 4:33a).
Paul, in his memorable witness to the pagans of Athens, excited both the curiosity and the derision of the philosophers: " 'What is this cock sparrow trying to say?' Others said, 'He seems to be trying to proclaim some more gods to us, and outlandish ones at that!' For Paul was actually proclaiming 'Jesus' and 'the resurrection' " (Acts 17:18).
In his subsequent sermon on Mars Hill he said: " 'Now while it is true that God overlooked the days of ignorance he now commands all men everywhere to repent. For he has fixed a day on which he will judge the whole world in justice by the standard of a man whom he has appointed. That this is so he has guaranteed to all men by raising this man from the dead" (Acts 17:30, 31).
Paul's ministry was so fixed on the fact of the Resurrection that when he was arrested in Jerusalem, he cried out to the assembled Pharisees and Sadducees, "It is for my hope in the resurrection of the dead that I am on trial!" (Acts 23:6). All through Paul's letters there is the triumphant note of the fact and effect of our Lord's Resurrection.
Peter has the same theme in his letters, "Thank God, the God and Father of our Lord Jesus Christ, that in his great mercy we men have been born again into a life full of hope, through Christ's rising from the dead!" (1 Pet. 1:3).
Paul's second "if" is this: "For if there is no such thing as the resurrection of the dead, then Christ was never raised" (1 Cor. 15:13). In other words, man's hope of resurrection rests in the prior fact of Christ's having risen.
Paul continues: "And if Christ was not raised then neither our preaching nor your faith has any meaning at all" (v. 14).
Is preaching that explains away the Resurrection, or denies its reality through some legerdemain of "spiritualization," meaningless? Apparently so. Is faith in a Christ who did not actually rise from the dead so that he could be touched and handled—a Christ who did not eat in the presence of his disciples, a Christ who did not explain the meaning of the Scriptures to men whose hearts were left burning with a new understanding of the Old Testament—is faith in such a Christ useless? Apparently so.
The "ifs" continue: "Further [if Christ did not rise] we are lying in our witness for God, for we have given our solemn testimony that he did raise up Christ …" (v. 15).
One is forced to make a decision: Shall the testimony of men who had intimate personal contact with the risen Lord, men who knew of his Resurrection through the testimony of their physical senses, be accepted at face value? Or shall we believe those who, separated from him by nearly twenty centuries, do not choose to accept this testimony?
That man's salvation rests in faith in the resurrected Lord is clear in the next "if": "If Christ did not rise your faith is futile and your sins have never been forgiven" (v. 17).
And finally, "Truly, if our hope in Christ were limited to this life only we should, of all mankind, be the most to be pitied" (v. 19).
Can there be any connection between an unresurrected Christ, or one who rose in spirit only, and the present confusion of temporal with eternal concerns? The confusion of reformation with regeneration? Of humanitarianism with evangelism and missions? There can be!
Paul gives a final solemn warning that seems relevant today. "Don't let yourselves be deceived. Talking about things that are not true is bound to be reflected in practical conduct. Come back to your senses, and don't dabble in sinful doubts. Remember that there are men who have plenty to say but have no knowledge of God …" (vv. 33, 34).
The Cross is the central event of history. The Resurrection is the cornerstone of the Christian's hope, for the open tomb sealed once for all the validity and efficacy of the death of the Son of God for the sins of the world.
Why try to explain it away? Why try in any way to becloud its reality? Had there been a camera present as the stone rolled away and the risen Lord walked forth, it could have recorded the event for all history.
But God does not work that way. He speaks to us today: "Blessed are they that have not seen, and yet have believed" (John 20:29, KJV).
Ours is the privilege of believing the testimony of those who saw and knew, and of knowing Him today.
Have something to add about this? See something we missed? Share your feedback here.
Our digital archives are a work in progress. Let us know if corrections need to be made.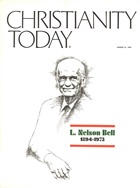 This article is from the August 31 1973 issue.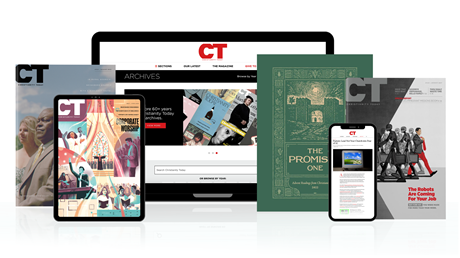 Subscribe to Christianity Today and get access to this article plus 65+ years of archives.
Home delivery of CT magazine
Complete access to articles on ChristianityToday.com
Over 120 years of magazine archives plus full access to all of CT's online archives
Subscribe Now
The Alternatives in 'If'
The Alternatives in 'If'