On the closing day of his St. Louis crusade last month, evangelist Billy Graham was asked by a local newsman if there were factors that made the campaign different from those held in other cities. Yes, said Graham (who celebrated his fifty-fifth birthday at the crusade). He cited support from the Roman Catholic community as one of two aspects that distinguished this crusade from the rest.The other he mentioned was the extent of enthusiastic support from the black Christian community and from local black media people.
"When we were here for meetings twenty years ago," Graham said, "I don't think Catholics were even allowed to attend."
This time, the official weekly newspaper of the St. Louis archdiocese carried an editorial giving the ten-day crusade unqualified endorsement (see reprint, this page).
Such turnabouts are becoming more common these days. They are the result not simply of an ecumenical spirit or the influence of the charismatic movement, as is generally supposed, but of a growing new appreciation for basic Christian virtues on the part of Roman Catholics at the grass roots (see also the editorial on page 30).
"I'm a fundamentalist," said one Franciscan trainee for whom Graham's St. Louis meetings represented a spiritual feast. That many Roman Catholics share his sentiments was attested by their wholehearted participation in the crusade. About fifty Catholics, including some sisters, were reported to have taken the pre-crusade counselor-training courses. Several nuns sang in the choir regularly. It was impossible to determine what percentage of the audience of 20,000 that jammed the St. Louis Arena at each meeting was Roman Catholic. But among those who respond to the invitation and complete commitment cards in the Graham meetings, the Catholic proportion is now up to 10 per cent in cities such as St. Louis and Cleveland where there are large Catholic populations. In St. Louis, Catholic contacts were referred to one of the more than 2,000 specially organized interdenominational "nurture groups" for spiritual follow-up. (This more intensive follow-up program is the result of studies done at another recent crusade.)
A number of evangelical Protestant enterprises besides Graham's are attracting increasing Catholic interest. These include Young Life, Campus Crusade, Neighborhood Bible Studies, and Bill Gothard's Institute of Basic Youth Conflicts. Kathryn Kuhlman draws more rank-and-file Catholic interest than any other Protestant figure.
Roman Catholic history has been punctuated by a number of attempts to return to fundamental biblical principles, the most obvious of which resulted in the Luther-led split we now know as the Reformation. Since the Reformation, many Protestants have feared that Rome was out to recapture the losses. But Pope John and the Second Vatican Council caused such an upheaval that many Catholics no longer are sure what they are supposed to believe. In the resulting vacuum there has been a surge of interest in Bible study and a quest for deeper spiritual reality. Many Catholics feel free to consort with Protestants who have the same interests, and some indeed look to Protestant ministries for inspiration and fellowship. Commenting on current developments, a number of Catholic leaders of spiritual-renewal efforts said in interviews that nothing less than "an evangelical awakening" is going on.
St. Louis has apparently been an especially fertile ground. Dioceses in Missouri were the first of some forty around the country to give public support to Key 73, and Catholics in St. Louis have been particularly active in such Key 73 projects as Scripture distribution.
Leighton Ford, Graham's evangelist brother-in-law, also found Catholics sympathetic to a crusade he held in Milwaukee in October. Reporters noted at the time that the campaign was the first event of its kind in the area to have Roman Catholic support. As in St. Louis, Catholics were told in the diocesan weekly that the hierarchy approved of their participation.
Members of Roman Catholic religious orders feel they have been much more open to the new "enthusiasm movement," as many call the spiritual renewalists, than diocesan churchmen. The latter represent the more institutionally oriented segment of the church and have more reason to toe the official Vatican—and national Catholic headquarters—line.
Most Protestants do not know that Roman Catholicism has at least two diverse "wings," so they tend to associate hierarchical statements with the whole of the church. Catholics themselves tend to be doctrinally bewildered these days, which is undoubtedly one reason why a recent poll found that attendance at Mass has dropped sharply among older people. Use of the confessional is also reported to be dwindling.
A new kind of ecumenism is emerging. Thousands of Catholics attend Protestant-organized Bible-study groups around the world. There would undoubtedly be more if Protestants were more receptive to their participation. Younger evangelicals who do not share the militant anti-Catholic sentiments of bygone years are helping to break down the barriers, and intermingling is quite common in charismatic circles. Catholic parishes often do not provide as many fellowship opportunities as are usually found among evangelical Protestants, which may be another reason why many Catholics get involved in inter-Christian groups. The feeling may also be growing among both Protestants and Roman Catholics that the issues separating them are becoming less important than their common perils in an increasingly secular and atheistically dominated world.
The charismatic movement is currently the most remarkable phenomenon in the Roman Catholic Church (see June 22 issue, page 36). But there are other trends in the church that, while less spectacular, are nonetheless having a profound effect. One is the Cursillo Movement (cursillo means "short course"), which sponsors occasional three-day retreats in each participating diocese aimed at winning persons to Christ, promoting deeper relationships with God, and getting members involved in personal evangelism. The retreats are followed by weekly "sharing" meetings in which participants help one another to persevere. The movement was started by a priest and his laymen in Majorca, Spain, in the late forties.
Cursillo national coordinator Gerald Hughes, 44, of Dallas says part of the Cursillo strategy consists of selecting leaders in a given "environment" of society (advertising, education, communications, medicine, politics), then attempting to convert them and link them together in an ongoing witness. Those so reached make a threefold commitment: to nourish their spiritual life through prayer, to study (the Bible), and to "Christianize" their environment. A national conference on evangelization of environments will be held next July in the midwest.
KEEP THE CHAIN UNBROKEN
A Lutheran newsletter has some tongue-in-cheek suggestions for church members unhappy with their pastor:
"Simply send a copy of this letter to six other churches who are tired of their ministers. Then bundle up your pastor and send him to the church at the top of the list.
"Add your name to the bottom of the list. In one week you will receive 16, 436 ministers, and one of them should be a dandy.
"Have faith in this letter. One man broke the chain and got his old minister back."
As for the future, Hughes sees evangelical Catholics and Protestants working together across denominational lines ("the power of the Holy Spirit will give us unity").
Hughes and a number of other Cursillo leaders think highly of Campus Crusade and they exchange information with Crusade leaders. (Some Cursillo chapters use Crusade's literature in their evangelistic programs.)
One such admirer of Campus Crusade is Richard Kieran, 33, an Irish priest who is principal of an Atlanta high school, head of the Atlanta priests' council, and a Cursillo leader. Earlier this year Kieran spent ten days with Crusade leaders in Europe, helping to open Catholic doors there. His first contact with Crusade was in a neighborhood Bible study group four years ago. Since then, he has taught a number of mixed and Catholic Bible-study groups and has produced on tape a resoundingly evangelical study of Romans.
Kieran "very definitely" believes an evangelical awakening is taking place among Catholics. Quoting Scripture verses, he says that the inner power of the Spirit has been lost throughout much of the Catholic Church and that it will take a "spiritual revival" to get it back. Cursillo, he asserts, has developed key leaders in many parishes and they're now "doing things for Christ." He believes the charismatics are a part of the awakening, but he is wary of those who may rely on experience instead of faith.
Prior to Billy Graham's summer crusade in Atlanta Kieran went to the sponsoring committee and asked why Catholics were not invited to participate in the planning. A committee leader cited fears of conservative backlash. Kieran says his bishop wasn't very happy about his interest in the Graham crusade either. But he's hopeful that the future will bring increased inter-evangelical contact.
The early prime leaders of the Catholic Pentecostal movement were once active Cursillo leaders (a quiet parting of ways took place in the late sixties). One of them, Ralph Martin of the Word of God Community in Ann Arbor, also received training from the Navigators and Campus Crusade. Evidences of evangelical stirrings in the Catholic Church, he says, can be seen in the widespread return to Scripture, the new emphasis on Scripture in Catholic religious education, the Vatican Council's decrees that say, in effect, "bringing people to Christ is what it's all about," and the rise of spiritual renewal movements in the church.
"Because of the influence of Italian Catholic culture, it's hard for Protestants to see beyond the mass and confession," says Martin, "but there is more. Protestant evangelicals emphasize peak moments; Catholics place more emphasis on growth in Christ."
Still another person convinced that renewal is happening is executive director John Burke of the Word of God Institute in Washington, D. C. Indeed, Burke, 45, is making a significant contribution to it. A Dominican priest who until recently taught at Catholic University, he organized last year's National Congress on the Word of God, attended by 10,000 Catholics, including more than 1,000 priests and two dozen bishops. Its purpose was to emphasize biblical theology in preaching.
A lot of members are dropping out of the church because of the lack of spiritual nurture, Burke contends, and part of the answer is to revitalize preaching—the avowed goal of his institute. Revitalization begins with the preacher himself, he says. "He must realize he is a sinner saved by the blood of Jesus, and he must experience the life of Christ." This is a necessary prerequisite to the annointing and illumination of the Holy Spirit, Burke believes; only then can authentic, powerful preaching flow forth.
Burke has conducted a number of parish renewal conferences (small Bible-study groups usually spring up afterward) and seminars for clergymen.
Bishops are getting involved too. At last month's national meeting of Catholic bishops in Washington, the New England bishops met to discuss the need for spiritual renewal and the role that prayer can have. "To communicate the Gospel, the people who do it have to be on fire, and that means they must be people of prayer," asserted Bishop Peter L. Gerety of Maine.
Meanwhile, things are happening in other lands too. According to a researcher, the Pentecostals in the Catholic Church in Ireland now outnumber non-Catholic Pentecostals.
Bolivian Catholic Pentecostal evangelist Julio César Ruibal, 20, converted at a Kathryn Kuhlman meeting, last month preached to huge crowds in Colombia. The biggest crowd in Medellin's history, an estimated 70,000 or so, overflowed the stadium. "The impact he is making is phenomenal, and his preaching is soundly evangelical," reported correspondent Leroy Birney, a Protestant missionary.
Overlapping Graham's crusade in St. Louis was a month-long family prayer drive in the archdiocese. It was conducted by Father Patrick Peyton, the noted priest who has had a kind of movement of his own around the slogan "The family that prays together stays together." Peyton said he and Graham "were together on the same program a while back, but this is the first time we're conducting campaigns simultaneously in the same city.… You should not consider it competition. I think we're both for the same beneficial thing. It's just that here, instead of one voice, the plea is being made with two."
Graham does not dilute his views to accommodate Roman Catholics, but he does try to relate to them. At the closing invitation, for example, he said that for many people, stepping out of a crowd in a religious service was a new experience. But, he added, "in a Catholic church or an Episcopal church you come forward in communion. So in a sense you know what it means."
Some 5,600 responded at the St. Louis meetings (about half made first-time decisions). Total attendance came to 224,400, including overflow crowds that viewed the meetings on closed-circuit television in an adjoining auditorium.
Catholic interest in evangelism is expected to grow still more as the time approaches for the International Synod of Bishops, to be held in Rome next October under the theme "The Evangelization of the Modern World." A 7,500-word document recently distributed by the Vatican through national episcopal conferences focuses on the theme. The document defines evangelization as "the activity whereby the Gospel is proclaimed and explained, and whereby living faith is awakened in non-Christians and fostered in Christians."
Meanwhile, a joint commission of Catholics and Methodists is studying "Common Witness and Evangelization" in light of the upcoming synod and the World Methodist Council's proclamation of 1975 as a "Year of Evangelism."
DAVID KUCHARSKY and EDWARD E. PLOWMAN
Mary Redefined
America's Catholic bishops in their annual meeting last month "redefined" the role of the Virgin Mary in an attempt to pacify traditionalists while maintaining an open door to ecumenicity.
In a fifty-six-page, 20,000-word pastoral letter, the bishops sought to "allay the fears" of Catholics who think Mary was "deemphasized" by Vatican II, said Marian theologian Eamon Carroll of Catholic University in Washington, D. C. Carroll, prime author of the statement, added that he hoped it would also give Protestants a new view of Marian theology. "We ask our brothers in other Christian churches to reexamine with us Mary's place in our common patrimony."
The document, approved by the 250 bishops at the meeting in Washington, couches Mary's position in careful phraseology. While not disavowing Mary's title as "Mother of God," the bishops acknowledged the title had created tension with non-Catholics. For most of the letter, she's referred to as "mother of the church."
Also redefined was the contentious claim that Mary is a "mediatrix" between man and Christ. Mary, while occupying a special position, does not take precedence over man's direct access to Jesus, "the supreme intercessor." Instead, said Carroll at a press conference, Mary should be looked on as a "daughter of the church; sister of the faith." That redefinition, he acknowledged, reflects a change in Catholic thinking "but not a loss." She is still to be accorded devotion.
Describing Catholics as weak on biblical moorings, Carroll pointed out that the document spends ten pages carefully tying doctrinal positions to biblical passages. (He said, however, that he personally does not interpret all Scriptures literally—leaving open the question of what he does take literally.)
In all, said Carroll, the document provides a "good, clear, authoritative basis for the doctrine of Mary in the church." And, said he, the document has "a stronger biblical basis for the doctrine than existed before Vatican II" along with a "greater sensitivity to ecumenism."
BARRIE DOYLE
Overseas Missions: Stalled?
North American foreign-mission agencies are barely keeping ahead of 1969 levels, according to statistics in the 1973 Mission Handbook, published this month by the Mission Advanced Research and Communication Center (MARC), a subsidiary of World Vision.
The triennial handbook sets the total number of Protestant missionaries overseas at 35,070 as of the end of last year, an increase of less than 2 per cent over 1969. On paper, mission giving increased about 10 per cent—not enough to overcome the rate of inflation and devaluation. Mission giving in 1972 is listed at $393 million, including $30 million in estimates by researchers to cover gaps (some agencies failed to provide financial information).
Researcher William L. Needham, author of the MARC book, points out that while the number of career missionaries has remained somewhat static there has been a rapid rise in the number of short-term missionaries.
Brazil has the most U. S. and Canadian Protestant workers (1,986). Japan has 1,917, Mexico 1,294, India 1,195, and the Philippines 1,185.
The Southern Baptist Convention leads in fielding missionaries (2,507). Others in the top ten include: Wycliffe Bible Translators, 2,200; Churches of Christ, 1,623; Seventh-day Adventists, 1,546; Youth With a Mission, 1,009; The Evangelical Alliance Mission, 922; Assemblies of God, 967; United Methodist Church, 951; Sudan Interior Mission, 818; and the Christian and Missionary Alliance, 803.
The MARC report covers approximately 95 per cent of the denominational and independent missionary-sending organizations in the United States and Canada.
WHERE IT'S AT
Kids are changing. In its latest survey of 26,000 high school leaders, Who's Who Among American High School Students of Northfield, Illinois, found that:
• 77 per cent believe religion is relevant to society and 66 per cent attend religious services regularly (last year it was 63 and 57 per cent);
• 83 per cent favor traditional marriage (71 per cent—including 66 per cent of the Catholics—would seek a divorce if the marriage was a failure);
• 72 per cent have never used drugs (though 82 per cent said drugs were readily available on or near campus), but only 19 per cent had never drunk alcoholic beverages;
• 95 per cent say their relations with their parents and other family members are good;
• 72 per cent say they have never engaged in sexual intercourse (up from 60 per cent in 1970), but only 41 per cent do not approve of pre-marital sex (up from 34 per cent four years ago).
Catholics lead in attending religious services (83 per cent attend, Protestants 70 per cent, Jewish youth 16 per cent), with attendance highest in the South and lowest in the Northeast.
The Ford In Our Future
Vice-President-designate Gerald R. Ford is a man "very committed to God," says his son Michael, 23, a seminary student. "He's not outspoken or vocal about his commitment—he's not that kind of a man," he said in an interview. "Dad is more a man of action who incorporates his faith into his work."
The quiet faith is what makes Ford a "real man" to his old friend and Constituent, evangelist Billy Zeoli. Zeoli, president of Gospel Films in Grand Rapids, Michigan, and also noted for evangelistic work among professional football teams, says Ford has taken a definite Christian stand. "I can say he has accepted Christ as his Saviour and that he is a growing Christian." Zeoli says he has spent time praying and studying the Bible with Ford for years.
Ford, a football star at the University of Michigan (he was voted outstanding player in 1934, when his team won only one game), and still a fan, accepted Christ at a Washington Redskins-Dallas Cowboys pre-game chapel service Zeoli conducted two years ago, according to the evangelist. Since then, Zeoli has met often with Ford, who as House Minority Leader invited the evangelist to lead Congress in prayer on October 11—as it turned out, the day following former Vice-President Spiro Agnew's resignation. Ford and Zeoli also jointly sponsored an athletes' luncheon the day of the Presidential Prayer Breakfast last winter.
Ford, 60, a lifelong Episcopalian, attends Immanuel (Episcopal) Churchon-the-Hill in Alexandria, Virginia. His home church is Grace Episcopal in Grand Rapids, where parishioners remember him as a Sunday-school teacher "who believed in what he said," according to a Detroit Free Press story by reporter Hiley Ward.
While awaiting confirmation, Ford's closely knit family was apparently finding growing unity through prayer. Said his son Michael: "It's been an uplifting experience. We've all been drawn closer together and we're giving each other spiritual support through prayer.… [The prospects] are so crucial, so demanding, that I know he's getting deeper into the faith."
Michael Ford, a first-year student at Gordon-Conwell Seminary in Wenham, Massachusetts, said he plans a career in full-time Christian service as a youth minister. The decision to drop out of a political science-law program (the course his father followed) and opt for the ministry came after he made a commitment to Christ at Wake Forest University last year. It caused some surprise at home, Michael said, "but Dad knew my Christian faith was playing a strong part in my decision." He said his father helped him investigate seminaries, warning him away from "liberal" schools and suggesting instead a seminary that held a "strong orthodox view of Christianity."
With all eyes on the vice-presidential post, the Ford family is hesitant about discussing the possibility of his becoming President (the family believes President Nixon will see his term through), Michael said. "Dad takes one step at a time."
Ford, a leader of the congressional prayer groups, spends time in prayer meetings with Presidential Assistant Melvin Laird, says Zeoli. "He [Ford] has a real evangelical involvement." To help him along, Zeoli sends him a weekly letter containing a Bible verse and a prayer.
The Ford family's lifestyle has changed from the moment he was picked as Agnew's successor, said Michael. "But I think it's brought about a real revival of our dependence and trust in God. I think all of these events show that God is going to work his will for the glory of his Kingdom."
BARRIE DOYLE
Urbana 73
A record crowd of nearly 15,000 is expected to attend Inter-Varsity Christian Fellowship's tenth triennial missions convention December 27–31 on the University of Illinois campus in Urbana. Advance registrations were running well ahead of the 1970 pace.
IVCF traces its roots to a Christian student movement that arose one hundred years ago in England. It spread to the United States in the late thirties, and in 1941 IVCF was chartered. In 1945 the Student Foreign Missions Fellowship merged with it, and in 1947 Inter-Varsity joined with similar groups in other countries to organize the International Fellowship of Evangelical Students.
Inter-Varsity has about 120 campus staffers who assist chapters at more than 400 college and university campuses and 300 schools of nursing. Missionary preparation and activities are emphasized at 125 Christian colleges.
From its inception IVCF has stressed missionary work. Its stated purpose is to assist faculty and student members to evangelize, to grow spiritually, and to "discover God's role for them in the world mission of the Church."
The first missionary convention was held at the end of 1946 in Toronto. It drew 575 delegates representing fifty-two denominations and 151 campuses—along with representatives of fifty-six missionary agencies. Each successive convention grew in size, and at Urbana 70 there were more than 12,000 delegates from sixty-one nations. Over the years many hundreds of young people have volunteered for overseas missionary service. A computer at Urbana 70 helped to match prospective missionary candidates with sending agencies, a service that will be offered again at this year's convention.
SUNDAY IN SLOW MOTION
Neither the church nor soccer suffered much, at least at the outset, when Holland banned Sunday driving because of the current oil crisis. (Few spectators showed up for the horse races, though—and even some horses didn't get there.) Despite fears, the Reformed churches' traditional fall offering for missions apparently held up well on the first car-less Sunday.
Undertakers took the day off; there were no traffic deaths (Sunday's usual toll is eight). Special permission was granted some 16,000 doctors, midwives, journalists, and others (including a few pastors) to drive. Even so, there were only two accidents: a collision between a Belgian and a German car (foreign visitors were allowed on the road), and a horse and buggy that went out of control.
More than 80 per cent of Dutch oil comes from Arab countries, which shut off the flow because of Holland's support of Israel. No-car Sundays may become the rule in the forseeable future. Many Dutch families in the cities have traditionally donned their Sunday best and pedaled to church on bicycles. But the outcome of the oil crisis may be a decline in church attendance in rural areas, where attendance has been best. A number of small congregations served by visiting preachers are already planning a cutback in the number of church services.
JAN J. VAN CAPELLEVEEN
A battery of ninety seminars arranged in interest clusters (medicine, education, media, evangelism, religions) will be offered at Urbana 73, says director David Howard. Among the speakers will be Anglican pastor John R. W. Stott, Samuel Escobar (IVCF's Canadian director), missionary Samuel Moffett of South Korea, pastor-educator Philip Teng of Hong Kong, several students, and a lay worker from Colombia.
The event will conclude with a New Year's Eve communion service in the huge assembly hall.
Sabbath Security
In the first court action it has undertaken to enforce the prohibition against "religious discrimination" in employment under the provisions of the Equal Employment Opportunity Act of 1972, the U. S. Department of Justice has filed suit against the city of Albuquerque, New Mexico, for discharging a fireman who is a member of the Seventh-day Adventist Church. Salomen Zamora was dismissed in October for refusing to work on Saturday, his sabbath.
The suit asks that the city be ordered to reinstate Zamora to his previous position in the fire department with back pay to date of discharge, allow him to observe his sabbath in the future without loss of leave time or other penalty, and correct its alleged discriminatory practices with respect to all city employees.
GLENN EVERETT
The Millennium: A Bad Beginning
Correspondents Gordon R. Lewis, a professor at Conservative Baptist Seminary in Denver, and Cal Thomas of KPRC-TV news in Houston covered last month's "Millennium '73" visit of Guru Maharaj Ji (see September 28 issue, page 46) to the Astrodome in Houston. The following story is based on the reports they filed.
The Millennium was ushered in last month in Houston, but it got off to a poor start. Instead of the 85,000 who were expected to be on hand to herald the coming of teen-age Guru Maharaj Ji, less than 15,000 (police said 10,000) showed up for the three-day event in the 66,000-seat Astrodome (estimated rental: $75,000). These included thirty-seven chartered plane-loads of disciples (twenty-five of the planes were from other countries). Nevertheless, the self-proclaimed "perfect master" unabashedly declared it to be "the most important event in human history." And his devotees acclaimed him as the only true contemporary spiritual master, and they crowned him "king of kings."
Why was it history's most important event? "Just the fact that the guru is here," said former anti-war activist Rennie Davis, coordinator of the affair who publicly kissed the guru's feet. Previously the guru's special "knowledge" was limited to monasteries, but "this is the first time there has been a perfect master to make the knowledge available to the whole world," explained PR man Richard Profumo.
Yet the knowledge didn't seem all that available. Maharaj Ji talked about love, peace, harmony, unity with God, light, and energy in three discourses, promising a "practical realization" of it all. To "receive knowledge" of these things is akin to a conversion experience, but Maharaj Ji had delegated the giving of the knowledge to mahatmas (great souls). Only thirty or so mahatmas were seated near the guru's throne, which was perched atop a thirty-five-foot-high stage amid water-falls, lakes, and fountains. Many in the audience were unable to reach the mahatmas for the required seven-or eight-hour knowledge session, and they left frustrated and angry—without the millennial peace. The PR people seemed undisturbed; the sincere will receive knowledge at the right time, they said.
Getting the knowledge is the central objective, commented Rennie Davis. "Then we can do what the street people sought in the sixties—abolish capitalism and other systems that oppress."
There were dramatic productions on Christ and Krishna—two earlier spiritual masters (there can be only one at a time), slide and light shows, a 50-piece rock band, offerings, hawking of guru merchandise (pennants, T-shirts, buttons, records, books, even ear plugs at 50 cents), demonstrations (HareKrishna chanters and several Christian groups held forth at the entrances), and a press conference.
Maharaj Ji packed the news conference with his own people and called mostly on them. He brushed aside the few questions reporters managed to ask ("Why don't you look that up yourself?" and "Ask one of my devotees about that"). Then he abruptly concluded the session when a reporter asked him about his stomach ulcer, his Rolls Royce and expensive homes, and the starving people all over his homeland of India.
On the final night of the event Maharaj Ji disclosed that his Divine Light Mission will build a "divine city" at a site yet to be determined, a city where everyone in need of food and clothing can come and receive it free; payment will be in the form of service. Architect Larry Bernstein said the self-supporting city will have non-polluting factories and it will run on solar energy.
To build that city will cost a lot of money, a commodity that does not seem to be in short supply as far as the guru is concerned. He stayed in the Astroworld Hotel's $2,500-per-day Celestial Suite (he brought his own sheets—"they're very clean people," explained a hotel staffer). The camera equipment that recorded Millennium '73 for a film cost $500,000. Maharaj Ji says he gets all his money from tax-deductible contributions—apparently from sources other than offerings in meetings (the Astrodome offerings were not large).
The boy guru had to pay a $13,000 bond to the Indian government before leaving. In passing through Indian customs recently he was found to have thousands of dollars of undeclared cash and jewelry, and his passport was temporarily lifted.
While his devotees seek the millennium's peace, Maharaj Ji is apparently already enjoying its prosperity.
Have something to add about this? See something we missed? Share your feedback here.
Our digital archives are a work in progress. Let us know if corrections need to be made.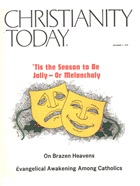 This article is from the December 7 1973 issue.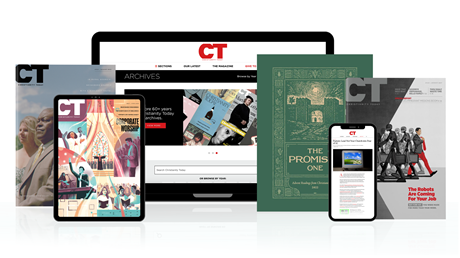 Annual & Monthly subscriptions available.
Print & Digital Issues of CT magazine
Complete access to every article on ChristianityToday.com
Unlimited access to 65+ years of CT's online archives
Member-only special issues
Subscribe
An Evangelical Awakening in the Catholic Church?
An Evangelical Awakening in the Catholic Church?