Fairy Tales For Women
Among the entertainments vying for the leisure time of women responsible for home management is the fiction in "women's" magazines. Much has been said about the image of women in these glossy, colorful publications that promise help for achieving successful marriage and parenthood, beautiful hair, clothes, and figure, tastefully decorated homes, and good eating on a limited budget (without, of course, suggesting not buying the magazine as a step toward cutting cost). Indeed, they have felt the not-always-gentle prodding of some women's groups. The purpose here is not to debate whether the magazines fit the image of women's lib but whether reading them helps fit a woman to the image of God.
It is not an entirely just exercise: the magazines and their fiction make no claim of being Christian, and it is not completely fair to judge them by standards they do not set for themselves. Still, their readers must include thousands of church-going women and probably not a few minister's wives. So it is not unfair to ask how the contents might affect Christian commitment.
To the mirror of biblical truth, then, we shall hold up thirty-six stories from fourteen issues (dated January through July, 1973) of Family Circle, Good Housekeeping, Ladies' Home Journal, and Redbook. Eight of them are short, short stories—one or two magazine pages long. Nine are novelettes or condensed novels, and by length the rest fall somewhere between. Generally in this non-comprehensive sample the best stories—most entertaining and best written—were either short or long.
Only one has a clearly Christian theme. In "Mrs. Barton Declines" by Pearl Buck (LHJ, Feb.), a dying woman forgives her husband's affair (he had committed suicide years earlier when she had refused to forgive him) and encourages her daughter-in-law to do likewise. The story concludes with a suggestion of salvation, resurrection, and eternal life:
"Of course," Mrs. Barton said faintly but cheerfully, "I have to die sometime. Then … I'll be buried in Boston.… But I'm not going to die. Not this time! I'm going to have a good night's sleep as soon as Charles takes you home, Aline, and in the morning when you both come to see me, I'll be resurrected!"
Mrs. Barton's sisters and son had been called to her bedside on other occasions, but she had always rallied. This time, with those who trespassed against her forgiven, will be the last, the reader is allowed to believe.
Twice more in this sample an element of personal religion appears; in two stories frightened, lonely widows consider prayer. The woman in B. J. Chute's "Turn of the Tide" (FC, July) believes she sees a gull being torn apart out on New York's East River as she herself feels torn by fears of city life. "She thought she might pray," Ms. Chute writes. "Pray that a boat would come along and run into the gull and kill it mercifully.… Or that the tide would suddenly rush in and whirl the gull away." Finally the tide does begin to turn and she realizes the gull is actually a cardboard box. And a tugboat does appear: "It was the boat she had prayed for, and now it was here and she no longer needed it." The point of the story is not her appeal to God for help but her realization that fear of the unknown is foolish and she might as well live one day at a time. It is an emotionally powerful story; the protagonist's icy stabs of panic reach the reader, too.
Equally powerful for its depiction of terror is the condensation of The Crystal Mouse, by Babs H. Deal (LHJ, Jan., Feb.). Sara Hillstrom, just widowed, moves into her new apartment to discover she is the building's only occupant. Strange night noises—most of which she makes herself—terrify her, but, she thinks, one o'clock is "too late to call anyone without a reason. And to whisper 'Help' is never any reason."
Shamefacedly, and with a touch of self-irony, she looked up the number and dialed the Dial-A-Prayer. The line clicked, hummed, faltered, and a cheerful mechanical voice said, "The number you have reached is not in service at this time. This is a recorded announcement."
It would not serve Ms. Deal's story to have Sara find comfort. But it is significant that the appeal that fails is to a spiritual service. The next day Sara does find a companion: a young woman with whom she drinks lunch. Although the woman discloses she's a "Jesus freak" and buys Sara a recording of Jesus Christ Superstar, Sara does not find through her the perfect love that casts out fear. Sara never finds it and ultimately dies. By spiritual standards, it is a bleak story indeed.
A similar failure occurs in a Good Housekeeping novelette, Search for a Little Girl, by June Lewis Shore (Jan.). While the parents, who had been returning home from vacation when their child was lost, and local people comb the snow-covered Kentucky countryside, the child is safe at the nearby farm home of a widower and his unmarried daughter. Before he could notify authorities about the child he fell ill and delirious. To his daughter Garnet the child seemed a replacement for the baby she'd lost, and for a brief time her severe depression lifted. The story suffers literarily from a lack of focus and spiritually from a lack of minister to comfort the desperate parents. And it is significant that Ms. Shore chose for the father of Garnet's aborted baby a traveling evangelist.
Another ministerial indiscretion occurs in one of the most delightful of the stories, "How I Got Me a Bear," by Robert Roper (RB, June). It is a country-music ballad in short-story form. A burly truck driver (the Bear), smitten by a Dairy Queen waitress, declares his love on the local radio station till the whole town knows he aims to claim her for his own. Embarrassed by the attention, she consults her cousin, who is a minister and who owes her a favor "since it was me that talked his Louisa out of going and getting a divorce when she caught him fooling with that Cherokee girl." When the Bear returns and, before the assembled townsfolk, declares his love, she produces her clergyman cousin, who marries them on the spot. The story is a well-done bit of entertainment; only the minister's escapade jars.
The minister in Shelby Hearon's novel The Second Dune (RB condensation, June) appears moral enough; but his wife leaves him for another man. Harold's divorce counters that of Ellen, the story's narrator, who had left her husband to marry Harold's lawyer brother. For the most part Harold is treated respectfully and sympathetically—and a bit patronizingly: the preacher is too tender to have to suffer this woman's harshness. Ellen, however sees him in terms of her first husband—and no one worried whether he could bear the pain of losing his wife. It seems that Harold is a preacher just so he can appear pathetic (to his lawyer brothers at least)—as though such an appearance would be inappropriate for someone in another profession.
The only other appearance of organized religion is in The High Valley, a condensation of a mystery novel by Jessica North (GH, Feb.). The local Mexican priest is cultured, charming, intelligent, and understanding. He seems too good to be true. But at least he provides welcome relief from clergymen who show only the bad side.
Faith may not fare well in women's fiction, but the happy nuclear family thrives. Indeed, more than two dozen of the three dozen stories feature love (or romance), marriage, and family life. Half a dozen times the main character's family is diminished by death, but only four times by divorce—a far lower divorce rate than that usually cited by these magazines. For the fictional characters at least, the how-to-keep-a-marriage-humming articles seem to work.
A few of the love stories provide insight into the nature of love—and in the process offer the reader something to think about and an opportunity for growth. Two stories by Florence Jane Soman—"A Perfect Marriage" (GH, Mar.) and "Emergency" (GH, Jan.)—show the value of restrictions inherent in the choice of marriage and family over more casual liaisons. "Things That Last," by Lauren R. Stevens (RB, March), describes fickle emotions: a boy concerned during his father's terminal illness because his feeling of grief sometimes is overshadowed by other emotions wonders if his feeling of love for the girl he wants to marry will last through the flow of life's events. The headstone he chooses for his father's grave and the ring he buys the girl become symbols of lasting relationships.
Mostly the stories are less edifying variations on the boy-meets-girl-they-marry-and-live-happily-ever-after theme. And they are mostly mediocre stories. The preoccupation with happy romance is no doubt an appeal to readers' fantasies, and the choice of stories suggests the editors believe those fantasies are of the type of which princes on white stallions slay dragons and carry off beautiful maidens. Perhaps so. Yet if women were to divulge their daydreams the world might also glimpse the creator of the great American novel, the discoverer of long-lost civilizations, the capable and profound exponent of a great truth. Indeed, such hopes of creativity and searches for truth bring a woman closer to the image of God than do dreams of fairy-tale romances. One could wish there were fewer fairy tales for women.
JANET ROHLER GREISCH
Have something to add about this? See something we missed? Share your feedback here.
Our digital archives are a work in progress. Let us know if corrections need to be made.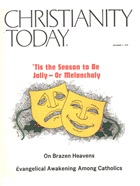 This article is from the December 7 1973 issue.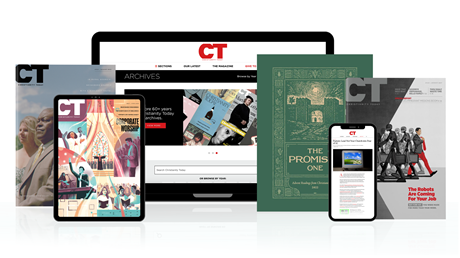 Annual & Monthly subscriptions available.
Print & Digital Issues of CT magazine
Complete access to every article on ChristianityToday.com
Unlimited access to 65+ years of CT's online archives
Member-only special issues
Subscribe
The Refiner's Fire: Fiction
The Refiner's Fire: Fiction