Despite recent rulings that some Christian broadcasters see as a threat to their continued operation, relations between the Federal Communications Commission (FCC) and the National Religious Broadcasters (NRB) are warm, if at times guarded. At last month's thirtieth annual NRB convention in Washington, D. C., FCC commissioners and division chiefs were out in force, prompting FCC chairman Dean Burch to quip that the NRB had succeeded in getting all seven commissioners together where he had failed.
The underlying topic of discussion—though it rarely surfaced during public sessions—was the FCC ruling against Kings Garden, Incorporated, operator of two Christian radio stations in Edmonds, Washington. A prospective news announcer refused to answer questions about his beliefs on a job application form, claiming job discrimination based on religion. This precipitated an FCC investigation. The commission agreed and told Kings Garden to drop all such questions. Commissioners refused to discuss the issue because the case is still pending before courts and its own rules body.
GETTING THE WORLD'S EAR
Evangelical broadcasting is growing by leaps and bounds, according to figures compiled by the National Religious Broadcasters, an evangelical organization. NRB executive secretary Ben Armstrong said the group now has 515 members, an estimated 70 per cent of the religious broadcasting market. In 1967, he said, NRB had 107 members.
Christian radio stations, which in 1967 were being formed at a rate of one per month, are now appearing at the rate of one per week in the United States. Similarly, from a single Christian television station five years ago, the field has grown to twenty-four across the nation with thirteen more under negotiation.
Armstrong said that six facilities broadcast daily to countries behind the Iron Curtain, and that "no place on earth is now inaccessible to the Gospel."
(Kings Garden contended that the 1968 Civil Rights Act exempted religious organizations from strictures against religious discrimination in hiring provided the jobs were concerned with religious activity. The commission rejected that argument, claiming the act has no jurisdiction in FCC territory. Kings Garden is appealing again and asking for a rule change to bring the FCC in line with the act.)
Station owners and operators at the convention heard FCC complaints division chief William Ray outline the case. He said that on the advice of FCC attorneys, however, he was "not prepared to discuss the pros and cons of the issue." Discussion continued among private groups, but public debate, stymied by the FCC, was closed.
Although some station owners worried about the rule, NRB executive secretary Ben Armstrong said Kings Garden was an "isolated case." NRB studies showed Kings Garden was the only station asking such questions on job applications. "The question was the precipitating factor," said Armstrong. "I don't think other stations will be affected."
Nevertheless, said Armstrong, the NRB wants discussions with the commission on the matter. "We want to examine the interpretation of the rules. The [NRB] board feels the category of religious exemption under present FCC rules is very broad. Kings Garden says they are very narrow. We want an interpretation and we want the commission to act quickly." If Kings Garden is correct, only announcers involved in a preaching category could be hired on the basis of their faith; all other jobs would be open. The NRB interpretation encompasses all jobs pertaining to production.
Some station owners are angry with Kings Garden for figuring the issue. They're afraid the boat-rocking will cause the FCC to tighten religious broadcasting even further. Twenty owners are already planning a spring meeting to discuss the issue. "I can't see how you can have gospel programming with non-believers acting as announcers," said Wayne Paradise, a station owner in Auburn, Indiana. "Listeners know if the announcer is dedicated, whether it be to country and western music, rock and roll, or religion." His stations, AM and FM, are not completely gospel programming, he said, "so I do have some unsaved people on staff." None, however, is in an "on-air" gospel programming position, he said.
During the four-day convention, speakers ranged from success-oriented businessman W. Clement Stone of Chicago to evangelist Billy Graham. The theme of the convention was "Calling the Continent to Christ," borrowed from Key 73. Dr. Ted Raedeke, executive director of Key 73, discussed the evangelism effort with delegates. NRB is a cooperating Key 73 body and has arranged space at its Madison, New Jersey, headquarters for a Key 73 mass-media office. (A Key 73 television special distributed by the office was seen on 667 North American stations—a potential 75 million viewers, according to Key 73 officials.)
NRB delegates were also confronted with the race issue in minority programming and hiring. NRB press secretary J. Morgan Hodges, a black minister in Washington, D. C., who was once a CBS newscaster, led a black panel that criticized stations for discriminatory hiring and failure to provide programming acceptable to black audiences. Armstrong agreed programming leaves a lot to be desired.
Internationally, NRB has been asked to participate in a world broadcasters' organization, said Armstrong. World Evangelical Fellowship secretary Clyde Taylor wants to revive a defunct department of radio and television, Armstrong added, and NRB and European broadcasters are studying a framework for such an organization. (Meanwhile, Canadians attending the convention met to discuss formation of a similar organization in Canada.)
Broadcasters also discussed recent trends in gospel programming, including a turn to shorter, capsule programs in place of the traditional half-hour music-sermon format.
Have something to add about this? See something we missed? Share your feedback here.
Our digital archives are a work in progress. Let us know if corrections need to be made.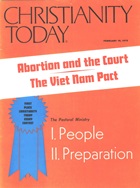 This article is from the February 16 1973 issue.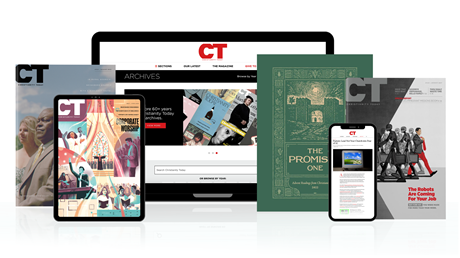 Subscribe to Christianity Today and get access to this article plus 65+ years of archives.
Home delivery of CT magazine
Complete access to articles on ChristianityToday.com
Over 120 years of magazine archives plus full access to all of CT's online archives
Subscribe Now
Evangelical Broadcasters: Discriminatingly Different
Evangelical Broadcasters: Discriminatingly Different