Church-growth thinking is paying off around the world. In country after country it brings hope and effectiveness to those who use it. It introduces new methods, opens up new fields. As they swing into growth thinking, churches in the third world are declaring dividends. They find it profitable.
Can church-growth insights be applied to the American scene? An increasing number of leaders in this country think it can. The articles that follow are presented in the hope that the denominations taking part in Key 73 will apply church-growth thinking to the largest and best-planned evangelistic program ever conducted on this continent. As 200,000 congregations from 150 denominations surge forward in "a coordinated campaign aimed at confronting every person in North America more fully and forcefully with the Gospel of Jesus," they too will profit by using church-growth thinking. Key 73's Congregational Resource Book glitters with good ideas. We add church-growth thinking to the other Key ingredients with a prayer that the whole may be blessed by God to bring substantial growth of sound Christian churches.
In the summer issue of United Evangelical Action, Bruce Shelley proclaimed in bold, black letters, "The acid test of evangelism is never numbers of decisions but growth of churches." He was doing good church-growth thinking. Key 73 must pass that test. The dividends declared a year from now should appear in the form of lasting growth of churches. At the beginning of this fateful year, let us be clear that the goal of Key 73 is that every person in the United States and Canada have a real chance to say "yes" to Jesus Christ and become a dependable member of his Church.
What Is Church-Growth Thinking?
As Methodists, Baptists, Churches of Christ, and other denominations planted 250,000 congregations in North America, they used church-growth thinking. It is the way classical missions thought as they undertook the colossal task of establishing thousands of churches across Asia, Africa, and Latin America. (By God's grace they have already established more than 300,000.) In recent years, the Fuller Seminary School of World Mission has devoted itself wholeheartedly to discovering what makes churches in the third world grow. What makes them stop growing? What historical and anthropological factors are involved? Where do receptive populations live? What biblical and theological principles apply?
Researchers have made more than a hundred studies to dig out answers. More than fifty books have been published. Church Growth Book Club sold 50,000 volumes last year. More than 10,000 missionaries, ministers, and mission executives read the Church Growth Bulletin six times a year. All this and much more is part of church-growth thinking, a large, complex body of principles and practices.
The following articles set forth principles of effective evangelism; but let none think that they exhaust church-growth thinking. They merely introduce a few practices, principles, books, and researches that are proving valuable in many lands. As Americans and Canadians study church growth, they will make applications that suit their own cities or countrysides.
As they call this continent to Christ, North American Christians can profitably do the following things.
1. Accept the fact that God wants his lost children found, brought into the fold, and fed. Glad acceptance of this truth dispels the debilitating suspicion that church growth is somehow disreputable and evangelism "can easily be overstressed." When churches really believe that God wants lost men found, they will quit rationalizing decline in membership as "probably good for us," will stop making excuses for not finding and enfolding God's children, and will engage in effective evangelism.
2. Dig out the facts about the growth of congregations and denominations. Church-growth research is paying rich dividends in the third world and can do so in America. Even very elementary fact-finding is useful. For example, in two church-growth workshops at Celebration Evangelism West, which convened at historic First Presbyterian Church of Oakland, California, growth patterns of fifteen typical Presbyterian churches in the Synod of the Golden Gate were studied. This was the first time anything like that had been done in a public meeting of the 165 synod congregations. Facing the facts stimulated interest in evangelism and church growth. Research in North American church growth, whether done within a denomination or across the denominations, will yield rich rewards.
3. Recognize the winnability of North Americans. For too long we have deceived ourselves into thinking that Americans are indifferent to Christ's claims. The fact is that of all the populations on earth, those in North America are among the most winnable. While some Californian denominations had resigned themselves to little or no growth, the Southern Baptists in California between 1937 and 1967 grew from 12 churches to 992. In the last decade the Mormons have been increasing at a steady 5.6 per cent per annum. Christians who believe that theirs is a more reasonable doctrine might do even better!
4. Harness insights of the social sciences to evangelism and church growth. This is already being done in a small way, but in view of the tremendous resources of psychological and sociological insight in North America, much more extensive application is indicated.
5. Pray and plan revival. God is giving many of his people a bright new blessing. What happened at Asbury Seminary can happen on many campuses and in thousands of churches, through prayer and faithful study of God's Word. Revival releases power. The Holy Spirit will do in a day what of ourselves we cannot do in a year.
6. Multiply lay evangelists—men and women, boys and girls. Tremendous unused evangelistic resources lie all about us. As we study church growth in other lands we see that God has used trained laymen in practically every outburst of effective evangelism. He will use them here, too.
7. Multiply new cells of Christians, in such forms as Bible-study groups, prayer groups, underground churches, house churches, ski-slope and locker-room groups. In these, persons meet Christ and Christians are born. The comfortable fiction that, because in our part of town we have four churches on one crossroads, America has enough churches, should cease to deceive us. The uncomfortable truth is that we need substantial church growth. Some churches should grow bigger. Some should give birth to daughter congregations. At least fifty million Americans are living without knowing Christ. Thousands of new cells are needed in which these millions may start the redeemed life.
8. Expect rich dividends in the Christian life-style. As millions become Christians, we shall see more kindness, more honesty, more justice, more brotherhood, and more beauty. Subcultures will be ever more irradiated with divine light. Churches, since their purpose is to obey Christ and to walk in the light of his revelation, are the most potent originators of the good life known to man. Let us multiply them and improve them.
How To Apply Church-Growth Thinking
The church-growth thinking developed by the community of missionary scholars and associates gathered at Fuller's School of Mission has been applied chiefly overseas; but a successful recent experiment proves such thinking readily applicable to North American churches.
Professor C. Peter Wagner of the School of Mission enrolled eighteen Los Angeles ministers and lay readers in a class in church-growth principles. It met for eleven weeks from seven to nine Tuesday morning. The men studied two texts thoroughly, Wagner's Frontiers of Missionary Strategy and my Understanding Church Growth. After brief lectures they discussed the chapters and applied them to their own congregations and situations. Although illustrations in both books were taken from third-world churches, class members had no trouble in applying the principles to this country. The last three sessions were spent in drawing up hard, bold plans for effective evangelism in the congregations represented. One person in the class, Dr. Win Am, an executive for Christian education in the Evangelical Covenant Church and an expert in visual education, produced ten charts and work books to teach growth thinking. These he used to good effect with 150 Covenant leaders in three "VIP Church Growth Seminars." The class also asked Dr. Am to publish his church-growth kit so that it could be used in Key 73 by interested churchmen around the country.
If Key 73 is to pay the growth dividends God is making available, a hundred thousand congregations all across the land should emphasize church growth. The thinking proving fruitful abroad is available to churches and their leaders in North America.
George M. Marsden is associate professor of history at Calvin College, Grand Rapids, Michigan. He has the Ph.D. (Yale University) and has written "The Evangelical Mind and the New School Presbyterian Experience."
Have something to add about this? See something we missed? Share your feedback here.
Our digital archives are a work in progress. Let us know if corrections need to be made.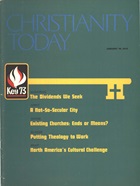 This article is from the January 19 1973 issue.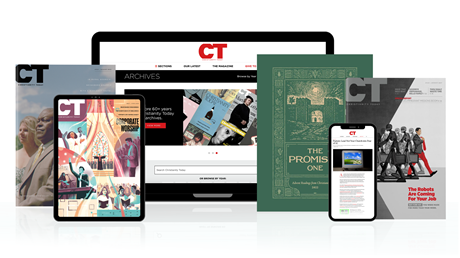 Subscribe to Christianity Today and get access to this article plus 65+ years of archives.
Home delivery of CT magazine
Complete access to articles on ChristianityToday.com
Over 120 years of magazine archives plus full access to all of CT's online archives
Subscribe Now
The Dividends We Seek
The Dividends We Seek