In the late sixties Christian publications were asking whether the Sunday school had perhaps outlived its usefulness. Attendance declines made it seem that this venerable institution was probably on the way out. Life magazine boldly asserted that Sunday school was "the most wasted hour in the week." (It must be pointed out that this conclusion was based on a study of church schools in which Bible teaching had been replaced by play activities one could charitably designate as of the "Mickey Mouse" variety.)
Today, too, some Christian leaders question the value of the Sunday school. For example, leaders of various youth organizations outside the church have pointed out that their programs are achieving greater evangelistic results than the Sunday school. Slight declines in sales reported by some curriculum publishers are another indication that the Sunday school may be less robust than it was fifteen years ago.
However, there are signs that in many areas the Sunday school has rounded the corner and is on the way to a new surge of growth. Holiness groups and denominational bodies in the South report encouraging figures on Sunday-school growth.
Then, too, city, state, and regional Sunday-school conventions, usually indicative of the Christian-education climate, are flourishing in most parts of the country today. A list of eighty such meetings held since the first of the year shows that most of them exceeded 1972 attendance figures.
Representatives of curriculum publishers and denominational groups met in Chicago early in May. Leaders had expected an attendance of twenty, at the most, but nearly fifty were on hand. The conference decided almost unanimously that the National Sunday School Association must be revived, though probably under another name. Financial difficulties had forced the NSSA, after its 1970 national convention in Philadelphia, to reduce its annual meetings to "seminars" of much smaller dimensions. But the group that met in Chicago sensed a new buoyancy and a broad general interest in Christian education at the local church level that will certainly produce new life in the whole Sunday-school movement.
It is not quite accurate to say that the Bible assigns entirely to parents the responsibility for the spiritual instruction of children. True, fathers are admonished to bring up their children in the discipline and instruction of the Lord (Eph. 6:4). They cannot discharge this duty simply by sending their children to Sunday school. They cannot expect a teacher, usually untrained, in 1/168 of the total hours in the week, to bring their child through the experience of conversion and spiritual growth. Parents must supplement the work of the Sunday school by conducting family devotions, home Bible study, and supervised Sunday-school lesson preparation. Unless they do so—and an overwhelming majority of them do not—the Christian-education program in the local church will not operate at anything like full effectiveness. Even the public school, with its trained faculty, realizes that there are areas in which teachers are helpless. "The will to learn," comments Parents magazine, "is engendered elsewhere."
Yet God does command the Church to attend to the ministry of education. Jesus gave his disciples this order: "Go … and make disciples of [that is, evangelize] all the nations … teaching them to observe all that I commanded you" (Matt. 28:19, 20, NAS). The teaching ministry of the Church, normally emphasized in the Sunday school, is a vital part of our response to the Great Commission.
The Sunday school performs another significant ministry among adults and young people when it is functioning adequately. It provides a means through which people can get acquainted with their peers, enjoy Christian fellowship, and form friendships. One disadvantage of the "elective" system, popular in Sunday schools today, is that continual reshuffling of persons seriously inhibits fellowship opportunities.
All things considered, it is strange that many pastors are apathetic toward their Sunday schools. In some churches "Sunday school" is never mentioned from the pulpit. The pastor displays no awareness of—let alone concern over—the educational problems in his fold. Deacons and elders, unless they are serving as teachers, are conspicuous by their absence from Sunday school.
In his study of the ten largest Sunday schools in the United States, Elmer Towns reports that one of the things these ten schools have in common is pulpit enthusiasm. The pastor either teaches an adult class or is in evidence regularly in the various parts of the school. He attends workers' conferences and encourages and instructs teachers. He takes part in the selection of curriculum material or else teaches the teachers week by week how to put next Sunday's lesson across. He is interested in every detail, even to the bus ministry.
A Sunday school will flourish under a pastor who realizes that his preaching—even if it consists largely of exposition—is only a part of the educational ministry of his church. Such a pastor will enthusiastically "sell" the Sunday school to his people. He and his board will set an example to the rest of the congregation. And if the Sunday school is unworthy of this wholehearted support, responsibility for improving it or seeing that it is improved is on the shoulders of the pastor and his staff. They cannot simply shift the problem over to the superintendent or to the Christian-education committee.
There is increasing interest today in Bible study that is directly life-related, even at younger age levels. Sunday schools that have turned away from the Bible are having a hard time holding their children. At the adult level, polarization is taking place, dividing men and women who want to study the Bible from those who are indifferent to Bible study. The latter are partly responsible for the great increase in extra-biblical electives covering a wide range of subjects; Bible study has been shelved in favor of discussion of "life-related" topics in which biblical content is frequently negligible.
Bible enthusiasts, on the other hand, are responsible for the fact that home Bible classes are flourishing. Some Bible buffs even promote "no curriculum" Sunday schools where only the Scriptures are used, without benefit of published aids. Laudable though this approach might sound, it is hard on untrained teachers, assumes the pastor's ability to adopt a given Bible passage to all ages, and may discourage class members from trying to do some lesson preparation on their own.
The weekend syndrome is hurting the Sunday school in some parts of the country. Even some Sunday-school teachers do not allow their teaching commitment to interfere with weekend plans. Some families may attend church at the lake or the shore or the mountains if doing so is not inconvenient, but most do not.
The teacher is the key factor in the Sunday school. He is more important than the curriculum material he uses. A gifted and knowledgeable teacher can work wonders with indifferent material, but an untrained and ungifted teacher, even if his intentions are good, can sabotage the best lessons written. For a school to appoint a teacher merely because he is willing to teach, without regard for his qualifications, is to ask for a substandard school.
Thousands of dedicated teachers demonstrate their love for their students in selfless devotion to their work, including conscientious preparation, faithful attendance, and the building of warm personal relationships with their students during the week. Other teachers are satisfied with a few minutes of study time, often on Saturday evening or even Sunday morning—and build no bridges between themselves and their students, whom they may not even know by name.
Many teachers still conceive of teaching as simply telling. They think that if they have spoken the truth, they have taught their students. I have seen a teacher of six-year-olds, her charges arrayed in front of her in neat little rows as if they were a church congregation, lecture these tots for fifteen or twenty minutes at a time. And at the adult level, many teachers can conceive of no other method of teaching than verse-by-verse exegesis.
Most Sunday-school teachers suffer acutely by comparison with what their students watch on television. This is not to criticize them, of course; it is simply to state that the comparison is inevitable. Children and adults who watch highly professional TV presentations for from eight to twenty hours a week can hardly be expected to get interested when they are obliged to listen for an hour to a teacher who is short on personality, preparation, technique, and enthusiasm. Most curriculum publishers provide adequate instruction for teachers, and their manuals are virtually built-in training courses, but often teachers ignore this material and give all their study time to the expositional content of the lesson.
Sometimes the men and women who are best qualified to teach Sunday school have been siphoned out of a congregation and are working in Young Life, Campus Crusade, or some other organization geared to reach youth outside the local church. It is discouraging to see talented persons doing nothing in the educational program of their own churches, and perhaps making no effort to channel the young people they are reaching into a Bible-oriented church.
Admittedly, it would be hard for them to do this. The evangelical Sunday school often has a most unimpressive image. The name "Sunday school" is hardly calculated to make the heart of a young man beat faster or to challenge a successful business executive. A new name for this branch of the church's educational work would be very much in order.
Attempts have been made, but so far there is no fully satisfactory alternative. "Bible school" is associated in the public mind with Bible institutes. "Church school" suggests the day schools operated by various church groups. Perhaps leading curriculum publishers ought to join in offering a substantial prize for a substitute for the name "Sunday school."
But changing the name is just a start. We need to restudy our whole concept of Sunday school. We must insist on teachers who are qualified by gift, calling, and training. We need to do more with audio-visual aids.
We need especially to shake free of the mistaken notion that we cannot expect Sunday-school teachers to comply with standards because they are unpaid; no one who serves God goes unrewarded, even if the Lord doesn't settle accounts at the end of the month. We must not call Sunday-school teachers "volunteers," either—not if God has called them. A man is no "volunteer" if he responds to a draft call. And teachers whom God has not called have no business teaching.
Some churches are afraid to lay down standards for teachers. "They would quit on us," they say. But in churches where standards are high there are often waiting lists of those who want to teach. It is surprising how people will respond to a real challenge.
Other teachers are handicapped because they must use curriculum materials chosen because they were the cheapest. Churches have actually changed to less satisfactory study courses merely to save a cent or two per pupil per week—a shortsighted economy. On the other hand, some churches charge each adult a dollar or more a quarter for his own study materials.
The Sunday-school movement would be helped greatly by a general awareness among Christians of the supreme importance of both intellectual and experiential knowledge of God's Word. Such knowledge is basic to any progress toward spiritual maturity or effective Christian service. Many of the small groups that attract Christians today and have to some extent supplanted the Sunday school engage more in rambling discussion than in genuine Bible study.
Most evangelical homes have copped out on family Bible study and even on family devotions. Pastors must convince their people that they need to take advantage of every opportunity for education in the faith—including personal Bible study, home Bible classes, and the Sunday school.
George M. Marsden is associate professor of history at Calvin College, Grand Rapids, Michigan. He has the Ph.D. (Yale University) and has written "The Evangelical Mind and the New School Presbyterian Experience."
Have something to add about this? See something we missed? Share your feedback here.
Our digital archives are a work in progress. Let us know if corrections need to be made.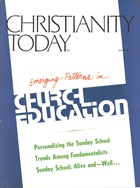 This article is from the July 6 1973 issue.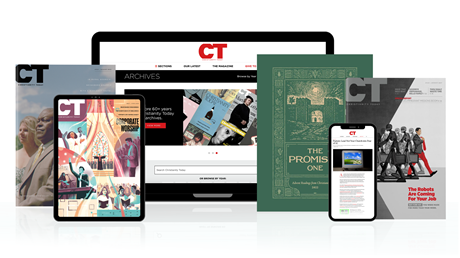 Subscribe to Christianity Today and get access to this article plus 65+ years of archives.
Home delivery of CT magazine
Complete access to articles on ChristianityToday.com
Over 120 years of magazine archives plus full access to all of CT's online archives
Subscribe Now
Sunday School: Alive and—Well …
Sunday School: Alive and—Well …