The most significant book of church history to appear last year was Sydney Ahlstrom's A Religious History of the American People (Yale). The title indicates the scope. This is a history not merely of religious institutions but of a major dimension of life that in one form or another affects everyone. Ahlstrom is no "grand consensus" historian; he acknowledges the bewildering diversity of religious expression and is modest in his claims for discerning common stances. He marshalls considerable evidence that the American people are undergoing a religious shift. If so, thoughtful reading of this volume is especially in order.
GENERAL With the publication of "Types of Religious Culture," Werner Stark has now completed his five-volume magnum opus, The Sociology of Religion: A Study of Christendom (Fordham). His purview takes in all of Christian history, from which he draws material supporting his theses. Catholicism and Calvinism are particularly in focus, with obvious preferences for the former and dissent from some of the influential views of Troeltsch and Weber.
A Dictionary of Liturgy and Worship, edited by J. G. Davies (Macmillan), deserves a place in every reference library, as do Textile Art in the Church by Marion Ireland (Abingdon) and The Art and Architecture of Christianity, edited by Gervus Frere-Cook (Case Western Reserve). The last two books have large pages with sumptuous illustrations. Many students need books like these to be reminded that proper understanding of church history calls for knowing much more than just doctrinal and institutional patterns and disputes.
Church history needs to be studied in the context of general history and the history of religions. The Columbia History of the World, edited by John Garraty and Peter Gay (Harper & Row), draws on the resources of a great university's faculty to give an authoritative yet integrated and very readable overview (in half a million words). More personal and philosophical is Arnold Toynbee's revision and abridgment into one volume of A Study of History (McGraw-Hill), with an outstanding collection of illustrations to make the past more lively than words alone can do. One need not agree with Toynbee's theological or historical judgments to be stimulated by this work. The diversity of man's religiosity over the millennia is authoritatively presented in Religions of the World, edited by Geoffrey Parrinder (Grosset and Dunlap). It too has splendid illustrations throughout.
Twentieth-Century Theology in the Making (three volumes), edited by Jaroslav Pelikan (Harper & Row), consists of articles written for a major German reference work around 1930 by men who would thereafter shape academic theology. Almost all the articles are historical in whole or in part, and merit reading and reflection. A high standard for specialized papers on neglected areas continues to be set by the British series "Studies in Church History" (Cambridge). Volumes on Popular Belief and Practice, edited by G. J. Cuming and Derek Baker, and Schism, Heresy and Religious Protest, edited by Derek Baker, appeared in 1972.
EARLY AND MEDIEVALA Short History of the Papacy in the Middle Ages by Walter Ullman (Barnes and Noble) is a major survey of a major institution. J. N. D. Kelly's long-standard Early Christian Creeds (McKay) is now in its third (and extensive) revision. Early Christian Art (through the fourth century) by Pierre du Bourguet (Morrow) presents, with lavish illustrations, a complementary approach to the creed-making period. Religion and Society in the Age of Saint Augustine by Peter Brown (Harper & Row) collects essays that look beyond the thinker who is their central figure to the faith and practice of the people themselves. Similarly, in The Coming of Christianity to England (Schocken), Henry Mayr-Harting probes beneath the actions of kings and bishops to see how diehard heathen Anglo-Saxons (now the villains in America as once they were to the Celtic British) were so pervasively (even if not thoroughly) converted.
Other medieval currents are represented by an overall look at The Crusades by Hans Eberhard Mayer (Oxford), collected essays on Medieval Church and Society by Christopher Brooke (New York University), and a scholarly, rather than laudatory, biography of Francis of Assisi by John Holland Smith (Scribner). An important movement, in some respects pre-Christian, in others anti-Christian, in earlier times as well as currently is expertly documented in Witchcraft in Europe, 1100–1700, edited by Alan Kors and Edward Peters (University of Pennsylvania).
REFORMATION AND MODERN Most ambitious in scope is Protestantism by Martin Marty (Holt, Rinehart and Winston). The indefatigable author (who may be the most prolific American writer on religion since Cotton Mather) attempts to provide not a full account of Protestant history but rather "an historically informed, theologically interested phenomenological study." The lengthy annotated bibliography is probably the book's strongest point. The book might be more aptly titled "Varieties of Non-Roman Catholic Christianity." A contemporary country-by-country survey of most of Christendom by skilled sociologists of religion is now available: Western Religion, edited by Hans Mol (The Hague, Netherlands: Mouton). Four books on the Reformation are noteworthy because they treat important aspects that have been neglected. The Social History of the Reformation is a collection of seventeen essays, edited by Lawrence Buck and Jonathan Zophy (Ohio State University). In Anabaptism: A Social History, 1525–1618 (Cornell University), Claus-Peter Clasen omits the Dutch and north German locales so as to make his thorough study, based on long neglected contemporary documents, more manageable. Christopher Hill looks at the often religiously inspired radical wing of the Puritan-led English Revolution in The World Turned Upside Down (Viking); the appropriateness for our own time is obvious. Another dimension of Puritanism (including Bunyan and the Quakers) in old England is based on an examination of more than two hundred "spiritual" autobiographies in The Puritan Experience by Owen Watkins (Schocken).
Protestant Thought in the Nineteenth Century is investigated again, but this time author Claude Welch commendably looks at English as well as German sources, conservatives as well as innovators (Volume 1, 1799–1870; Yale). A long and authoritative country-by-country look at The Pentecostals by Walter Hollenweger (Augsburg) appeared in English translation, abridged from a multi-volume German original.
A distinctive book, perhaps the first of its kind, examines Patterns of Christian Acceptance: Individual Response to the Missionary Impact, 1550–1950 (Oxford). Martin Jarrett-Kerr has drawn together disparate sources to present a series of case studies; the reader can form his own conclusions. At a time when China and the United States are renewing contact it is good to have Religious Policy and Practice in Communist China: A Documentary History by Donald MacInnis (Macmillan). Only introductory in scope, Trinity seminary professor David Wells's Revolution in Rome (Inter-Varsity) will be of some help in understanding the changes under way in the world's largest religious organization.
AMERICA In addition to Ahlstrom's Religious History of the American People (see above), there were, as usual, a large number of fine studies. A survey of the overall context, lavishly illustrated, is available in American Civilization, edited by Daniel Boorstin (McGraw-Hill), with the chapter on religion by—who else?—Martin Marty. Documents illustrating The Puritan Tradition in America: 1620–1730 were ably collected by Alden Vaughan (University of South Carolina and Harper & Row), and writings on the immediately following period by Jonathan Edwards were published as The Great Awakening, edited by C. C. Goen (Yale). On the same subject, John Pollock displays his well-established writing credentials with George Whitefield and the Great Awakening (Doubleday), a popularly oriented book, not definitive but accurate enough.
The Black Church in the United States is the subject of a small survey by William Banks, an evangelical (Moody). Joseph Washington, Jr., looks at Black Sects and Cults (Doubleday) categorically rather than chronologically. He includes denominations such as the Methodists and Baptists. An indispensable reference work for serious study in this area is Afro-American ReligiousStudies: A Comprehensive Bibliography With Locations in American Libraries, compiled by Ethel Williams and Clifton Brown (Scarecrow). (One-eighth of the book is on the African background.) A major contribution on white attitudes is provided by H. Shelton Smith's In His Image, But …: Racism in Southern Religion, 1780–1910 (Duke). That white southerners have by no means been the only religious racists does not mitigate accountability before God in view of explicit New Testament teaching.
Surveys of major aspects of American religion were undertaken in The American Religious Experience: The Roots, Trends, and Future of Theology by Frederick Sontag and John Roth (Harper & Row), Religious Liberty in the United States: The Development of Church-State Thought Since the Revolutionary Era by Elwyn Smith (Fortress), and, uncritically, Our American Catholic Heritage by Albert Nevins (Our Sunday Visitor).
More specific studies of special merit include The Faithful Shepherd: A History of the New England Ministry in the Seventeenth Century by David Hall (University of North Carolina), The Great Revival, 1787–1805: The Origins of the Southern Evangelical Mind by John Boles (University Press of Kentucky), Mormonism and American Culture, edited by Marvin Hill and James Allen (Harper & Row), Lutheranism in North America, 1914–1970 by E. Clifford Nelson (Augsburg), The Jesus People: Old-Time Religion in the Age of Aquarius by three men associated with Westmont College, Ronald Enroth, Edward Ericson, Jr., and C. Breckinridge Peters (Eerdmans), and, overlapping the fringes of professing Christianity and the historic Asian religions, Religious and Spiritual Groups in Modern America by Robert Ellwood, Jr. (Prentice-Hall).
George M. Marsden is associate professor of history at Calvin College, Grand Rapids, Michigan. He has the Ph.D. (Yale University) and has written "The Evangelical Mind and the New School Presbyterian Experience."
Have something to add about this? See something we missed? Share your feedback here.
Our digital archives are a work in progress. Let us know if corrections need to be made.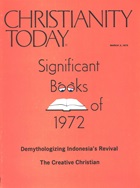 This article is from the March 2 1973 issue.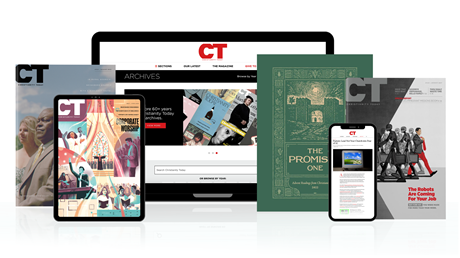 Subscribe to Christianity Today and get access to this article plus 65+ years of archives.
Home delivery of CT magazine
Complete access to articles on ChristianityToday.com
Over 120 years of magazine archives plus full access to all of CT's online archives
Subscribe Now
History of Christianity
History of Christianity