Pipe Dreams
The other night I was sitting in a church committee meeting when one of the members pulled out his pipe, stoked up, and began puffing away contentedly.
I sat there in awe of his adroitness, remembering my own attempts to take up pipe-smoking. It all began when I noticed the aura of savoir-faire and erudition that emanated from even my most bone-headed friends when they lit up a pipe. Their normally jejune comments suddenly became profound and weighty when they were balancing a pipe between their teeth.
Must be something to the habit, I thought. So when I came across a special offer of pipe and tobacco in the drugstore I was ready. Attached to the pipe was a booklet designed to initiate one into the mysteries of sucking air through smoldering leaves.
The booklet pointed out that it's first necessary to char the inside of the pipe by smoking a bowl full of tobacco down to the last ash. What it failed to mention was that the process of charring the bowl destroys the lining of your mouth and brings on paroxysms of expectoration.
It also detailed the importance of packing the tobacco properly so that it would burn well. I tried several different degrees of packing. First the tobacco would be too loose and wouldn't burn. Then it would be too tight and air wouldn't come through it. So I bought a pipe tool with a blade for loosening up the tobacco and a tamping end for packing it down.
For a while I practiced pipe-smoking on weekends. I was still too uncoordinated to try it in public. Then one day I had to attend an all-day meeting that involved sitting for hours listening to boring speeches. A pipe-smoker's dream. I could hardly wait. Once the big day had arrived and I was settled in the meeting, I whipped out my trusty, properly charred pipe. With a cavalier gesture I filled it with tobacco, tamped it down with my pipe tool, and drew out the matches.
It was a small box of wooden matches cribbed from a hotel as the perfect sort of thing for lighting a pipe. I rubbed the match across the sandpaper side of the box and was rewarded with a red streak across the striking surface and a plain wooden stick in my hand. Moisture had gotten to them.
Undaunted, the next day I purchased a waterproof match case. But I didn't try smoking again for several weeks. Then one bright Saturday it seemed the pipe would be a perfect companion as I worked in the yard.
With pipe, tobacco, and nice dry matches, I returned to the yard. I filled the bowl with tobacco and started to pack it down. There was a crackling sound; the tobacco had dried out. Next day I purchased a pouch and humidifier to keep the proper moisture. That was followed by various accessories—pipe cleaners, a humidor, a rain cover.
On subsequent occasions as I continued to try to master the art I found that I always seemed to have some combination of two—pipe and tobacco, tobacco and matches, matches and pipe—but never all three. I know well the meaning of being unable to get it all together.
There were also other minor tribulations—pockets filled with tobacco, ashes in the eyes, and burned fingers.
Finally I gave the whole thing up, having offered relatively few burnt offerings to the goddess Nicotine.
Friends, be careful of the masters to whom you submit yourselves. Their service is usually far more demanding than it first appears.
EUTYCHUS V
INTELLECTUAL ANSWER
Let me take this opportunity to express my thanks for the work you are doing. I began subscribing just over a year ago.… I soon discovered that your magazine was the answer to something I had been wondering about—did there exist a publication that treated contemporary social, political, scientific issues from a strong evangelically sound viewpoint while being academically fair to the subjects treated? After reading treatments of subjects by well-intentioned but unqualified persons, CHRISTIANITY TODAY is a relief. Its comforting to know as I read an article that touches on psychology, sociology, science, politics, or whatever, that the author is someone who has studied the field and, in most cases, has made it his life's work. The idea that Christianity is not for "intellectuals" needs to be stamped out, and I thank you for your part in this. Keep up the good work.
Roanoke, Va.
DAVID A. HOWELL
CHURCH PLANTER
Regarding Ralph Winter's reference to the American Sunday-School Union ("Existing Churches; Ends or Means?," Jan. 19), permit me to make a correction. We have not been "held at bay" by the denominations. While I think I understand how Winter arrived at his conclusion, it simply is not true. As a matter of fact, we have started more than 3,000 churches just since the turn of the century. This fact has not always been adequately publicized, which probably accounts for Winter's not knowing this. We are an evangelistic/church-planting organization. The starting and maintaining of Sunday schools is merely one of our methods. (It is unusual and definitely misleading for an organization like ours to be named after only one of its methods.)
OLAN HENDRIX
General Director
American Sunday-School Union
Philadelphia, Pa.
NEW FUNDAMENTALISM
Reading E. F. Klug's "The Evils of Orthodoxy" (Feb. 2) I react with mixed feelings. As a pastor, I often note the influence of non-Christian elements in the doctrinal understandings of my people. Certainly every disciple is subject to various stresses, many of which run counter to the person and teachings of Jesus.
I have trouble with this article as soon as the phrase "inerrant Bible" is used, because it is a loaded term. It is not clear what meaning is intended by Mr. Klug, but I do know what countless Christians mean by it, and therefore I react against it.… In my parish experience, I find no real trouble with those who have rejected orthodoxy, but rather with the new fundamentalists. I believe the distortion of the Gospel from that perspective is as damaging as from any other direction. People are reading The Late Great Planet Earth, which I have seen advertised in your magazine, and the sequel, Satan Is Alive and Well On Planet Earth. I am far more concerned with this lust for satanism and overindulgence in apocalypticism than in many other issues. There is a great need for a balanced view of the Gospel and of the whole Bible.… Klug's article may be a useful corrective for views of Luther, but I fear he is adding fuel to the fire for the new fundamentalists. The article is too vague. Orthodoxy is nowhere defined in a specific manner so as to remove all doubt about the author's intent. It is one of those articles that any person could pick up and quote to defend his chosen point of view.
DAVID H. WEIBLE
The United Methodist Church
Granger, Iowa
Thank you for the very fine article on "The 'Evils' of Orthodoxy." It was a joy and a stimulation to read.
The Reverend OSCAR C. KLEMP
Portage, Wisc.
Thank you for printing the article by Professor Klug; it's good to see the other side of the argument for a change. Still, I was hoping he would define what he meant by the "purity" of doctrine. Whose doctrine is pure? Lutheran? Reformed? Baptist? Pentecostal? Purity of doctrine is a matter of degree, and the struggle going on in our Missouri Synod (and in other denominations) is over the question of where you draw the line. Whom do you allow in your fellowship and communion? How much latitude of doctrine do you allow? Some in our Synod (such as the supporters of the tabloid Christian News) would make the criterion of fellowship the acceptance of the historicity of Adam and Eve, the unity of the book of Isaiah, the Mosaic authorship of the Pentateuch, the historicity of Jonah, and so on; others say the criterion of fellowship is agreement with Scripture and the Lutheran Confessions; others say the criterion is Scripture, the Confessions, and Synodical resolutions; still others say it is all these matters (doctrine) as well as practice. How much purity do we want? For the past century we of Missouri have separated ourselves from other Lutherans because of differences in practice, even though there was agreement on doctrine. Now it's too late to get together because doctrinal differences have crept in.
The Reverend JAMES A. HILL
Morden, Manitoba
POSITIVE-MINDED
Thank you for bringing Nancy M. Tischler's very fine article "Onward, Christian Soldiers?" to us in the February 2 issue of your excellent magazine. Miss Tischler handles her theme in a forthright and most perceptive manner. We need to have more such positive-thinking journalism to challenge our minds away from the current trend to negative thinking in this country.
STARR WEST JONES
Senior Editor
International Editions
Guideposts
New York, N. Y.
FOR MORAL REGENERATION
I am writing in reference to the editorial "The President Asks For Our Prayers" (Feb. 16). It is my opinion that your criticism of the call of the President for "pride" in our nation is not justified. The Scriptures which you quote have little or no bearing on the "pride" which the President calls for. The pride which Mr. Nixon suggests would be good for our nation is not the pride which Jesus warns us against; it is the pride which Webster defines as "reasonable and justifiable self-respect."
The Bible warns us to shun the pride which tries to usurp God's position in our lives, the pride which would establish ourselves as the standard by which we would measure other people.
But Jesus calls us to a "pride" of self-love and self-respect. The command to love our neighbor as ourselves has within it the implication of this pride; without it we can have no real love for anyone else.
Mr. Nixon's appeal for national pride should in no way be understood as an appeal for national self-glorification, as your editorial seems to imply. It should, rather, be seen as an appeal for the self-respect and self-love that is needed for the moral regeneration of our nation.
K. CLAIR MAC MILLAN
Immanuel United Church of Christ
Papineau, Ill.
STRAIGHTENING THE RECORD
In fairness to Dr. Larry Rohrman and First Baptist Church of Jackson, Mississippi, this word should be added to your news story on page 53 of the March 2 issue ("Outstanding").
Two weeks after the groups were turned away when they came with television cameras and reporters, other blacks who came to worship were admitted to the church without incident. They reported on television that they were seated like any other worshipers and greatly enjoyed the services. Actually, blacks had attended services prior to this time. The Baptist Record, in one of its issues last November, carried a picture of a choir with two blacks in it singing in the church. Furthermore, according to reports, the national Jaycees apparently gave little or no consideration to Charles Evers's request that the award to Rohrman as one of the nation's "ten outstanding young men" be revoked.
JOE T. ODLE
Editor
The Baptist Record
Jackson, Miss.
NO TIME
I never cease to be amused and rather grieved to see the response of our organized church and theologians to reports of supernatural acts of God. Your article on the Indonesian revival reflects this dilemma ("Demythologizing Indonesia's Revival," March 2). We profess so much and pray such beautiful prayers, and yet, if God responded to our prayers on the spot, we would likely climb out the windows of our elaborate churches.
I've not even read Mel Tari's celebrated book Like a Mighty Wind, but I have seen a two-gram-a-day heroin addict get up off his knees completely healed of his drug habit. I have seen a homosexual set free of his sickness as he is prayed over. As an Episcopal layman, I haven't time to read accounts of God's miracles in other areas of the world, because I spend too much time praising his Name for what I am seeing him do right in our local midst.
May I suggest that our Christian leaders get their minds off evaluating God's work, join up with some turned-on young Christians who are getting about their Father's work, and then have something positive to report on their own ministries.…
What difference does it really make as to the quality of wine which our Lord has created out of water, or why spend time accounting for the number of resurrections? Let's sell out to Jesus, enlist the power of the Holy Spirit in our lives, and let God keep the books.
BOB BEARDEN
Director
Christian Farms, Inc.
Harker Heights, Tex.
ON ABSTINENCE
My attention has been drawn to a recent item entitled "Hanging in There" (News, Feb. 2) by our friend Glenn Everett. We appreciate the publicity but would like to correct and clarify some of the points made.
Our party was on the ballot in only four states due to the ever tightening restrictions on minor parties imposed by wet-party-controlled state legislatures. In the states of Alabama, Colorado, and Kansas, where we were on the ballot both in 1968 and 1972, our vote increased 103 per cent. Applying the same percentage for the four states to the national total, we would have received at least a third of a million votes if all fifty states had granted us ballot access. This would have been the highest presidential vote ever received by our party.
On a per-capita basis it is true that the members of the Free Methodist Church give us more support than any other religious group. This is because they are one of the few denominations which still strongly advocate total abstinence for the individual and prohibition for the nation. However, our members and leaders represent a wide variety of religious affiliations, nearly all coming from Bible-believing churches.
EARL F. DODGE
Executive Secretary
Prohibition National Committee
Denver, Colo.
WITHIN THE FRAMEWORK?
Your analysis carefully points to the faulty reasoning behind the evidence given for some aspects of the Supreme Court's abortion ruling ("Abortion and the Court," Feb. 16). However, just because a decision runs counter to the "moral sense of the American people" is not reason enough to change the decision if it is within the framework of the constitution that has let the American people develop a moral sense with more individual freedom than perhaps any other country in the world's history.
BILL GARBER
Instructor in Journalism
Southern Missionary College
Collegedale, Tenn.
Have something to add about this? See something we missed? Share your feedback here.
Our digital archives are a work in progress. Let us know if corrections need to be made.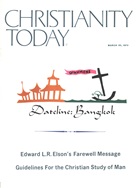 This article is from the March 30 1973 issue.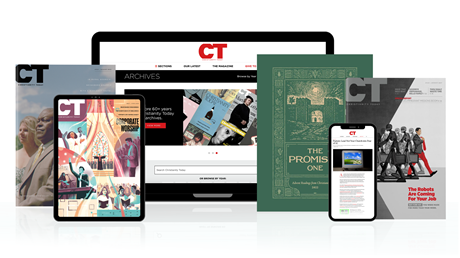 Subscribe to Christianity Today and get access to this article plus 65+ years of archives.
Home delivery of CT magazine
Complete access to articles on ChristianityToday.com
Over 120 years of magazine archives plus full access to all of CT's online archives
Subscribe Now
Eutychus and His Kin: March 30, 1973
Eutychus and His Kin: March 30, 1973