Pearl Buck
In the passing of Pearl Sydenstricker Buck, America has lost the greatest portrayer of China's life as it was during the first part of this century. Her Good Earth was a masterpiece that deservedly won the Pulitzer Prize, and later books won for her the coveted Nobel Prize for literature. She was prolific (more than eighty-five books) and influential (the most translated of all American authors).
Daughter of a Presbyterian missionary, she seemed less than kind in the way she portrayed her father in the Fighting Angel and her mother in The Exile. Those who knew her parents felt that these books were caricatures of two godly people who worked hard and suffered much under the conditions missionaries were forced to face at the turn of the century and during the first two decades of this one.
Mrs. Buck herself returned to China as an educational missionary, but gave that up to become the wife of Dr. J. Lossing Buck, professor of agricultural missions at Nanking University. As time went on she divorced her husband, remarried, and became one of America's best known and most prolific writers. Many thought her writings often reflected a distaste for the evangelical Christian faith and even a bias against Christian missions.
In later life, she gave much of her time and money to helping children of mixed blood, the results of misalliance between American soldiers and women in Korea, Japan, and other countries of the Far East. She was also deeply concerned for the welfare of handicapped children.
In the passing of time Mrs. Buck will probably be longest remembered for her first great novel, The Good Earth. Despite her love for China and her request to the Communist government to return for a visit, permission was never granted to her. She was eighty when she died.
Stealing Is Wrong
Sex is not the only area of biblical morality that is being increasingly violated in our time. Sexual transgressions are being matched by brazen violations of the eighth commandment: "Thou shalt not steal."
A publicity campaign against shoplifting is in high gear in many cities. But approximately three times as much merchandise is stolen from stores by employees as by "customers." In addition, manufacturers and processors, since they don't have shoplifting problems, know that their "shrinkage," as it is euphemistically called, is attributable to employees. There is no way of knowing the value of stolen goods, but one authority guesses that it is at least $5 billion every year and maybe three times that much. The notion that such theft hurts only rich owners is ridiculous; all costs of doing business are passed on to the public.
What does all this have to do with Christians? Most
How To Help The Cause
Is CHRISTIANITY TODAY in your public or school library? Although we are already in thousands of libraries, there are thousands more in which we don't appear but should—high school, junior and senior college, city, town, and county libraries. We have long been indexed in the Readers' Guide to Periodical Literature, the standard guide, constantly updated. This means that library-users can readily look up what we have said on abortion, the Jesus movement, women's liberation, and all sorts of other topics that we seek to address from a biblically informed perspective.
We have two other assets that can help us expand our circulation in libraries. First, the recently published second edition of the standard Magazines for Libraries, by Bill Katz, gives us a very favorable review (page 681). Librarians recognize the need to provide balanced fare, but many of them take this to mean having Protestant, Catholic, and Jewish journals. As our readers know, the differences within each of these traditions are often more substantial than the differences between them. Another Protestant magazine, much older than CHRISTIANITY TODAY and one with which we differ on many matters, is also in many more libraries (though its total circulation is much smaller than ours). If you find the Christian Century but not CHRISTIANITY TODAY in your library, you can point to the librarian's own standard guidebook, which says CT "should be in any library which receives the Century."
This leads to the other key asset we have for getting into more libraries: you. Librarians respond to suggestions from their users. If you will write to our Promotion Manager, he will send you a small packet, including a letter you can deliver for us. Notice carefully that we are not asking you to donate a subscription to a library. Librarians tend to group donated materials in a bunch after the Z's along with an assortment of eccentric and irregularly appearing giveaways.
So will you help us, or rather, help the cause of getting the faith we try to present into the libraries? Let us know how many libraries you want to approach for us, and we'll send you materials. of us either are employed in firms where internal theft goes on or are in contact—through friendship, ministry, and the like—with persons in such firms. The Christian must beware the temptation to justify becoming a thief himself because "everybody else is doing it" (perhaps even his own supervisor) or because his boss is not paying him fairly. The Christian must also beware the temptation to look the other way to pretend he doesn't know what is going on so as to avoid unpopularity or trouble. Not "tattling" may be considered good ethics by the world, but in the sight of God to know of crime and not to report it to responsible authorities is surely sin.
God is able and willing to forgive sin, but only when the wrongdoer acknowledges his sin. So long as thieves get away with their crimes, they are not likely to recognize their need for salvation. The cause of the Gospel is advanced when Christians hold before the world the standards of righteousness and work within the framework of just laws to bring criminals to account.
No Corrupt Communication
Profanity and vulgarity have always been a part of the English language, but of late they are increasingly in evidence on the printed page and in the electronic media. It has often been remarked that a frequent resort to vulgar and profane language is a sign of a weak vocabulary and sloppy thinking. It probably signifies a widespread sense of alienation and frustration: the use of expressions that have no plausible relation to the subject discussed suggests resignation in the face of a situation that one can neither comprehend nor influence.
At the same time, there is a disintegrating effect in this that makes meaningful communication and rational discourse more difficult. In his essay On Liberation, Herbert Marcuse, the Marxist philosopher of the New Left, speaks of the massive use of obscene language as a form of social criticism, but he later warns that the progressive degeneration of language might eventually make real criticism impossible, because the connection between words and their meanings could become lost. Today one has the impression that many of the media have a kind of an infantile fascination with "realistic" language. There may indeed be some gain in realism, as a replay of what is actually said, and the shock effect may attract attention, but there is certainly a loss in clarity, precision, and meaning.
We should distinguish between language that is profane and language that is merely vulgar or obscene. Profane language shows irreverence or disrespect for what is sacred: God, his attributes, and things that pertain to him; vulgar language is "common," and obscene language evokes sexual imagery. Profanity is never acceptable for Christians, and even unbelievers should be aware of the general warning, "The Lord will not hold him guiltless who takes his name in vain" (Exod. 20:7). A consistent refusal to use the name of God and of Jesus Christ, and related words irreverently is a minimum standard of Christian testimony for all believers.
Vulgarity and obscenity, by contrast, might be considered a matter of taste. Certainly one can imagine situations in which the use of euphemisms or loan-words from the Latin to avoid "vulgar" expressions of Germanic origin seems unnecessarily pedantic. And yet the Christian should hold not merely absolute standards of obedience but also high relative standards of taste: thus Paul writes, "Let no evil talk come out of your mouths, but only such as is good for edifying, as fits the occasion, that it may impart grace to those who hear" (Eph. 4:29). The deluge of "corrupt communication" (to use King James language), amplified by the media, seldom meets any of these criteria.
A Trespasser In The Temple Of Science?
A tempest has arisen at the Institute for Advanced Study at Princeton over the appointment of sociologist Robert Bellah to the permanent faculty. Opposition to Dr. Bellah is so great that several faculty members have called for the resignation of Dr. Carl Kaysen, institute director. The institute has schools of historical studies, mathematics, and natural sciences, and is beginning one for social sciences.
The reasons for the opposition are less than clear. Bellah is a sociologist specializing in religion. He reintroduced the concept of an American civil religion in a pioneering article in 1967. His basic work, however, is on Japanese religion. Apparently some institute members object to the presence of a sociologist, feeling that sociology does not belong among the sciences; some object to an institute member's concentrating on religion; and some think Bellah is not a competent scholar.
Sociology involves many subjective observations and judgments, of course, but it is unusual to hear charges of mediocrity raised against a man who is honored by his colleagues in his own field. Are institute members afraid that even the sociology of religion might contaminate their scientific purity? Certainly such a vendetta is rare in the normally quiet groves of Academe.
Pow Faith
The return of American prisoners of war from Viet Nam has been an unusually heartening event. There has been nothing quite like it in this country's history. Never before have we waited so long …
Already we are getting moving stories of how faith in God sustained many of the prisoners and kept them from losing their dignity as human beings. What a happy surprise to see these men return in relatively good physical and mental condition. Once they are all back we may be told a little more of the seamier side of life in Hanoi, but for the moment let us be content to be glad for what we know.
Many a prayer was uttered for the captives' protection. We now need to express our gratitude to God in a meaningful way for the answer to these prayers.
Have something to add about this? See something we missed? Share your feedback here.
Our digital archives are a work in progress. Let us know if corrections need to be made.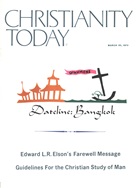 This article is from the March 30 1973 issue.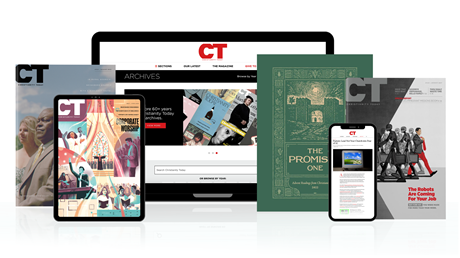 Subscribe to Christianity Today and get access to this article plus 65+ years of archives.
Home delivery of CT magazine
Complete access to articles on ChristianityToday.com
Over 120 years of magazine archives plus full access to all of CT's online archives
Subscribe Now
Pearl Buck
Pearl Buck