Isn't every Christian who shares his faith with others a missionary? Not by the definition of the new United Presbyterian Center for Mission Studies in Fullerton, California.
"Some theologians may not agree, but we define 'missionary' pragmatically," says lanky Charles Mellis, for twenty-seven years a top staffer of Missionary Aviation Fellowship and now ecutive director of the new mission center. "It's a matter of culture. No, missionaries are not more cultured than other people. Rather, they serve in a culture different from their own. They attempt to share their faith across a cultural barrier. At least that's how we like to distinguish them."
Mellis's view is at odds with the official stance of the denomination for the past decade or so. The Commission on Ecumenical Mission and Relations (COEMAR), now subsumed under the Mission Program Services unit of the Program Agency, has looked askance at even the word "missionary," preferring "fraternal worker." United Presbyterian brass, like other mainline denominational missions chiefs, see overseas work as mainly the job of nationals. North Americans, they feel, are apt to be considered "imperialistic," or, at best, "paternalistic."
But now comes the mission study center, organized under Chapter 28 of the Book of Order and constituted at the 1972 General Assembly, to challenge that view. Cross-cultural missions is the heart of the center's cause, says Mellis, spawning "mission orders," or groups of disciplined, committed Christians, focusing on one task in one area. This summer the center launched its first such fellowship, the Order of St. Paul, composed of several hundred of about 50,000 Presbyterians living and working overseas in nonmilitary jobs.
Overseas workers under COEMAR are disappearing, say Mellis and Ralph Winter, a professor at Fuller Seminary's School of World Missions and a co-founder of the mission center. New York denominational officials concur: 520 under appointment now compared to 800 under COEMAR two years ago and a peak of 1,250 in 1963.
The UPCMS is financed by individuals and several large West Coast UPC congregations heavily committed to missions. Its board is made up of broadly evangelical men, including Dr. William Wysham, former COEMAR staffer in Iran. Said he: "There are thousands of Presbyterians overseas who are employed by governments, business firms, and foundations and who are in close contact with adherents of all the major religions, most of whom have never heard the Gospel of salvation.… Such an order [St. Paul] has unlimited possibilities as official missionaries dwindle.…"
Mellis puts it this way: "The near-neighbors of a given unreached cultural unit may not be as well accepted as someone from a Christian church farther away. For example, Filipinos might be more acceptable in Cambodia than Americans. Americans may be more acceptable than coastal Vietnamese among the hill tribes of Viet Nam."
The mission center is also into what Mellis calls the "Ralph Nader function": rating all overseas missions agencies to sort out the "plushy" outfits from "those sincerely trying to do a job."
VICTORY IN DEFEAT
Victory Christian high school of Jacksonville, Florida, failed to live up to its name. In its first football game ever, Victory went down to defeat 130–0. "My coaching philosophy is a Christian philosophy," commented Victory's nondefeatist coach Don Ramsey to reporters afterward. At least it's all in the family. The winner: University Christian from across town.
While expressing reservations, Riverside Drive UP officials say the mission-center approach to mission orders "could be creative." "We have no reason to take a critical attitude," says the Reverend Eugene Huff, coordinator of Mission Program Services. "We ourselves are in a shifting period and a reassessment. But we wouldn't go in without invitation and consultation with the natives."
Meanwhile, Mellis and associates are convinced they are a jump ahead of denominational thinking rather than two steps behind.
RUSSELL CHANDLER
Rings In The Baptistry
Cleanliness may have been forgotten in the rush to godliness in some of Nashville's Baptist churches. Last month the city health department ordered churches to clean up their baptistries because of the danger of bacterial infection.
According to Dr. Joseph Bistowish, the department director, some churches empty their baptistries only once every month or two. That, says the good doctor, is not enough. So he ordered staff inspectors to wade in with bacteria-sampling equipment and to look particularly for green slime on the baptistry walls. Excessive bacteria could transmit skin disease and even Salmonella or typhoid, he warned.
The ideal baptistry would have circulation and filtration systems and be hand chlorinated, said Bistowish. Failing that, a baptistry should be emptied after each baptismal service. He thinks that baptistries should be subject to the same health standards as swimming pools.
The problem lies in accumulations of staphylococci bacteria, carried in the nose and throat, which could contaminate the water. Baptismal candidates who have upper respiratory disease or open sores, or who are carrying certain intestinal organisms, are among the sources of baptistry pollution.
Bistowish is also after church kitchens, which "because of improper kitchen equipment, sanitation procedures, and lack of trained personnel, can also potentially spread disease."
Churches must realize that good health practices apply to them too, he commented. And cleanliness counts.
Chop Chaps
When evangelist Billy Sunday got up to preach, one thing his congregations could count on was that he would throw his arms around recklessly. Congregations today are as likely to see bricks, boards, and even bodies tossed around if the speaker is either Mike Crain or Dwight Dobson.
Crain, a 28-year-old Baptist minister, holds a second-degree black belt in karate, and Dobson, a 29-year-old Assemblies of God minister in India, is a judo black belt. Both men use their special interests to spread the Gospel.
At a Baptist camp site near Brownsville, Kentucky, Crain operates a oneweek "Judo and Karate for Christ" camp in cooperation with eighth-degree black belt Master Dan Pai, a former Buddhist monk. While Pai trains campers in the material arts (defense against muggings, gang attacks, and rape, say camp officials), Crain handles the spiritual warfare. He told Sports Illustrated magazine recently that karate lets him establish rapport which he follows up with preaching. His audience may see Crain smash a twelve-inch concrete block with his head, or a pile of bricks with his elbow, before they hear the Gospel.
Missionary Dobson, a Canadian native, finds himself in demand by the Calcutta police because of his judo expertise. He has trained more than 6,000 policemen in the past two years. And along with the physical instruction trainees receive spiritual lessons. His success with Calcutta police blossomed recently into training courses for the Indian government's central police, the state armed police, and the West Bengal police. He also has a judo club for boys and girls at his Calcutta church.
Dobson holds services whenever he travels to judo competitions. Judo has taken him to Nepal, Sikkim, Assam, and Nagaland—places, he told his denomination's general council last month, where missionaries find it hard to go.
And so, in these unusual ministries, hymns are interspersed with karate chops, Scripture readings follow flying bodies, and the amens are punctuated with a piercing Aiieeeeee.…
Religion In Transit
New construction by American churches totaled $419 million during the first six months of 1973, slightly ahead of last year, according to government estimates. But soaring costs and higher interest rates will probably result in a lower figure for the next six months.
A Catholic edition of The Living Bible is being published jointly by Our Sunday Visitor, a Catholic publication, and Tyndale House. It bears an imprimatur by Bishop Leo A. Pursley of Fort Wayne-South Bend. Meanwhile, Tyndale says 300,000 Living Bibles are distributed monthly. In the works: a million-dollar radio and TV ad campaign, the largest ever for a Bible.
David C. Cook has released what it calls "the first complete Bible in picture strip form," a compilation of picture stories in Pix, Cook's weekly take-home Sunday-school paper.
United Methodist evangelism executive Joe Hale says at least half of the 40,000 United Methodist congregations in the United States have been involved in Key 73.
First Baptist Church of Hammond, Indiana, averaged more than 10,000 in a ten-week Sunday-school attendance drive, gaining Christian Life's recognition as the nation's largest and fastest-growing Sunday school. About 5,000 were transported weekly by the church's 135 buses. Nearly 4,000 were baptized. Pastor Jack Hyles, a hard-line separatist, says he stresses evangelism and "old-fashioned Christianity."
Former astronaut James Irwin and his High Flight evangelistic association are still in the hole by about $200,000 after hosting some 900 persons in religious retreats for families of prisoners of war and men missing in action. Irwin says he has "faith that we'll be able to raise the money."
The U. S. Catholic hierarchy reversed its position and now backs efforts to permit both prayers and religious instruction in public schools.
The Federal Communications Commission granted short-term renewal (until June) of licenses to the Bob Jones University-owned radio stations WMUU and WMUU-FM in Greenville, South Carolina. The FCC ordered that equal-employment opportunities be provided to racial minorities and women, and that recruiting be done among non-university sources.
St. Therese Hospital, a Catholic hospital in Waukegan, Illinois, is offering to provide living facilities, medical care, and employment for unwed mothers as an alternative to abortion.
A radio program on rock music produced by the Presbyterian Church in the U. S. (Southern) was cited as the most outstanding special religious program of 1973 by Billboard magazine.
Personalia
Episcopal Bishop William Frey of Colorado told a Seattle audience recently that he has received the Pentecostal experience.
Joyce Stedge, 47, of Pearl River, New York, has broken one of the traditions of the Reformed Church in America as the first woman in its history to be granted a license to preach.
Glenn L. Archer, 67, the executive director of Americans United for Separation of Church and State for its twenty-six years, announced his retirement effective no later than September 1, 1974.
The annual Religious Liberty Award of Americans United for Separation of Church and State went to California congressman James C. Corman for leading the congressional fight against tax credits to parochial schools, and against the prayer amendment in 1971.
Resigned: President John A. Middleton of Morris Brown College, an African Methodist Episcopal school. Middleton was under pressure because of the school's $1 million deficit, conflicts with board members, strained relations with the new AME bishop (Richard Allen Hilderbrand), and his opposition to reorganization of the six-college Atlanta University Center. His charge that the center was being dictated by the Ford Foundation through a promised grant of from $15 to $21 million gained him the ire of the college presidents.
World Scene
Uganda President Idi Amin has banned a number of religious groups in his country, but he says missionary teachers from Northern Ireland, Scotland, and England can stay. Without naming them or their churches, he cited them as Uganda's "best friends."
Kenya's attorney general revoked a ban on Jehovah's Witnesses.
The World Council of Churches voted in four new member bodies, bringing total WCC membership to 267 churches in ninety countries. The four: Zaire's 100,000-member Community of Light and 25,000-member Mennonite Community, Indonesia's 110,000-member Simalungun Protestant (Lutheran) Church, and the 25,000-member Japanese Orthodox Church.
As of late last month, war-troubled Cambodia still posed uncertainties for foreign missionaries. Some missons had evacuated everyone except adult males. World Vision, meanwhile, is helping 6,500 refugees move into twenty new villages, supplying building materials, food, and medical aid.
Australian Baptist missionary Noel Melzer reports that 13,000 of the 34,000 Dani tribespeople in Irian Jaya, Papua New Guinea, have been baptized.
Things are booming for Teen Challenge in Paris. Staffers are ministering in prayer groups springing up throughout the city (more than 500 Catholics reportedly have received the charismatic experience so far this year), and they operate a coffeehouse in a Catholic youth center. A Catholic educator recently burned his occult books outside Logos, a TC coffeehouse on the Seine where he received Christ.
Far East Broadcasting Company celebrated its silver anniversary by opening two new facilities: a new station in South Korea and new studios and offices in Hong Kong. The 250,000-watt Korean station beams its programming primarily at mainland China.
Researchers say Colombia has the greatest percentage of Catholics in Latin America. Nearly 98 per cent of the more than 22-million population is Catholic. Catholics account for about 95 per cent of the people in Costa Rica, Ecuador, and Mexico.
Have something to add about this? See something we missed? Share your feedback here.
Our digital archives are a work in progress. Let us know if corrections need to be made.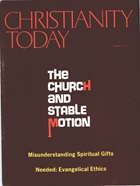 This article is from the October 12 1973 issue.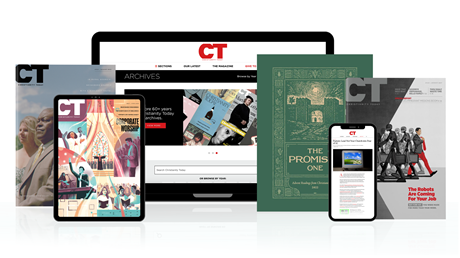 Subscribe to Christianity Today and get access to this article plus 65+ years of archives.
Home delivery of CT magazine
Complete access to articles on ChristianityToday.com
Over 120 years of magazine archives plus full access to all of CT's online archives
Subscribe Now
Across Cultural Barriers
Across Cultural Barriers