Be A Christian
"It's sorta hokey—but interesting," I said ambiguously, as I put the record on the stereo. I'm always ambiguous when I'm not sure of my judgment.
As the record ended my wife said, "I like it." Self-doubt and ambivalence are not her problems.
The subject of our comments was a record received in response to my lament about the lack of singable contemporary Christian music that appeared in this space some months ago.
The album, "Be a Christian," is the work of Mrs. Barbara Sowell, a black folk singer and wife of a Mennonite pastor. (Are there black Mennonites?)
The songs are certainly singable. One reason is that well-known tunes are used for much of the album.
In Mrs. Sowell's hands the theme for television's "Petticoat Junction" becomes:
There's a mansion in the sky
In the sweet by-and-by
For the Christian.
In the Bible it is told
Heaven's streets are made of gold
For the Christian.
It's a land so bright and fair,
If you want to meet me there
Be a Christian.
The pop blues song "Gonna Get Along Without You Now" becomes a rebuke to the devil:
So from Adam the curse of death came to me
All because you tempted Eve
With that forbidden tree.
You're the beginning of lies
and you're the author of hate
And for the lust of the eyes
You use the world as bait.
I got along without you before I met you
Gonna get along without you now. (Tell the Devil) …
The old jazz standard "Sweet Georgia Brown" is baptized into "Globetrotter's Theme":
Let's by the power of the Holy Ghost
Go tell Jesus saves,
Let's get the Holy Ghost, run and tell
The world Jesus saves.
Tell them that he died for sinful men
He'll give you vict'ry from the power of sin.
Let's get the Holy Ghost, run and tell
The world that Jesus saves.
But my favorite among the collection is a long song based on Jesus' healing of the Gadarene demoniac (Mark 5). Contrasting the Gadarenes' love for ham with their disregard for humanity Mrs. Sowell has them lament:
I want my hogs, Lord. I do believe
Since you killed my hogs, Lord, that's my pet peeve;
I like my chitlin barbecue cooked nice and brown,
Give back my hogs or leave this place before sundown.
The words of the songs alone do not carry the engaging charm with which Mrs. Sowell records them. Backup on the numbers is competently handled by The Rebirth.
The album was recorded by the Mennonite Broadcasts Studio, but the studio doesn't seem to know where it's available. If you're interested, try Mrs. Sowell at 811 S. 15th Avenue, Maywood, Illinois.
EUTYCHUS V
WHAT IS 'SPIRITUAL'
In "The Only Hope For World Evangelization" (July 20) David A. Womack overlooks an important task the Church must fulfill to be effective.… In Latin America at least, the cry today is that the Church lacks proper social concern and is developing a middle-class mentality similar to that in the United States. Is it really better that money which could be used to provide for orphans be used to preach the Gospel? To do so would leave time to be brought up without the Gospel. In many countries secular agencies are not meeting people's needs, and orphans must beg on the streets. The Catholics in Colombia have a "City of the Children" where orphans live with couples who try to create a family atmosphere. Basic education and vocational training is provided, and the children tend gardens to help with their own food. This is the sort of thing which evangelicals should be doing.
According to Womack, the Church must prepare for a struggle with other philosophies. For that it will need an educated membership. Its actions will have had to demonstrate its right to speak. Good evangelism will not accompany religion that is less than pure (as defined in James 1:27). Furthermore, it is hypocritical to preach to people when we are unwilling to show concern in other ways. Of course, balance is needed, but it is not less spiritual to give for people's physical needs than to fund preaching activities.
Bemidji, Minn.
TIMOTHY E. WILDER
THE LAST TO GO
After going carefully through Dr. Donald Macleod's "A Bibliography For Christians: Preaching" in your August 10 issue, I could hardly believe one omission. That was the first edition of the Yale Lectures on Preaching by Henry Ward Beecher. Comprising the lectures of the first three years of the famous series, it is surely the most exhaustive and enlightening of all the Yale editions. Nor do I see Beecher's name mentioned anywhere—incredible in view of the fact that not only has he been pronounced the greatest of all American preachers, but by many as the greatest preacher since the Apostle Paul. If I had to part with every book in my library, the last to go would be Beecher's Yale Lectures.
Manotick, Ontario
GERVIS BLACK
A resounding "thank you" for printing the bibliography on preaching by Donald Macleod. As one soon to graduate from seminary and as one who already loves the preaching task, I appreciate your saving me long hours in the card catalogues. At the risk of appearing presumptuous may I add one more title to Dr. Macleod's bibliography: The Preacher's Portrait (Eerdmans, 1961), by John R. W. Stott. By one who is known for his gifted preaching, the book "is a fresh look at some of the words employed by the New Testament to describe the preacher and his task." The terms describing the preacher are a steward, a herald, a witness, a father, and a servant. Paul told Timothy, "Keep a critical eye both upon your own life and on the teaching you give …" (1 Tim. 4:16, Phillips). John Stott provides today's preacher with God's own critical eye of the person and content of preaching.
DARRELL W. JOHNSON
Pasadena, Calif.
TO MARKET
It's time for more qualified Christians in the psychological market place. Andre Bustanoby's article (The Minister's Workshop, "Without These, Don't Start," July 20) indicates a step in the right direction—legitimate and practical psychology with an appropriate biblical emphasis.
Buena Park, Calif.
EVELYN GIBSON
CLARIFIES THE C.R.C.
James Daane's account of the happenings at the Christian Reformed Church's annual synod (News, August 10) contains an item which erroneously states that Dr. Leonard Greenway was elected "as president of the denomination."
The Christian Reformed Church, unlike the Lutheran Church-Missouri Synod, does not elect someone to serve as president of the denomination. In the CRC the term "synod" denotes "major assembly" rather than "denomination" (as it does in the LCMS). Dr. Greenway was elected as president (presiding officer) of the CRC's major assembly, which meets each year for ten days during the month of June. When the 1973 meetings of our synod were adjourned, Dr. Greenway returned to his vocation as pastor of the Riverside CRC of Grand Rapids, Michigan.
In the CRC's governmental structure there is no provision that allows for one elected to preside over its major assembly to exercise power and determine policy for the denomination (as Dr. Jacob A. O. Preus does in the LCMS). As a member of the CRC I appreciate the kind of polity we have, because it prevents the president of our synod from "throwing his weight around" in an autocratical, despotic manner.
Berwyn, Ill.
MARTIN LAMAIRE
• Apologies. The distinction was lost in the editing process.—ED.
A COMMENDATION
Your excellent report on the recently concluded convention of the Lutheran Church-Missouri Synod (News, "Missouri Lutheran Showdown: The Battle of New Orleans," August 10) contains one statement that may further agitate our troubled church body if it is not clarified. Your article states that "perhaps unknown to the presidents" our Commission on Theology and Church Relations and the Seminary Issues Committee "were at work as early as February drafting the devastating statements that emerged in New Orleans."
The Commission on Theology and Church Relations (which, as a standing board of the church, is to be distinguished from the convention committee on theology and church relations) was not at work in February or at any other time drafting statements for the convention. All resolutions presented to the convention were prepared by convention committees. Moreover, while the convention committees on theology and church relations and on seminary issues both held preliminary meetings several weeks prior to the convention, as our major convention committees frequently do, these meetings were not "unknown" nor were they held "as early as February."
CHRISTIANITY TODAY and Ed Plowman are to be commended for the very fair and perceptive coverage of our convention actions.
RALPH A. BOHLMANN
Executive Secretary
Commission on Theology and Church
Relations
The Lutheran Church-Missouri Synod St. Louis, Mo.
In your otherwise excellent report you fail to mention the weekly periodical Christian News, which has been the single most important conservative mouthpiece in the Lutheran Church-Missouri Synod (under that name and earlier as Lutheran News) since 1962. Lauded by some and condemned by others, including many of Missouri's officials, the editor, Herman Otten, nevertheless has been carrying on a lonely fight, gradually building up the conservative strength which eventuated in their striking victory at New Orleans. Balance, Inc., and Affirm, to which you give major credit, have only been in the field about two or three years at the most. Also, "Milwaukee pastor Sam Roth, a liberal floor leader," is from the St. Louis suburb of Ferguson, not from Milwaukee.
Ohiowa, Nebr.
EDWARD A. JOHNSON
I was there and "saw it all." Your reporting on, your analysis of, and your editorial regarding "The (Lutheran) Battle of New Orleans" were accurate and superb in every detail. May our Missouri Synod now, under God, be able to go on to carry out its mission in a darkening world, and may you ever remain the strong conservative voice in a wishy-washy religious world you have been!
El Paso, Tex.
WALTER P. CLAUSEN
It has finally dawned on me why you always come out for Jacob Preus and confuse real Lutheranism with heterodoxy. From your fundamentalistic perspective this is logical. It is also a testimony to how little you and Jacob Preus know about Lutheran theology.
Lutheran Services ARTHUR M. WEBER
Cornwall-On-The-Hudson, N. Y.
I wish to commend you on your discerning understanding of the doctrinal deviations in the Lutheran Church. I refer to your explanation of the differences between the "conservatives" and the "liberals," a difference which even many Lutherans do not understand.
There is one thing, however, in your articles which disturbs me as a pastor of an American Lutheran Church. This is your reference to Jacob Preus's statement that a number of the liberals may move to another Lutheran body and your companion reference in the editorial "Missouri Synod: The Conservative Victory": "Also one should recognize that within the Lutheran family there are two other large denominations, the Lutheran Church in America and the American Lutheran Church, which could readily provide a home for the more liberal Missourians."
Let me advise you that we who are of the conservative element within the American Lutheran Church have been fighting this same liberal tendency within our own church body for the past thirteen years, and we would not be at all pleased to have our synod absorb the more liberal elements of the Missouri Synod. In fact, we hope that this will never happen as it would likely completely wreck what little conservatism we have left.
ROBERT D. GILES
First Lutheran Church Orland, Calif.
Have something to add about this? See something we missed? Share your feedback here.
Our digital archives are a work in progress. Let us know if corrections need to be made.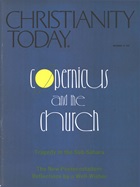 This article is from the September 14 1973 issue.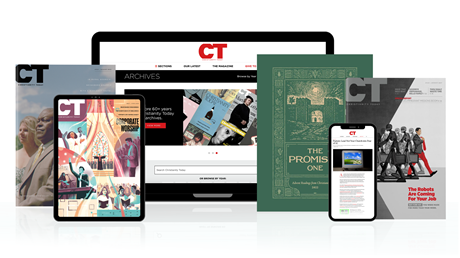 Annual & Monthly subscriptions available.
Print & Digital Issues of CT magazine
Complete access to every article on ChristianityToday.com
Unlimited access to 65+ years of CT's online archives
Member-only special issues
Subscribe
Read These Next
Trending

American Christians Should Stand with Israel under Attack

While we pray for peace, we need moral clarity about this war.

From the Magazine

I Studied Christianity with the Hope of Debunking It

A decade later, I became a Christian.

Editor's Pick

Don't Miss These African Christmas Hits

Jam out this season to highlife, Afrobeats, jazz, a cappella, R & B, rap, dance, and hip-hop artists from Nigeria, South Africa, and more.
Eutychus and His Kin: September 14, 1973
Eutychus and His Kin: September 14, 1973