"What will make this assembly memorable," observed the Reverend Robert C. Lamar, new moderator of the United Presbyterian Church in the U.S.A. (UPC), shortly before he was elected by the 186th General Assembly in Louisville last month, "is its meeting with the Presbyterian Church in the U. S. (Southern)." That may be true. Except for the vote to receive for study a plan that could unite the two denominations by 1977, little that was new or even striking emerged during the ten-day marathon of discussions and resolutions.
The Plan of Union will now be studied by the presbyteries; no official action is expected before 1976. Then, if the plan is passed, presbyteries would need to ratify the revised union document, and another churchwide convocation would need to finalize their recommendations.
Underlying nearly every action of this year's assembly was a report of sharply declining giving to General Assembly causes, a trend that has already caused major cutbacks in denominational staff and may produce yet another 25 per cent cut for 1975. Several years ago the General Assembly budget stood at $40 million. It is now $32 million and will drop to $26 million for next year. Unrestricted reserves were drawn upon to make up deficits in recent years, and the 1975 budget reflects the depletion of these. It rather than higher budgets will now be normative. The denomination still has reserves totaling approximately $20 million, but these are committed to other causes. "The grim fact is that the United Presbyterian Church could face claims against it totaling more than it has in reserve funds," declared Richard H. Miller, chairman of the General Assembly Mission Council's section on budgeting.
Last year, total UPC giving rose $37.6 million to a new high of $410.4 million, but nearly all increases were at the local level. Many commissioners privately asserted that the money crisis at the General Assembly level, occurring at a time of record giving elsewhere, indicates a widespread lack of confidence in the denominational leadership, and that this was brought on by the controversial actions of some boards and agencies in recent years.
Reports for 1973 also showed a drop of another 100,000 in church membership. UPC membership now Stands at 2.8 million, reflecting a 10 per cent drop in the last decade.
If budgets at the General Assembly level must be cut by 25 per cent for next year, does this mean that overseas missionary personnel will also be reduced by that proportion? Perhaps, acknowledged George E. Bushneil, President of the Program Agency. He denied a rumor that plans are already being made to recall 155 overseas missionaries, saying: "There has been absolutely no action taken respecting the diminuation of any staff, either overseas or at home." But he pointed out that if the level of General Assembly giving is not increased, there will have to be reductions. If the level is lower, he added, there will be great reductions. The UPC overseas missionary force has already declined from a high of approximately 2,000 to fewer than 600 today. Upon recommendation of Bushnell's committee, the assembly approved development of a long-term campaign to meet mission needs anticipated at between $100 and $150 million.
Budgetary matters also figured strongly in a decision to reject a plan that would have revised the denomination's Worshipbook to remove allegedly "sexist" Ianguage. A committee on the Worshipbook had provided a number of plans ranging in cost from $37,000 to $1.07 million, but all were rejected. The most elaborate plans called for rewriting prayers, altering some biblical texts (for instance, replacing "you shall not covet your neighbor's wife" in the Ten Commandments with an ellipsis), and rewriting some hymns. How such hymns as "Rise Up, O Men Of God," and "God of Our Fathers" would be handled was not specified.
In further action the assembly:
• Granted to the denomination's advisory council on church and society the right to speak directly to the church on matters of Christian social concern. The right had been challenged on grounds that it belonged instead to the General Assembly Mission Council.
• Adopted a "Bill of Rights" for ministers' spouses (whether male or female); it includes the right to seek employment, choose or reject church membership, serve the church without either special obligations or Privileges, and be considered for election to the session (local controlling board) as well as to other boards and committees.
• Supported the Korean Christian Church in Japan by urging a boycott of products of the Hitachi Company for alleged discriminatory employment policies.
• Refused to rescind an action of the General Assembly Mission Council directing the United Presbyterian Foundation and Board of Pensions to divest themselves of holdings in the Duke Power Company, currently in dispute with the United Mine Workers over safety conditions in the Brookside, Kentucky, mine.
• Refused to endorse a list of "Current and Emerging Needs and Issues," that denominational officials sought as guidelines for the church's future mission. Commissioners referred the list to the Mission Council.
• Amended action taken by prior assemblies relating to the consolidation of all General Assembly agencies in New York City in Order to allow the Board of Pensions, the A. D. circulation department, the Publication Unit of the Program Agency, and related Support Agency personnel to remain in Philadelphia.
• Authorized study toward the establishment of a nationwide UPC Organization for high school youth.
As the commissioners left Louisville most seemed to be musing on the prospect of union with the southern church, which is at least three years away. There were other matters more pressing. Said Hollywood pastor Lloyd Ogilvie, who presented the report of the Advisory Council on Discipleship and Worship: "We are facing a crisis of faith of the clergy, a crisis of accountability among church officers, and a crisis of agnosticism among the members of the local parish."
If he is right, these conditions may be at the heart of the UPC troubles; but neither commissioners nor church staff did much in Louisville to counter them.
Southern Presbyterians: Phasing Out Unhappiness
Shaken by a split that so far has cost 250 churches, and faced with continuing grass-roots dissatisfaction, the Presbyterian Church in the U. S. (Southern) nevertheless embarked on a path last month in Louisville, Kentucky, that may lead to Union with the United Presbyterian Church (UPC). It also took the first legislative steps toward approving a new "confession" of faith. Controversy over both issues has been responsible for much of the internal turmoil.
BOTTOMS AT THE TOP
When Lawrence Wendeil Bottoms, 66, was elected moderator of the Presbyterian Church in the U. S. (Southern), he became the first black to attain the church's highest elective office. (Of the 900.000 PCUS members, only about 7.000 are blacks.) As a ceremonial chain that goes with the office was placed over his shoulders by outgoing moderator Charles Kraemer, Bottoms evoked Iaughter with a slightly barbed poke at the past: "It always makes me nervous when a white person puts anything around my neck."
Interestingly, many conservatives helped him snag a first-ballot win over two whites. He is considered orthodox in theology but liberal on some social and church issues (he's for amnesty and for increased participation in church structures by women and minority groups), and he favors union with the United Presbyterians.
A graduate of Geneva College in Pennsylvania and Pittsburgh's Reformed Presbyterian Seminary, he has been pastor of the integrated (160 white, 50 black members) Oakhurst Presbyterian Church of Decatur in suburban Atlanta since 1971. He was formerly a PCUS home-missions executive and has been active in ecumenical affairs.
The 430 PCUS commissioners (delegates) to the 114th General Assembly quickly and quietly approved both measures for study in the local presbyteries. Conservatives remaining in the 900,000-member church have vowed to fight it out on the local level, where, they believe, they have enough votes to defeat both moves. Three-fourths of the sixty presbyteries must vote approval before the General Assembly can act.
The conservatives claim the proposed confession is theologically imprecise. (A telling example, they say, is a reference to the Virgin Birth: "He came as a child born of a woman as is every child, yet born of God's power as was no other child.") They also complain that liberals want the new confession to replace the traditional mainstay of Reformed theology, the Westminster Confession of 1647. A minority report by Robert T. Liston, a member of the confession committee and former President of King College, Bristol, Tennessee, outlined the conservatives' theological objections. The new document may not replace Westminster but will certainly displace it, argued Liston. His report was also sent to the presbyteries for study.
Uppermost on the PCUS agenda was the issue of Union with the UPC (predecessors of the two bodies divided at the beginning of the Civil War). The two denominations held concurrent meetings in Louisville, and each elected a pro-union moderator: Lawrence W. Bottoms, first black to hold the PCUS post (see box), and the UPC's Robert C. Lamar, co-chairman of the joint PCUS-UPC Union committee.
At a historic combined meeting the two assemblies approved the union plan for study. But misgivings mounted in PCUS ranks as the week wore on. A major cause was news of the financial plight of the UPC (see preceding story). Andrew A. Jumper, a PCUS pastor in St. Louis, Missouri, and board chairman of the conservative Covenant Fellowship of Presbyterians, agreed that anti-union sentiment in the PCUS might increase as a result, but he warned against complacency. The PCUS will be "in the same fix" within a few years if current giving and membership trends continue, he warned.
Internal problems will be solved only if liberals are more open in their dealings with conservatives, Jumper believes. But the chances of that may be slim. A proposal for a permanent grievance committee where conservative complaints could be aired was turned down. Voted out of existence was an "unhappiness committee" formed last year in a vain effort to prevent schism. The committee suggested later that the PCUS normalize relations with the breakaway group, the National Presbyterian Church (NPC). Instead, at a sparsely attended late-night session the commissioners approved a pastoral letter warning PCUS churches of groups "whose future and life depend on nurturing unhappiness" in PCUS ranks. Identified as trouble-makers were the Concerned Presbyterians, the Presbyterian Evangelistic Fellowship, and the Presbyterian Journal, all linked with the NPC, as well as the NPC itself.
In a related plug-the-dike move, the assembly upheld a judicial committee's ruling that voided the independence of three breakaway Florida churches. The PCUS Florida synod had successfully argued that churches can be released only to "another Reformed church with which union is permitted." The decision will affect other freedom-minded groups since the Florida churches' properties and funds will revert to the denomination. Several presbyteries have released churches to the NPC without assembly challenge so far. Conceivably, the Florida churches could still leave to join the NPC.
In its final report, the "unhappiness committee" warned that further splits are inevitable unless existing internal Problems are ironed out. Committee members listed twenty-four trouble spots in four major areas: theology, polity, ecumenism, and policy. If these are not resolved, as many as 200,000 members—18 per cent of the clergy, 25 per cent of the laity, and 33 per cent of the missionaries—may renounce the PCUS, the committee predicted.
The commissioners dealt with other controversial matters also, both theological and social. A document on the doctrine of universalism was sent to presbyteries for study after rejection of an amendment calling for recognition that "all men are lost apart from the grace of God" and that church members should call for repentance and belief in Jesus. The two-year study was made by the church's theological committee. It concluded that God's purpose "for humankind" is "gracious and loving" and that salvation is God's gift to "undeserving man."
In an emotion-packed abortion debate, a spokesman for the little-known church-administered Council on Therapeutic Abortion (COTA) denied that his group ever advised or paid for abortions. The issue was raised by a Petition calling for an end to church-sponsored abortion payments. COTA spokesman Robert Tabscott said the group was prevented from appearing at earlier assemblies because the overseeing agency, the Board of National Ministries, felt the issue was too "volatile and dangerous." COTA was funded by a $50,000 private donation and built by Investments to $100,000 in four years. Tabscott said that $75,000 had been "lent" to those seeking abortion counseling.
The assembly approved its Washington, D. C., lobbyist's membership in three political-action coalitions but said he is to support only PCUS-approved Stands. Involvement of the lobbyist in the coalitions had been a sore point among many members, especially since outgoing moderator Charles E. S. Kraemer refused earlier this year to heed requests by conservatives to call an emergency assembly over the issue.
The commissioners also:
• Called for the release of some South Korean Presbyterians jailed for speaking out against constitutional changes and repression of freedom in their land;
• Approved program priorities for 1975, with a ministry to "persons and Problems" that includes evangelism at the top of the list:
• Adopted a $9.4 million budget, $8.7 million of which is to come from church giving;
• Called on the Federal Communications Commission to ban alcohol advertising from television;
• Returned to the theology and culture committee for revision a paper advocating "full … and absolute amnesty" to those who refused to serve in the armed forces during the Viet Nam war (a section is to be added giving the case against amnesty so that both sides are "fairly presented," and the paper is to be presented at next year's assembly):
• Passed a resolution saying the White House transcripts reveal "a level of morality that is as disheartening as it is outrageous," and calling for Congress and the courts to pursue "with vigor" justice in the Watergate case.
BARRIE DOYLE
The Burden At Calvary
Several big churches have been tottering on the brink of bankruptcy for more than a year, and last month one of them went over: Denver's big independent Calvary Temple, whose well-known pastor is Charles E. Blair.
Blair insists that the church itself is solvent but that because of its identity with two insolvent sister organizations, the Charles E. Blair Foundation and Life Center, the church entered with them into Chapter 11 bankruptcy rather than fight in court the issue of legal Separation of the corporations. (Chapter 11 of the bankruptcy law permits time for reorganization in an attempt to pay off creditors.) The foundation was set up as a marketing vehicle for Blair's books, a film, and other properties. Life Center was organ ized by Blair and others, including some Calvary board members, as a community project to operate nursing homes for the aged. The largest, Cherry Park in Denver, with about 300 residents, has become Calvary's direct responsibility; two others, in nearby Colorado Springs and Yuma, Arizona, with a total of about 160 residents, are still in Life Center's name but have been operated by Geriatrics, a secular firm, since the financial upheaval began.
Calvary's financial troubles got national news attention in March when the Colorado securities commission asked a court to place Calvary and the other two enterprises in receivership. The commission alleged that the church organizations had sold nearly $12 million worth of securities through unlicensed employees, an illegal act, and that the corporations were sustaining heavy financial losses. Calvary's attorneys acknowledged the losses, but they said conditions were improving under new management and asked for time to work things out. Securities sales had already been halted months earlier; the question of their legality was left hanging for the time being.
Calvary was granted time, but the Situation deteriorated. Several elderly investors wrote letters to District Judge Robert Kingsley saying they had not been paid the promised interest and needed the money to live on; a few complained they had invested their life savings, were now destitute, and had been turned away when they sought needed care at Cherry Park. At Kingsley's prodding, Calvary in early June filed for bankruptcy, asking that its own directors be permitted to remain in Charge during reorganization.
Blair meanwhile vowed not to let the investors dangle and publicized a campaign aimed at raising $3.5 million.
Court documents showed the three corporations had combined assets of about $20 million, mostly in real estate, and liabilities of $23 million, including the securities, on which interest-due payments were reportedly piling up at the rate of nearly $20,000 a week. A "fund deficits" figure of more than $4 million was listed. Blair implied the blame rested with unwise policies of the church's former fund-raiser.
Later in the month Kingsley placed Calvary Temple and Life Center in receivership; the Blair foundation was ordered to remain as a bankrupt petitioner with the debtor in possession. Two Denver businessmen, not associated with Calvary, were named receivers, which in effect placed the church under outside control. It was not immediately known what Steps the two might take, but the court virtually instructed them not to do anything to interfere with the ministry of the church.
Blair says he has won assurances from the men that they will not attempt to cut back any of the twenty-five TV stations that carry Calvary's telecast (the church is behind in payments to some) or to thin out the staff of eighty (a fourth of them part-time). Either action would result in reduced income, says a Calvary spokesman.
The nursing homes are another matter. Even Blair concedes it is an open question whether Calvary can or should rescue them. If they are liquidated, a number of the residents who turned over all their assets in life-care contracts or who invested heavily may be hurt financially. But Blair vows every penny will be repaid. A plan to that end was due to be presented in court at the end of July.
Meanwhile, says Blair, the Sunday crowds and income of the 6,000-member church are up, there is no dissension, and the financial crisis has been an occasion for purging and cleansing in the church.
EDWARD E. PLOWMAN
Armstrong: Cutting Back
Suspicions that the Worldwide Church of God may be in financial trouble as a result of Publicity about its spending, its doctrine, and the habits of its top leaders (see March 15 issue, page 49, and May 24 issue, page 53) received new substance last month when spokesmen for the multi-million-dollar church and College complex admitted that severe budget cuts are proposed for the coming fiscal year.
Official spokesmen for the Armstrong empire admitted only to "a rearrangement of priorities." But Albert Portune, who previously resigned the post of vice-president in Charge of finance, said a $3.8 million deficit in the current budget is the reason for a 5 per Cent budget reduction.
Cost-cutting projections: closing elementary and high schools (with about 1,000 students) at all three Ambassador Colleges (Pasadena, California, Big Sandy, Texas, and Bricket Wood, England), and selling press facilities at Pasadena, livestock at Big Sandy, and college-owned faculty homes at the three locations.
The three jet planes either owned or leased by the College for Herbert W. and Garner Ted Armstrong may also be sold (one is valued at around $3.5 million).
It was unclear at month's end—no one of official rank was available for comment—whether sale of the jets and modern printing plant might only be transfers to holding Companies substantially controlled by WCG interests.
RUSSELL CHANDLER
Have something to add about this? See something we missed? Share your feedback here.
Our digital archives are a work in progress. Let us know if corrections need to be made.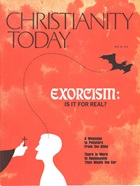 This article is from the July 26 1974 issue.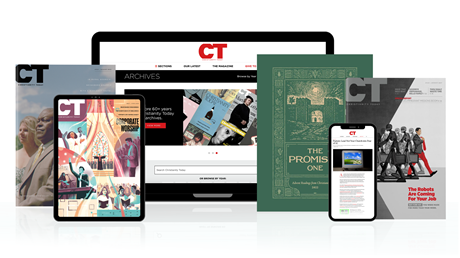 Annual & Monthly subscriptions available.
Print & Digital Issues of CT magazine
Complete access to every article on ChristianityToday.com
Unlimited access to 65+ years of CT's online archives
Member-only special issues
Subscribe
A Crisis of Confidence
A Crisis of Confidence