Sermon illustrations, like money, can be hoarded, squandered, or invested. The wise preacher tries to invest illustrations in each sermon, making a productive piece that is remembered and reflected upon by the congregation all week long. Without telling illustrations even the meatiest text can fall flat.
The ability to invest illustrations is not a gift that some preachers just happen to have; it is a developed skill. Unfortunately, many preachers never develop it.
There is the preacher who buries each good story or illustration deep in his files. He rationalizes, "I'm waiting for just the right sermon to use this good one." He hoards his choice illustrations as if he thinks the Lord will never give him any more. Week after week, his sermons fall short of their potential while he exhausts himself trying to make an exciting message out of something that usually doesn't even excite him.
Another preacher, having used a choice illustration with good results, will use it over and over again until the parishioners can quote it as well as he can. People don't want to hear the same tired stories. Even if the minister has labored forty hours in preparing his sermon, the old illustrations give the impression that he just threw together something familiar and easy late Saturday night.
Still others, hearing a good story or finding an interesting illustration, are so eager to use it that they tell it the very next Sunday regardless of the subject of the sermon that day. This squandered story, only loosely tied to its context, loses its force.
Bright, memorable, apt illustrations that help package a sermon for easy recollection by the parishioner are the dream of every preacher. But most of us find ourselves lamenting, "I can't invest what I don't have. I'd use a lot of good illustrations if I had them, but I don't have them!"
The complaint is likely to go like this: "I don't travel or hear other preachers. Books of illustrations usually yield only one or two that are useful; the rest are dated. The newspapers aren't that interesting, and most of my parishioners read the Reader's Digest too. Where will I find illustrations to invest?"
Fresh illustrations, the kind that excite and warm and move a congregation to action, are usually close at hand. They are only waiting to be recognized. And God wants us to have them. It's God's Word we are preaching. He doesn't want his message to sound stale, and he doesn't want sermon hearers to miss the truth that is being proclaimed.
God can and will alert you to the right illustrations for next Sunday's message; all you have to do is be ready to write them down when he points them out.
If you choose a scriptural text early in the week, the battle for illustrations is half fought. Then you are like a reporter out for a story. You already have your assignment; you've reflected upon it, prayed over it, and planned it. Now you're ready for the illustrations that God will give.
This doesn't mean you should do all your sermon preparation early. In fact, it may be better to put off the study of commentaries and homilies until later in the week, after you have gathered your illustrations. Then the serious study will be more detailed and specific. There will be a sense of direction because you will already have lived with the text as you watched for illustrations to accentuate it.
Your task in the early part of the week is to know the content of the scriptural text so that you can get the right illustrations. And you will be forced to get them because all of last week's collection was invested in last Sunday's message.
As you start fresh, with the text in mind, it won't take long for illustrations to find you. They will begin to come even while you are handling your other responsibilities. One Monday morning a minister chose Ephesians 2:19–22 for his sermon text. Then, with the verses in mind, he left his office, got into his car, and started out for his first appointment of the day.
As he passed an apartment building under construction he looked, then looked again. Everything fit together—one part being added to the next. He had his first illustration before he had driven more than two blocks from the church. There it was, in an ordinary building project, the same one he had looked at for months. It even gave him his sermon title: "God's Housing Project."
That night he took his son to a high school wrestling match. He was fascinated at the way the muscles of the wrestlers worked together. He described it with awe the next Sunday morning as he talked about the people of God who are the Body of Christ, dependent upon one another and directed in their working together by the Head who is Christ.
Thinking about the same text, another minister attended the naturalization of a new U. S. citizen. He later described the ceremony, sharing with his congregation what he felt and saw as this "stranger" became a part of the American family. Still another minister, using this text, described the happiness of a church family when they adopted a baby into their household.
Illustrations are all around us. We overhear conversations in the drug store, read signboards, catch a scrap of dialogue on the car radio. What usually is half heard and quickly forgotten registers when we are alert to a particular emphasis.
A word of caution may be in order. One pastor found that he held the attention of his audience very well when he began: "I was talking to a young man this week about his sex life.… After that, very few parishioners came to him for counseling. No one wants to wonder if his confidential statement to the pastor will become next Sunday's sermon illustration.
As the illustrations come, write them in a notebook, or on a torn out newspaper page, or paper napkin, or whatever is at hand. Then put them in a basket or in a pile on your desk. Don't put them away; you will tend to neglect them if they are out of sight. You will forget to add to them.
Watching the pile of illustrations grow on your desk will give you encouragement and a sense of anticipation about preparing the sermon. Seeing the pile each morning will remind you to pray about the sermon and will bring parallel verses of Scripture to mind that you can also write down and add to the pile.
By the time you are ready to put the message together, the fresh illustrative material will be ready. You may not use it all, but use the best. Look over your collection of illustrations, decide which ones best fit the biblical text, and work them in at the most strategic places. Don't save a good illustration for some future sermon that may never come. If it is forceful and relevant now, use it now.
It's exciting to tell about something newly seen or discovered. To see it fresh is to tell it fresh. Biblical texts that may fall on deaf ears when described philosophically are listened to attentively when illustrated in everyday language.
Illustrations are like windows giving insight. As they enliven a text, the hearers are more willing to follow along in their Bible. This in turn makes us want to use more solid blocks of Scripture in our preaching. Scripture opens up easier in proclamation when it is tied together with illustrations. And most of us preach better to an audience that is hanging on our words. Attention stimulates delivery.
Best of all, with the help of fresh, relevant illustrations, our congregations will remember what we taught for weeks to come. It's rewarding to preach like that. Let's invest our illustrations—the returns are great!—ROGER C. PALMS, assistant editor, Decision magazine, Minneapolis, Minnesota.
Have something to add about this? See something we missed? Share your feedback here.
Our digital archives are a work in progress. Let us know if corrections need to be made.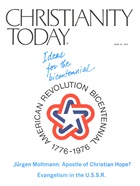 This article is from the June 21 1974 issue.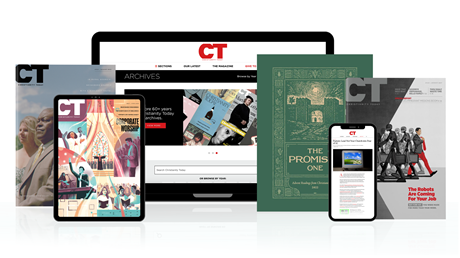 Subscribe to Christianity Today and get access to this article plus 65+ years of archives.
Home delivery of CT magazine
Complete access to articles on ChristianityToday.com
Over 120 years of magazine archives plus full access to all of CT's online archives
Subscribe Now
Invest Your Illustration
Invest Your Illustration