In the interest of the ongoing dialogue we here print in full Jim Wallis's response to Carl F. H. Henry's article entitled "Revolt on Evangelical Frontiers" (April 26 issue). Wallis is the editor of the "Post-American," which as he says is a "forum for the young evangelical consciousness." Dr. Henry is out of the country and has not had the opportunity to see and respond to this critique. Although, as Wallis says, the "young evangelicals" believe in the authority and inspiration of Scripture, many of them cannot subscribe to the theological assertion of the Evangelical Theological Society (now a quarter of a century old) that "the Bible … is … inerrant in the autographs."
THE EDITOR
It was with a deep sense of disappointment that I read Carl F. H. Henry's review essay of Richard Quebedeaux's book The Young Evangelicals. "Revolt on Evangelical Frontiers" was especially disappointing because of the sympathetic stance toward many of us "young evangelicals" previously taken by Carl Henry. My basic argument with the article is that it contains some fundamental distortions and inaccurate caricatures in relation to the "young evangelical" consciousness that certainly is emerging. After reading Quebedeaux's book, I also am left with the feeling that Henry misrepresented much of its basic thrust; but my primary purpose here is not to defend a book but to clarify some points that could foster division and misunderstanding among evangelicals.
First, Henry implies throughout his essay that the young evangelicals are characterized by a deteriorating view of Scripture. On the contrary, the new evangelical consciousness is most characterized by a return to biblical Christianity and the desire to apply fresh biblical insights to the need for new forms of socio/political engagement. Young evangelicals, just like "establishment evangelicalism," have differing views as to the meaning and extent of inerrancy and infallibility, but clearly accept the orthodox belief in the authority and inspiration of Scripture. In fact, I would contend that much of this new evangelical consciousness takes Scripture more seriously than many evangelicals who accept the authority of Scripture doctrinally but balk at some of the more exacting biblical demands in relation to social justice and to their style of life. Quebedeaux states that most young evangelicals affirm "the principle of historical criticism," which is hardly the "acceptance of higher criticism" that Henry charges. The principle of historical criticism in the context of full biblical authority is held by biblical scholars at evangelical seminaries and in the Evangelical Theological Society. The editorial stance of the Post-American, one forum for the young evangelical consciousness, has clearly demonstrated (as Henry should know) strong commitment to biblical authority. In the wider contacts made possible by the growing ministries and witness of the young evangelicals, they are clearly upholding and articulating a strong biblical faith. Other evangelicals should feel good about that as it is genuinely an evangelical cause.
Second, Henry's article leaves the reader with the impression that theological blurring and even compromising is implicit in the suggestions Quededeaux makes for more cooperation between evangelicals and liberals. He quotes Quebedeaux as saying, "If the values and priorities of the young evangelicals and ecumenical liberals are really similar, continued separation serves no purpose …," and as suggesting that the young evangelicals could become "an instrument of healing by accepting their ecumenical counterparts" and pooling their resources for more effective witness. Whether Quebedeaux's suggestions are helpful or not, he is clearly speaking of a similarity in social concern and not in theology. Henry omits Quebedeaux's very next sentence which makes the author's primary point, "The Young Evangelicals thus might find a welcome in Ecumenical circles they never dreamed possible, for Liberals themselves cannot help being attracted to the dedication and strong biblical-theological foundation for action manifested by these young men and women." Our own ministry has demonstrated this possibility to us. Throughout his book, Quebedeaux expressed the critique of religious liberalism made by young evangelicals: its lack of biblical rootage; its disregard for evangelism; its inability to offer spiritual life and resources in resolution of human problems; its clear lack of Christian foundations and distinctiveness. However, meaningful encounter between evangelicals and liberals is possible through young evangelicals who can shed the cultic and cultural baggage of fundamentalist history, the ethically crippling heresies of dispensationalism, and the unbiblical lack of prophetic social conscience so long characteristic of establishment evangelicalism. The proclamation and demonstration of a more holistic gospel which is addressed to all that binds and oppresses people, spiritually and economically, personally and politically, could well spark renewal and reconciliation among both evangelicals and liberals.
Third, a fundamental difference between the "young evangelicals" and "establishment evangelicalism" running through Henry's article is, I think, a real difference and should be discussed. Primarily, it is a difference in how we view the world and American power in particular. Henry and others are quick to attribute Marxist leanings to young evangelical activists. His bias toward the general acceptability of the present American economic and political system is betrayed along with a rather paranoid and unbalanced view of socialism. Unfortunately, he neglects the fact that many young evangelicals are far more sophisticated in their Christian critique of a thoroughgoing Marxism: in its epistemology and eschatology; in its ethical failures over the question of ends and means; in its inadequate view of the human condition. A fair reading of the views of the young evangelicals reveals their insistence that a Christian's basic allegiance be to the kingdom of God and that all ideologies, systems, and governments stand under the judgment of Jesus Christ and his kingdom.
It is characteristic of establishment evangelicalism to view the structure and exercise of American power in a generally positive way. (This is readily apparent from the last paragraphs of Henry's article.) Most young evangelicals do not feel it is possible to do that and still be faithful to the biblical mandate to seek justice for the poor and oppressed, who experience the consequences of American wealth and power in basically negative ways. While Henry is willing to set "Vietnamese mistakes aside," young evangelicals regard the U. S. role in Indochina as a moral obscenity matched only by official evangelical silence and support for American war policy. While many evangelicals minimize the possibilities for meaningful social change while enjoying the prosperity of the present system, young evangelicals insist that the call to discipleship demands fundamental breaks with the dominant values and life-style of the majority culture and provides the Christian with a different agenda than that of our political economy. Henry's suggestion that civil religion "is rather unescapable and can be what we make it" strikes many young evangelicals as suggesting that we make the best of idolatry. The less than critical identification with the nation by many evangelicals is just not biblically responsible and could only be felt by those who are benefiting from the system instead of being victims of it. Young evangelicals are seeking to recover the meaning of being aliens and exiles who "sing the Lord's song in a strange land."
A biblical protest is being mounted against the brutalities of war and global dominance, a materialistic profit culture, institutionally structured racism and injustice, and government by deceit and manipulation. New movements toward costly discipleship and social justice have been occurring among evangelicals which directly challenge the credibility of those who would still serve as chapplain to the status quo. With the decline of movements for social change present in the sixties (due to internal inconsistencies, co-optation, and lack of an adequate basis), it is highly probable that the strongest thrusts for prophetic witness and social justice may come from those whose faith is Christ-centered and who hold an unapologetic biblical faith. This can be accomplished if evangelicals of all ages (to put aside Quebedeaux's categories of "young" and "establishment" evangelicals) begin to demonstrate the power of their sound doctrine by the style of life and action it creates in them.
Have something to add about this? See something we missed? Share your feedback here.
Our digital archives are a work in progress. Let us know if corrections need to be made.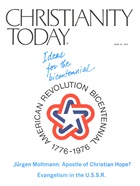 This article is from the June 21 1974 issue.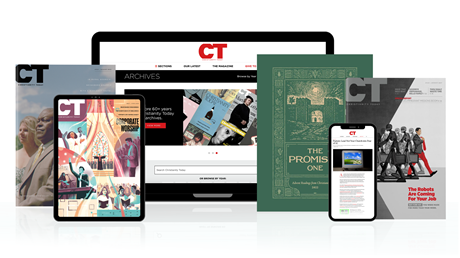 Subscribe to Christianity Today and get access to this article plus 65+ years of archives.
Home delivery of CT magazine
Complete access to articles on ChristianityToday.com
Over 120 years of magazine archives plus full access to all of CT's online archives
Subscribe Now
'Revolt on Evangelical Frontiers': A Response
'Revolt on Evangelical Frontiers': A Response