Autobiographies often make fascinating reading, particularly if the one who writes is a living part of his age. In his latest volume, While It Is Day, D. Elton Trueblood relates vitally to our era. Born nineteen days before the turn of the century, he came from Quaker ancestry dating to the days of George Fox and has sought to project the ideals of his forebears into the twentieth century.
Trueblood spent his early years in Iowa, to which his grandfather had emigrated in the 1860s. His first personal trek reversed the direction of his ancestors and the usual movement of Quakers who customarily traveled westward. Elton Trueblood went eastward in 1922 and spent most of the following fourteen years on the east coast. There he studied, taught at the college level, and made the first of numerous trips to England.
His career expressed itself in expanding circles, guided largely by contacts with persons. In the years of preparation he had a penchant for seeking out "greats" as his mentors: Willard L. Sperry, George Foot Moore, Thomas Kelly, and Arthur O. Lovejoy, to name a few. From some of these he learned philosophy and theology. It was Willard L. Sperry (who has meant a great deal to me also) who by example and by referral helped impart to him his facility for writing. Our author says that Sperry urged him "to soak myself in the great models."
There was a certain periodicity in Trueblood's educational career. Study at Brown University and at Hartford Theological Seminary was balanced by pastoral service in Woonsocket, Rhode Island. Study at Harvard Divinity School was followed by teaching at Guilford College in North Carolina, after which came doctoral studies at Johns Hopkins University, from which he received the Ph.D. in 1934.
The "teacher" in Elton Trueblood finally triumphed with a series of calls to Haverford College, to Leland Stanford University, and finally to Earlham College, which he served with distinction until his retirement in June, 1966. During these years he grew as a scholar and lecturer, and in stature with his own denomination.
A further expansion of the scope of his pilgrimage came as he received an invitation to serve in the religious-affairs section of the United States Information Agency in Washington in 1954–55. This afforded a broadening of his contacts; his government assignment brought him into close contact with persons responsible for articulating national policy, including President Dwight D. Eisenhower. The breadth of Trueblood's grasp of international matters was frequently reflected in his column, "Plain Speech," in his denominational journal.
Elton Trueblood's abilities as a writer served to push him into wider areas. His earlier theological volumes seem to some of us to represent the struggle of the butterfly to free himself from the chrysalis. Until the end of the thirties, his style was ponderous; but about 1940 he decovered that he could write in "newspaper style." This was a turning point, one in which the works of C. S. Lewis began (as will be noted shortly) to give new direction to his literary thrust. His Predicament of Modern Man brought him to the attention of what proved to be his major readership. In his work he planted most of the themes that came to flower in his subsequent writings.
As an author, Elton Trueblood was drawn in the later forties to the central pulsebeat of human life. In my opinion, this movement found its finest expression in his book The Common Ventures of Life, a volume that has had a powerful influence upon me. This work placed him at the center of the arena in which the layman must live and struggle. The Company of the Committed opened the door of active discipleship wide to the plain Christian.
One assignment that came to Dr. Trueblood was that of serving as associate editor, and for ten years as editor, of The Friend, the oldest Quaker periodical in the world. He held this responsibility as a special trust. From it he acquired not only the discipline of writing a biweekly editorial but a facility in the use of language.
To D. Elton and Pauline Goodenow Trueblood were born four children, each of whom grew up to occupy a place of responsibility in the life of the nation. As a family the Truebloods had no more and no less of sorrow and joy than have most families. The happy outcome of this aspect of the pilgrimage came as a result of resolute effort upon the part of both parents to build a warm and creative family life, sometimes against the apparent claims of an intensive and varied career in the world of affairs.
The most telling aspect of the career of our author is, it seems to me, the spiritual pilgrimage shared with us in While It Is Day. In earlier years, Trueblood says, "my theology was not evangelical." The apparent acceptance of the prevailing theological views in the universities in which he studied produced a lack of awareness of the uniqueness and saviourhood of Jesus Christ and of his imperative demands upon men and women.
Two major factors served to turn him into an evangelical path: first, the observable inadequacy of the so-called social gospel; and second, the powerful influence of the apologetic of C. S. Lewis. The writings of this warmhearted Oxford don persuaded Trueblood that the Christian message must be taken—or left—in its wholeness. He found Lewis's apologetic in The Case for Christianity to be inescapable in its logic, and he opted for accepting its challenge.
Two major new elements began to appear in Elton Trueblood's ministry. The first is best expressed in his own words: "New strength came into my ministry … when I saw that either I had to reject Christ and the admiring talk, or accept Him on His own terms." The "admiring talk" was, of course, the superficial ascription of the title "Great Teacher" (and nothing more) to our Lord, or the heralding of his greatness in terms of "his faith in men." C. S. Lewis showed him that this simply would not do!
The second major change was that embodied in his use of his gifts. He began to build for "beyond his own day," the most significant step being the launching of the Yokefellow Movement. In this he began to implement, in what promises to be an enduring fashion, the major emphases of his evangelical career, notably the enlistment of the whole Christian body for ministry, the projection of an equipping ministry, and the enlistment of persons of all levels as "workers together" with Jesus Christ.
That the Yokefellows represent an open-ended movement seems something of a parable of the pilgrimage of Elton Trueblood. The movement offers great promise of extending his ministry far beyond the years that remain to him among us—which I trust will be many.
Our digital archives are a work in progress. Let us know if corrections need to be made.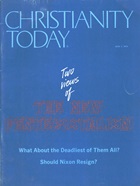 This article is from the June 7 1974 issue.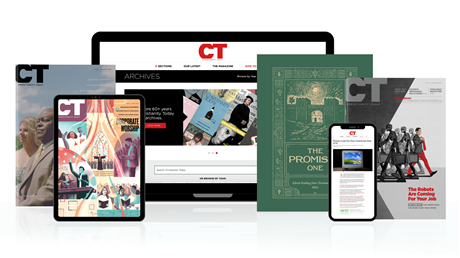 Find hope and historical insight. For a limited time, explore 60+ years of CT archives for free!
Daily devotions from Timothy Dalrymple during this pandemic.
Hundreds of theology and spiritual formation classics from Philip Yancey, Elisabeth Elliot, John Stott, and more.
Thought journalism that inspires you to think more deeply about your faith.
A Pilgrim's Progress
A Pilgrim's Progress