"I've really blown it now! I'm sorry, but what good is being sorry when it is impossible to pick up the pieces? I can't go back and live that time over again. I wish I could—but time can't be wiped out, the things I've done can't be undone, the things I've said can't be unsaid. I feel like a ghastly mess that ought to be tossed in the garbage pail. Life is just impossible."
Have you ever said anything like that? Have you ever felt an overwhelming wave of finality as regrets washed over you, threatening to drag you out into a sea of hopelessness? Such feelings of worthlessness can turn into egotistical introspection for the Christian; he may forget that One who made the universe out of nothing is not limited, and does not look at any human being, broken as that one may be, and see a "blank" or a hopeless mess ready for the trash pile. God, the Creator of all things out of nothing, is a God of diversity and is without limit in his creative ideas. He can take any one of his children at any point and make an amazing work of art with what looks like "the end." The end can become a surprise beginning when placed in the hands of an expert.
Listen to this true story. Some years ago a lovely girl named Jane was helping to prepare food for the weekend meals at L'Abri Fellowship. As we looked over the menus together I got out my favorite sponge-cake recipe for her to make while I rushed around doing other things. After a time a puzzled-looking Jane came to show me a strange mixture, yellow and sticky. "Is this what it's supposed to look like? Shall I put it into the pan now?"
"Oh, no," I said in a rather horrified tone. "Please don't. It's not right at all. You must have left something out."
"No, I followed the instructions perfectly, I know I did."
"Here, let's look at the book. You must have forgotten something." So we read and checked each item, once, twice, three times.
"But I'm sure it's all in order. I mixed it just as it said. The egg was beaten high, but it just disappeared into the mixture and it all got heavy and sticky. Oh, dear, what's wrong?" Once more we slowly read the book's directions, and suddenly she remembered. "I didn't put any sugar in it! Shall I throw the mess out? Shall I start with new stuff?"
"No, wait, we can't afford that," I said hastily, putting out my hand to take the bowl and protect the "mess." "Let me think: egg, salt, baking powder, flour, water—hm-m-m, what can I do with that?" Suddenly I exclaimed, "I know!" While Jane watched I added flour, first a little, then a little more, mixing, kneading first in the bowl and then on a floured board. When the mixture would take no more flour, I got out the rolling pin and rolled it vigorously. Thinner and thinner the pale yellow stiff mixture spread out on the board until it was almost paper thin. "Now," I exclaimed in satisfaction, "we'll put some heavy weights—those cans will do—on the four corners and let it dry a while."
After a time I took scissors and, folding the dry, paper-like mixture, cut it into fine, thin strips. They rapidly piled up in lovely heaps to be tossed with our fingers so they could separate and dry. There: not sponge cake but noodles, beautiful, fresh, home-made noodles. Home-made chicken broth, our noodles, and a dash of soy sauce gave us steaming soup to offer to thirty hungry people. "What fantastic chicken noodle soup! I never tasted such good noodles. May I have the recipe?"
I smiled at Jane across the table. "Not sponge cake but marvelous noodles, which are just as important," I remarked. "Don't ever forget this, Jane."
Don't ever forget what?
Don't ever forget that if you can't be a sponge cake because of having spoiled something you can't go back and do over, the Lord can make you into marvelous noodles!
The Bible gives us a similar illustration to emphasize the wonder of what God can do for us as we put ourselves into his hands, letting him take over and do with us what he is able to do. In Jeremiah 18 we have the vivid picture of a potter taking a pot or a vase or a pitcher he had made and, seeing that it had been marred by something, molding it over again into something else, "as it seemed good to the potter to make it."
"Then the word of the LORD came to me, saying, O house of Israel, cannot I do with you as this potter? saith the LORD. Behold, as the clay is in the potter's hand, so are ye in mine hand, O house of Israel" (Jer. 18:5, 6). The Lord is able to do what he will with his children if they turn to him and become clay in his hands, but he does not force any one of us. "Ye have not because ye ask not" is something to be thought of in this connection. The child of God is to turn to the Father when a mess has been made, to ask forgiveness and also to say, "Please take me and make me into what you would have me to be, now, at this point of history. On the basis of what I cannot be, make me into what you now want me to be."
Listen to comforting words: "Remember ye not the former things, neither consider the things of old. Behold, I will do a new thing: now it shall spring forth; shall ye not know it? I will even make a way in the wilderness, and rivers in the desert" (Isa. 43:18, 19).
What wilderness have you been wandering in recently? What dry and dusty desert has been your walking place? Or, to put it another way, what kind of a gluey mess in your life has replaced the intended fine mixture? Are you about ready to give up? There must be a definite coming, as Jane did to me, and a turning over of the "bowl" of your life, asking for help, acknowledging you have made a mistake. "Please … I'm sorry. Do a new thing. Make me into the noodles of your choice."
And what if the gluey mess is not just one life but a relationship, or a group that is ready to fly apart, or a church where things have gotten sticky? The two, or the group, or the church, ought to come together to the One who can take the whole "bowl," the whole situation, and add the needed ingredients, whatever they might be. He is completely capable of making a whole church full of "noodles," to be marvelously appreciated by those in the surrounding community who need to be fed.
"And they that shall be of thee shall build the old waste places: thou shalt raise up the foundations of many generations, and thou shalt be called, The repairer of the breach, The restorer of paths to dwell in.… Then shalt thou delight thyself in the Lord" (Isa. 58:12, 14).
We are to be delighted with what the Lord has done with us, but first we need to let him do it. What if Jane had secretly thrown the mess away without asking? Be careful to own up to your need of help. Sponge cake? Or noodles? Or the garbage can?
Have something to add about this? See something we missed? Share your feedback here.
Our digital archives are a work in progress. Let us know if corrections need to be made.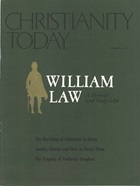 This article is from the January 31 1975 issue.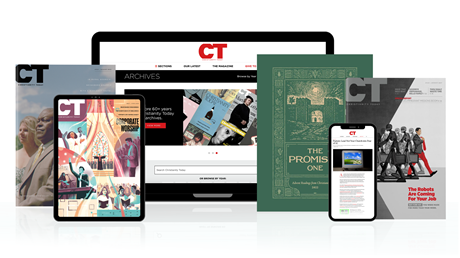 Subscribe to Christianity Today and get access to this article plus 65+ years of archives.
Home delivery of CT magazine
Complete access to articles on ChristianityToday.com
Over 120 years of magazine archives plus full access to all of CT's online archives
Subscribe Now
Layman and His Faith: Sponge Cake or Noodles?
Layman and His Faith: Sponge Cake or Noodles?