Thump in The Night
The other night I was lying in bed with the lovely euphoria that comes over you when you're tired and you've finally gotten settled in the perfect position with the pillow at just the right angle and you're just beginning to slip into the arms of Morpheus.
"What's that?" asked my wife, sitting up in bed.
"What's what?" I said drowsily.
"That thumping."
I was on the verge of giving the old comic-strip response. "Oh, it's probably only a burglar." But I decided future happiness lay down another road. So I replied, "It's probably just the water pipes or something."
"What would make water pipes thump?"
If there's anything maddening it's the female insistence on logic at midnight.
"I'll go check," I said with less than enthusiasm.
A complete round of the house turned up no satisfactory explanation. All the entrances were securely locked. As I climbed back into bed my wife asked, "Did you find anything?"
"Nothing."
"Did you check everywhere?"
"Everywhere."
"The laundry room?"
"Everywhere."
"What do you think it was?"
"A playful poltergeist."
"Be serious."
"All right, but wouldn't it be nice if we still believed in goblins? Then we could just ask the Lord to deliver us from goblins and ghosts and things that go bump in the night and go back to sleep."
"I guess," she said doubtfully.
Lying there trying to go back to sleep, I thought of all those nights when my sleep has been disturbed by something going bump in my soul.
Someone has commented that there are times in the middle of the night when he'd sell himself for a nickel and give three cents change. This 2 A.M.angst is perhaps primarily an affliction of the young adult, and most adult Christians have been through it at some time or times.
The Psalmist reminds us that those who dwell in the shelter of the Most High are not to fear the terror of the night. Jesus is Lord even at two in the morning.
EUTYCHUS V
From the November 10, 1972, issue of CHRISTIANITY TODAY.
Space For Children
Just a note of commendation on Cheryl Forbes's comments on children's books in the November 19th issue (Refiner's Fire).… However. I feel that she misinterpreted the intent of Mr. Slef in identifying it as a children's book. While the publishers recommend it for every reader, young and old, adults much more than children will be able to identify with the main character in this unusual and thought-provoking parable. Its creative typography tempts the casual reader to look some more and find out what this is all about. Its art is, to me, a refreshing change from the usual, common, religious attempts. An adult audience to which I introduced this book was very much moved by the book's important message.
"A book that looks busy will overwhelm a small child" is a statement with which I basically disagree. The charming little book Thirteen by Remy Charlip, which is filled with busy pictures, is one which the children in my school library love to browse through.… Richard Scarry's books, also, are filled with detailed figures and small clothed animals, and they continue to be on best-seller lists of favorite books for children.… Children's books are important, and it is important that thinking Christians who have something to do with children should know about them. The fact that you are giving them space in your fine magazine pleases me very much. Keep it up!
MARY K. BECHTEL
Wheaton, Ill.
On Wednesday Worship
So you want the state to enforce Saturday laws instead of Sunday laws (lead editorial, Nov. 5)? Please, after seeing what's happened to Sunday, we'd rather have the state keep its hands off the sabbath. As Dr. Edmond Cahn once pointed out, what the state touches, it secularizes. Just go right ahead and do your shopping on Saturday, though. We don't mind. Seventh-day Adventists will find their way to church anyway. And if you want to shop, that's part of the freedom we want to see in America. If you really want to push a day, try Wednesday. So far as I know, nobody worships on that day.
ROLAND R. HEGSTAD
Editor
Liberty Magazine
Washington, D.C.
• If you'll join us, let's push for Wednesday. Christians could worship on that day, too!—ED.
Not Exempt
Paul Hesselink's article on Osborne's treatment of Luther (Refiner's Fire, Oct. 22) left me somewhat puzzled. No one, it seems to me, including Osborne, would dispute the impact of Luther's life and leadership on the European movement we call the Reformation. I find Osborne's psychological treatment of Luther an attempt to present him as a human being, constipation and all, and a serious effort to make him more believable and less of a historical "superman." … To be a great leader and even a spiritual trailblazer does not imply exemption from the human situation. My knowledge of Luther leads me to believe he did, indeed, have problems with anger and other attributes common to Christians.… Paul's thorn in the flesh was displeasing to him, but a weakness God could use to vault him into ever more glorious use for His kingdom. Luther's alimentary spasms may have been a similar, useful tool. I think Osborne's attempt in Luther was to underscore his believability as an historic figure, not to undermine orthodox Reformation theology.
BILL ARMSTRONG
First United Methodist Church
Canton, Tex.
Glorifying The Group
Thank you for "Discerning Truth: Is Man the Final Measure?" by David Lyle Jeffrey (Nov. 5). Humanism has not only affected our schools but also our Sunday schools and churches. An area which reflects this is the glorification of group discussion to the point that an objective presentation of material by a teacher is considered suspect, regardless of the level of scholarly research done in preparation.
The "final measure" in discerning truth is God's Word. A true disciple not only learns from his teacher-master but also in personal commitment serves him. He does not discuss with his teacher-master, but once he understands he does obey.
ARLIE D. RAUCH
Bridgewater, S.D.
Have something to add about this? See something we missed? Share your feedback here.
Our digital archives are a work in progress. Let us know if corrections need to be made.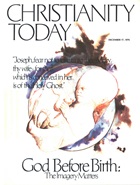 This article is from the December 17 1976 issue.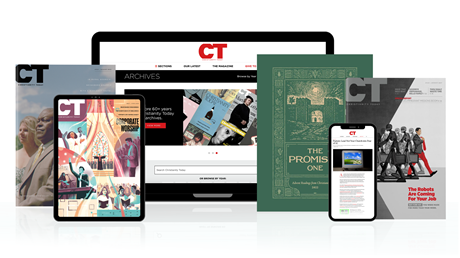 Annual & Monthly subscriptions available.
Print & Digital Issues of CT magazine
Complete access to every article on ChristianityToday.com
Unlimited access to 65+ years of CT's online archives
Member-only special issues
Subscribe
Eutychus and His Kin: December 17, 1976
Eutychus and His Kin: December 17, 1976