Perhaps no current religious thinker worth his salt ought to look back. At the start of a new year he should fix eager eyes on the distant horizon and think long thoughts about the opportunities that lie ahead.
Not me. It is for me a season of stocktaking. The end of a year prompts the memory of things undone: the time I did not give to a middle-aged relative crippled by multiple sclerosis; my impatience with an old minister who liked to talk, and who died during the year; the college students I did not invite for a meal because students can be so demanding. Thomas Hood had words for it:
The wounds I might have healed!
The human sorrow and smart!
And yet it never was in my soul
To play so ill a part;
But evil is wrought by want of thought,
An well as want of heart.
But it's not just my attitude toward others. Some time back I came across a 1915 number of the Boston Congregationalist in which an anonymous pastor made a couple of resolutions. I may have quoted them before, but they are worth repeating at this New Year season:
I am going to clean up my inner life. There are three distinct demons that have troubled me much in the past that I am going to lay for good this winter. I have been drifting; this is going to be a winter of mastery. I am going to cut out all that has become unreal in my life and conversation, stock public prayers that mean nothing any longer, pulpit phrases that have lost their savor, and all social cowardices and hypocrisies.
I know, I know, there's a missing dimension in all that, but I like the sound of that man, and have often wondered if those three D.D.'s he referred to got what was coming to them by way of exorcise. Nineteen seventy-five was a year in which more than usually I reflected ruefully on the child's prayer: "Make all the bad people good, and all the good people nice." For the existence of original sin one need look no further than the correspondence columns of religious publications. Some writers are under the delusion that the King's business requireth hate. The doctrine of total depravity was defended by men who saw nothing wrong in the slave trade, and the same inconsistency is with us to this day—as though majoring in one Christian virtue exempts us from another one.
In 1976 I would like to see thumpers of the pornographic and the heretical prove that championing the faith does not give one license to indulge in graceless and intemperate speech. Righteous indignation is heady stuff that comes better in company with facts. The luxury of outspokenness is justified only if truth is out-spoken. A little courtesy helps, too. Many a sound case I have seen vitiated because a bad book has been misquoted or dealt with abrasively. A welcome diversion is thus provided, and valid objections disappear in a smokescreen.
The trouble is, I glimpse the same wrong attitudes in myself on occasion. Controversy can be a spiritually arid experience; sometimes I envy those of my friends who, identifying the earth's heirs, go on to assume that keeping out of controversy shall be accounted to them for righteousness. Not for them the rousing strains of that Salvationist song (now unjustly neglected) that shouts robustly, "The old Devil's crown has got to come down, And that with a hullabaloo!"
Still on 1975, the cartoon I thought most discerning was in Punch. It showed a director of the British Travel Association saying to his colleagues: "Have we ruled out the tourist appeal of a decadent and dissolute society?"
I remember too a remark made last year by Malcolm Muggeridge, himself a former editor of Punch. During his term of office, he said, the magazine depended for material on two groups of people: peers and clergymen. That these should provide a reservoir of eccentricity puzzled him until he thought he had found the explanation: those two classes had nothing else to do. Muggeridge did add, however, that they were now beginning to take their jobs seriously.
The most misguided utterance I heard in 1975 came from an unexpected source; a young school principal who was just about to go to Nairobi as leader of the Church of Scotland's delegation at the World Council of Churches assembly. Speaking at a public meeting in our district, he astonishingly sneered at the archbishop of Canterbury, who had just issued a national call for moral renewal. Referring to "Old Coggan," my fellow Presbyterian announced that the primate was out of touch with the times, unaware that things had changed "since he was a boy in York a hundred and fifty years ago." Though not normally a supporter of archbishops, I suggested to the speaker later that his ex cathedra criticism was ill conceived, and that I hoped he wouldn't repeat it in the fifty-two other meetings he said he would be addressing on his ecumenical occasions. The burden of his response was that I did not recognize a humorous aside when I heard it. Oh, but I can!
The year closed in Britain with profound misgivings still expressed about the WCC's Program to Combat Racism, which some will always find a bit bogus until its terms of reference are interpreted as covering non-white racism also. It has always seemed odd to me that the things that really animate the WCC and allied industries have little connection with the preaching of the Gospel or the things that belong unto our peace. Few spectacles are more nauseating than some of that body's sporadic assumptions of the role of the Church Militant. With the century three-quarters gone, Jean Danielou may yet be proved right in his L'Osservatore Romano forecast that "the great heresy of the twentieth century will be that of 'religionless Christianity.' "
But all is not gloom; let us to more wholesome things, for 1975 had bright moments too. There was the enthronement at Canterbury of the first evangelical since J. B. Sumner (1848), and a sermon on a theme not often heard in that ancient cathedral. The Church, said Dr. Coggan, is heading for tribulation, and Christians will have to face it—"no whining when that comes, no complaining when the winds are contrary."
The past year saw also the other English archbishopric filled by an evangelical when Stuart Blanch went to York. The lessening of acrimony between the Church of England's evangelicals and Anglo-Catholics is reflected in the welcome fact that the latter have generally accepted Dr. Coggan's appointment in good spirit, as befits those who share an emphasis on the devotional life.
Finally, the year found me engaged more than usually in historical work. One tends to be dragged inexorably into the morass of minutiae, but there are serendipitous moments when anecdotes are found such as one told of the sixth-century missionary Brendan. He appeared at the court of the Pictish king Brude and preached the Gospel. When he had finished the king inquired: "Supposing I accept your Gospel, what shall I find?" To which the answer came: "You will stumble on wonder upon wonder, and every wonder true."
Fourteen hundred New Years have passed, but the wonder and the truth remain to cheer us into 1976.
J. D. DOUGLAS
Have something to add about this? See something we missed? Share your feedback here.
Our digital archives are a work in progress. Let us know if corrections need to be made.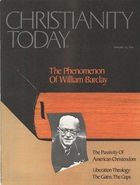 This article is from the January 16 1976 issue.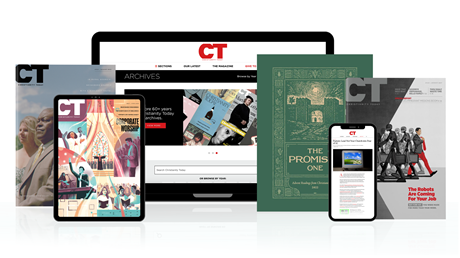 Subscribe to Christianity Today and get access to this article plus 65+ years of archives.
Home delivery of CT magazine
Complete access to articles on ChristianityToday.com
Over 120 years of magazine archives plus full access to all of CT's online archives
Subscribe Now
The Year That Got Away
The Year That Got Away