Evidence For The Baptism
I'm tired of being told that if I would only speak in tongues, I would be a much stronger and more effective Christian. Why is it that tongues are taken to be the only sign of spiritual power and effectiveness? Why have the tongues-pushers picked that spiritual gift as the one above all others when they've read Paul's thoughts on the subject?
Why haven't they, for instance, emphasized the gift of teaching? "If you only start teaching, you'll be a more effective Christian." Or better yet, the gift of administration.
I can imagine it now. The Holy Spirit indwells a person and that person becomes a time-management freak. Previously a disorganized, spontaneous person, he or she now becomes Mr. or Ms. Schedule. Instead of talking about glossalia, the newly filled being speaks of time flow and organizational charts. Instead of praise, he or she talks about priorities. Instead of Merle Carothers, Bob Mumford, and Larry Christenson, his or her idols are Ted Engstrom, Ed Dayton, and Peter Drucker.
Evidence for the baptism of the Spirit would not be how high you could hold your hands in praise or how ecstatically you could mouth monosyllables, but how quickly you could get the church office to function efficiently, how many things you could do at once, and how well you used commuting time to tackle "A" priorities.
Ah, if the Holy Spirit had only made all of us organized, wouldn't the world be a better place? Wouldn't the Church be stronger and more alive? Wouldn't the Gospel be preached to more people in less time? I think I'll tell some of my friends about it.
EUTYCHUS VII
How Different
It is encouraging for the Evangelicalism of the seventies to read your friendly report of the first national meeting of the Evangelical Women's Caucus (News, "Christian Feminists: 'We're on Our Way' Lord!' ", Dec. 5). How different the evangelicalism of the sixties might have been had your assistant editors then included a black American and a Vietnamese nationalist.
JOHN OLIVER
Canton, Ohio
What Is Evangelical?
Because of the high esteem in which CHRISTIANITY TODAY is held by so many of us evangelicals on the Board of Trustees at Whitworth College, it was inevitably of great disappointment and surprise to us that it was omitted from your list of evangelical colleges (Nov. 7).… It probably boils down to what is meant by "evangelical." If, to be considered evangelical, a college must follow the format of insisting upon Christian faith and commitment by students prior to admission, Whitworth does not qualify.… And for this I am thankful. The percentage of students at Whitworth who have NOT made a decision for Christ runs as high as 40 percent. Praise God! What an opportunity!
On the other hand, if to be "evangelical" a college has for its theme: "Jesus Christ" (and that … or better HE … is the theme of Whitworth College); if to be "evangelical" a college reaches out through all of its faculty and through a warmly committed, solidly biblical Chaplain's Office and Religion Department to establish bridgeheads with the uncommitted with the Gospel of God's grace and to nurture the spiritual growth of those who are already Christians; if to be "evangelical" means to take the love of God in practical ways out into the community, helping the poor and disadvantaged, teaching in Sunday Schools and leading youth groups, and in countless other ways incarnating the love of Jesus, then Whitworth is "evangelical." I am proud to be associated with it.
WILLIAM S. STODDARD
Walnut Creek Presbyterian Church
Walnut Creek, Calif.
Through Chaff To Grain
For the past six to eight months as I have read your periodical I have sifted through a lot of chaff to find a little grain. Therefore, I felt like the merchant who found the pearl of great price or the man who discovered the treasure in the field when I happened upon the article "Mary Reconsidered," by Dr. David Steinmetz in the December 5 issue. I must say that this article is without doubt the finest piece of work I have found in your publication.
Even more striking is the position it occupies in the issue—first, not tucked away in some corner on page 92. You must have considered it important enough to merit such a high place. I think your judgment is correct. Publish any more articles like this one and I will have to reconsider may decision not to renew my subscription when it comes due this Spring.
DAVID STOHLMANN
Mt. Olive Lutheran Church
Sebastopol, Calif.
A Parish Pastor Replies
May a Grand Rapids parish pastor reply to a letter by Edd Doerr, Educational Relations Director for Americans United For Separation of Church and State (12-5-75).
Doerr writes, "… the Grand Rapids Chapter of Americans United For Separation of Church and State (has) filed suit in Michigan to enjoin two school districts from purchasing and distributing Bibles to graduating seniors (Religion in Transit, Oct. 24).… It should be noted that the plaintiff in the case is a clergyman, Jay Wabeke."
As a pastor of seventeen years standing in one of Grand Rapids' larger congregations, I was unaware that we have a chapter of Americans United.… Some years ago the city had a chapter of AU which was comprized largely of Reformed and Christian Reformed clergy and laymen. When they found that the official position of AU was quite contrary to their own views, they withdrew almost enmass. This withdrawal included two of the officers, both of whom were clergymen of the Reformed Church In America.…
Doerr's letter also contains a number of errors. Jay Wabeke is not known to me as a clergyman, nor as a resident of Grand Rapids. I recognize the name because of his compulsive, inflamatory letter writing to the "Public Pulse" of the local daily paper. In these letters his residence is indicated as Coopersville, a small town situated between Grand Rapids and Muskegon. His listing in the Coopersville section of the telephone directory does not identify him as a clergyman. The two school districts against which he has filed suit are Hudsonville and Zeeland, two small towns situated between Grand Rapids and Holland.
GORDON H. GIROD
Seventh Reformed Church
Grand Rapids, Mich.
Fine Defense
I want to thank you for the fine article in the December 5 issue of CHRISTIANITY TODAY, "The Christian Source of Truth." Dr. Lindsell's defense of the inspiration and inerrancy of Scripture in this article and others is heart-warming to me and to many in my church.
JOHN C. ZIMMERMANN
President
The Iowa District East
The Lutheran Church-Missouri Synod
Cedar Rapids
Jock Syndrome
In the fifteen plus years that I have been a CHRISTIANITY TODAY subscriber, it has become apparent that CT has been caught up in what I call the "Jock Syndrome." Such a syndrome is expressed in subtle ways, such as the inclusion of the brief account of a University of Washington footballer making three trips into the end zone, two for touchdowns and one for prayer (News, Nov. 21).
There is no one who more loves to hear and see a dynamic Christian testimony than myself, but why is it that we tend to leave the impression that a Christian testimony is somewhat lacking in validity if the testifier cannot be introduced as "a former All-Pro running back"?
I have attended many crusades and rallies, but I can never recall anyone ever being introduced as "the first trombonist of the award-winning Podunk U marching band," to give a rousing testimony as to what Jesus Christ has done in his life. Why not? Because somehow we have assumed that "stud-faith" will impress more impressionable people than will some person who only plays a trombone. And we, in evangelical circles, have, consciously or unconsciously, become manipulators of the Grace of God.
WILLIAM H. SIMPSON
Chaplain
Northeast Baptist Hospital
San Antonio, Tex.
Where The Warning Was
In your interview entitled "The China Watch" (Nov. 21), David Adeney recollects an article on Watchman Nee that warns the Hong Kong government about his "growing religious empire." This article is found in three issues of the monthly news magazine Nan Pei Chi (vols. 32–34, 1973), and actually warns against the growing "empire" of Nee's successor, Witness Lee.
DANA R. ROBERTS
S. Hamilton, Mass.
Have something to add about this? See something we missed? Share your feedback here.
Our digital archives are a work in progress. Let us know if corrections need to be made.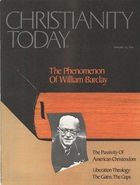 This article is from the January 16 1976 issue.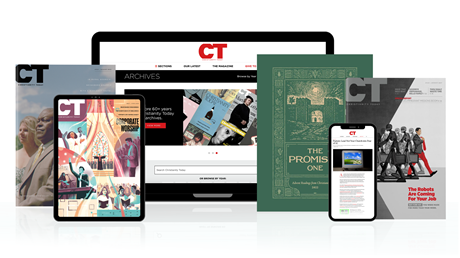 Subscribe to Christianity Today and get access to this article plus 65+ years of archives.
Home delivery of CT magazine
Complete access to articles on ChristianityToday.com
Over 120 years of magazine archives plus full access to all of CT's online archives
Subscribe Now
Eutychus and His Kin: January 16, 1976
Eutychus and His Kin: January 16, 1976