A first was recorded in both evangelical and Jewish circles when more than forty scholarly participants met last month in New York City to discuss the state of their relationship. Organized by Interreligious Affairs Director Marc H. Tanenbaum of the American Jewish Committee and G. Douglas Young of Jerusalem's Institute of Holy Land Studies, the three-day exchange was designed to evoke frank and clear discussion of areas that have traditionally kept the two communities apart. Papers from both sides considered the following topics: The Messiah, The Meaning of Israel, Social Concerns, Biblical Authority, Current Morality, and the Problems of Minorities in a Pluralistic Society.
The conference was the fulfillment of a long-held dream of Canadian-born, U. S.-educated Young, himself now an Israeli citizen and a leading spokesman for Christians in that country. Conference sessions were held in New York's Calvary Baptist Church and at the American Jewish Committee's headquarters.
Although the evangelical delegates were hand-picked to represent a wide variety of theological expression all were known to be reasonably friendly to modern Jewish and Israeli interests. Some, typified by elder statesman Arnold T. Olson of the Evangelical Free Church, have gained considerable prominence with Christian advocates for Israeli causes.
Major topical addresses were delivered from the evangelical side by Marvin R. Wilson (Gordon College), William A. LaSor (Fuller Seminary), Carl E. Armerding (Regents College), Paul E. Toms (President, National Association of Evangelicals), Vernon C. Grounds (Conservative Baptist Seminary), and Young.
Jewish positions were set forth by scholars representing all three traditions (Orthodox, Conservative, and Reform).
For many on both sides the highlight was a luncheon address by Evangelist Leighton Ford of the Billy Graham organization. Ford's forthright presentation, a number felt, enabled the Jews to have a better understanding of the Christian dynamic of evangelism. "For me to disclaim a desire to evangelize all people would be dishonest," he said. On the other hand, he acknowledged, "the experience of getting to know you and of reading and praying for this dialogue has been a great learning experience for me." He went on to point out that "my Lord is of your people. To be anti-Semitic is to be anti-Christ."
Perhaps more significantly, says Armerding, Ford's talk underscored wide areas of shared social concern, a theme echoed later by Toms, Tanenbaum, and others at the landmark symposium.
Key issues emerged on which both sides seemed to share a basic understanding. These included the Jewishness of the New Testament, social and moral concerns, and the need for fair and equitable treatment of Israel in world opinion.
On several other issues a beginning was made, reports Armerding. LaSor opted for a development of Messianism in the Old Testament that would not set Christian hermaneutics totally at variance with Jewish biblical scholarship. Armerding argued that the New Testament preserved the distinction between Israel and the church, but he pleaded for Christians not to see modern Jews merely as pawns in the Christian eschatological scheme. A panel discussion led by Kenneth Kantzer (Trinity Evangelical Divinity School) featured papers on scriptural authority. The Jews clearly represented a much wider divergence in positions than their evangelical counterparts.
In two areas especially, much remains to be done, says Armerding. Jews neither appreciate nor fully understand the "conversion" mentality of evangelicals. Although discussion was frank and friendly, he states, it is apparent that evangelicals must learn why Jews react as they do, and adjust their own approach to what years of "forced conversion" have taught the Jewish community.
The second area concerns responsibility for the death of Christ. Despite a sincere attempt by the evangelicals, notably Kenneth Kantzer, Edwin Yamauchi (Miami University, Ohio), Roger Nicole (Gordon-Conwell seminary) and A. T. Olson to define the matter biblically, feelings were ruffled in both camps.
A persistent note of special concern came from the only three women in the dialogue (two Jewish, one Christian). They forcefully reminded the overwhelmingly male audience that neither community had done much to recognize the real issues of women and their role in faith and life.
The exchange was seen as a good beginning. The organizers expressed satisfaction with the results and spoke of plans for a second stage of talks.
A Bash For Cecil
Ten years had passed since A. Cecil Williams landed on the San Francisco scene as pastor of Glide Memorial United Methodist Church. It was time for a big bash, a "Celebration of Change" to honor the black mesmerizer who had transformed a dwindling traditional inner-city church into a pulsating funky haven for those who wanted to "get it on" in a psuedo-religious way.
The celebration, held on a recent Sunday, began with the usual two jam sessions of jazz, light shows, dance exhibitions, and soul singing and pop preaching by Williams that characterize Sunday mornings at Glide. Both "services" were packed. The festivities continued with street entertainment by a mime troupe. Tables in the social hall and parking lot overflowed with free literature promoting a variety of controversial causes, from gay liberation and the Black Muslims to Socialist parties. On display was a soon-to-be-marketed "Cecil Doll" that resembles remarkably its namesake: lanky, Afro hair style, black-rim glasses, bright clothes.
The major event of the celebration drew 3,000 of Williams' followers to the church and the sidewalks of the neighboring Tenderloin district to hear twenty speakers pay him tribute. Among them were prominent politicians, spokesmen for ethnic groups, radical leader Angela Davis (she got a standing ovation), and Margo St. James, founder of Coyote, the union for working prostitutes. Ms. St. James recounted how Williams had provided a meeting place at Glide so she could start her organization which now has chapters in twelve cities. (Dedicated to legalizing prostitution, Coyote will hold its third national convention in Washington, D. C., this July.)
Methodist bishop R. Marvin Stuart of San Francisco, who sometimes disagrees with Williams, sent a letter commending the minister for his "courage, dedication, and vision" in reaching social outcasts. "Despite upset and controversy, we will not forget the dignity, hope, and fuller life that Glide United Methodist Church is bringing to people in this community," said Stuart. "Your ministry is, of course, central to Glide's witness."
The final event was a benefit concert in the evening by Marvin Gaye and Quincy Jones at the Cow Palace to raise money for Williams' new "Center for Self-Determination."
Williams said that when he came to Glide ten years ago "it wasn't a good day. Not with the people who were here then. No, they were determined to drive me away, and I was determined to drive them away, and I won." The unusual changes wrought by Williams prompted religion columnist Lester Kinsolving to describe Glide Church as "America's only Sunday morning night club." Ironically, many of Glide's new styles were financed from a foundation set up by a staunch conservative for the furtherance of evangelism.
A theological assessment of Williams was offered by maverick Abraham Feinberg, a retired reform rabbi and unpaid member of Glide's staff. In an interview, Feinberg said he is more conservative in his theology than Williams. He said he does not consider Williams a Christian. Wielding a cane given by Ho Chi Minh in Hanoi in 1967, the 76-year-old social-justice crusader declared: "Cecil has never spoken Christian doctrine in the church in the three years I've been here. If this were a Christian church I wouldn't be here. I don't understand why the United Methodist Church tolerates Cecil here."
Williams has been asked many times whether he is a Christian, but he indicates that he shrugs off the question—or angrily stares down the questioner. "When you come in here, I'm not going to ask you, 'Are you a Christian?' I can tell by the way you walk, the way you talk whether or not you're a person."
ROBERT CLEATH
Religion In Transit
RAP '76, a three-day conference on Religion and the Presidency, will bring together the major presidential hopefuls and several hundred religious leaders January 19–21 in Washington, D. C. Each candidate will read a paper and answer questions by panelists. RAP is the brainchild of Fred B. Morris, a former United Methodist missionary jailed on political charges in Brazil. Among the co-sponsors he enlisted are evangelical leaders Carl F. H. Henry and Clyde W. Taylor.
A United Methodist Congress on Evangelism will be held in Philadelphia January 4–8. Speakers include President Ford.
A random survey of 50,000 churchgoers by clergyman-editor Norman Vincent Peale's organization indicated that they want more sermons dealing with prayer, God's guidance, and the Bible, and less on politics and social action.
Highschool students affiliated with the United Pentecostal Church were boycotting schools in the Pittsburg, California, area. The school superintendent had refused to excuse the youths from audio-visual and television instruction. Parents and UPC pastor Jack Smith insist that movies and TV are sinful.
More than 10,000 persons participated in the recent convention of the Greater Los Angeles Sunday School Association (GLASS), a record.
Personalia
William Sloan Coffin, 50, the controversial Yale chaplain, announced his retirement from campus ministry to embark on "a ministry to the world."
Jesuit Daniel Lyons, 55, the well-known conservative Catholic columnist who is leaving the priesthood (he recently married 24-year-old Irish singer Mary Cooney), was named editor-in-chief of the 200,000-circulation Christian Crusade Weekly, the paper published by Evangelist Billy James Hargis.
World Scene
After more than five months in captivity, French medical missionary Paul Horala of the Sudan United Mission was finally released by rebels in Chad.
More than 23,000 decisions for Christ were recorded at a four-week evangelistic campaign in Bogota, Colombia, according to correspondent Lindsay Christie. The meetings, held on a vacant lot, were attended by as many as 20,000 or so per session. About 150 churches supported the crusade. Pentecostal healer Yiye Avila of Puerto Rico was the evangelist.
Southern Baptist missionaries report that more than 700 Cambodian and Vietnamese refugees in three camps in Thailand have professed faith in Christ. In one camp two dozen Christians who escaped from Pailin, Cambodia, reportedly led seventy fellow refugees to Christ.
Ten Southern Baptist missionaries were still in embattled Beirut last month. They said they were safe but that church and personal property had been damaged, and that "things are quite critical."
Have something to add about this? See something we missed? Share your feedback here.
Our digital archives are a work in progress. Let us know if corrections need to be made.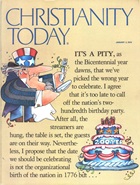 This article is from the January 2 1976 issue.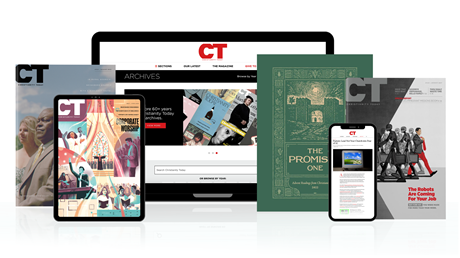 Subscribe to Christianity Today and get access to this article plus 65+ years of archives.
Home delivery of CT magazine
Complete access to articles on ChristianityToday.com
Over 120 years of magazine archives plus full access to all of CT's online archives
Subscribe Now
Jews and Evangelicals: Mutual Concerns
Jews and Evangelicals: Mutual Concerns