Simone Weil, Or Radical Sainthood
Simone Weil published only a few articles during her lifetime. She died in 1943 at the age of thirty-four in England of slow starvation; in a weakened physical state she had refused to eat more than the workers in occupied France. Her singular life has something of "the madness of the Holy fool" (the phrase is Leslie Fiedler's). She wrote in 1942:
Pain and peril are indispensable to my mental make-up. It is fortunate that this is not so with everyone, otherwise all organized activity would be impossible without it; but for my part, I cannot change, I know this from long experience. The suffering that is spread over the whole surface of the earth obsesses me and overwhelms me to the point of annihilating my faculties, and I cannot recover them and free myself from this obsession, unless I take upon myself a large share of danger and suffering [quoted by Jacques Cabaud in Simone Weil: A Fellowship in Love, Channel, 1964, p. 278].
While Simone Weil's identification with the workers of France was evident by a number of "extreme" acts, her singular and luminous spiritual odyssey did not become apparent until the posthumous publication of her writings. The most well-known books appearing in English are Waiting For God, including letters to a priest giving her spiritual autobiography and her reasons for refusing baptism and important essays such as "Forms of the Implicit Love of God" and "Concerning the Our Father," and Gravity and Grace, a small selection of notebook entries, arranged topically.
Weil belongs to the great tradition of French notebook-writers and essayists, and her style is based on paradox and apparent contradiction. "Contradiction," she wrote, "is the proof that we are not everything. Contradiction is our wretchedness, and the sense of our wretchedness is the sense of reality." One cannot gain a true picture of her without reading the entire notebooks and such essays on the need for social justice as "The Iliad as a Poem of Force" and The Need for Roots.
C.S. Lewis entitled his spiritual autobiography Surprised by Joy; Simone Weil might have called hers Surprised by Love and Joy. Nothing about her early upbringing in an agnostic, upper-middle-class, Jewish family in Paris would suggest that one day she would have mystical experiences of the presence of Christ and would state that "Christ Himself came down, and He took me." In his biography of her, Jacques Cabaud cites Sophocles' Antigone ("I was made for fellowship in love not fellowship in hate"), calling his book Simone Weil: A Fellowship in Love.
As a child, she felt overshadowed by her brilliant older brother, and she exhibited a strong sense of self-denial, refusing, for example, at the age of five to eat sugar because the soldiers in World War I had to do without it. Suffering from severe migraine headaches, at fourteen she experienced almost suicidal despair because of her sense of worthlessness.
She was saved when she realized that the truly humble person, through a special quality of experience, can rise above the physical and discover truth. "Truth lights up the soul in proportion to its purity, not in any sense to its quantity." Through will power setting aside physical suffering, she discovered the force of focused attention and came to view truth as available to all; in fact, attention became for her a key to study, worship, prayer, and love. Emptied of the self and propelled by a desire for truth, one focuses his complete attention in an act of patient waiting and allows the truth through grace to seize him.
She wrote:
With all things, it is always what comes to us from outside, freely and by surprise, as a gift from heaven, without our having sought it, that brings us pure joy. In the same way, real good can only come from outside ourselves, never from our own effort. We cannot under any circumstances manufacture something which is better than ourselves [Gravity and Grace, tr. Arthur Wills, Putnam, 1952, p. 94].
A desire for social justice in this world existed alongside a longing for transcendence of the material as a kind of double strand in Simone Weil's life. After extraordinary studies in philosophy with the influential teacher Alain (at the Ecole Normale she was called "the categorical imperative in skirts"), she began a teaching career in provincial lycees (secondary schools). Her unorthodox teaching methods plus her activities among the workers during the depression alienated her from both school authorities and the middle-class parents of students, and she had several different teaching positions.
In 1935, she took a year's leave of absence for factory work, weakening her health and coming to apprehend Christianity as the "religion of slaves." She also participated briefly in the Spanish Civil War but withdrew in ill health after an accidental injury. The accident was typical of a certain ungainliness that marked her attempts at direct social involvement and physical labor.
As World War II broke out, her family fled in 1940 to Marseilles and later to New York. Weil followed her parents to New York but never recovered from what she came to see as the mistake of forsaking her "roots" in France. In 1942, she joined the French Provisional Government in London, but desk work was not what she wanted. Her plans to join the underground in France frustrated, her health failing, her mind exhausted, she was hospitalized in April, 1943, and died in August.
Weil's interest in God evolved in the 1930s, a natural result of her personal inclinations, but given impetus by her year of factory work. In her spiritual autobiography she describes several key experiences during these years. For example, in Assisi in 1937, compelled "by something stronger" than herself, she knelt in a church for the first time. The year following, in Solesmes, France, at a moment of suffering from one of her headaches, an intense experience of joy came to her as she listened to Gregorian chant. In Solesmes, she also met a young English Catholic who introduced her to the metaphysical poets, and in particular to George Herbert's "Love bade me welcome: yet my soul drew back.…" She memorized the poem, and it became a prayer for her.
Other experiences of divine love followed, until they took the form of mystical visitations from Christ. By 1941, she was discussing baptism and reciting in Greek the "Our Father" as she worked for a time in the fields of southern France. The theme of the bread of the mass and the eating of transcendent bread (an image in the Herbert poem, also) counterbalances in Weil's writings her own asceticism. But the theme also becomes linked to Christ as a model for love lived out. In discussing love of one's neighbor, she says:
It is the benefactor himself, as a bearer of Christ, who causes Christ to enter the famished sufferer with the bread he gives him. The other can consent to receive this presence or not, exactly like the person who goes to communion. If the gift is rightly given and rightly received, the passing of a morsel of bread from one man to another is something like a real communion [Waiting For God, tr. Emma Craufurd, Harper & Row, reprint 1973, p. 139].
Simone Weil was never baptized and she never adopted an orthodox theology. Spuming the legalism she saw in her Jewish heritage, she was silent about the persecution of World War II; her intellectual affinity was with Greek, rather than Hebrew, thought. She also studied Sanskrit and Hinduism, finding truth in religions outside Christianity and refusing to compromise her intellectual honesty where she felt it conflicted with church dogma. She came perilously close to Gnosticism, but she was, above all, a follower of Christ as a model for radical sainthood. "Today it is not nearly enough merely to be a saint, but we must have the saintliness demanded by the present moment, a new saintliness, it also without precedent."
The appeal of Simone Weil to our time is suggested by the production in 1970 of an award-winning play, Approaching Simone, by Megan Terry, a representative of experimental, non-establishment theater in the United States. When asked about her interest in Simone Weil, Megan Terry said that "all the heroes are dead or killed or compromised, and women need heroes. That's why I wrote Approaching Simone."
PATRICIA WARD
Patricia Ward teaches French and comparative literature at the Pennsylvania State University, University Park.
Healey Willan: A Rich Musical Mixture
Healey Willan is one of an admirable breed of twentieth-century church musicians. He and others like him stand in a special relationship to the recurrent concerns in church music, quality and appropriateness. They are also distinctive in the way they relate to the known and the new, the simple and the complex. As the debate ranges among proponents of the extremes, musicians such as Willan succeed in a mediating approach that brings function and integrity together. They achieve this through a rich mixture of conservatism, liturgical sensitivity, a certain technical fluency, and a flair for brevity and economy of means. Their work is guided by a knowledge of the historical realities of the church modes, classical harmony and counterpoint, hymn and chant tunes, the vocal and instrumental traditions, and the chief forms these traditions have engendered: the anthem, the motet, and the choral prelude.
The result is a musical style that is eminently performable, satisfying to a surprising cross section of laity, clergy, and musicians. It is a kind of music that is good without being epochal, tasteful without suggesting snobbery. At its best, it is organically one with all the activities of corporate workship; yet if it must, it can stand alone.
Music of this kind is not easy to compose. Although many attempt it—David McK. Williams, Harold Friedell, Gordon Jacobs, Joseph Clokey, Eric Thiman, Martin Shaw, George Oldroyd, Everett Titcomb, David H. Williams, Austin Lovelace, Gordon Young—few consistently succeed. Willan himself, more often in his later years, seemed at times to lose the edge, going from fluency to formula. But even his weaker efforts are above embarrassment.
For organists and choir directors, the list of Willan's useful music is impressive. Attention is focused upon a few of his choral compositions, although his organ works (especially the two Preludes and Fugues, the Epilogue, the Introduction, Passacaglia and Fugue, the many hymn and choral preludes) should make up a good portion of the church organist's library.
Willan's major choral composition, An Apostrophe to the Heavenly Host, for a cappella double chorus, is a fine piece though out of reach of many choirs. It is difficult to suggest a list—others' choices would differ—but here are some starters.
First, hymn anthems (the publishers are listed in parenthesis): Now Thank we All Our God (C.F Peters), We Sing the Praise of Him Who Died (Peters), Christ, Whose Glory Fills the Skies (Concordia), Sing to the Lord of Harvest (Concordia), and Father of Heaven, Whose Love Profound (Concordia).
Then, some anthems and motets: The Three Kings (Oxford), Lord, Thou Hast Searched Me Out (Flammer), I Will Lift Up Mine Eyes (Concordia), Seven Liturgical Motets (Oxford), Behold the Lamb of God (Concordia), Isaiah, Mighty Seer (Concordia), Grant Us Thy Light (Concordia), The Spirit of the Lord (Concordia) and Sing We Triumphant Songs (H. W. Gray).
HAROLD M. BEST
Harold M. Best is director of the Wheaton Conservatory, Wheaton, Illinois.
Have something to add about this? See something we missed? Share your feedback here.
Our digital archives are a work in progress. Let us know if corrections need to be made.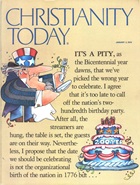 This article is from the January 2 1976 issue.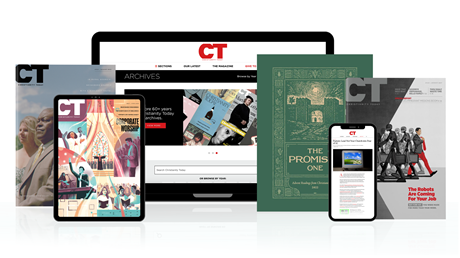 Annual & Monthly subscriptions available.
Print & Digital Issues of CT magazine
Complete access to every article on ChristianityToday.com
Unlimited access to 65+ years of CT's online archives
Member-only special issues
Subscribe
Simone Weil, or Radical Sainthood
Simone Weil, or Radical Sainthood