Green lights blink in double eyecatching announcement. The name beside the lights can be read easily with eyes searching for confirmation of a specific destination—Beirut, Rome, Ankara, Tokyo, New York, London, Zurich, Chicago, Hong Kong, Sao Paulo, San Francisco, Houston, Amsterdam, Frankfurt. What can be read by watchful eyes is suddenly further confirmed as a deep voice announces in two or three languages the departure gate.
I observed this procedure for some hours recently. We were filming in an airport, and since my job was just to watch the crew's coats and extra equipment, I had plenty of time to watch and think. Blink-blink, blink-blink, green signals pulling eyes to check the accuracy of plane number and seat assignments. People, people, people, of all nationalities, all races, all ages, all sizes and sorts—all with several things in common: their passports have been checked and are in order, their baggage has gone through the controls and has passed inspection, they have walked through the arch with the electric test declaring that they are not taking any forbidden weapons. They have fulfilled the requirements for going from where they are to another place. But can each one know, with absolute assurance, that he or she will reach that destination?
There are such things as storms, faulty motors, sabotage, and highjacking. Machines can fail, and human beings can fail, and enemies can succeed in destroying what they set out to destroy, so that the expected destinations are never reached.
The certainty of having a destination with a name, and a ticket, and the official permission to board a plane, is not a guarantee of arrival. The life jackets under the seats, the oxygen masks being demonstrated a few minutes after takeoff, emphasize the fact that no absolute guarantee is possible when one is depending upon man and machine.
Many people have troubled feelings about their destinations as they travel, whether for pleasure, or business, or in flight from wars or earthquake regions. However, far more universal is the recognition that there is another kind of "going" that everyone has to face, whether he or she packs a suitcase, buys a ticket, makes a plan, or not.
A five-year-old child of a woman in my Bible class here in Switzerland recently was in the bedroom with her little brother, three and a half, when he died choking, with croup. "Mother, Mother, he has gone! I'm alone! Philippe has gone!" Although she had never seen death before, this little girl recognized that Philippe had gone away. Where? What destination is ahead when people "go" in this way? Can one be absolutely sure of arriving there when the time comes to "go" out of the body, to somewhere else?
The Lord Jesus was speaking directly to that haunting fear when he said so clearly,
Let not your heart be troubled: ye believe in God, believe also in me. In my Father's house are many mansions: if it were not so, I would have told you. I go to prepare a place for you. And if I go and prepare a place for you, I will come again, and receive you unto myself; that where I am, there ye may be also [John 14:1–3].
Don't be fearful about the journey ahead; don't worry about where you are going or how you are going to get there. If you believe in the first Person of the Trinity, God the Father, believe also in the Second Person of the Trinity, the One who came as a light into the world not only to die for people but to light the way to a certain destination. This One, Jesus Christ, the Lamb of God, provides the ticket, is himself the light, will guide our footsteps along the way, and is even now preparing a specific, definite mansion, a place for us who are on our way. He not only promises with the absolutely certain promise of God that he is preparing the place, but states that he himself will one day return to take us there in resurrected bodies.
Hebrews chapter eleven is speaking of those who have believed, and who are part of the family of the living God, and who desire a better country, a heavenly country. Is their desire a fanciful idea, wishful thinking? God states to them, and to us, in verse sixteen, "God is not ashamed to be called their God: for he hath prepared for them a city."
There is a certain destination ahead for all who have come through "The Lamb" into the family of the living God. That destination is a very real city, a place so definite that God can say that because of the existence of this place, he is not ashamed to be called the God of those who are expecting to go there, nor to be called the God of those who are suffering tribulations, persecutions, hardships, afflictions, weariness, pain. He is not ashamed to be called the God of those who are having a hard journey, because the destination is perfect and sure.
The testimony of the Lord is sure, making wise the simple" (Psalm 19:7). When God makes a promise and declares a prophecy, even a "simple person" may be sure of the fulfilment of that promise or prophecy. God has what no human being has, the absolute power to fulfill his promises. When God states that there is a destination that is real, and also perfect, there is no doubt about its existence. When God explains the requirements for getting, there, and they are fulfilled, no storm or enemy can intervene and "hijack" or "kidnap." God the Son is able to say,
My sheep hear my voice, and I know them, and they follow me: and I give unto them eternal life; and they shall never perish, neither shall any man [any created being] pluck them out of my hand. My Father, which gave them to me, is greater than all; and no man [no created being] is able to pluck them out of my Fathers hand [John 10:27–29],
God, who spoke to the Israelites concerning a land of brooks of water, a land of wheat and barley and vines, a land of oil olives and honey, a land where they would eat bread without scarceness (Deut. 8:7–9), also speaks of the destination ahead of us with just as much certainty in Hebrews 12:22, "But ye are come unto mount Sion, and unto the city of the living God, the heavenly Jerusalem, and to an innumerable company of angels." John was describing a real destination when he said, "I John saw the holy city, new Jerusalem, coming down from God out of heaven, prepared as a bride for her husband … having the glory of God; and her light was like unto stone, clear as crystal" (Rev. 21:2, 11). This is an absolute destination, based on the promises of an absolute God.
What about the temporary "destinations," our day-by-day "journey" through time and space in present history? Is there any assurance that the "now" is protected? Isaiah 52:12 gives assurance, as we step into the "next thing" whatever that is for you or for me, that the Lord who is preparing the future destination cares about the details of the now: "For ye shall not go out with haste, nor go by flight: for the Lord will go before you; and the God of Israel will be your reward." He will go before, and be our rear guard, this One of whom we can say, "For this God is our God for ever and ever: he will be our guide even unto death" (Ps. 48:14).
EDITH SCHAEFFER
Have something to add about this? See something we missed? Share your feedback here.
Our digital archives are a work in progress. Let us know if corrections need to be made.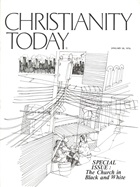 This article is from the January 30 1976 issue.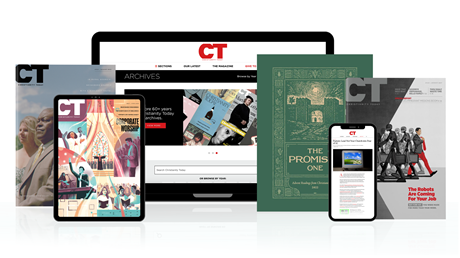 Subscribe to Christianity Today and get access to this article plus 65+ years of archives.
Home delivery of CT magazine
Complete access to articles on ChristianityToday.com
Over 120 years of magazine archives plus full access to all of CT's online archives
Subscribe Now
On Goals and Green Lights
On Goals and Green Lights