On Mother's Day, evangelist Billy Graham telephoned his greetings to his mother in Charlotte, North Carolina, then traveled the few blocks to the new 63,000-seat King County indoor stadium—dubbed the Kingdome—to open his eight-day crusade in Seattle. He was a bit apprehensive. Surveys several years ago showed that only 24 percent of Washington's population claimed church membership, the lowest of any state. Seattle's church-goers were correspondingly few in comparison with other large cities. On top of that the Sunday afternoon weather was perfect for outings to the mountains, and it was a holiday. Also, there were only 3,000 parking spaces. The evangelist feared that the 35,000 to 40,000 anticipated by organizers might not materialize, and he knew that a small crowd in a big stadium rarely made for spirited meetings.
Upon entering the Kingdome, the 57-year-old evangelist was showered with waves of applause—from more than 51,000 people. For the next four nights the crowds ranged from about 46,000 to nearly 58,000, according to estimates by the Kingdome's management (a record of 58,100 had been set a short time earlier at a Seattle Sounders soccer game). On Friday night, with Johnny Cash as a featured musical attraction, virtually all seats were taken a half hour before the meeting began. The "field" area was finally opened, and thousands jammed in from the crowded ramps—until 74,000 persons were in place. Police turned away thousands more, and some late-arriving buses were simply waved on.
"I came only to hear Johnny Cash," said a young woman from nearby Renton, "but I heard a lot more—and I'm going home with Jesus."
More than 47,000 attended the next night's youth rally, and 61,000 were on hand to hear Graham's concluding Sunday message. An average of more than 2,000 decisions were registered at each meeting, half of them first-time professions of faith in Christ, except for Friday's rally, when an estimated 7,000 stood in response to Graham's invitation to receive Christ.
Graham said he was surprised by the size of the crowds and by the high level of interest in the campaign, and he described it as one of his best crusades in years. "It showed me my little faith," he commented. It was also an answer to prayer, he confided in an interview. If the Seattle crusade had failed to be a success, he would have interpreted it as a sign from God that he should pare down immediately his mass crusades and devote more time to writing, lecturing to student groups, and spreading the Gospel in other less exhaustive ways. As it is, he doubts whether he can continue big-stadium evangelism beyond the next five years. He reminds friends that high blood pressure has been a problem of late.
Yet Graham showed no signs of slowing down during the Seattle crusade, and at one point he toyed seriously with the idea of trying to extend the campaign another week (which would have forced the cancellation of important taping sessions for television along with several overseas speaking engagements).
Both Graham and team-member Larry Turner, who coordinated the Seattle effort, attribute the success of the crusade to several factors. Among them: the commitment and shoe-leather involvement of so many pastors and churches (1,200 congregations cooperated, and 900 engaged in pre-crusade visitation, calling on well over 200,000 homes to invite people to attend); prayer preparation (more than 6,000 home prayer groups were organized); generous press coverage, mostly favorable (the crusade was twice the front-page lead story of the Post-Intelligencer); and the spiritual readiness of many people.
The music committee was assigned to enlist 4,000 choir members; instead, 8,000 signed up, and more than 6,000 sang at each meeting. Additionally, 5,700 counselors and 2,100 ushers were recruited. Hundreds of "co-laborers" worked until the wee hours each night processing information slips filled out by new converts (to be contacted later by pastors and "nurture groups"). Delegations came by bus, train, and plane from throughout the Northwest, and shuttle buses carried thousands to the Kingdome from all over Seattle (population, 550,000) and surrounding suburbs. Downtown department stores featured window displays of Graham's book Angels (1.7 million copies have sold nationally so far) and ran big ads in the newspapers, helping to make everybody aware of the evangelist's presence in town.
Singer Norma Zimmer, one of several guest musicians, added some local color when she told how she had grown up in Seattle and had accepted Christ at University Christian Church.
Crusade committee chairman Al Howell, a United Presbyterian in the office-equipment business, announced that the $435,000 budget had been met by Thursday night and that remaining offerings would be used to fight hunger and to help underwrite Graham television crusades. Three of the Seattle meetings were taped for showing on TV later (at a cost of between $1 million and $1.5 million).
Assisting Howell on the committee were persons who had been converted during a Graham Seattle crusade in 1951 (a number of pastors, choir members, and other workers likewise said they received Christ at the 1951 crusade). Attendance back then averaged about 11,000.
Local Christian leaders cite this "continuity of Billy's influence" as one reason for the crusade's success. They also point to other factors that have helped to shape the evangelical movement in the Seattle area and to give it a quality image in the eyes of the community. Many Seattle-area United Presbyterian churches were started as branch Sunday schools by the late Mark Matthews, pastor of First Presbyterian Church years ago. He was a staunch evangelical, and most of those churches still reflect that legacy. J. Murray Marshall. First Presbyterian's present pastor, is known for his evangelical leadership in the city, and he led the way in providing the crusade with strong ministerial support.
Chairman Howell and other leading laypersons are part of a downtown fellowship that was begun in 1935 by the late Norwegian immigrant Abraham Vereide, a Methodist preacher and father of the international prayer-breakfast movement. The group has helped to promote spiritual maturity and unity among the city's lay Christian leadership.
Also helping the cause is the presence of 2,200-student Seattle Pacific College, an evangelical school related to the Free Methodist Church. It is one of only two private colleges in the area, gets plenty of coverage in the cultural and sports columns of the daily press, and commands wide respect in the community. Mayor Al Uhlman is an SPC graduate. The son of a United Methodist minister, he told the opening-day crusade audience in a welcome speech that Jesus Christ is "the only one who can bring the peace, hope, and sense of purpose we need." (He is now running for the Democratic nomination for governor.)
Another highly regarded evangelical organization is King's Garden, which operates one of the best Christian retirement communities in the country, a first-class radio ministry, schools through grade twelve (the sixty-voice high school choir packed 7,500 crusade choir packets with twelve musical selections each), and an international Christian relief program (World Concern) that has been adopted by many Seattle citizens as their own.
Thus, thanks in part to such evangelical visibility and involvement, Seattle was "ready" for Graham's visit. In pre-crusade appearances he addressed a record-breaking crowd of 800 civic, business, and professional leaders at a Rotary Club meeting. His suggestion that a copy of the Ten Commandments ought to be hung in every classroom got an ovation. In another meeting, he was interviewed by editors from fifty high-school newspapers.
During the crusade, Graham spoke on family life, personal and national morality, international problems, the new-birth experience, and the second coming of Christ. In one talk he made an off-the-cuff comment against abortion that drew a round of applause. His sermons are chock-full of Scripture and tend to be more expository than in his early years in evangelism, and he keeps interest high with an illustration about every four minutes or so.
Graham has spoken personally to more than 80 million persons in dozens of countries since 1947, and there have been some 1.5 million "inquirers," the majority of them making professions of faith. He hit the sawdust trail in 1947 with singer George Beverly Shea and associate evangelists Cliff Barrows and Grady Wilson. The Billy Graham Evangelistic Association (BGEA) was formed in 1950. It embraces many facets of outreach today: television and radio ministry, book and magazine publishing, motion picture production (some 300 films), a syndicated newspaper column carrying Graham's by-line, crusades led by a staff of evangelists, sponsorship of evangelism congresses, aid to other Christian projects, and schools of evangelism for pastors and seminarians.
The schools of evangelism are one of the most important but least-known phases of major crusades. In all, more than 20,000 pastors, seminarians, and other Christian leaders have been trained in the week-long U. S. schools since the first one in Anaheim, California, in 1965. They are underwritten about evenly by retired businessman Lowell Berry, a Presbyterian of Walnut Creek, California, and by the BGEA. Costs run about $100,000 per school. Travel and lodging scholarships are provided; participants buy their own meals. Training materials are offered free, and the schools feature some of the best-known leaders in the country. Some of them: Charles Allen, 62, best-selling author (God's Psychiatry) and pastor of the 11,000-member First Methodist Church of Houston, United Methodism's largest; Thomas Zimmerman, general superintendent of the Assemblies of God; Pastor D. James Kennedy (Evangelism Explosion) of Coral Ridge Presbyterian Church in Florida. Graham staffers also participate.
The schools are under the direction of BGEA staffer Noble Scroggins, 48, a former Four-Square pastor, and Kenneth Chafin, 49, pastor of the 6,500-member South Main Baptist Church of Houston and former evangelism chief for the Southern Baptist Convention. Scroggins handles administration. Chafin looks after programming.
Mornings are spent in plenary sessions (Bible study, The Minister's Devotional Life, Training the Laity, Women in the Church, Church Growth) and afternoons in seminars. The goal, says Chafin, is not to train people to be mass evangelists but to strengthen the local church's program of evangelism through helping to motivate and equip the pastor. Wives are invited to attend; often they gain new insight into the problems and challenges of the ministry and are better able to relate sympathetically to it. Thus reinforced, some pastors on the verge of leaving the ministry have chosen to stay.
One such pastor among the 1,340 registrants at the Seattle school said having his wife along was the most valuable feature of the school. "We had a long talk," he said. "She's fired up and wants to go back and win our neighborhood to Christ." With his wife's new zeal and encouragement, the inspiration and training at the school, and the remarkable response at the crusade to cheer him on, he headed back to his less-than-200-member church—apparently determined to fulfill his role in the Great Commission.
"The school's leaders recognize that the pastor is hurting and has needs, and what is offered here is right on target," commented James Christianson, pastor of Seattle's Trinity Presbyterian Church.
"Alumni" of the schools report lasting benefits. A United Methodist pastor returned from a school in Cleveland and for the first time in a service offered an invitation to receive Christ. Twenty persons responded.
A Southern Baptist church in the Lubbock, Texas, area has grown 100 percent in five years, and the pastor credits an evangelism school's influence in his ministry.
The full significance of the Seattle crusade is still to be unfolded in the years ahead, stated Pastor Marshall, in whose church the school of evangelism was held. In making the remark, he had the long-term potential of the school mainly in mind.
So did Presbyterian pastor William Bray, 45, of Walla Walla when he declared: "This week may mark the beginning of a wave of evangelistic fervor and church growth throughout the entire Northwest."
STOP SCOTT MOVEMENT
First-grader Scott Jenkins of Salem, New Hampshire, has been ordered by a unanimous vote of authorities to stop praying out loud during the silent meditation period in his classroom. The boy had been told to stop praying aloud by school officials, but his father appealed, claiming his son's inalienable rights were being violated. The appeal was denied, and Scott is now praying silently.
Look-Up Hookup
The National Aeronautics and Space Administration has approved the use of a $260 million satellite for a Christian broadcasting experiment called "Project Look-up." Expected to be launched in January, the project involves broadcasters from about fifty Christian organizations who will beam "community service programs" to South American lands.
Dud In Dallas
Explo '76 has fizzled. The vision of 21-year-old Lowell Beasley, a Southern Baptist of Aurora, Illinois, it was a plan to enlist nationally known speakers and singers to fill the Texas Stadium near Dallas for a week-long rally this month. But most advertised personalities said they either had not been contacted or had not made any firm commitments. Some mistakenly thought the event was being sponsored by Campus Crusade for Christ, which put on Explo '74. The Postal Service says Beasley is returning $10 deposits that were mailed to him in response to advertisments.
Have something to add about this? See something we missed? Share your feedback here.
Our digital archives are a work in progress. Let us know if corrections need to be made.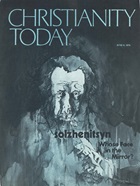 This article is from the June 4 1976 issue.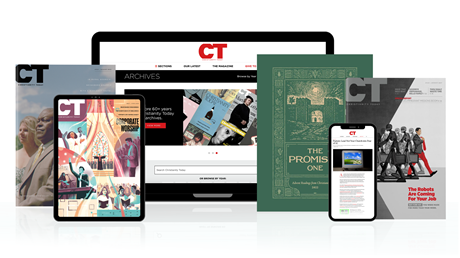 Subscribe to Christianity Today and get access to this article plus 65+ years of archives.
Home delivery of CT magazine
Complete access to articles on ChristianityToday.com
Over 120 years of magazine archives plus full access to all of CT's online archives
Subscribe Now
Billy Graham in the Kingdome
Billy Graham in the Kingdome