God entrusts one hundred and sixty-eight hours to me every week. During most of them I make myself available to people in my congregation. I'm not working all those hours, but I'm around and available—except for three hours, hours that I spend exclusively with Shirley.
For those hours we need to get away from church people and church problems. Shirley is one of those church people, too. Her problem is that she sees very little of her husband. We need those three hours to ourselves.
Call me any other time. I'm the Lord's servant. I love being a minister and a pastor. I complain a little now and then, especially about the jangling telephone. But no matter how tired I feel, or how pushed the day has been, there's something about the ringing of the phone—it starts the adrenalin flowing, the muscles tensing up, and I'm ready for a new adventure. Nothing stimulates me mentally and physically like the telephone. Shirley has commented that even in the middle of the night my hand clasps the phone before the second ring and I'm wide awake. Call me anytime—except Friday evening.
It started when our children were small. I set up monthly dinner dates with each child. He or she chose the place, and for at least an hour the two of us talked. I learned a lot about my children on those once-a-month outings.
One day I suggested a weekly date with their mother. The kids loved the idea. They teased us but encouraged us.
One Friday we visited a member of our church who had come home from the hospital that day. She had asked us to come. We arrived at about six and left thirty minutes later. "I'm taking Shirley to a concert," I explained.
Mary was disgruntled. "Why, what does he think we pay him for? I needed him that night. He could go out with his wife anytime." (Of course, Mary didn't say that to me—I heard it two weeks later from the fifth or sixth link in the chain!)
She was right—I could have taken Shirley out some other time; but those other evenings have a way of disappearing. Midweek services or choir practice for Shirley, a board meeting for me. Men of the Church. Women of the Church. Youth activities. Visitation.
So we decided: Friday night is our night. But there were still a few problems to work out.
"Hey, Shirley, let's invite Roger and Sue to go with us."
She shrugged. "Okay, if you want to."
"It doesn't have to be them. We've seen a lot of them lately. How about Ken and Mavis?"
"A whole evening with them? I like them, Cec, but Ken talks too much."
"Yeah. Well … hmm, Steve and Linda. I've been meaning to get together with them."
"If that's what you want."
"Well, if you don't want me to ask them, we can call—"Then Shirley pulled a trick that works every time. Some women cry, but tears don't bother me. Women often cry in my office, and so do a lot of men.
Some people try storming and screaming. I can sit and let it flow. They soon calm down and we can talk.
Or they try clamming up. Silence doesn't intimidate me. I can sit with my thoughts for a long time in the presence of another person. I don't feel a compulsion to keep words flowing.
But Shirley has her own way. She stands directly in front of me and looks into my eyes. And when those soft blue eyes focus on me, I'm hooked.
"You mean—you mean you don't want anyone else?"
Then the clincher. Shirley reaches up and touches my face. A gentle stroking across my cheeks and jaw.
"Sure, honey, why didn't you say so? Just the two of us."
And that's the way it is. Occasionally by joint agreement we invite another person or couple to go along. And occasionally there are unavoidable conflicts—such as a week-end retreat for church officers or Good Friday services. Then we change to another evening or cancel for the week. But those conflicts don't intrude often because we don't let them.
So, please call me anytime I can help—anytime except Friday night!—CECIL B. MURPHEY, pastor, Riverdale Presbyterian Church, Riverdale, Georgia
Have something to add about this? See something we missed? Share your feedback here.
Our digital archives are a work in progress. Let us know if corrections need to be made.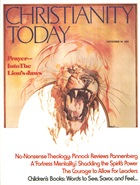 This article is from the November 19 1976 issue.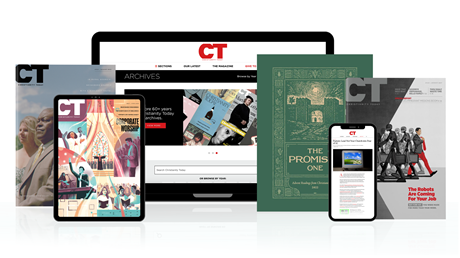 Subscribe to Christianity Today and get access to this article plus 65+ years of archives.
Home delivery of CT magazine
Complete access to articles on ChristianityToday.com
Over 120 years of magazine archives plus full access to all of CT's online archives
Subscribe Now
Minister's Workshop: Don't Call Me on Friday Night!
Minister's Workshop: Don't Call Me on Friday Night!