The Magazine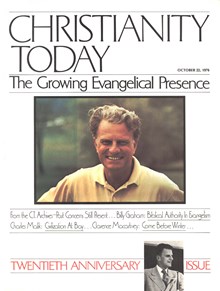 Read CT online anywhere you go.
Subscribers get full print and digital access, including:
10 award-winning print issues
PDFs of each issue
Full web access to ChristianityToday.com
60+ years of magazine archives
Table of Contents
The CT Archives are a rich treasure of biblical wisdom and insight from our past. Some things we would say differently today, and some stances we've changed. But overall, we're amazed at how relevant so much of this content is. We trust that you'll find it a helpful resource. - Mark Galli, editor-in-chief
Also in this Issue:
Campaign Countdown: 'Bloc Busters'
Civilization at Bay
Come before Winter
Editor's Note from October 22, 1976
Eutychus and His Kin: October 22, 1976
The Year of the Evangelical '76
Biblical Authority in Evangelism
Not of an Age but for All Time
Refiner's Fire: John Osborne's Martin Luther
Comforted and Comforting
Finding the Fields in Gallup's Polls
Minister's Workshop: Making House Calls on the Family
Book Briefs: October 22, 1976
Revival and Risks in Romania
Will an Evangelical President Usher in the Millennium?