The Magazine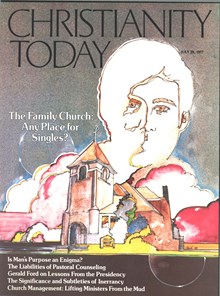 Read CT online anywhere you go.
Subscribers get full print and digital access, including:
10 award-winning print issues
PDFs of each issue
Full web access to ChristianityToday.com
60+ years of magazine archives
Table of Contents
The CT Archives are a rich treasure of biblical wisdom and insight from our past. Some things we would say differently today, and some stances we've changed. But overall, we're amazed at how relevant so much of this content is. We trust that you'll find it a helpful resource. - Mark Galli, editor-in-chief
Also in this Issue:
Editor's Note from July 29, 1977
FILLER TITLE
FILLER TITLE
Graham and the Press: New Look at Ledgers
Lessons from the Presidency
Southern Baptists: Tensions and Togetherness
The Family Church Any Place for Singles?
Lifting Ministers from the Mud
Is Man's Purpose an Enigma?
Refiner's Fire: Nadezhda Mandelstam: Memoir as Prophecy
FILLER TITLE
The Spider's Web: Deceptive Beauty
Minister's Workshop: Counseling Is a Waste of Time
Whither Biblical Inerrancy?