The nativity is a time to take courage. How brave am I? Can I bear, without breaking apart, this extraordinary birth?… The enfleshing of the Word which spoke the galaxies made the death of that Word inevitable. All flesh is mortal, and the flesh assumed by the Word was no exception in mortal terms. So the birth of the Creator in human flesh and human time was an event as shattering and terrible as the eschaton. If I accept this birth I must accept God's love, and this is pain as well as joy because God's love, as I am coming to understand it, is not like man's love.
What one of us can understand a love so great that we would willingly limit our unlimitedness, put the flesh of mortality over our immortality, accept all the pain and grief of humanity, submit to betrayal by that humanity, be killed by it, and die a total failure (in human terms) on a common cross between two thieves?
What kind of flawed, failed love is this? Why should we rejoice on Christmas Day? This is where the problem lies, not in secular bacchanalias, not in Santa Clauses with cotton beards, loudspeakers blatting out Christmas carols the day after Thanksgiving, not in shops full of people pushing and shouting and swearing at each other as they struggle to buy overpriced Christmas presents.
No, it's not the secular world which presents me with problems about Christmas, it's God.
Cribb'd, cabined, and confined within the contours of a human infant. The infinite defined by the finite? The Creator of all life thirsty and abandoned? Why would he do such a thing? Aren't there easier and better ways for God to redeem his fallen creatures?
And what good did it all do? The heart of man is still evil. Wars grow more terrible with each generation. The earth daily becomes more depleted by human greed. God came to save us and we thank him by producing bigger and better battlefields and slums and insane asylums.
And yet Christmas is still for me a time of hope, of hope for the courage to love and accept love, a time when I can forget that my Christology is extremely shaky and can rejoice in God's love through love of family and friends.
Christology: I'm all right through the first verses of John's Gospel, verses which are in the language of poetry which breaks through reason and strengthens my courage. My heart lifts at that first great cry which brought creation into being; Christ, the second person of the Trinity making all those galaxies burning with incredible brightness, those brilliant flaming suns which themselves are not the light which made them: I rejoice. It's the Word, the Light coming to us as Jesus of Nazareth, which confounds my imagination … If I am to say anything about Christmas it must be through the particular, so let me tell the story of one particular Christmas.…
That Christmas evoked in me that response which makes me continue to struggle to understand, with the mind in the heart, the love of God for his creation, a love which expressed itself in the Incarnation. That tiny, helpless baby whose birth we honor contained the Power behind the universe, helpless, at the mercy of its own creation.
We had our usual full house of family and friends. Bion was again home from college. Our second daughter and son-in-law, Maria and Peter, were home from England, where Peter has a research job in theoretical chemistry at the University of Warwick. Our elder daughter and son-in-law, Josephine and Alan, had recently moved into a large and comfortable apartment at the General Theological Seminary, where Alan is associate professor of ascetical theology, and there was a good deal of going back and forth between the two households.
Maria and Peter had not expected to come home for Christmas; it seemed an unwarranted expense. But when Peter's mother, Dorothy, had a heart attack they came immediately.… Saturday night the rest of our household went to bed rather late, after a lovely long evening of conversation. We were deep in sleep when the phone rang; it was one of Peter's sisters. One of the hospital nurses had gone to check on Dorothy and found her dead in her sleep.
Maria and Bion stayed up to wait for Peter while he drove from Poughkeepsie. Hugh and I felt that we would be more useful the next day if we got some sleep, so we turned out the light with heavy hearts.
In the morning I was awake before Hugh, so I slipped out quietly. Maria's and Peter's door was open and their lights on, so I knocked and went in. Peter was lying in bed, looking drawn and dry-eyed, although Bion and Maria told me later that he had done a lot of crying the night before, which relieved me, and I knew that he would need to do more crying later.
I sat beside him and took his hand.
"Madeleine, are you going to church this morning?"
"No, Peter, I want to stay here with you." …
Peter was very torn within himself about his mother's funeral, and Christmas the next day. The loss of a mother is always a grief, but Dorothy had lived her life, and had died as she would have wished to die, with none of the pain and terror she had dreaded. So I put my arms about Peter and said, "On Christmas Day I think it's all right for you to relax and enjoy being with so many people you love and to help us make it a happy day for Lena and Charlotte." …
Was that advice to a bereaved son all right? Is it proper to grieve and rejoice simultaneously?
If the love I define in my own heart as Christian love means anything at all; yes. If the birth of Christ as Jesus of Nazareth means anything at all; yes.…
Oh, yes, according to Scripture the Lord throws a few thunderbolts when he is angry, but by now we must have angered him so much that it's a wonder he hasn't wiped us out entirely, at least on this recalcitrant planet. We are surely one of his failures. He loved us enough to come to us, and we didn't want him, and this incredible visit ended in total failure, and this failure gives me cause to question all failure, and all success.
And even after failure he continues to be concerned for us. We can, if we will, recognize him as he is manifested in love, total, giving love. And I believe that in one way or another we are all meant to receive him as Mary did.
The church is quiet. There is no room for sentimentality here after Dorothy's funeral in the sterile atmosphere of the mortuary. It would be easy now for me to close off, to say no, no, to the pain. But the name of the pain is love, love so great that it was willing to share and redeem our living and dying. It was a very small gift that God gave us for Christmas two thousand years ago: only a baby: only himself.
In the funeral parlor that morning I had been alienated from myself in cold and darkness: now I was thrown into myself in a loveliness of light.
When Alan got up into the white and gold pulpit to preach, his voice was hoarse—it was the beginning of an abcess on his tonsils—but his words were clear and part of the light; and the meaning of the Word made flesh was itself the light.
As we got back to the seminary we sat down to relax and have a drink together, and Hugh said that when he had been putting the children to bed Lena had turned to him and said, "You know, Gum, sometimes I forget to tell you how much I love you, but I do."
And that, too, was Christmas.
This is the irrational season
When love blooms bright and wild
Had Mary been filled with reason
There'd have been no room for the child.
Madeleine L'Engle is the author of "A Wrinkle in Time," which won the Newburry Award in 1963, and many other books. Her latest novel, "A Swiftly Tilting Planet," was published this fall. This excerpt is taken from "The Irrational Season," copyright 1977 by Crosswicks, Ltd., and is used by permission of Seabury Press, New York.
Have something to add about this? See something we missed? Share your feedback here.
Our digital archives are a work in progress. Let us know if corrections need to be made.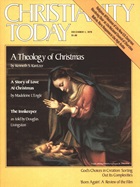 This article is from the December 1 1978 issue.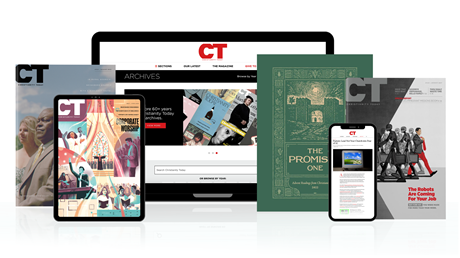 Annual & Monthly subscriptions available.
Print & Digital Issues of CT magazine
Complete access to every article on ChristianityToday.com
Unlimited access to 65+ years of CT's online archives
Member-only special issues
Subscribe
Sometimes I Forget to Tell You How Much I Love You
Sometimes I Forget to Tell You How Much I Love You