The Magazine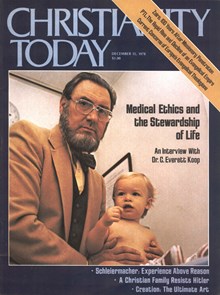 Read CT online anywhere you go.
Subscribers get full print and digital access, including:
10 award-winning print issues
PDFs of each issue
Full web access to ChristianityToday.com
60+ years of magazine archives
The CT Archives are a rich treasure of biblical wisdom and insight from our past. Some things we would say differently today, and some stances we've changed. But overall, we're amazed at how relevant so much of this content is. We trust that you'll find it a helpful resource. - Mark Galli, editor-in-chief
Medical Ethics and the Stewardship of Life
Many people believe that what is legal is right. An interview with C. Everett Koop.
Also in this Issue:
Broken Resolutions
Editor's Note from December 15, 1978
Jim Jones: Man Who Would Be 'God'
PTL: Please Toss a Lifesaver
Teen-Age Preacher
Eutychus and His Kin: December 15, 1978
Born in a Barn
Medical Ethics and the Stewardship of Life: An Interview with C. Everett Koop
The Pietistic Heritage of Schleiermacher: Are We Mimicking His Mistakes?
Creation: The Ultimate Art: Can an Off-Ramp Be Art?
A Christian Family Resists Hitler: A German Remembers
Refiner's Fire: Taking Satan Seriously
Minister's Workshop: Mr. Ubiquitous
Book Briefs: December 15, 1978
Zaire Protestants: A Good First Century
A Report on F.E.E.T.