Some Office Valentines
Harold Lindsell,
Keep ringing the bell.
Elect Kenneth Kantzer,
Your wisdom please flaunt, sir.
Keith Stonehocker, interesting name,
Try to win the numbers game.
Just published books are Donald's Tinder Sometimes hot but more times cinder.
Here's a secret for you, all alone, Cheryl Forbes,
C.S.L./J.R.R.T. are alive in their orbs.
Douglas, Armerding, Beyerhaus, Gasque, You share a most unstructured task With Howard, Linton, Kuhn, Yamauchi, Tischler, Morris, and John Warwick Montgomery.
Connie Seeley, though hours are killing, May you find your job fulfilling.
Ed, you plow the field for news Which often gives us fortnight blues.
Harold Myra
Light a fira.
EUTYCHUS VIII
Outstanding Feature
CHRISTIANITY TODAY's issue featuring Cornelius Van Til (Dec. 30) was outstanding. I found the interview by David Kucharsky and the tribute to Van Til by Grady Spires nostalgic and challenging. Nostalgic because as one of his students I remembered those vigorous classroom exhibitions, and challenging because I, as well as the whole church, need to be constantly reminded that our message is still basically Christ Jesus and him crucified.
ROBERT L. ALDEN
Associate Professor of Old Testament Conservative Baptist
Theological Seminary
Denver, Colo.
Thank you, David Kucharsky. In 1960 I tried to convince Time magazine of the importance of the work and contributions of Van Til.… They … were not convinced. I'm happy that in 1977 CHRISTIANITY TODAY saw Van Til as newsworthy.
LOIS SIBLEY
Warrensville Heights, Ohio
I am grateful to CHRISTIANITY TODAY for its tribute to Van Til. Van Til's apologetic was concisely and respectfully presented. Without dealing in undue exegetics and confining my remarks solely to the article cited I would like to make a few observations which I believe are pertinent to those contending for the faith today. Van Til states that we have nothing in common with the unbeliever save a rudimentary knowledge of God by way of his creation.… Contrariwise, Gordon Clark is represented as asserting that logic, namely the law of contradiction, is an ally to the faith, providing that common ground sought for with the unbeliever.
One has only to go beyond Romans 1:19 to discover that both Van Til and Clark are constructing their arguments on faulty premises. While it may be valid that unregenerate men may begin the reasoning process by utilizing the law of contradiction, man's reasoning process itself is, nevertheless, futile or vain (Rom. 1:21).… Furthermore it is just as obvious that although mankind once "knew" God via creation (and tradition), God has long since given man up, due to his rebellion, to a darkened and undiscerning heart (again, Rom. 1:21 f.). To suggest that man can know God by way of observing nature in our Darwinian culture is to misconstrue the meaning of the text.
(THE REV.) LA VERNE FRED NESBITT
Lompoc, Calif.
Films For Christians
To me CHRISTIANITY TODAY is a thought provoking magazine. In it I find much to stimulate my thinking. I was particularly interested in the comments by readers of Paul Leggett's article, "Of Heroes and Devils: The Supernatural on Film" (Nov. 18) and especially that of reader Dennis K. Chan (Dec. 30).
What particularly struck me were his last two sentences, when he said that "Perhaps we can find an evangelical answer to the Gothic film. Why can't Christian producers make films out of the writings of C. S. Lewis or John Bunyan?" For the benefit of Mr. Chan and other readers, let me point out that there is now in production a film on C. S. Lewis (I do not yet have a release date), and a very outstanding dramatic version of Pilgrim's Progress is to be released in March. On this 300th anniversary of the writing of this masterpiece by John Bunyan, it is appropriate to release a filmed version, and especially one that is sure to become a classic.
For any who may not know where to obtain great Christian films of this type, I invite them to write to the Christian Film Distributors Association, 1457 So. Broadway, Denver, Colorado 80210, and ask for the Directory of Members that gives names and addresses of Christian libraries carrying them. There is no charge for this directory.
HARVEY W. MARKS
Director of Publications
Christian Film Distributors Association
Denver, Colo.
Right Film—Wrong Text
I saw the film Oh, God! the other night—as it happened, just after I read the review of it in Refiner's Fire (Dec. 30). Philip Siddons's theological reflections leave me sad.
Of course the film isn't perfect. Of course it falls short. Was Siddons expecting something else?… I went expecting to be entertained, amused. I was not disappointed. But I came away deeply impressed by the way the film succeeded in expressing that basic theme of Jesus' teaching—that the way we treat our fellow man and the way we treat God are inseparably connected.…
It seems to me that Siddons missed the real statement in the Christological statement. Of course it was not a theologically impeccable exposition of John I—wrong text. Try Acts 10:34 and following.
TERRY A. SMITH
Covenant Congregational Church
Bridgeport, Conn.
A Vote for The ERA
The implication throughout the news story, "Feminist Power: The Battle of Houston" (Dec. 30) is that one cannot be pro-life and pro-family and also pro-ERA. Please know that there are a great many women and men who are strongly pro-life, pro-family, pro-ERA, and deeply committed Christians.
The proposed ERA reads: "Equality of rights under the law shall not be denied or abridged on account of sex." I see nothing in that which indicates a lack of respect for life or for the family unit. Indeed, its passage would strengthen the family unit since family members would not be bound by sex-role stereotypes. Wives and husbands will be free to respond to each other because of genuine love and respect, rather than out of a sense of dependency; and each individual will be able to make more responsible use of his/her God-given talents in whatever field these talents lie.
The ERA is the most truly Christian piece of legislation to be proposed in a long time, and I'm convinced that both Jesus Christ and the Apostle Paul would heartily endorse its ratification.
KAY ROATH
Campus Ministry Pastor
Moorhead State University and Concordia College
Moorehead, Minn.
I knew the job market was rough, but I didn't realize that I needed a Harvard Law Degree and the managerial ability to organize a convention for 15,000 people in order to qualify as a "typical housewife" like Phyllis Schlafly!
MARGARET P. HANNAY
Westerlo, N. Y.
Misunderstanding Sider
After enjoying reading CHRISTIANITY TODAY throughout 1977, I was deeply disturbed by the final article appearing in the last issue of the year (Current Religious Thought, "On Helping the Hungry," Dec. 30). It was a perplexing article for a number of reasons:
1. It seemed more appropriate to appear in Nation's Business or U. S. News and World Report than in a theological journal.
2. Mavrodes seems to have missed the entire thrust of Sider's book.
3. Although the book in question purports to be a biblical study, your reviewer chose not to interact with the wealth of material Sider collated from God's Word.
4. In a manner similar to most of my philosophy professors in college, Dr. Mavrodes has succeeded in clouding an important issue with a lot of rhetoric that is almost unintelligible to a person not skilled in economics.
5. The author also had nothing good to say about Rich Christians in an Age of Hunger, nor did he leave us with anything practical to do about the world hunger problem or our own gluttonous lifestyles—which Sider did, at least.
6. He left me with the impression that he sides with the "system" rather than those who would attempt to change the system for the benefit of our billion starving neighbors.
TORREY H. BRINKLEY
First Mennonite Brethren Church
Wichita, Kans.
Two cogent points are salient, points which we seldom hear today in the debate concerning a Christian response to world hunger. First, the United States and Canada are not evil-minded, callous nations who are the sole cause of world poverty. Second, there is a reason why the USA is the leading agricultural nation in the world, namely the unique ability of the American farmer. The proper response is not to wring our hands and bemoan our guilt complex, but to get out and do something. Our church contributed over $1000 to World Vision "bread loaf banks" and to the excellent long range work of Heifer Project.
JAMES A. THOMSON
Bethel United Presbyterian Church
Enon Valley, Pa.
Away From Samuel Goldwyn
I wish to express my appreciation for the article "Faith To Face Failure, Or What's So Great About Success?" by Vernon C. Grounds (Dec. 9).
This article expresses a truth greatly needed in our day—especially in evangelical circles. I am so worn out with the adoption and emphasis of non-Christian standards of success. Mr. Grounds certainly sounds like a prophet. I toss my hat into the ring with him so that I may have the opportunity of following in person. We are so saturated with the dramatic, we have unknowingly adopted Samuel Goldwyn's philosophy of film-making. He once said: "I want a film which begins with an earthquake and works up to a climax."
BILL DRAPER
College Church of the Nazarene
Bourbonnais, Ill.
Have something to add about this? See something we missed? Share your feedback here.
Our digital archives are a work in progress. Let us know if corrections need to be made.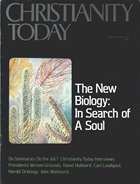 This article is from the February 10 1978 issue.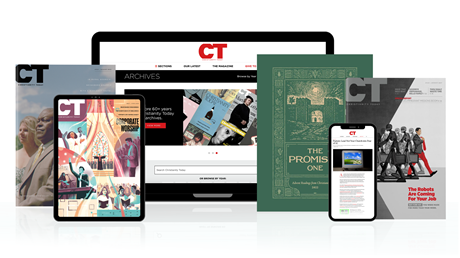 Subscribe to Christianity Today and get access to this article plus 65+ years of archives.
Home delivery of CT magazine
Complete access to articles on ChristianityToday.com
Over 120 years of magazine archives plus full access to all of CT's online archives
Subscribe Now
Eutychus and His Kin: February 10, 1978
Eutychus and His Kin: February 10, 1978