The Magazine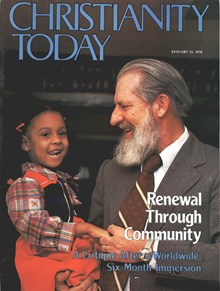 Read CT online anywhere you go.
Subscribers get full print and digital access, including:
10 award-winning print issues
PDFs of each issue
Full web access to ChristianityToday.com
60+ years of magazine archives
The CT Archives are a rich treasure of biblical wisdom and insight from our past. Some things we would say differently today, and some stances we've changed. But overall, we're amazed at how relevant so much of this content is. We trust that you'll find it a helpful resource. - Mark Galli, editor-in-chief
Graham's Beliefs: Still Intact
Contra claims to universalism, evangelist says, "I do believe that non-Christians are lost."
Also in this Issue:
Editor's Note …
Voluntary Disclosure: Will It Work?
Eutychus and His Kin: January 13, 1978
A Severe Mercy
Journey to Renewal
The Word from Nag Hammadi
Is Your Photocopier an Illegal Weapon?
Refiner's Fire: Bruce Cockburn: A Festival of Friends
Religious Leaders: A Glance Back, A Look Forward
Tracks
Church and State in England: Reflections on Jubilee Year
Book Briefs: January 13, 1978
Program to Combat Atheism