National Association of Evangelicals
Adrian Rogers ended with a flourish, much as he would in his 11,000-member Bellevue Baptist Church in Memphis, Tennessee. "If you're going to heaven," he preached, "you're not going on the ladder of logic, or the rocket of reason, but on the railroad of redemption—the old T & O, Trust and Obey."
Rogers's opening night address set the tone for the 37th annual convention of the National Association of Evangelicals. At an ultra-modern hotel near Orlando, Florida, over 900 conferees heard old-time preaching and emphasized the gospel fundamentals of salvation and evangelism—all built around the theme, "Jesus Christ: Now More Than Ever."
A position paper, adopted by the assembly, explained that in today's "dangerous world, with its economic, political, and moral ills, Christ alone offers an 'answer.' " NAE pledged itself to an evangelistic concern for the world's 2.9 billion unreached peoples, including the 80 million unchurched and 60 million inactive church members in the United States.
Reiterating those themes during conference addresses were morning Bible study leader Bruce Dunn, a Peoria, Illinois, Presbyterian pastor and radio broadcaster; Warren Webster, general director of the Conservative Baptist Foreign Mission Society; and Paul Smith, pastor of People's Church, Toronto, one of the largest evangelical churches in Canada.
Some delegates complained privately that the two-day conference lacked the "intellectual challenge" of previous years. But NAE executive director of twelve years Billy Melvin, who said convention themes are varied from year to year to provide a "rhythm," felt good about the program. "It's been a long time since we've had some real Bible teaching and been challenged to reach the lost," he said.
The conferees also spent a considerable amount of time exegeting the First Amendment. In their resolution, "Religious Freedom," convention delegates protested against government activities that violate the separation of church and state. The resolution criticized the Internal Revenue Service (IRS), which "continues to propose and adopt one resolution after another that seriously erodes First Amendment rights"; specifically cited was an IRS proposal to withdraw the tax exempt status of private church schools that do not maintain a racial balance stipulated by the IRS commissioner (Jan. 5 issue, p. 42). The NAE asked Congress to legislate limits to IRS involvement in "the enforcement of social policy as distinct from the collection of taxes."
The resolution also warned evangelicals that the Charitable Contribution Disclosure Act, formerly called H.R. 41, had been reintroduced in Congress as H.R. 825, a bill that would open church records to more intensive government inspection. The NAE also warned that the proposed Lobby Disclosure Act would curtail church groups' contact with, and influence of, legislators unless those groups registered as lobbyists and worked through other "red tape." The resolution concluded with a call to evangelicals for self-regulation, to prevent any abuses that may have prompted greater IRS and congressional involvement in religious sectors.
Other resolutions lacked bite, or were toned down to prevent disunity within the body. A resolution advocating legislation to provide tuition tax credits to parents of children in private schools was tabled since convention opinion was divided. The social action commission drafted a resolution to protest the nuclear arms race; and the NAE resolutions committee used the commission's document as a reference to draft a similar resolution, but one less likely to alienate the nonpacifist "peace through strength" members. The final resolution adopted by the assembly urged the United States government to "exercise reasonable restraint in the production and use of its military capability."
By resolution, the NAE also expressed concern for the security of Taiwan and for the preservation of religious freedoms there. The NAE, whose membership represents 3.5 million Christians in thirty-eight denominations, also reaffirmed its opposition to abortion on demand and to "attempts to obliterate sexual distinctions between men and woman in order to promulgate unisexual or homosexual preferences and practices."
Though its convention theme was traditional, the NAE indicated it is breaking ground in other areas—in the literal sense in Carol Stream, Illinois, where its $1 million headquarters is nearing a July completion date.
The NAE has begun two new communications efforts. At a convention-ending banquet, noted preacher and radio broadcaster Stephen Olford was commissioned as NAE's "minister-at-large." His 30-minute radio show, "Encounter," will continue, but as a vehicle of NAE and with accompanying informational blurbs from the organization. He also will conduct seminars and speak at NAE events.
NAE's Office of Public Affairs in Washington, D.C., last month issued its first "Washington Insight,"—a newsletter designed to keep evangelicals informed about the latest happenings on Capitol Hill. The project is largely the work of Robert Dugan, formerly involved in Colorado politics, who recently joined the office staff as its executive director.
World Relief, which only recently became directly involved with the U.S. government in refugee assistance programs, announced that it intends to find sponsors for and to place 500 refugees by the end of this month and up to 200 more each month thereafter. As the emergency relief arm of NAE, World Relief announced at the convention the first winner of its "Helping Hand Award," Paul Munshi. He heads the Christian Service Society, World Relief's counterpart agency in Bangladesh, and was cited for establishing and maintaining a number of self-help, assistance-to-the-poor programs there.
Convention workshops covered a broad spectrum, from social justice with black leader John Perkins to minority evangelism with American Indian Thomas Claus to religious broadcasting and politics with former congressman John Conlan. And the conference participants, who hail from diverse denominational backgrounds, left satisfied—either for home or for a postconvention weekend at Disney World or another Florida spot. They had survived another year without major controversy—something Melvin attributes to the group's common ground approach, in which members ask "At what points do we all agree?" and work from there.
The National Association of What?
Evangelicals … who are they really? Finding a conclusive definition for evangelical is as elusive as the Holy Grail.
"I think of a carnival revival, tent shows, and Elmer Gantry," said a Wyandotte, Michigan, travel agent, who was staying at the same hotel as the NAE delegates during their recent convention. While serving ice cream to a hungry NAE delegate at the much-frequented coffee shop, hotel employee Charlene Watson opined, "An evangelical is a religious person, I guess, somebody who goes to church every Sunday … a real saint."
When several NAE conferees themselves were asked to define evangelical they modestly declined calling themselves saints, but they didn't agree on a single definition.
In his NAE presidential address, Carl H. Lundquist called an evangelical "a person who has heard the good news—who's responded to the good news, and now is actively sharing that good news."
As the administrative head of World Evangelical Fellowship, Waldron Scott travels widely. He said that he finds four characteristics, "four things that come up again and again," of Christians around the world who could be typified as evangelical: (1) a personal experience with God; (2) a strong priority for Scripture—believing that it is authoritative; (3) a passion for holiness in the Christian life; (4) an interest in evangelism and missions.
John Perkins, founder and president of Voice of Calvary ministries in Jackson, Mississippi, says an evangelical "believes the gospel has to be proclaimed—believes in the power of the Holy Spirit to work the conversion experience." Most NAE convention participants would fit this "bottom line" definition, Perkins said. But to his way of thinking, he said the definition "ought to go further than that." He said an evangelical also should be "vitally involved in human needs."
Rufus Jones, general director of the Conservative Baptist Home Mission Society, was asked to define evangelical at a "think tank" meeting of church leaders called by former CHRISTIANITY TODAY editor Carl Henry in 1965. Then, as now, Jones said an evangelical is "one who believes in the evangel, the gospel of the kingdom as preached by Jesus and the apostles, which seeks to persuade people to submit to Jesus Christ as Lord in every aspect of their lives, and in all their social, economic, and political relationships."
At least at the NAE convention in Orlando perhaps the only certain way to distinguish an evangelical was by his or her name tag—and by the heavenward gazes of pale northerners who had fled the snows in search of Florida sun.
Have something to add about this? See something we missed? Share your feedback here.
Our digital archives are a work in progress. Let us know if corrections need to be made.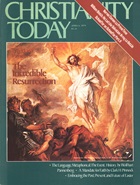 This article is from the April 6 1979 issue.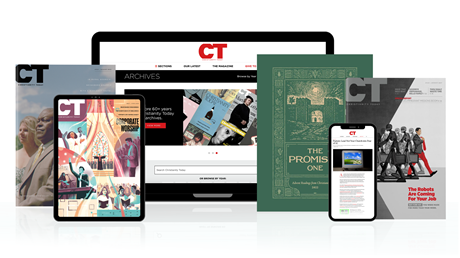 Annual & Monthly subscriptions available.
Print & Digital Issues of CT magazine
Complete access to every article on ChristianityToday.com
Unlimited access to 65+ years of CT's online archives
Member-only special issues
Subscribe
Preaching the Gospel and Bill of Rights
Preaching the Gospel and Bill of Rights