The mission should remind evangelicals of the responsibility such a role carries.
Last April, I was privileged to be one of six evangelical leaders chosen to visit Egypt, Jordan, and Israel, and to meet with their leaders on the current Mideast crisis. All expenses were paid by the three governments and we met not only lesser policy makers but heads of state: personal sessions were arranged with President Sadat, Crown Prince Hassan, and Prime Minister Begin. Sadat even let us use his presidential jet for the flight from Cairo to Amman, Jordan.
Why an "Evangelical Fact-Finding Mission on the Mideast Crisis"? Principally, to be sure, because the Egyptian, Jordanian, and Israeli governments want the support of American evangelicalism for their respective positions, and the mission offered an opportunity to enhance friendship with a segment of the American public that is steadily rising in importance and with which President Carter identifies. The mission should remind American evangelicals of the new public image they have acquired, and the responsibilities such a role carries.
An evangelical is committed to "present the gospel to every creature." Inevitably, therefore, the lines of influence did not run just one way. Here I give some thoughts on the witnessing opportunities the fact-finding mission offered.
The Egyptian Ministry of Culture and Information arranged lavish dinners for the fact-finding mission at the Cairo Hilton and Sheraton hotels. In the very table arrangements and seating, the Lord's hand was evident. Thus my wife and I found ourselves seated next to Nabil Saad and his wife. Mr. Saad is the ministry officer who handles the French language news broadcasts on multilingual Egyptian television. My theological doctorate is from the University of Strasbourg, I hold the teaching diploma from the International Institute of Human Rights in France, and am one of the fifty living members of the French Gastronomical Academy; my wife and I have a home in Strasbourg and live there part of each year. Mr. Saad and I actually had common acquaintances in France! Needless to say, conversation flourished. Here's a sample:
Saad. We Egyptians are not like the other Muslim peoples. We are empirical—we are concerned with concrete facts, with the realities of the world.
Montgomery. Why do you suppose that difference exists? You are all Muslims.
Saad. That's a fascinating question.
Montgomery. Let me suggest an answer. Unlike other Muslim countries, Egypt was Christian long before it was Muslim. Indeed, Alexandria was once the intellectual and theological center of Western Christendom. Think of Clement of Alexandria. Why, St. Augustine, bishop of Hippo, was an Egyptian. Now Christianity is the most empirical religion of all: It claims—and historical evidence overwhelmingly supports its claim—that God concretely entered this world in Jesus Christ, and the reality of his resurrection opens up the reality of a new life, available to every man. Why don't you look to Jesus Christ to discover the source of your own wonderful heritage?
A parallel opportunity was afforded when the group met with Dr. Petros Ghali, Egyptian secretary of state for foreign affairs, and his companion when he made his historic peace flight to Israel on November 19, 1977. Dr. Ghali had taken his doctorate in France, so again a common ground was readily established which facilitated our efforts and gave more immediate sympathy and respect for our mission. In a penetrating analysis, Dr. Ghali observed that Israel—or at least its leadership—has much difficulty trusting President Sadat's peace initiative because it is a young nation, still seeking to develop self-identity, while surrounded by older, self-assured nations, many of which have threatened its very existence. Thus Israel understandably tends to overreact militarily, requires military assurances that are of dubious value, and finds hidden motives in a genuine offer of peace. (To be concluded in the next issue.)
John Warwick Montgomery is professor at large, Melodyland Christian Center, Anaheim, California.
Have something to add about this? See something we missed? Share your feedback here.
Our digital archives are a work in progress. Let us know if corrections need to be made.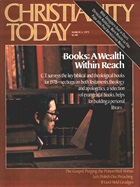 This article is from the March 2 1979 issue.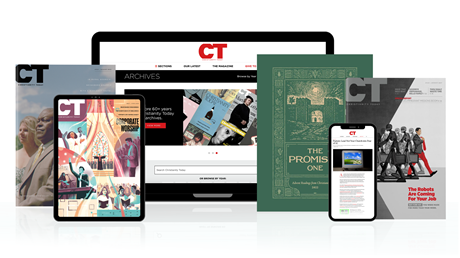 Subscribe to Christianity Today and get access to this article plus 65+ years of archives.
Home delivery of CT magazine
Complete access to articles on ChristianityToday.com
Over 120 years of magazine archives plus full access to all of CT's online archives
Subscribe Now
Open Doors in the Middle East
Open Doors in the Middle East