Part I on the author's Mideast visit with other evangelical leaders last April was printed in the previous issue (Mar. 2).
In spite of scheduling confusions and President Sadat's backbreaking swing through Egypt on a food projects tour, the Egyptian head of state personally arranged to receive the evangelical leaders at his home in Aswan on a Friday, the Muslim day of rest when he normally grants no audiences whatever.
When I asked the President about his contacts with Christianity, he revealed a most significant fact. He said that when he had been a political prisoner early in his career, the one thing that had sustained him had been the books of Lloyd Douglas. To be sure, I thought immediately of the salvatory portrait of our Lord in The Robe; but I thought also of the lesser-known work of Douglas, Magnificent Obsession, in which true happiness and success come to a physician who makes the person and work of Jesus his chart and compass. Anwar Sadat is also a man with a magnificent obsession—a magnificent obsession for peace. Is it too much to suppose that, consciously or unconsciously, he acquired it from his indirect contact with the Prince of Peace?
I had a few moments alone with the President after the television cameras and newsmen were gone. The opportunity seemed ripe to stress the uniqueness of Christ to a man who told us he plans to build a mosque, a synagogue, and a church on Mt. Sinai—thus making Peter's mistake of wanting to build tabernacles indiscriminately to Jesus and to mere religious leaders (see Matt. 17:1–8). I said: "When you flew to Israel in November, you were willing to lose everything you had—including your presidency—for the sake of bringing peace to others. That makes me think of the center of the Christian gospel: that God loved us so much that he came to earth to die for us, so we might be freed from the curse of sin and have true peace in our hearts." My object was to help Sadat "to lift up his eyes and see no man, save Jesus only."
In Amman, the capital of Jordan, we were received by Crown Prince Hassan, speaking for King Hussein. We had been expecting royal pomp and circumstance, but the Crown Prince appeared in a business suit and lectured to us on the Mideast crisis very much like a university professor. The Prince is an Oxford graduate in history and economics, and told us that his religious—or, better, philosophical—position was that of a humanist. The architect of Jordan's pro-Western, thoroughly capitalist economic order, Hassan clearly believed that the problems of the Mideast could be solved by a thoroughgoing analysis of economic and socio-political factors.
Recognizing the weaknesses in the Crown Prince's technocratic humanism, I thought it worthwhile to attempt a witness using Socratic method. In a question picked up by Jordanian television, I asked him why he thought the Israelis were so naïve as to what constitutes safe military boundaries. Then I suggested an answer to my own question: Might it not be that each Mideast nation tends to rely on its own "simple" solution—military or socio-economic—to complex issues, instead of seeing that no answer will work without mutual trust? Do we not locate the problem always in the other nation instead of seeing that "all have sinned and fallen short of the glory of God"? Each man and each nation must seek God's standards of justice and righteousness, not self-confidently thinking that humanistic perfection can be achieved by tinkering with five-year plans. The way to life always goes by way of the Cross, on which we ourselves have to be crucified with Christ.
Crossing the sandbagged, machine-gun-defended Allenby bridge between Jordan and Israel, we found ourselves in the last phase of our mission. Here we met the Israeli president, the prime minister, and other government leaders.
At the finest restaurant in Jerusalem we were guests of Moshe Shamir, head of one of the parties in the Knesset (the Israeli Parliament). A creative writer who has had his historical novels published in America, Shamir is a patriot who insists that Israel establish its military security to make it independent of any outside power, including the United States. Were Israel to enter into closer relations with America, he claimed, it would become even more difficult to persuade Russia to allow Jewish emigration. Egypt, Shamir said, is a dictatorship, and Sadat is "cocksure of himself." Israel "must not cover her eyes and say 'come and embrace me.' "
When Shamir mentioned Hemingway's For Whom the Bell Tolls, I cited Hemingway's source of that line: seventeenth-century Christian poet and preacher John Donne, who reminded us that the death of any man diminishes every other man—since we all participate in a common humanity. Nationalism easily becomes a monster that deceives us into thinking that we can go it alone. Just as man needs God's grace and cannot save himself, so men need other men, and nations must learn to live with other nations as brothers even for minimal survival.
John Warwick Montgomery is professor at large, Anaheim Christian Theological Seminary, Anaheim, California.
Have something to add about this? See something we missed? Share your feedback here.
Our digital archives are a work in progress. Let us know if corrections need to be made.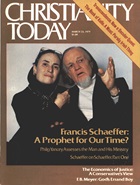 This article is from the March 23 1979 issue.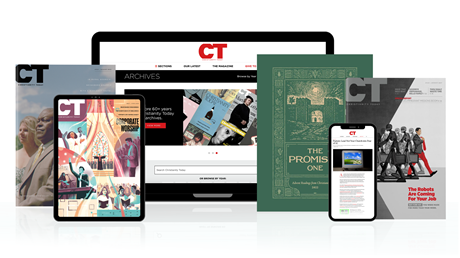 Subscribe to Christianity Today and get access to this article plus 65+ years of archives.
Home delivery of CT magazine
Complete access to articles on ChristianityToday.com
Over 120 years of magazine archives plus full access to all of CT's online archives
Subscribe Now
Presenting the Prince of Peace
Presenting the Prince of Peace