With his PTL television network lurching from one crisis to another, PTL president Jim Bakker announced last month that he was "stepping out of management" at the Charlotte, North Carolina-based operation. He handed the reins to a new executive vice-president and general manager, Edward Stoeckel, 54, a long-time projects engineer with the Ralston-Purina Company. Bakker (rhymes with maker) said that Stoeckel will "totally manage the day-to-day operations of the ministry" and will have broad powers to set financial priorities aimed at placing the ailing network on a "sound managerial footing."
"We have embarked on too many projects—two schools, a satellite network, overseas missionary activities—and we are overextended," acknowledged Bakker, who will retain his post as president and host of the popular PTL Club television show.
The PTL Club has exerted an undoubted positive impact on the field of Christian communications. Supporters say there is hardly a midsize town in the United States without a viewer who attributes his conversion or spiritual revitalization to the show.
Until the change, Bakker functioned as general manager and exercised virtual one-man rule at PTL, despite a large executive staff whose counsel on some critical decisions ran counter to his. Under an unusual arrangement worked out when he moved to Charlotte five years ago, Bakker became president and chairman of the PTL board of directors (he recently was named to the position for life); he remains chairman of the staff executive committee.
In announcing Stoeckel's appointment, Bakker pledged not to countermand any of the new executive's policy decisions. Bakker, an ordained Assemblies of God minister, said the switch would enable him to concentrate on ministry aspects of the work and on long-range planning.
Stoeckel faces many difficulties, perhaps the most pressing of which is staggering indebtedness. When a Charlotte television newscaster reported recently that PTL is in arrears in excess of $14 million, Bakker branded the information as "preposterous." Two days later, however, he acknowledged on the PTL Club that $10 million "would get us almost out of debt. "The amount includes a stack of past due accounts (stations alone were owed about $5 million for air time as of March, according to one internal source), along with construction and other projects that have been "tabled."
Several firms have filed lawsuits seeking hundreds of thousands of dollars owed them. A major telethon by Bakker late last year staved off seemingly certain bankruptcy (Feb. 16 issue, p. 44). But the network—which needs $800,000 a week to survive—sank further into debt by at least $1 million per month up to last March, said a former executive, when an intensive fund-raising effort resulted in a spurt of additional income that halted the downward trend—at least temporarily.
Also, there has been trouble with the Federal Communications Commission (FCC). The Charlotte Observer in January claimed that hundreds of thousands of dollars raised by Bakker for overseas ministries had been used instead to pay bills and to finance domestic projects—a violation of law. The disclosures were based upon PTL documents and interviews with former PTL executives and overseas Christian leaders. (The amount included more than $281,000 earmarked for the establishment of a telecast in Korea hosted by Yonggi Cho of Seoul, pastor of one of the world's largest Pentecostal congregations.)
Bakker vowed he would fulfill the pledges eventually. Donors nevertheless complained, and the FCC sent two agents (both are Christians) to look into the matter. Bakker rebuffed them, however, and the FCC last month decided to issue subpoenas for tapes and records. Claiming that exorbitant expenses and constitutional issues are at stake in complying with FCC requests for information, Bakker has vowed to fight the agency in court.
Another PTL problem reportedly involves the operators of the 200 or so stations in the United States and Canada that air the PTL Club: many are getting uneasy over PTL financing woes. Some station managers have expressed displeasure over Bakker's increasingly high-pressure appeals for funds, and one accused him of "manipulating" unwary donors with misleading statements. Among other things, Bakker has broadcast attacks against the FCC and "the atheists" who, he claims, are out to put PTL off the air—further chilling the station executives (see box).
Citing slow payment and the style of Bakker's promotional pitch, KOA-TV, the NBC outlet in Denver, dropped the PTL Club and replaced it with the rival Christian Broadcasting Network's 700 Club. Observers point out that if PTL is unable to keep or replace its stations, its main source of income will dry up.
In addition, PTL faces a problem of a demoralized staff. Stoeckel's appointment caps almost a year of turmoil at PTL headquarters that saw the departure of ten of the network's fourteen vice-presidents. Of these, six were forced out by Bakker within the past six months and three others left under a cloud.
Fired in February was Jim Moss, 47, PTL's executive vice-president and executive producer, who hired Bakker in 1974 and who reputedly was most responsible for building the network. Other executives have been shuffled around within the troubled organization, and numerous employees have been caught up in the throes of PTL's financial uncertainities. (About 120 employees had been terminated since January, says a spokesman; this leaves PTL's work force at 650.)
The hardships came amid published revelations that Bakker and his wife are paid nearly $100,000 a year in salaries and benefits between them. Bakker's brother Norman, his parents, and his sister, Donna Puckett, also are on PTL's staff. Mrs. Puckett, a vice-president, recently handed in her resignation because of PTL's tangled problems, but Bakker refused to accept it and put her on paid leave of absence, according to reports.
Nearly all the board members have been replaced within the past year. Among the latest appointments are President Demos Shakarion of the Full Gospel Business Men's Fellowship International and Richard W. Dortch, staff executive of the Assemblies of God.
Some of the departed vice-presidents have been quoted in press stories. They include Bill Perkins, Robert Manzano, and Roger Flessing. All expressed sympathy with PTL's goals, and said they were speaking out only in order that management problems at the network might be corrected.
They told of alleged discrepancies between what Bakker and PTL's executives knew and what they told contributors. For example, two leading television audience-rating firms hired by PTL showed that 1.3 million people viewed the PTL Club; but Bakker advertised the audience as 20 million. (Bakker explained to reporters how he arrived at the higher figure: he used a random formula in which one piece of mail represented at least 1,000 viewers; to get a conservative estimate, he then used 10 percent of the total computed.)
Bakker declined to be interviewed, but a source authorized to speak on his behalf suggested that the management mess resulted from the incompetence of some former executives, not from bad decisions by Bakker. The source indicated that in order to improve the situation, Bakker was forced to weed out the ineffective staff members.
Other alleged unethical practices were mentioned. Perkins charged that PTL used shady business tactics to stall and mislead creditors. Checks were deliberately postdated or sent without signatures, he said.
Another ex-executive told CHRISTIANITY TODAY: "When contributors send their money, we have a responsibility to pay the stations for air time first; but Jim insisted on going ahead with school construction and other projects unrelated to television." (Construction of Heritage University and related schools at PTL's sprawling multi-million-dollar "Total Living" complex south of Charlotte has been halted as a result of the financial crisis.)
Bakker assembled "the finest management team imaginable," said a former top staff member, "but now he has placed on it all of PTL's corporate sins and sent it into the wilderness."
PTL's altercation with the FCC may result in little direct damage. FCC penalties, fines, and license suspensions can be levied only against stations. PTL owns only one station: WJAN-TV in Canton, Ohio. The station was purchased in August 1977 for $2.5 million.
Work began almost immediately on construction of a new $250,000 studio, and plans were made to produce a network news show. Viewers responded to local telethons by Bakker and began contributing $1 million a year, according to WJAN-TV station manager David Kelton. Some $850,000 per year went to construction and mortgage costs, and the local news show cost $150,000 a year to produce, leaving nothing for needed new equipment and a transmitter, he said.
PTL finally abandoned plans for building a production center in Canton, transferred or dismissed a number of WJAN's staff, scrapped the news show entirely, and left a skeleton crew behind to pick up PTL's programming by satellite. Rumors were circulating in television business circles this month that Bakker was looking for a buyer for the station.
Myth-guided Zeal
Zealous but misguided letter-writers are continuing a campaign against a nonexistent threat to religious broadcasting. The Federal Communication Commission (FCC) was receiving 8,000 letters a day at the end of 1978, all written in the mistaken belief that atheist Madalyn Murray O'Hair had petitioned the FCC to ban religious broadcasting. In recent weeks the number of protest letters has risen.
The FCC isn't sure why there is increased interest in the matter. The protests by Jim Bakker (of PTL) against the FCC and unnamed "atheists" may have prompted the fresh round of protest mail. The FCC official said, "We've had a lot of calls on the PTL thing, and about the same time we started getting a lot of calls about Madalyn Murray O'Hair."
Stephen Sewell, of the FCC's Complaints and Compliance Division, put the blame for this renewed concern partially on newspaper articles that describe an O'Hair petition. In recent weeks some newspapers and magazines have carried paid advertisements, which readers could use to indicate their support of religious broadcasting and opposition to O'Hair by clipping the form and mailing it to the FCC.
"The best thing I can say is that the commission cannot legally prohibit the broadcast of religious programming," said Sewell. "In any event, it [the FCC] has no desire to."
Have something to add about this? See something we missed? Share your feedback here.
Our digital archives are a work in progress. Let us know if corrections need to be made.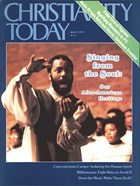 This article is from the May 4 1979 issue.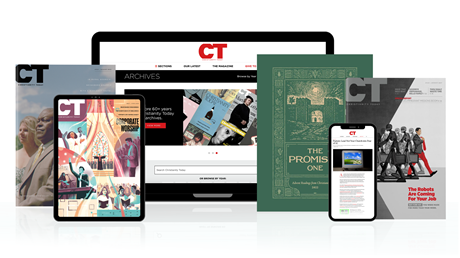 Annual & Monthly subscriptions available.
Print & Digital Issues of CT magazine
Complete access to every article on ChristianityToday.com
Unlimited access to 65+ years of CT's online archives
Member-only special issues
Subscribe
Bakker Turns in His Apron after the PTL Cake Falls
Bakker Turns in His Apron after the PTL Cake Falls