The Compleat Christian
While my wife was paging through the latest Burpee seed catalog, I (not possessing a green thumb) paged through the latest Christian gift catalog. The available merchandise stunned me: baseball bats with Bible verses on them ("Go to the ant, thou slugger") balloons with pictures of the 12 apostles, and various kinds of pictures and plaques to make any wall spiritual. But it was the new merchandise that really caught my eye.
For example, for $35 you can buy a pair of "love-offering shoes." No dedicated evangelist, missionary, or itinerant preacher can afford to be without a pair. You wear them when the congregation takes up the "love offering," and the sight of the holes in the soles moves the people to give more generously. One special pair has an adjustable hole so that the congregation can actually watch it grow in size during the week.
Another excellent item is a set of sunset slides from nearly 100 nations of the world. All of the slides were taken facing west so there is a sense of continuity. No effective missionary can afford to be without this set. After all, the night cometh when no man can take pictures.
One of the newest gift items is a selection of stained-glass flower pots for people who pray over their plants. If you purchase the complete set of six pots, the manufacturer will give you a book of prayers for plants. (A special footnote informs me that the book contains no prayers for getting rid of crabgrass.)
"Prayer books for people with unspoken requests" was a caption that caught my eye. These books each contain 50 blank pages, so you can handle at least 100 unspoken requests.
But my favorite item is the "witness umbrella." Each section of the umbrella has a Bible verse on it, so when you walk with the umbrella in front of you (as you do in a rainstorm), you are sowing the seed. The umbrella comes with a handy first-aid kit in case you accidentally stab an unsuspecting pedestrian. But the bandages also have Bible verses on them, so the accident gives you a second opportunity to witness. One way or another, the victim will get the point.
All that my wife will have to show for her efforts is a beautiful flower garden in our back yard. But I will be busy witnessing by means of the spiritual merchandise I have ordered. It just proves that there is something new under the sun.
EUTYCHUS X
Charismatic Renewal
With pleasure I read J. I. Packer's article "Charismatic Renewal: Pointing to a Person and a Power" (Mar. 7). Packer has addressed a much-neglected aspect of the charismatic question: what we may learn from our brothers and sisters. Indeed, people on both extremes need not so much to listen to the other's arguments as to listen to God and consider what message he may be bringing to us by the very existence of the other side.
ERNEST MANGES
Park City, Ill.
I found Packer's comments to be charitable and truthful. Including Ralph Martin's article ("A Catholic Assesses Charismatic Renewal in His Church") as an inset demonstrates that CHRISTIANITY TODAY is not hung up on theological and practical differences, which we all know exist. The problem is, as Packer pointed out, the "perverse conceit on the part of noncharismatics to be unwilling to look and learn." We must welcome and make room for this youthful animated movement, or continue to grow old, as Cardinal Suenens has pointed out, and remain theoretical Christians, not having the spirit.
ANTON GRYMALOSKI
Camrose, Alta
I was struck that one who could write Knowing God could base an argument on the rightness of the charismatic movement on so little scriptural evidence. True, he used a few verses. But he failed to present a satisfying picture of whether the charismatic stand is right or wrong, according to the Scriptures. That is the test—not what one thinks of the movement.
M. M. MICHAUX
Colorado Springs, Colo.
Regarding Packer's remark that linguistic scholars are unanimous that glossolalia has no language character, I must counter—as a linguistic scholar—with the following:
First, professional linguistic scholars are at present unable to explain all but the most superficial phenomena of human language. Second, they are ipso facto unable to explain any possible manifestations in human language of the Holy Spirit. Finally, in the face of all this, a Christian professional linguistic scholar can only echo Packer's remark that "I am for the Holy Spirit," in whatever form he may choose to reveal himself—in human language or otherwise.
JOSEPH B. VOYLES
Department of Germanics
University of Washington
Seattle, Wash.
I do not know that I've ever read a more naive article concerning the charismatic movement than that of J. I. Packer in your March 7 issue. It was not worthy of print.
REV. RALPH EHREN
Colesville Baptist Church
Silver Spring, Md.
Appreciative
We read with great interest the cover feature on Guyana ("Evangelicals Win a Breakthrough on Asian Refugee Resettlement," News, Mar. 7). Thank you for the sensitivity reflected in the article. Obviously, some of the assumptions of the author reflect a lack of understanding of some aspects of the reality. But I wanted you to know that we appreciate the honest and straightforward presentation.
JERRY BALLARD
Executive Director
World Relief Commission Wheaton, Ill.
Your featuring of Forbes Burnham of Guyana on the March 7 cover adds legitimacy to a clearly illegitimate regime. As a native of the Caribbean and a student of Caribbean politics, it is no exaggeration to compare Burnham's regime with that of Haiti. For example, the electoral apparatus in Guyana is the most corrupt in the free world.
Politics in Guyana is based on race, with Burnham originally supported by the blacks. With East Indians in a majority (55 percent) and increasing at a faster rate than the blacks, and the growing disenchantment of the blacks toward the regime, Burnham must pursue different avenues to maintain control. Opening Guyana's doors to Asian refugees is his third attempt to increase his electoral support. Past attempts have failed because Burnham's ideological acrobatics and his highly personal rule have plunged Guyana into economic chaos with social and political consequences.
It would be great if Burnham came to know Christ in a personal way. I, however, remain skeptical that he has.
KEN I. BOODHOO
Department of International Relations Florida International University
Miami, Fla.
Have something to add about this? See something we missed? Share your feedback here.
Our digital archives are a work in progress. Let us know if corrections need to be made.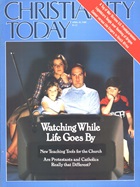 This article is from the April 18 1980 issue.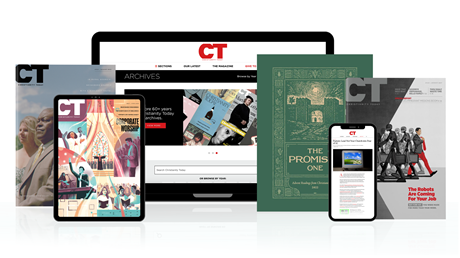 Subscribe to Christianity Today and get access to this article plus 65+ years of archives.
Home delivery of CT magazine
Complete access to articles on ChristianityToday.com
Over 120 years of magazine archives plus full access to all of CT's online archives
Subscribe Now
Eutychus and His Kin: April 18, 1980
Eutychus and His Kin: April 18, 1980